Bravo! You've reached the most detailed guide on Sales Forecasting for online businesses. Unlike other articles, this covers every aspect you need to know about sales forecasting and more.
In this article, you will learn the strategies of how you can use sales forecasting for your business right from scratch.
Sales forecasting is no rocket science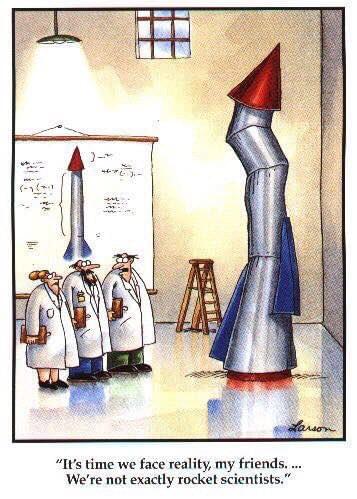 Yes, unlike the common assumption sales forecasting is fairly simple yet powerful.
According to Wikipedia, forecasting is the process of making predictions of the future based on past and present data and most commonly by analysis of trends.
On the same lines, a sales forecast is an educated guess about future sales revenue that uses historical data and common sense to project sales for any time period.
PS. Want to skip the theory and directly calculate sales forecast? Click here!
Why do you need to predict your future sales?
Most business owners question if they really need to forecast sales for their business.
The simple answer is – YES.
My interest is in the future because I am going to spend the rest of my life there. ~C.F.Kettering Click To Tweet
Sales forecasting is for everyone a.k.a anyone who has a stake in a business must take interest in predicting its future sales.
I'll explain you this with some examples:
1. CEO's can use sales forecast to predict the business growth.
2. Sales Manager can use it to define goals and formulate strategies to achieve them.
3. Directors can use forecast to win over stakeholders and investors.
Now you may think, sales forecasting is just a top-level management thing.
But that's not the case. Let me show you how…
Sales forecasting impacts all the levels of an organization
I already spoke how top-level managers use sales forecasting. Now here are more ways how sales forecasting is used by the organization as a whole.
Setting up goals & formulating strategies
We all know that businesses are devised on strategies. And we also know that a business owner can only strategize if he has a clear picture of what the business plans to achieve and by when.
Forecasting provides owners with this clear picture.
Sales forecast acts as a revenue roadmap and helps them set goals. Once these goals are set it becomes easier for owners to formulate strategies to achieve them.
Preparing the budget
The next big thing faced by every business owner is the pressure of taking decisions.
For example: hiring a new employee, investing in a new promotional channel etc.
Now all these decisions need to be well thought off as there is some amount of investment attached to it.
A well-researched sales forecast can give business owners the confidence of taking such critical decisions. It can help them better plan their finances and allocate resources based on it.
Motivating the team
Now forecasting is not just meant for the top management. A sales forecast provides a visual representation of where the company is headed to.
It can be used to measure progress as well as failures. Forecasting can also raise red flags and help owners mitigate risks before it's too late.
A sales manager can use the forecast to direct their teams and motivate them to reach their targets.
An important thing to take care of is to make a realistic forecast and not an ambitious one.
For the simple fact that an ambitious forecast will always fall short of the target and this will further demotivate the team rather than be motivating for them.
On the other hand, a realistic forecast can act as a great catalyst to achieve all major business goals.
Winning over the investors
A detailed forecast can even help convince lenders or investors to contribute funds to your business.
A sales forecast is a great way of winning over the confidence and trust of a VC or an investor. It makes them believe in the future of your company and helps them invest in the business faster.
Top ways to calculate a sales forecast
Primarily there are two ways of calculating a sales forecast – Judgement Forecasting and Quantitative Forecasting.
Judgement Forecasting – As the name suggests, it's purely based on predictive analysis. That is a business owner will devise the entire sales forecast based on his experience, knowledge, judgment and most of his ambition.
Quantitative forecasting – It completely depends on past data, patterns, trends. The business owner does a more realistic guess based on the previous data.
Predicting the right sales forecast
Now whichever method you opt to predict your sales forecast, mostly it won't be 100% perfect. But you can predict something close to it.
The reason behind this is that there are several factors that affect a sales forecast. I've listed a few important ones below.
Internal Factors
These are changes that happen within your company.
1. Hires and fires: When employees leave your company — either because they quit or were terminated — revenue decreases unless you replace them immediately.
2. Policy changes: Sudden changes in policy can also affect changes in sales forecast.
For example: If you introduce a refund policy or pull out a star selling product from your store.
All these sudden changes can affect revenue and ultimately cause major shifts in the sales forecast.
External Factors
These are the factors that fall outside your company's control.
1. Competitive changes: Sales forecast is not only affected by decisions you take within your company. It is equally affected by the strategies and decisions taken by your competitors.
For example: If your competitors cut down their prices by half. Even you are forced to re-price your product which ultimately affects the forecast.
2. Economic conditions: When the economy is strong, buyers are more likely to invest in their businesses. When it's weak, the sales cycle usually takes longer and there's a greater level of scrutiny for every purchase.
3. Industry changes: Suppose there is a major shift in your industry say, entry of a new competitor. It will affect your revenue share and affect your sales forecast.
4. New laws: Changes in laws, tax, financial rules adversely affect business and it's revenue. This, in turn, can take a toll on the sales forecast causing it to the deviate.
5. Product changes: Decisions like rolling out a highly-requested feature, introducing a new pricing model, or offering a complementary product or service? These changes can either increase or decrease revenue of any business. Thus affecting sales forecast.
6. Seasonality: Special days like Black Friday, Cyber Monday or festivals lead to a seasonal spike in sales figures. This sudden rise or fall in revenue can again affect the sales forecast.
---
---
Practical application
Simple forecasting tool for your business
Now, most of you might opt to forecast manually. But believe me, it's time-consuming and if not done correctly, you may end up with a wrong forecast.
Following a wrong forecast does not seem fatal but it is. Imagine you are lost in a maze and you have the wrong map guiding you through it. Meaning, you will never be able to come out of the maze.
I don't want you to see you stuck. So we made a tool ( a simple one) to help you predict your business sales forecast.
We call it the Time Machine. You can find it within Putler.
The story behind the name – The Time Machine
It was to be called the 'Forecasting' dashboard but right before it's release the founder watched the movie – The Time Machine. He then correlated the protagonist to the business owner.
That is, the protagonist wants to step ahead in time and predict his future while the business owner wants to step ahead and predict his business's future.
Makes sense? We thought so too.
More about Putler's Time Machine
It is the newest dashboard within Putler. And it helps predict three important metrics useful for every business.
It's the monthly revenue, customers and the 10x growth.
Now predicting these metrics manually might take you tons of resources like;
1. An account manager
2. Your sales team
3. Few hours of work
4. And a whole lot of coffee.
But with Putler, it's done within seconds.
How does the Time Machine work?
As soon as your data is imported into Putler, the Time Machine will process your data and will create a forecast of 3 things – monthly revenue, customers and 10x growth.
Let me break it down to you one by one.
Forecasting Monthly Revenue
This is the first and the most important metric for any business owner.
Forecasting the monthly revenue helps business owners predict the cash flow within the business and take critical decisions accordingly.
In order to get the monthly forecast, you need to fill in 3 parameters – Starting revenue, Revenue growth, Revenue churn %
Based on the parameters imported, Putler will quickly plot the graph of your monthly revenue.
Example: Your starting revenue for March 2018 is $3000. If your revenue grows at $450 per month and churns at 5.6% per month, your monthly revenue will be $5513 for Feb 2019.

Here's what you can use it for?
Planning important milestones
Approving the budget
Mitigating risks
Measuring performances
Customer Forecasting
Ever wondered how many customers will you have by the end of this year? Will the number double or will be slashed by half?
I bet you do the math often.
The Time Machine makes this task easier. All you do is fill in 3 parameters – Starting users, User growth and User churn.
The Time Machine takes all these 3 parameters into consideration and predicts the number of users your business will retain by the end of a year.
It's an excellent tool for people in marketing, sales. Nonetheless, it can be used by anyone who wants to predict the customer count for a business.
Example: You have 600 customers in March 2018. If your customer count grows by 45 every month but churns at 9.6% per month, you'll be left with 507 customers at the end of Feb 2019.

10x Growth Forecast
Now the 10x is a formula very close to Putler. It focuses on 3 parameters – Traffic, Conversion and ARPU.
The basic principle of the 10x formula is to break down the end goal of 'More Revenue' into smaller sub-goals:
3x traffic
2x conversion
2x ARPU
The time machine inputs in the current status of your business and your target and then forecasts the 10x ( in reality it's the 12X) growth of your business.
Example: Let's say you acquired 5000 visitors for March 2018. Out of which were able to convert 0.75% visitors and you gain $40 average revenue per user. So your total monthly revenue for that month is $1500.
Now applying the 10x formula for target revenue, you will earn $17995 for the month of Feb 2019.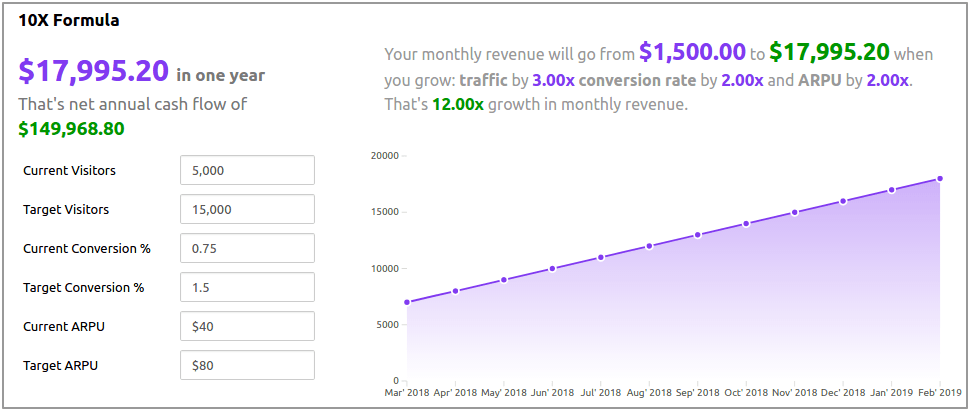 Note: The time machine is built on linear progression and it doesn't take into consideration the seasonal trends. This could lead to a difference in numbers. So it's important to consider this fact while forecasting any of the graphs above.
Summary
Sales forecasting is an interesting technique. It gives a visual representation of where your business to head to.
It's not just a fancy for top-level managers but can be used by everyone who has a stake in the business.
Putler's Time Machine is a comprehensive forecasting tool that can plot a forecast within seconds. Make sure, you have a look at before you go.
Don't have Putler? No problem. Putler is free for 14 days. Quickly sign up and you will get access to the Time Machine.
Try forecasting for FREE
Leave a reply with your comments or questions. And don't forget to share this article with fellow marketers.