Ever wondered how important are customers for your business?
Imagine, you build the best products, have all the resources and the best team but you have zero customers.
What would your business look like then?
I'm sure it would it be pretty non-existential. Right?
This shows that customers are synonymous to a business. And as business owners, it becomes our prime responsibility to take care of them.
So here are some data-backed metrics and insights that help you analyse your customers and serve them better.
Customer Analytics Dashboard In Putler
Since customers are the soul of any business, we decided to revamp it next after the Sales Dashboard.
This new customer analytics dashboard is packed with KPI's, graphs, drill-down data and facets.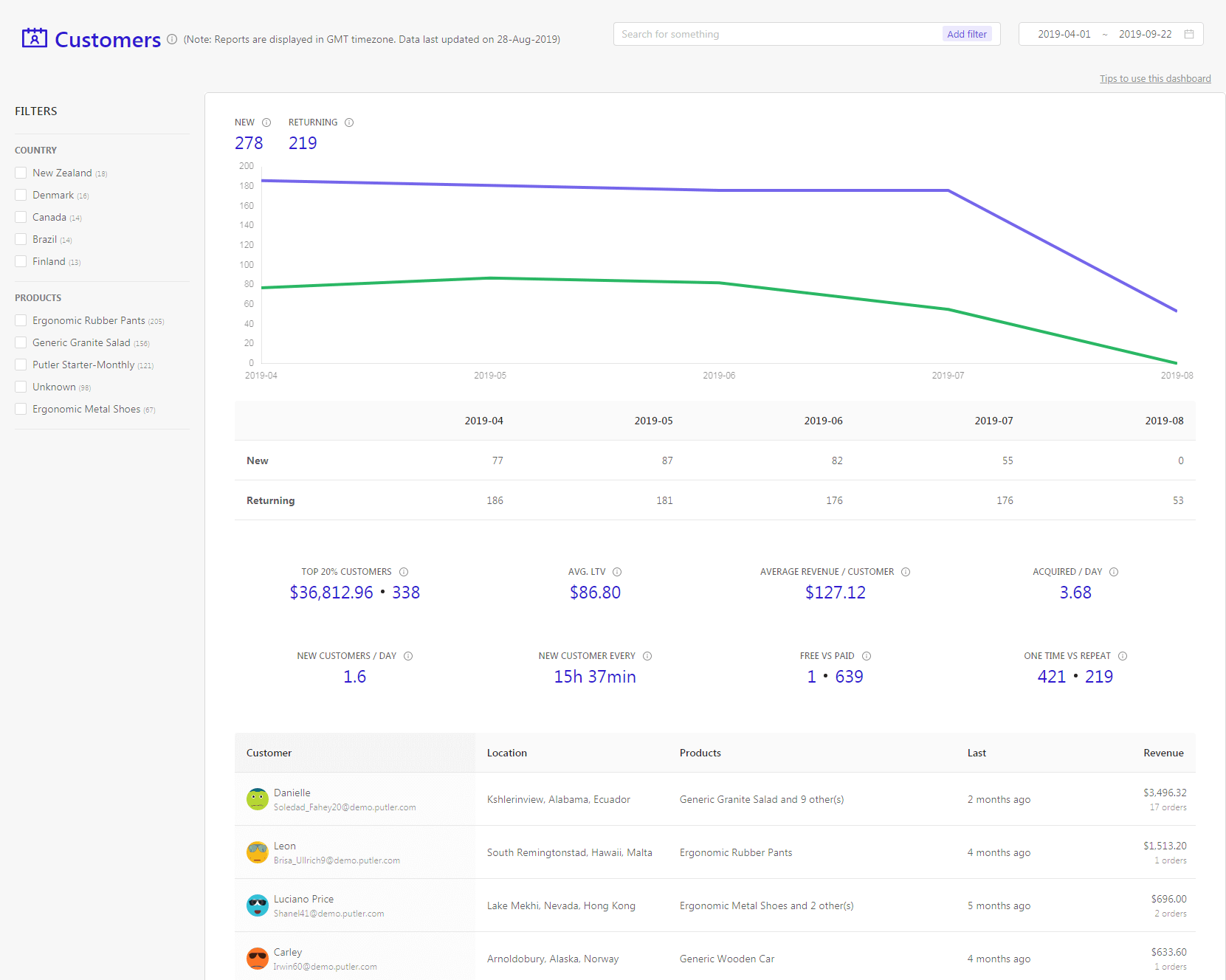 Let's dive in deeper…
Customer Analytics KPI's
We tried retaining all the good portions and KPI's from the previous Customers dashboard but we also added a few more really useful ones.
Here are the customer based KPI's you will get in the new customer analytics dashboard:
Top 20% customers
Avg LTV
Avg revenue/ customer
Acquired/day
New customers/day
New customer every
Free trailers vs PaidOne time vs repeat
Customer Analytics Graphs
This graph gives you the 3 things you want to analyse from your customer data.
New customers
Lost customers
Returning customers
All these 3 things will be reflected for the date range you select using the date picker.
Drill down data
KPI's are amazing but seeing data in depth is the real deal. So the new customer analytics dashboard provides you with both a list as well as an in-depth version of your customers.
Facets
In the customer dashboard, you can find 2 amazing facets namely;
Customer Segments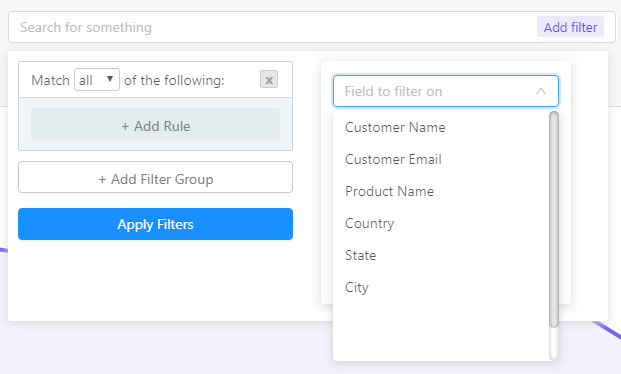 Similar to Sales dashboard, you can apply multiple filters and create any segment of your choice using this new feature.
Top hacks to use this dashboard
Increase sales by pitching relevant products to customers
This one is a marketing standard and it works like a charm. Why? Two reasons-
The customer has already bought something from you so he trusts you. Second, you are pitching something relevant making it even more irresistible.
How to implement this?
Firstly, use the segment creator and create a segment with people who have purchased product name= XYZ.
Once all the customers who have purchased this item gets listed, think about what product on your store could be relevant for them. For example, suppose these people have bought a mobile from your store. Pitching them a mobile cover is relevant.
Once you figure your respective relevant product, export the list of customers and send them an email pitching the relevant product.
Plan a smart flash sale
I call this smart because it is targeted. And I call it flash sale cause it is time-limited.
Generally, people run a flash sale for all customers on the entire website. But be smart, target customers and then increase scarcity by keeping it time limited.
How to do this?
Target a particular region. Let's say you love New York. Use the segment creator and create a segment of people who have bought from New York.
Export the list of New Yorkers.
Now create a coupon and send them an email in true New Yorker style. Put in references that they will relate to and give them the coupon code in the email itself.
Increase urgency by stating the coupon will be invalid after so and so time.
Organize a meetup/ event closer to your customers
This tip is similar to tip number 2. But it aims at strengthening customer relationship and not sales directly. If you are an influencer or somebody in the coaching industry you know what impact socializing with clients can make for your business right?
Use the same principle and do it using Putler.
How?
Find the top country using the new Country facet.
All the customer falling in this country will be loaded. Now pick a city you will like to arrange a meetup for from the cities listed in the customer drill down.
Then use the segment creator and say city name = this selected city. All customers of this city get loaded. Export this list.
Either have a meetup/ event of a simple webinar for these guys and know them better.
This tip will be gold while planning your next event. It will give you clarity on where your customers are at and help you schedule events better. So do use it.
How are you going to use this dashboard?
Well those were some ideas, I know you will discover a lot more once you take a look at the new customers analytics dashboard. So go ahead and check it out.
Your feedback and ideas are always welcome!