You can now see full subscription history along with a quick overview for any recurring payment received from PayPal. Putler lets you manage / refund that subscription too.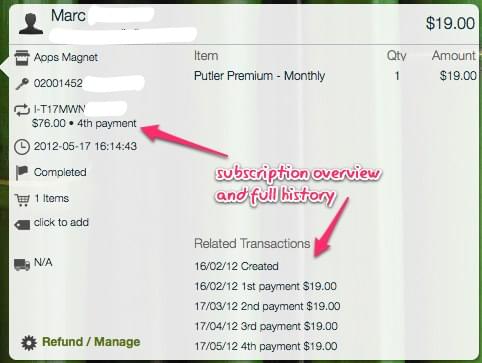 We've also added tagging support. You can tag products, customers or sales / transactions. You can even tag multiple products / customers or sales together. This means you can now classify products the way you want. Or can even tag customers to your internal grading system.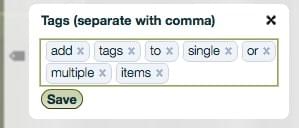 We are very excited with these developments. How do you like them? Post a comment and let us know!!
Changelog
Here's the full changelog of recent two versions.
Putler 2.1
Lots of bug fixes and enhancements. Recommended upgrade.
NEW: Tagging support – you can now add custom keyword / tags to transactions / customers / products
NEW: Search for tags entered with #tagname
NEW: Subscription history in sales detail, along with total revenue & payment number
FIXED: Issues after upgrading to v2.0 – Putler not importing data
FIXED: Can't issue refunds – amount can not be greater than available amount error
FIXED: Import bringing partial data or no data for some days
FIXED: Subscriptions beginning with "S-" in their ID – Putler won't bring their history now. This fixes errors from PayPal
FIXED: Search not working as expected, especially with multiple keywords and and/or operators
FIXED: Reversal of a transaction did not reduce sale amount
FIXED: Putler stretching beyond available height on Windows
NEW: Multiple selection support added to Sales dashboard
Update: Refund / Manage subscriptions action button is now easier to use
Update: Icons and user interface
FIXED: Address showed two character country code instead of full country name
Putler 2.1.1
Performance optimizations and misc fixes.
FIXED: Showing sales details took very long time
FIXED: Invalid transactions caused Putler to keep getting their details again and again
FIXED: Some subscriptions did not show all their related transactions