Features
Putler is a unique, revolutionary tool that gives you the power to efficiently manage ecommerce transactions and discover key insights about your online business – all from the comfort and security of your own desktop. You no longer need to log in to your payment gateway every time, you can perform your most common tasks from Putler itself.
You want to sell more and make more money. Putler helps you achieve that by saving your time and providing you actionable business insights.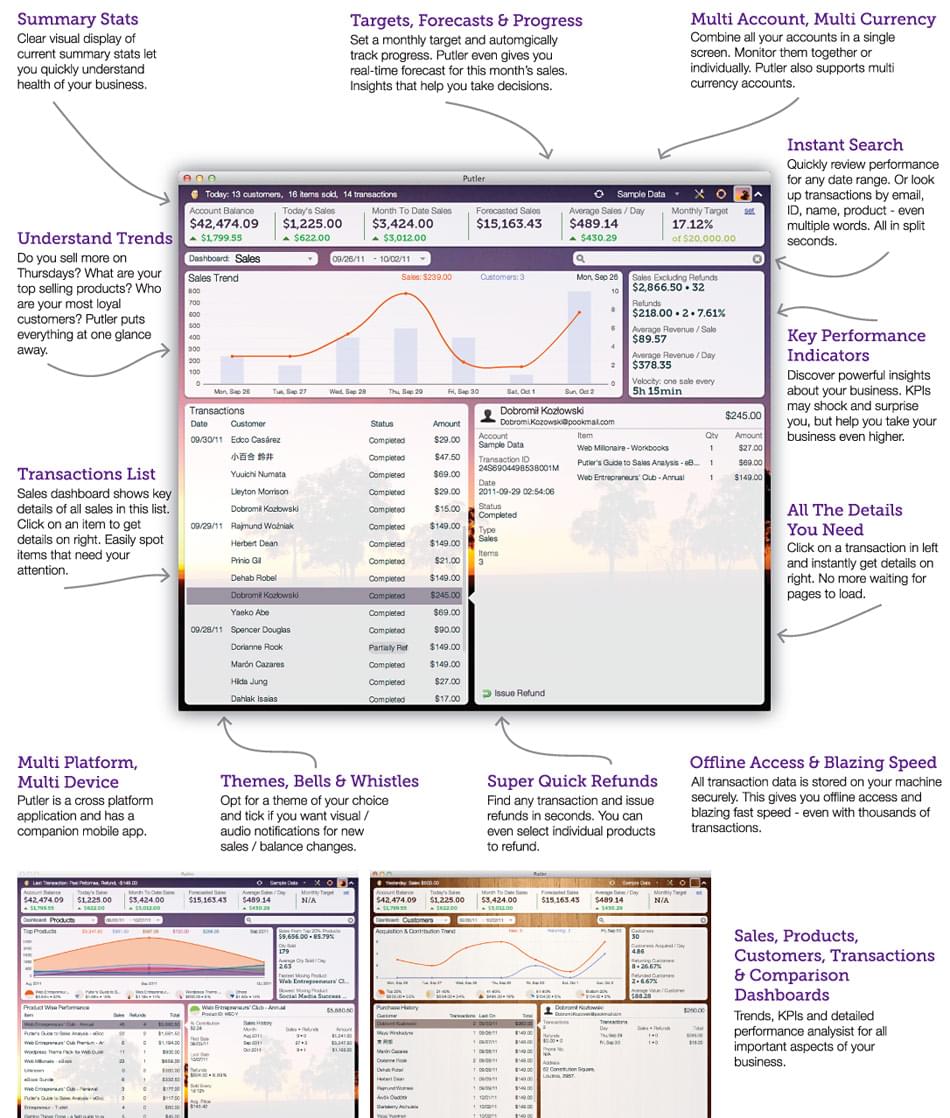 Sales Trend
Visually see your sales vs. customers trend. Identify cycles, top selling periods and the ratio of customers to sales.

Top Products
Find out top revenue contributors in one look, study daily contribution of your top products. Now you can promote your top sellers further or launch a promotion campaign for the laggards.

Customer Acquisition & Contribution Trend
How much revenue do your top 20% customers contribute? Do you have loyal customers who purchase frequently? How many new / returning customers did you have for a specific period? This chart tells you all of that.

Putler performs
intelligent analysis
on your transaction data and summarizes
key performance indicators
(KPIs). Insights about your business that you may discover only with Putler. Combine KPIs with trend graphs and filtering capabilities and you have a
powerful analytics
toolbox for yourself.
Sales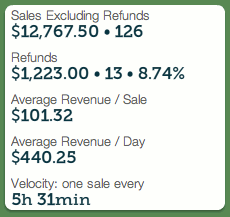 Amounts and count of sales & refunds, ratio of refunds to sales, average revenue per sale, average daily revenue and the speed at which you are selling. If you have a lot of refunds, you may want to check your product quality and pre-sales messaging. High average revenues are good for your business.
Products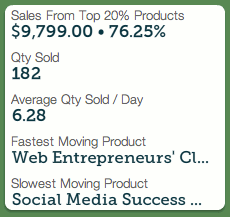 Amount and percentage sales from top 20% products, total quantity sold, average quantity sold per day plus your fastest and slowest moving products. Rely on facts of your web business to create, promote and take down your physical / information products.
Customers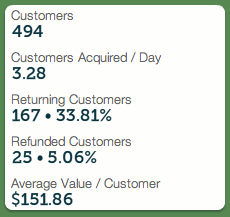 Total customers, new customers per day, count and percentage of your loyal, repeat customers, number and percentage of your refunded / unhappy customers and the average value of each customer. Expand the date range to include all transactions and you can easily determine life time value and contribution of your customers.
Transaction List & Details Card
All dashboards – Sales, Products, Customers and Transactions – feature a list of items and detail card below the charts / KPIs. This way you can review and get details of any transaction without page reloads and wait times.
Sales

Products

Customers

Security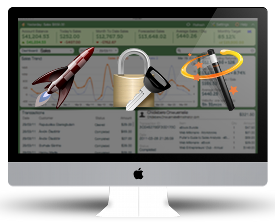 Putler keeps all your data on your computer and protects it even further with your login and password. You do not need to worry about your sensitive business information residing on a third party server on the Internet.
Offline Access
Putler brings updates from PayPal, so you don't need to login to PayPal. And you can continue using it even without an Internet connection. Search, filter, drill down, analyze – almost everything is available offline.
Blazing Speed
You will be impressed with Putler's speed. Searching and scrolling through thousands of transactions takes split seconds. Tasks that would traditionally take you hours, can now happen within minutes.

Comparisons
Current summary statistics in Putler's top bar automatically compare current period with last period. So you know how well you are doing immediately.
Forecasts
Putler analyzes your monthly sales trend and forecasts this month's sales. Do you need to push marketing? Are you aiming too high? The forecast is your quick reality test.
Monthly Targets
You set targets for your business, but tracking them requires efforts. Putler makes this effortless. Set a monthly sales target and Putler tracks progress automatically.
Quick Refunds
Quickly issue refunds right from Putler. Full refund is default, but if you want to do a partial refund easily as well. Select products you want to refund and enter the amount or percentage you want to refund. Add a note if you wish. Putler will process the refund, deduct it from sales and save everything for later reference.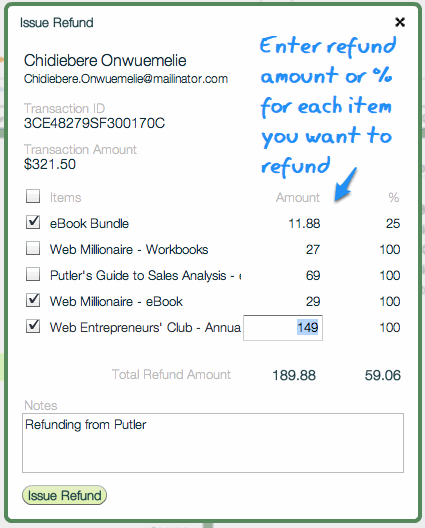 Time Range Selection
Select dates using calendar or pick a common date range using short cuts. All graphs and detail views will smartly re-group results based on selected period. E.g. selecting one day time range will group results by hour, selecting a year by months etc.
Live Search
Search by name, email, amount or any other text from transactions. Or use smart keywords like sales, refund, subscription etc. All results will update instantly. Partial words are OK too.

Cross Linking
Putler automatically links important information – customer names, emails, product names, transaction IDs etc… Click on a hot spot to find all related transactions.

Syncs with PayPal
Once you enter PayPal API details, Putler keeps in sync with PayPal. Latest transactions are downloaded automatically and all statistics are kept up to date.
Multiple Account Support
Putler can sync with multiple PayPal accounts. This gives you unified reporting for all your businesses from a single place. You can even set targets for each business, and Putler will total them up for you.
Import via CSV or API
You can import data either via PayPal API or a CSV file downloaded from PayPal. This way, you can import historical data in minutes via CSV and get latest updates automatically via API.
Current Balance
Putler brings your current PayPal balance automatically. This is shown prominently and gives you a quick update of your position. Putler even compares with last month's balance as on date automatically.
Intelligent Time Grouping
Select a month in filter date range and Putler groups results by days. Select multiple years and results will be grouped by year. Select a day and Putler groups results by hour.
Highlights
Latest updates are shown as highlights at top. Last transaction, yesterday's sales and summary of today's transactions. This is especially useful when you are running Putler in Mini Mode.
Multiple Currency Support
If you maintain balance in multiple currencies in PayPal, Putler will let you see Sales, Products and Customers dashboards in a currency of your choice.
11 Themes
Putler gives you 11 vibrant themes to choose from. Pick one that suits you best!
Automatic Upgrades
We listen to customer feedback eagerly and keep updating Putler. All these upgrades will come to you automatically. This way you always have the cutting edge version.
Instant Reports
Imagine reporting using PayPal data. You are either limited by PayPal's reporting features, or have to create your own using CSV data or your own scripts. Putler provides all important reports and updates them instantly.
Sound Notification
Keep Putler running in background and it will notify you of new transactions with a sound alert. You can then switch to it to review them. Want to focus on some work? Turn off updates from Settings.
Mini Mode
Don't want to distract yourself with details? Run Putler in Mini Mode. This shows only the top bar – including current summary stats and highlights.
Notes, Related Transactions
Putler shows notes attached to transactions and related transactions with each transaction. Great for quickly understanding the full transaction.
Mac, Windows & Linux
Putler runs on most popular operating systems. Giving a consistent user interface across the board.
Multilingual Support
Putler supports English and German languages. People just love this!