Have an online business? Then you very well know the pain of digging into data and the struggle of making the right decisions.
Putler is like no other analytic tool you have ever tested. It is a tool that can pin-point the areas of your business that are a waste of time, and others that require more attention.
Putler is a game changing business reporting tool. It provides clean, super quick and easy to use reports within seconds.
10 things that make Putler special
---
Analytics for online sellers
Non SaaS? No problem!
All other business reporting solutions cater to SaaS businesses, SaaS startups, recurring billing and subscriptions. They keep talking about MRR and churn and LTV. But choke up when they notice non recurring transactions in your order history.
None of the typically recommended platforms like Baremetrics, ProfitWell and ChartMogul support e-commerce businesses. The best they can do is show your sales as cash flow…
But Putler love e-commerce stores, online marketers and non-SaaS businesses. If you're selling online, you can get powerful analysis tools with Putler.
Putler understands one time transactions, recurring subscriptions, annual billings, refunds, cancellations, multiple line items in single transactions and a whole lot more. You will get lots of KPIs and reports that you will find immediately useful.
Putler even covers the most important SaaS metrics. So if you do both recurring and non-recurring products, or if you are indeed a subscriptions only business, Putler will still be valuable to you.
Other tools only show cashflows for Non SaaS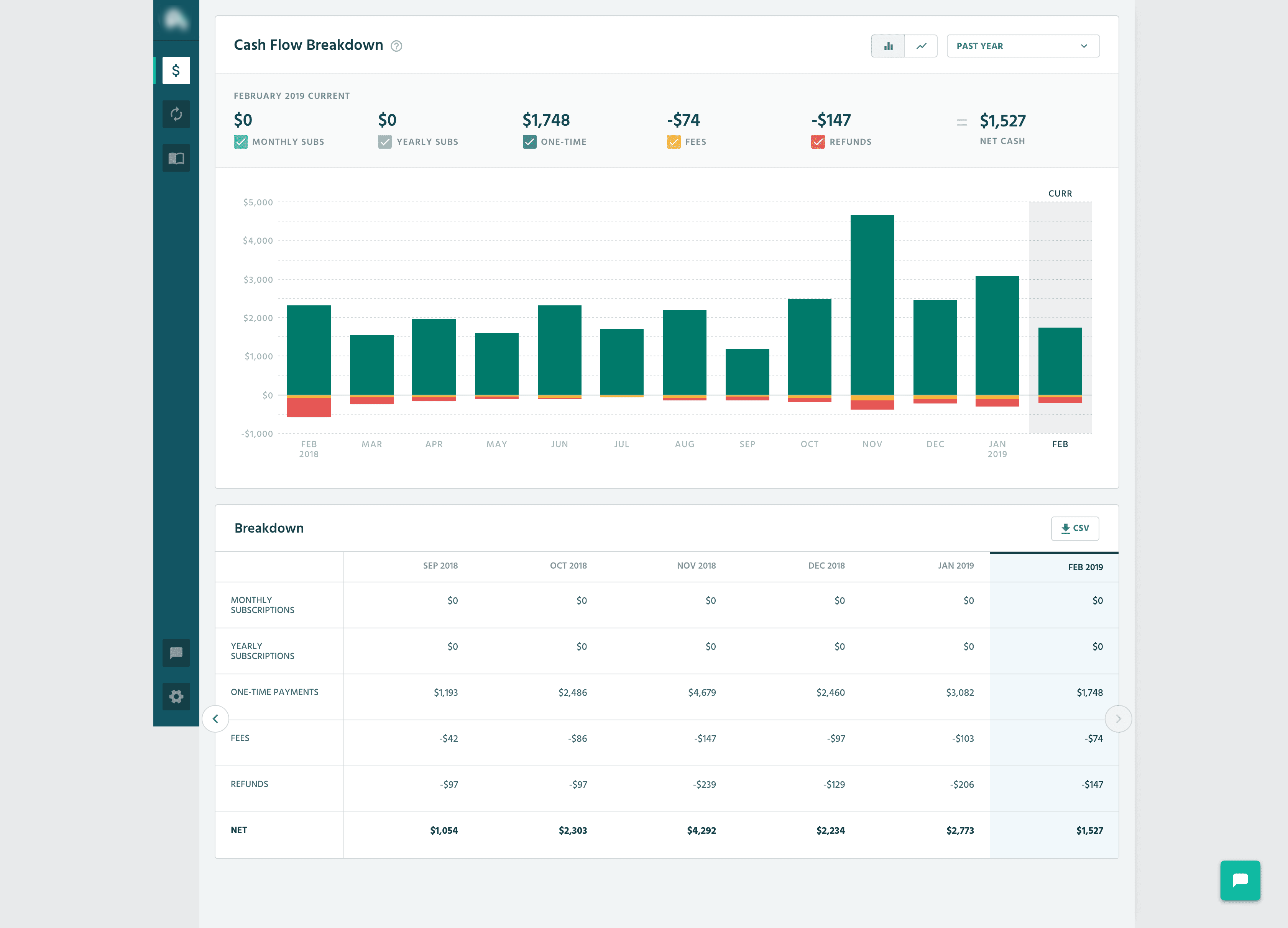 Putler's shows in-depth reports for SaaS as well as Non SaaS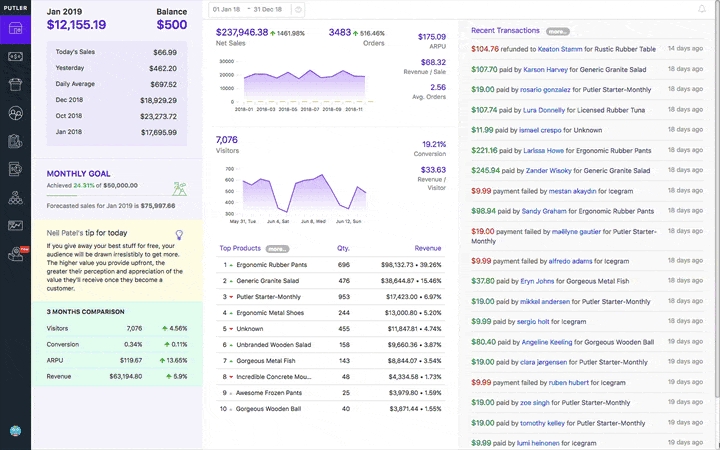 ---
Aggregate 17+ data sources
No Stripe? Multiple gateways? No problem!
Most business reporting solutions integrate only with Stripe. Most don't work well with PayPal.
Even when they integrate, it's only a few platforms.
If they do Shopify or WooCommerce, that's all they'll understand. If they connect with Stripe or Braintree, they won't work with PayPal or 2Checkout.
Putler can consolidate data from payment gateways + eCommerce shopping systems + Google Analytics within minutes.
You can aggregate all these systems in one place effortlessly – and yes, Putler will automatically merge and dedupe transactions so they're not double counted.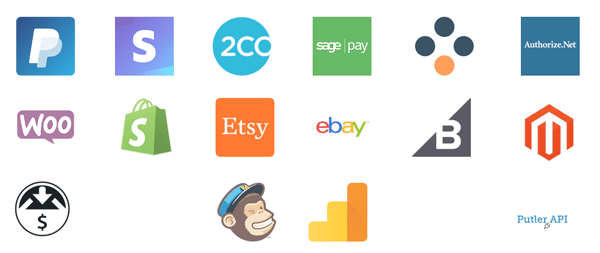 Putler directly integrates with the widest range of systems. It supports
6 top payment gateways
7 e-Commerce shopping cart systems
Google Analytics and MailChimp
Inbound API that allows sending transactions from any other data source/service.
---
Seamless currency conversion
Payments in different currencies?
No problem!
Most pure-play transaction analysis systems (whether SaaS or commerce) can't convert currencies automatically. They treat $100, €100, ¥100 and ₹100 all the same. Or they can't distinguish between USD and CAD or AUD.. And when they do distinguish currencies, they can't convert them based on the exchange rate on the day of the transaction to show you correct totals in your primary currency.
Trust me when I say this – this is a nightmare, not just for your accountant, but also for you… You're looking at totally wrong and incomplete numbers if your analytics solution can't work with multiple currencies correctly.
Putler automatically converts 32 global currencies and gives you accurate reports. All KPIs – sales, refunds, LTV, ARPU, MRR… – will factor in multi currency transactions automatically.
---
RFM segmentation, customer profiles…
Marketing chops – Yes..
Frustrating tech – No!
The trick to effective marketing is knowing your customers well.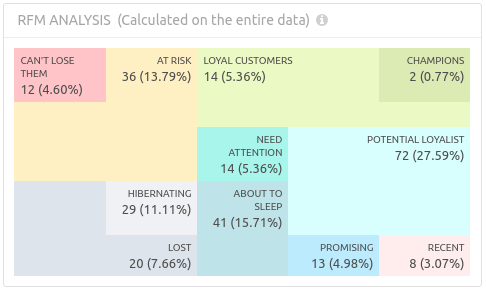 Putler identifies customer buying behavior, sales patterns and categorizes them into 11 functional segments. At risk, loyal, can't lose, promising… (BTW, this is called RFM analysis in marketing parlance – and we've written one of the most comprehensive article on it)
Such segmentation based on recency, frequency and monetary value of customers generates better RoI on your marketing campaigns. Other analytics tools can't even understand this, and you'd need to hire highly paid big data analysts to perform RFM segmentation on your data, but Putler does this for you ongoingly, automatically.
For every customer, Putler shows their entire transaction history but also enriches their profile with additional useful information– for example, you can see a preview of your customer's website right within Putler. And there is a lot more.
And if you want, you can export any list of customers to MailChimp or a CSV file and run further marketing campaigns.
Putler is not just about numbers. It's about putting them to right use so you grow your business.
---
Single source of truth
Track all your businesses from a single place
You have multiple products. You sell through multiple websites. You have side projects that make you money. Running all of that well is tough. You have to wrap your head and hands over a hundred things every day. And at times you wish you could clone yourself.
Putler can help you with that.. No, not cloning yourself 😉 But tracking and managing all your businesses from a single place!
Since Putler can aggregate multiple transaction sources and even web analytics, you can create multiple views within Putler to track each of your businesses. When you switch to "My Accounts" view, you will see consolidated metrics, but you can see them individually as well.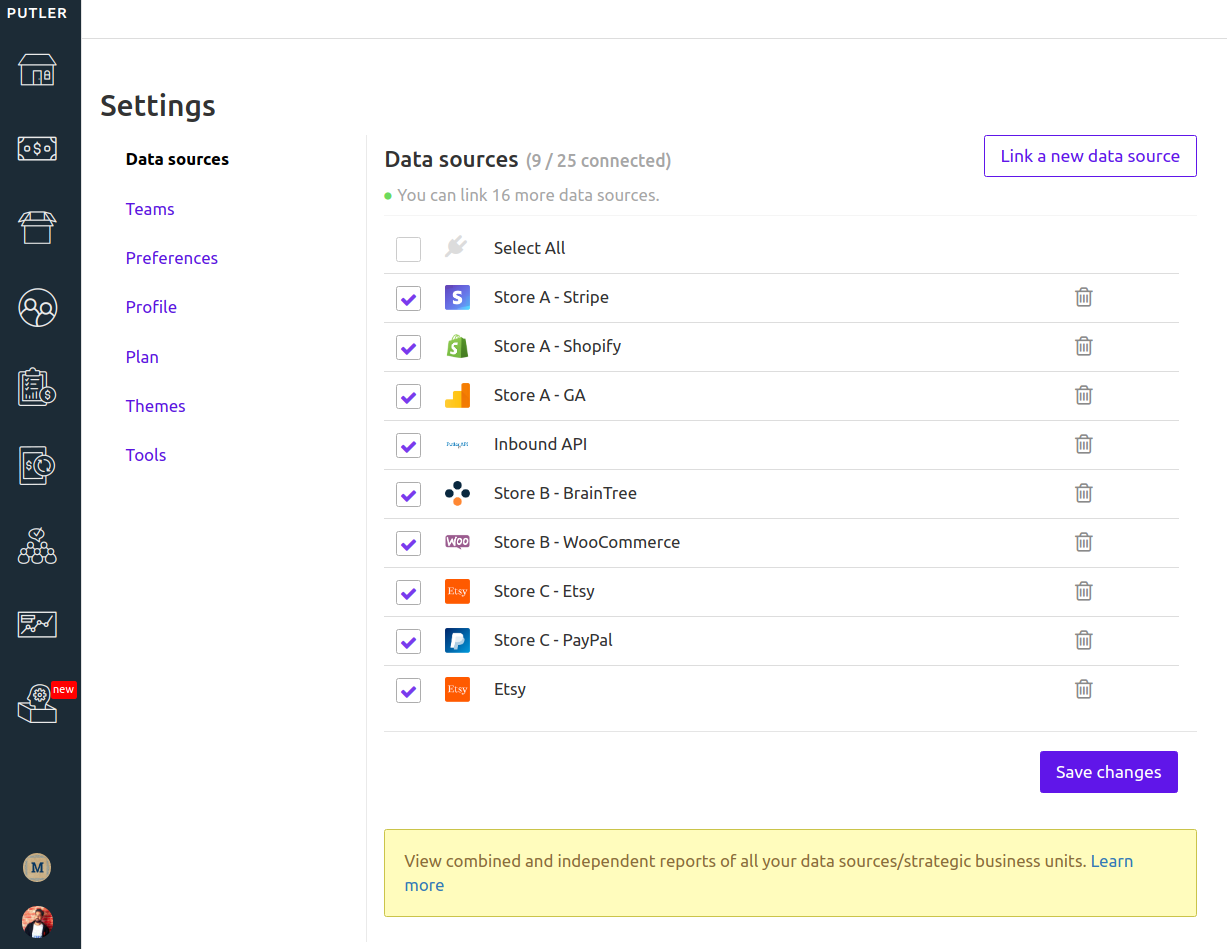 ---
Fast and intuitive search + pre-built dashboards
Finding needle in haystack? No problem!
Have you tried finding a transaction on PayPal? Or in your ecommerce system when you only have partial information about the customer or order? You are wasting a lot of productive time looking for orders and customer information every day, without even realizing it.
Putler's search is not only more effective but also a lot faster than others.
As a matter of fact, Putler's search is 12 times faster than PayPal!
Even when you're just looking for some important number, or want to find out sales performance of a product. Or when you want to look up order history of a customer.. Putler puts all fragmented data into logical places so you can find what you want instantly.
Time savings in day to day operations alone are worth the monthly fee for Putler! You've got to try it to experience it!
PayPal doesn't allow partial text searches
Putler allows partial text searches
---
Automatic deduping + merging + artificial intelligence
More accurate than anything else
Do you realize most analytics show you wrong numbers? Google Analytics enhanced ecommerce reporting is notoriously famous for missing and double counting transactions. But even popular SaaS and ecommerce analytics tools make a lot of goof-ups.
Here are the goof ups that happen…
There are situations like a payment clears on payment gateway but is not reflected in your ecommerce system.
Or when you refund from Stripe, and the subscription is still active in WooCommerce.
And even when you create order in your commerce system, but payment is received through a bank transfer, so it never shows up on your payment gateway.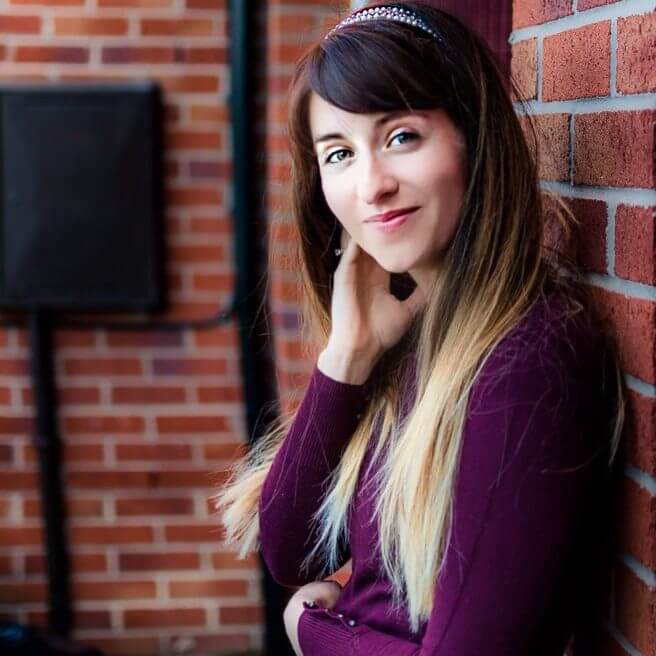 I slept like a baby after using Putler
For YEARS in my business, I felt like I was running as fast as I could to literally stay in the same place.
After one look at Putler's dashboard, I had instant clarity. All my different streams of income, all those website sales, it's all in one simple dashboard. I know my conversion rate, my churn rate, and I can project exactly how my business will look in the future.
Now I know exactly what it's gonna take to grow…and it's simpler than I thought! After months of sleepless nights and problems I couldn't solve, I slept like a baby after trying Putler. Thank you for making something so clear and simple to use!
Jennifer Waldrop, fuzzyandbirch.com
Since Putler aggregates and automatically merges and de-duplicates transactions, you can connect Putler with all your payment processors as well as commerce systems, to get a unified and accurate view of your business. Putler will smartly identify missing information and eliminate the duplicate.
Putler even has smart intelligence – it will detect recurring transactions in PayPal (even when PayPal API does not provide that information), and try to find product names from commerce system when the payment processor doesn't give them…
Putler is the only solution that can do this kind of accurate consolidation. That makes Putler the only reliable and accurate solution for your business analytics.
Don't make big business decisions with incomplete and wrong data when you can make a smarter, better choice with complete and accurate information.
---
Teams, refunds and subscription management
Marketing + Operations + Customer Success – empower your whole crew
Putler is not just for you. It has insights and tools that can benefit everyone you work with.
Managers, marketers, support team, investors, store admins – you can invite everybody that needs to know the pulse of your business. They can view the KPIs, search for orders and customers, and if you allow, can also refund orders – or cancel subscriptions – among others.
Processing refunds from Putler
Managing subscriptions from Putler
And you don't have to pay for each user! Bringing your teammates to Putler is easy and absolutely free. Here's more on creating teams in Putler…
Since Putler acts as a Bible for your business data, getting your team on board helps in a number of ways:
Everybody stays on the same page.
Lets you delegate day to day operations and customer support.
Cuts down time spent juggling between multiple tools and software.
Speeds up decision making.
---
Insights, Alerts, Academy and Resources
Want to grow your business? No problem, of course!!
Running a business is overwhelming. You have lots of balls in the air, are always looking for the next big thing, making sure cashflow stay healthy…
We're building Putler to be your smart assistant!Putler will send you a weekly email with important business numbers. But also include some useful resource/suggestions so you can build a better business.
Every now and then our data scientists add a new Insight report to Putler. For example holiday season sales trends for your business or a way to compare all important metrics across time periods and business units. Putler's ever-growing library of eye-opening, tailor made reports for your business will give you a different level of insight about what works and what doesn't in your business.
We even have resources and tips from experts in marketing, conversion optimization and business growth.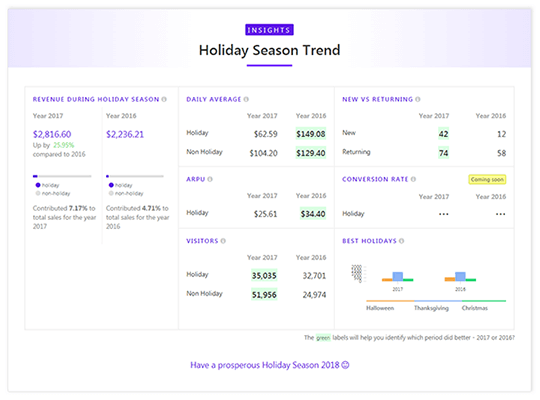 At Putler we keep the ball rolling. We constantly add tools and reports that will grow revenue and build a better business for you.
---
Sensible pricing
Wish to watch you grow!
Putler's plans are based on the value we create for you. So there is no limitation on the number of orders but they are based on features, number of data sources and monthly revenue.
Also if you compare it with other alternatives, Putler provides more for less.
Our goal: We want you to grow sales, make happy customers and build a better business. We want to be your friend, not a despised cost item in your profit and loss statement!

Now it's your choice!
That's Putler at a glance.Now it's upto you. So if you wish to find clarity in your business, freedom from mundane tasks and easy accessibility of all your data – give Putler a shot. Take our 14 day free trial and then decide if you would want to invest in Putler or no.
Whereas, if you want to try out other tools and compare them with Putler. Here are comparison articles that will help you further.