Etsy rings is a highly searched term on Google. So obviously, there's fierce competition amongst Etsy sellers to rank higher for their rings.
People can find unique, one-of-a-kind rings on Etsy that you might not be able to find elsewhere.
2023 is predicted as the year with the most engagements and weddings. So how could you capture a pie of this market?
What can you do to rank higher in search? How can you grow your Etsy shop sales?
Let's look at the strategies and a tool that will help you achieve the same.
What types of rings are popular on Etsy?
Before we move to the strategies, you should know the audience's taste. This will help you find out which rings people are exactly looking out for and you can tweak your marketing strategies accordingly.
As per Ahrefs, people search for these rings the most:
Etsy engagement rings
Etsy wedding rings
Etsy men rings
Etsy nose rings
Moissanite Etsy rings
Etsy vintage rings
Etsy sterling silver rings
Stacking rings
Etsy gold rings
Etsy couple rings
Statement rings
Personalized rings
And what about other rings like diamond rings, crystal rings? Well, they do have searches. All you need is to twist your products for the above categories.
Strategies to rank higher and convert audiences for your Etsy rings
Selling rings online is not as easy as selling books or clothes, the major concerns being the cost, the brand or seller, sizes, and trial before buying.
So these eight ideas will help ring sellers reduce that friction and encourage customers to buy.
Optimize your listing / blogs for category-based keywords
As mentioned above, try to market your product for the above categories. Use keywords in your titles and tags to make sure your listings show up in search results.
For example: "5 heart-shaped Etsy engagement rings".
If you have a budget audience, the SEO title could be "Pocket-friendly Etsy rings for men".
We recommend using popular tools like Ahrefs or Semrush to do your keyword research. Their keyword volume and traffic estimate numbers are very useful to analyze keyword popularity and trends.
Use Instagram and Facebook (posts and ads)
Instagram being a photo-savvy medium, your ring images will decide whether users will land on your site.
You can pick your best-looking rings and showcase them using high-quality photos on Instagram to attract audiences.
Even Instagram ads and Facebook ads will step up your conversions. Facebook ads provide a carousel format which makes it easy to showcase your rings.
And when you run ads, make sure you use the categories above for a better-targeted audience.
Refer to this complete guide on setting up Facebook ads
Run upsells only
Marriage is considered the unity of souls. People won't mind spending extra bucks, at least who aim to wed just once in life. Haha!
So better to upsell your premium products and promote your best-sellers more, rather than running discounts.
If sales are low, a 10% to 15% discount on some high-end products can help.
Respond to customer queries and reviews
Responding to customer reviews can help build trust and improve your reputation.
Since first-time customers will be more hesitant to buy, make sure you address all their concerns in a friendly manner and quickly.
Provide warranty and fair returns
Items on Etsy are typically made by individual sellers, so the quality and craftsmanship may vary.
Additionally, because it is a marketplace, there are sellers that are not professional in the field and may not be able to provide a warranty or customer service.
So good customer reviews, service and easy returns are what buyers will look for before making a purchase from you.
Set better pricing and shipping options
Be clear with your prices and shipping options. Users will compare with other online retailers and brick-and-mortar stores to ensure that they are getting the best deal.
Consider joining an Etsy team
Joining an Etsy team can provide you with additional support and resources for growing your business.
Use analytics
This will help you figure out your sales, views, best-selling products and other metrics.
You can refer to the Etsy reports, but it's the sales and transactions details along with some visitor insights if you connect your Google Analytics.
It's just an overview and not a complete Etsy reporting tool. You need a tool that tells you these are your best customers, these are your best and worst-selling products, and these are your real sales figures.
In short, you need a solution that helps you stay on top of your business. That solution is Putler.
Putler – In-depth reporting and analytics for Etsy stores
Dear Etsy store owners, your search for a complete reporting solution ends here. Hundreds of Etsy stores rely on Putler to grow their business using Putler's real-time and accurate analytics.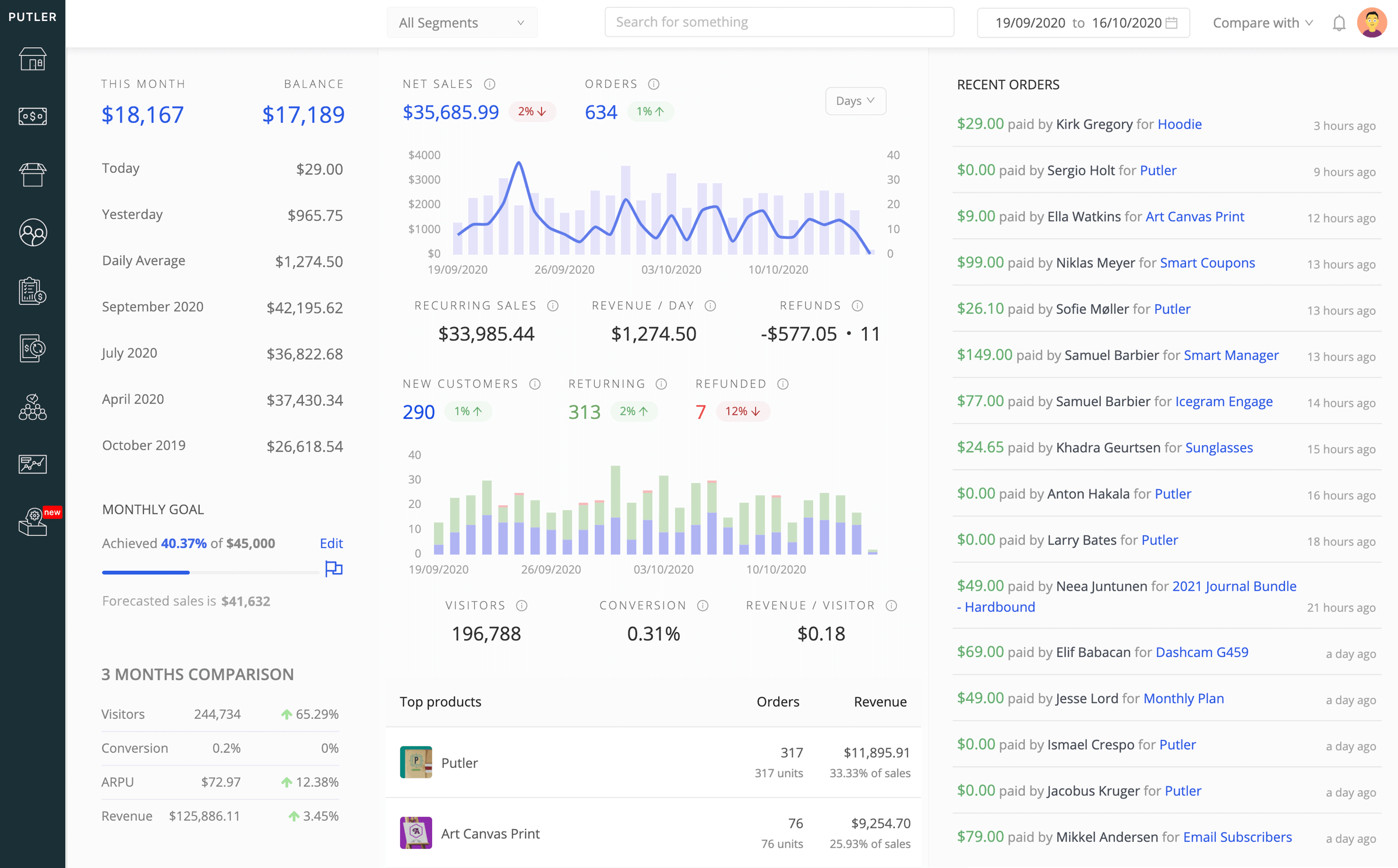 What's missing in Etsy, is all covered up in Putler. Plus a lot more:
Consolidate multiple Etsy stores – Connect them to Putler and view combined as well as individual stats for each of your Etsy stores.
Multiple payment gateways / shopping carts consolidation – Not just Etsy stores, connect other desired platforms like PayPal, Stripe, WooCommerce, etc. and view accurate stats for them too.
Complete sales & transactions data – Sales heatmaps, best time/day to sell on your Etsy shop, related transactions, provision to issue refunds directly, etc., all available in Putler.
Customer insights – Identify who are your best customers (spend the most) or the ones who make the most purchases. Get insights into customers who never returned after making a purchase.
Product insights – Product leaderboard, top sellers, which customer purchased which product, etc. get them all. Know whether engagement rings were sold more than vintage rings or whether men purchased more rings than women. A lot of actionable info for you.
Visitor insights – If you connect Google Analytics to Putler, you would identify which product pages are visited the most and from where people land on your ring store.
Final words
You are in a niche market, so competition is there and returns are also high. But only if you market your products well and analyze your data thoroughly.
The strategies mentioned in the blog work quite well. So go for it. And to understand how well your Etsy rings business is doing, Putler is there for you 24*7.