Putler desktop will reach end of life on 31st May 2018.
We built Putler desktop app in 2011 and kept on improving it. If you've followed our trail, you know we started working on the "new tech" / "web" version three years ago. And launched it in 2016.
The web version is our focus now, and it's time to bid goodbye to the trusted old Putler desktop app.
We're calling the original Putler desktop app Putler Classic.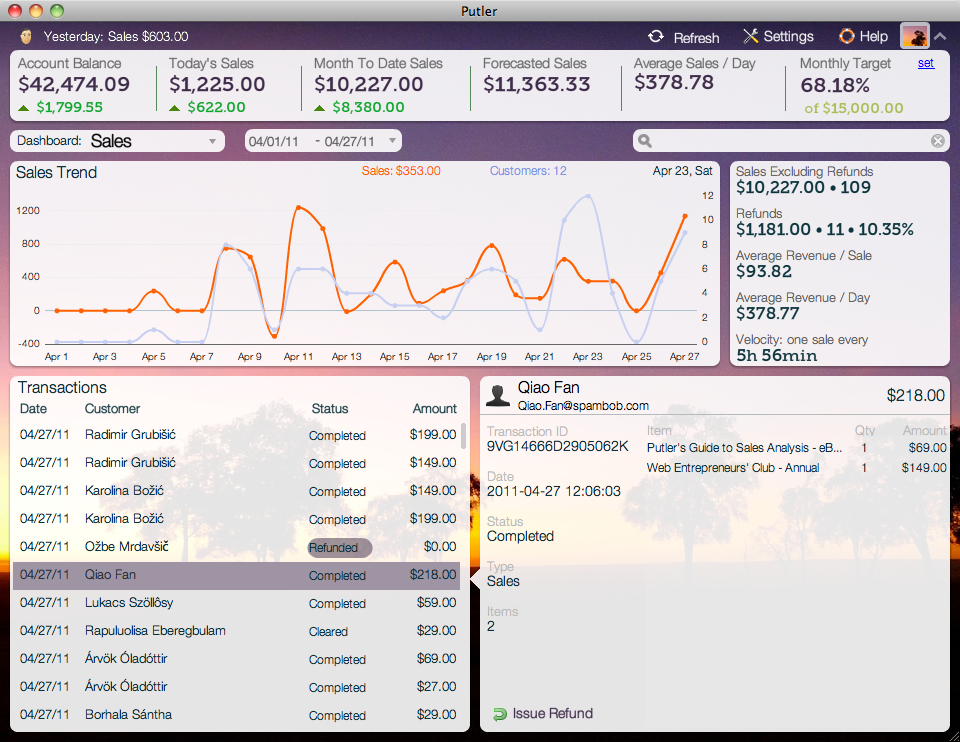 We announced end of life of Putler Classic a few days ago to current users. And I'm sure it raised many questions for customers.
So let me answer all those questions in one place here.
And if I've missed answering your question about Putler, the classic app, the web edition and going forward, please post a comment at the end of this post.
So let's get started:
I like the Putler Classic desktop app – why are you forcing me to switch?
We love it too.. But there are many reasons to switch to web:
We were using Adobe AIR + Flex as the technology platform. Over the years, these are getting obsolete. Adobe donated Flex to Apache foundation and new development is slow / not happening. For Adobe AIR – the focus has shifted to games and technology stack has changed as well.
We were getting performance bottlenecks with old app when people had large databases. The app would become unresponsive for a bit when new transactions were pulled in.
New features were harder to implement and maintain on the desktop version because of all the technology changes.
Certain things were just not suited for desktop, but people wanted them.. And we had to do workarounds – for example: multi user / team access, multi device usage, Google Analytics and many of the new integrations…
Demand for desktop was shrinking. As a matter of fact, people were not signing up because Putler was a desktop app. Demand for web version was growing.
Web technologies were clearly winning over desktop.
But wait, a new desktop Putler is coming!
Many users said they like the convenience of desktop. So we are creating a desktop app for the new Putler.
It will be the same interface that you use on the web, but packaged as a desktop app so you can quickly get to your numbers. The new desktop app can log you into Putler automatically, and can keep running on your computer..
You just need to switch to the app, instead of opening a browser tab, going to Putler's website and logging in.
We expect to make it available by December 2017 end, or early January 2018.
So, what happens to the Classic desktop app after May 31st, 2018?
You can use Putler Classic until 31st May, 2018. After which you won't be able to use it.
You need to switch to the new Putler to continue enjoying all the benefits of Putler. You can use the new desktop app, but will need a new subscription plan – Starter, Growth or Scale.
So what's better in the new Putler? Why should I switch?
Putler web does what the desktop app does – and a whole lot more…
We've kept all the most important statistics and reports from Putler desktop. But we've taken giant leaps with new features…
Data de-duping – a superb merge engine that links transactions across multiple accounts – so you get accurate reports
Google Analytics integration – yes, you can now see important web metrics in Putler – like average revenue per visitor!
Customer profile enrichment, RFM segmentation – a lot of improvements on customers dashboard
Subscription metrics – MRR, ARR and more.. We've got recurring businesses covered 😉
Better design, ongoing improvements, more reports and better KPIs
Personalized growth insights + weekly stat digests
Team support – share your accounts with others – e.g. let your support team manage refunds
Mobile responsive – much better than Putler Now and other hacks we tried earlier
Products leaderboard, items bought together, and other KPIs
There is a lot to Putler web, and it gets better everyday!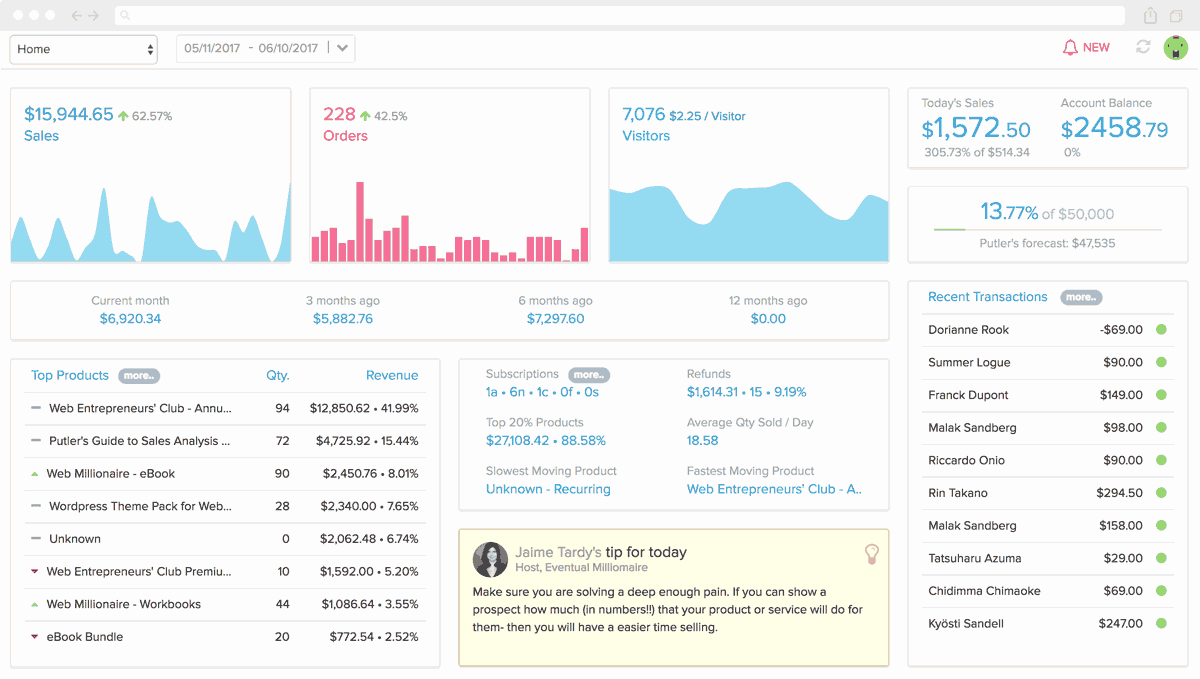 Your current Putler email / password will work for web too.
What about security? I don't like my data on a server…
Perfectly valid concern.
Putler Classic stored all your data on your computer. The new Putler stores is securely on our servers.
First, we do not store credit card information. We understand the importance of data security, and protect our servers with best technology.
Plus, we are always working on additional security measurements. We are working on adding two factor authentication for important actions like refunds or subscription cancellation. We are working on some more ideas too.
A lot of your business data is in the cloud now. A lot of your transactional data is stored on your site, lot of tracking information on Google Analytics, all payment and card details at Stripe / PayPal or other payment processor…
Putler is another cloud based analytics / reporting software as a service. We store data to give you extensive reporting and understanding of your business.
The benefits outweigh risks by a wide margin.
What happens to my old Putler desktop subscription?
First, all active Putler Basic, Plus, Premium and Max subscriptions will be cancelled by 31st May 2018. So they won't bill after that date.
But what happens to the subscription you paid for?
There are a few different situations here…
If you're on an annual plan, and renewed your subscription before November, 2017 – you can continue using Classic desktop till your subscription expires.
If you've renewed your annual subscription after November, 2017: 1. You can use the Putler Classic desktop till 31st May, 2018. 2. We will provide a prorated refund for the period from 1st June 2018 till your subscription expiry.
If you are on a monthly plan: Your subscription will be cancelled by 31st May 2018, but you may use Putler Classic until your subscription expires.
In short, you will get the complete worth of your money or a pro-rated refund.
Can I renew my current Putler desktop plan now?
You can continue with monthly subscription until May 2018. All Basic, Plus, Premium and Max subscriptions will be cancelled on 31st May.
If you are on annual renewal, your subscription payment will be taken by PayPal, but we will provide a pro-rated refund to you so you are charged only till 31st May.
I signed up for Putler on the web, but I'm on Plus/Premium/Max plan..
We changed plan names only in August 2017, so it is possible that you signed up for a Plus, Premium or Max plan, but are not using the desktop app.
If that is the case, you don't need to worry. We are transitioning you to the closest new plan – Starter, Growth or Scale. Your current billing will continue, and you can use all new features.
The new plans are very expensive.. I'm not sure if I want to pay that much money..
Prices are always relative.
If you compare Putler's pricing with other analytics and reporting solutions, you'll agree Putler is a steal. We offer a whole lot more than reporting, but charge a lot less.
The new Putler helps you a lot more in tracking, managing and growing your business. It's a lot more advanced in terms of features, technology and utility.
If you compare new plans with old plans, you may feel the new plans are expensive.
Sure, the new web based infrastructure is a lot more costly to setup and maintain. We have to do a lot of data crunching now, which is not cheap.
But whatever the plan price, Putler proves its value very quickly. It saves $300 and 12 hours of efforts every month.
And the business value from all the reporting, growth suggestions and insights is invaluable.
We also keep enhancing Putler for businesses of all sizes. Our main goal is to double your business!
We feel the our plans are very affordable if you compare the value they'll generate for you.
Can I get a special offer on new plans?
Yes!
Sign up for a trial of new Putler, and we will give you a special offer to migrate to Starter, Growth or Scale plans.
Do I have to pay separately for the new desktop app?
No.
The new desktop app is an additional way of accessing Putler. And you won't have to pay anything extra if you are on the Starter, Growth or Scale plans.
Why don't you just let me use Putler Classic? No new features, only maintain it..
Many of you suggested that we let the desktop app run as it is. And update it only if there is a change in PayPal API or any other integrations we support.
We've considered this option too. And while it can buy us some time, it will have to come to an end at some time. PayPal APIs have already gone through a lot of changes, and their new REST APIs are becoming a norm. Putler integrates with other payment gateways too, and we have to carry out maintenance for them as well.
We do want you to move to the new app, so we don't have to split our attention. I'm sure you'll agree that we will be able to better serve you if we were focused.
Yet, we will let the desktop app running – a bit beyond 31st May to cover all situations we described earlier.
I don't want to migrate to new Putler.. What do I do?
You may be happy with Putler Classic, or have reasons not to use a web based software.
I strongly recommend you try out new Putler before making a decision.
But if you have to stick to desktop, you can stop using Putler and switch back to using the payment gateway / e-commerce system directly.
Or you can try one of Putler's desktop alternatives..
You will find two names when you search for Putler's alternatives.
PaySketch and PayDrill. Both are actually the same software, just rebranded and sold as two different software.
PaySketch came before PayDrill, and is copied Putler almost entirely. Eventually they added some nice features, but I'm not sure how actively they are maintained. Additionally, they work just with PayPal. They don't have multiple gateway support like Putler.
BTW, if you know of a worthwhile alternative to Putler desktop, do let us know and we can add it here.
More questions?
Feel free to ask your question by posting a comment below.