eBay analytics tools help you to understand your business and drive the best ROI. In this article we will help you to find the best eBay analytics tool for your store. Let's get started…
What is eBay Analytics?
eBay Analytics is a suite of analytical tools that eBay provides to sellers and buyers. The goal of these tools is to help sellers optimize their listings and increase their sales.
The eBay analytics tools are broken down into two categories, Seller Analytics and Buyer Analytics.
Seller analytics helps sellers understand how they can better present themselves on eBay by analyzing the data that they have collected on their listings, such as views, clicks, and conversions.
Buyer analytics provides information on how buyers search for items on eBay and what they are looking for when they are browsing through different pages or categories.
The seller analytic tools also provide information about what kind of products people buy most often so that sellers can adjust their product offerings to suit this demand.
How to pick the best analytics tool for Your eCommerce business?
There are a lot of analytics tools in the market. For your business, you need to select the right one.
The first step is to identify what kind of data you need from your analytics tool.
Do you need basic data like sales and conversion rates? Or do you want more advanced data like customer profiles and customer journeys? Now let's discuss the best eBay analytics tools that we've selected, you can pick anyone according to your business needs.
Top 6 List of the Best eBay Analytics Tools For Sellers
Zik Analytics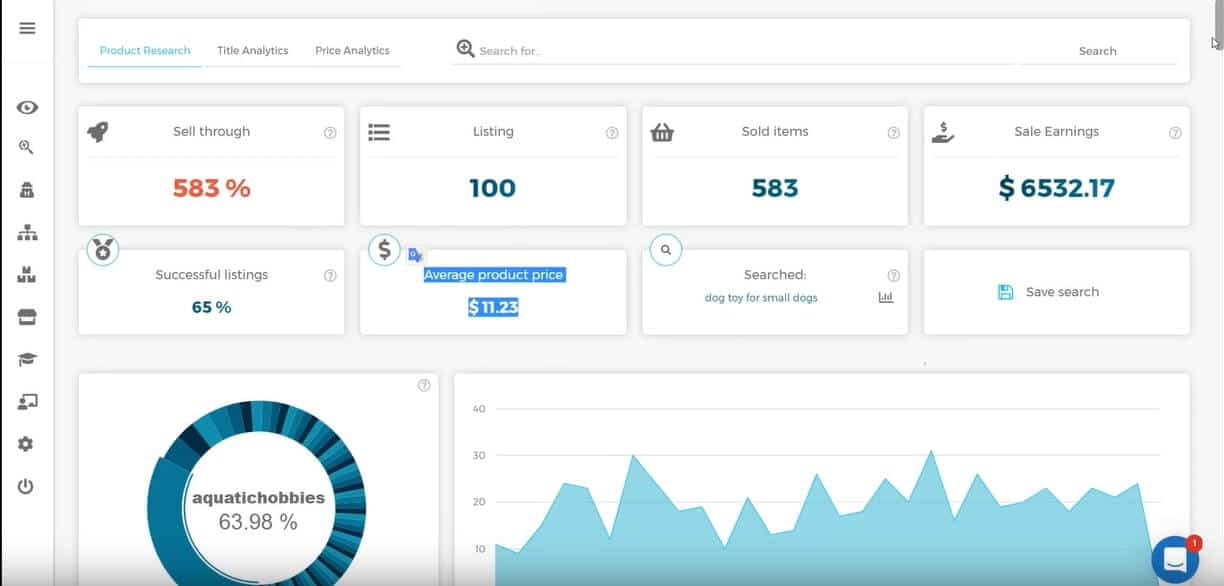 ZIK Analytics is a leading eCommerce market research tool, that helps sellers find profitable items to sell on eBay and shows them how to sell their items fast by ranking them on page.
Feature:
Statistical Analysis
Multi-Channel Distribution
Reporting/Analytics
Pros:
eBay Product Research
AliExpress Market Research
Wholesale Supplier Database
Live Chat Support
Find hot products to sell online in minutes
Discover the best item categories and keywords
Cons:
A Little Bit Expensive
Free trial have limited features
Pricing: Starting at $14.99/month
Putler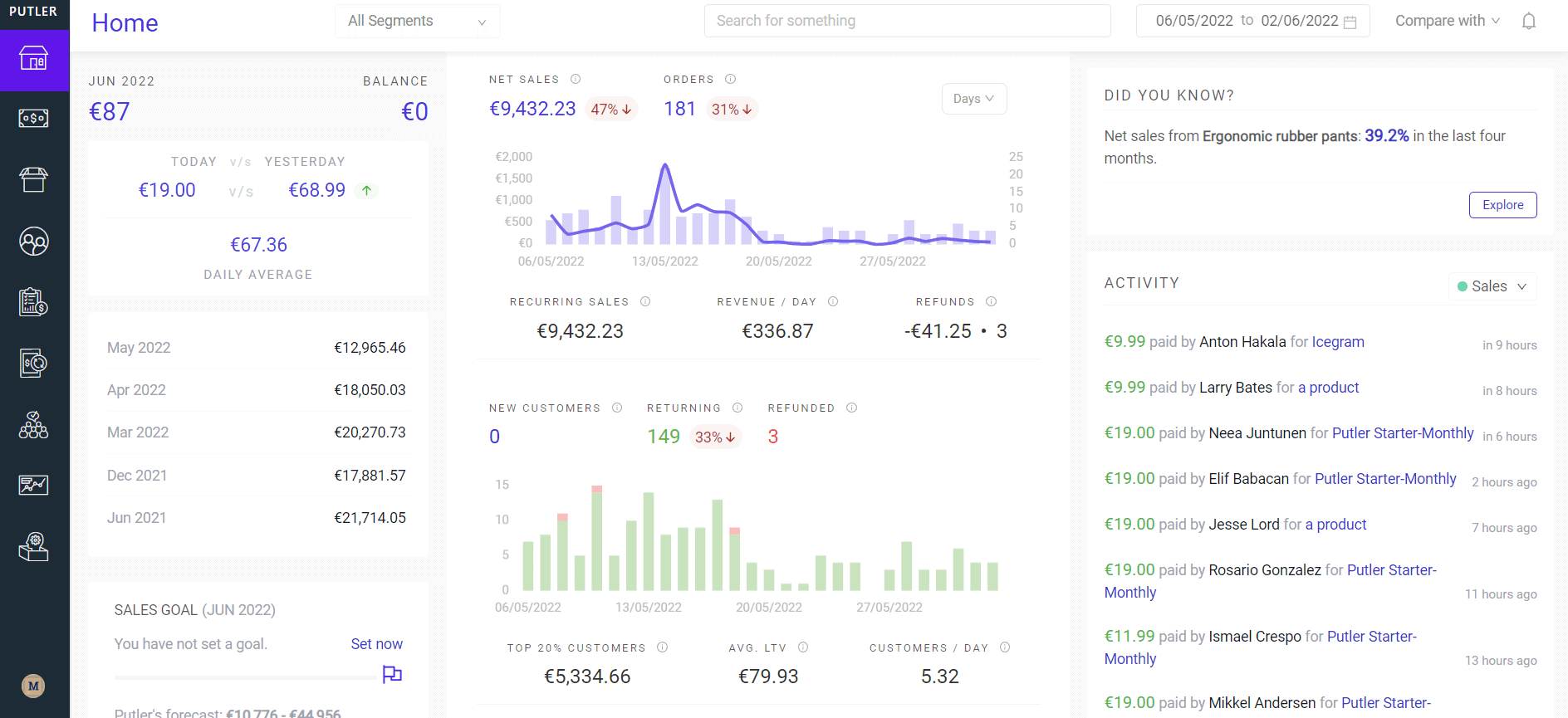 Putler is an eBay analytics tool that provides multichannel insights. It provides in-depth reports on Products, Customers, Sales, Orders and Website Visitors. Putler also offers marketing features such as forecasting, infinite segmentation, multistore reporting, goal tracking, insights, website analytics, performance comparisons, custom filters, and many more.
Features:
Customer profiling and purchase history
Multi-store reporting
Custom segments
Issue refunds, and manage subscriptions
Intuitive filters
Automatic deduplication, enrichment, currency, and timezone conversion
153+ key performance indicators and reports
Analyzes SAAS and non-SAAS businesses
Provides RFM Customer Segmentation
Instant transaction lookup
Pros:
Automatic currency conversion
Gives detailed information with invaluable insights
Provides higher transparency and visibility to businesses
Pull up correct transactions in just a few seconds
Give important numbers and KPIs in seconds
Cons:
Sometimes it is a bit slow to sync and import data from other sources
Both themes are bright
A bit pricey
Pricing:
Starter plan – $20/mo
Growth plan – starts at $50/mo
Algopix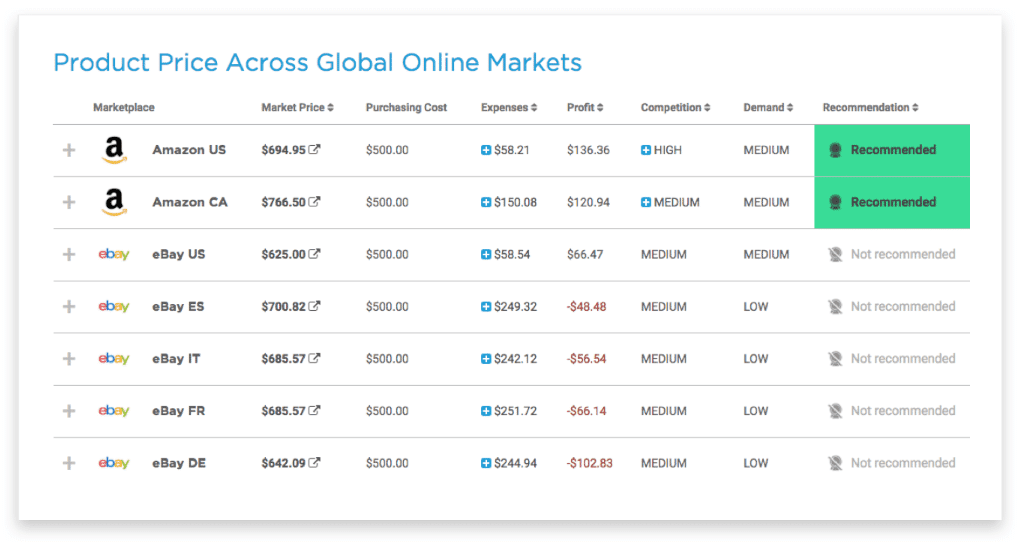 Algopix provides actionable purchasing insights to ecommerce merchants. Algopix automates the process of determining what to buy, where to sell, and at what price, reducing merchants' time spent on tedious manual processes.
Features:
Google Adwords Insights
Competition Comparison
Demand Forecasting
Single Product Analysis Tool
Grouping and Ranking
Margin Estimates
Price Benchmarking
Product Identification
Pros:
eCommerce product analysis
Algopix will provide invaluable information such as expense breakdowns, recommended selling price, etc
With an integrated Google AdWord analysis, it provides relevant marketing insights
Greater brand recognition
Offers more frequent discounts and promotions
Analyze 200+ products at once in a bulk analysis
Cons:
Software tends to run a bit slow
Pricing: Starting at $34.99/month
Terapeak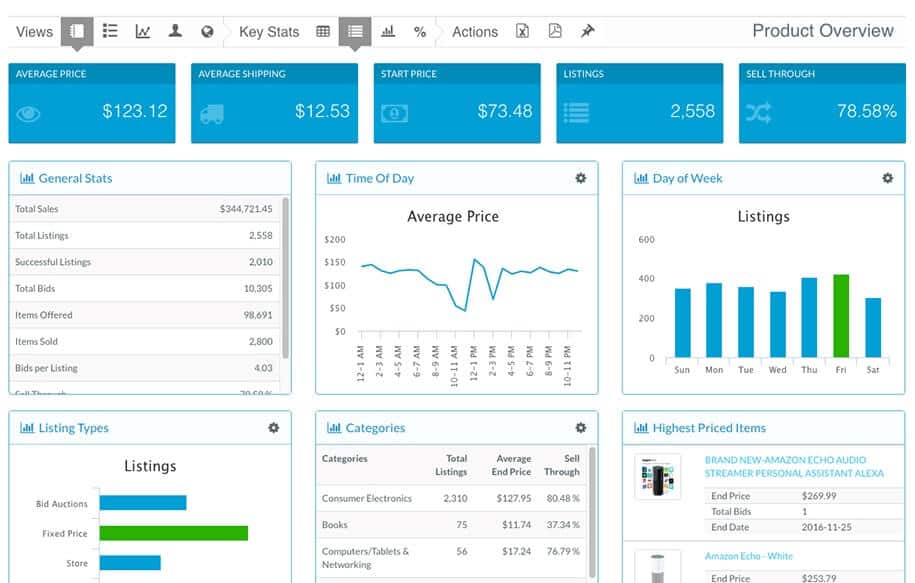 Using Terapeak Product Research, you can determine what to sell, when to sell it, and at what price. Analyze recent marketplace price trends and real-world sales data for millions of items to optimize your listings. Find the best-selling eBay items by analyzing markets, competition, hot trends, and products.
Features:
Category selector
Analyze relevant active listings
Data visualization for market share
Multi-User Account Access
Price and quantity data visualization for items sold
Pros:
By far one of the best market research tools available for eBay.
With sourcing insights, users can identify categories based on supply and demand.
It provides a lot of information about vendors and products, provides a lot of search options, trends tracking, information by category and seasonal popularity and much more.
It has a mobile app as well.
Cons:
Software is mostly a one time fee but Terapeak charges monthly.
Costly monthly subscription.
Pricing: Starting at $19.98/month
ShelfTrend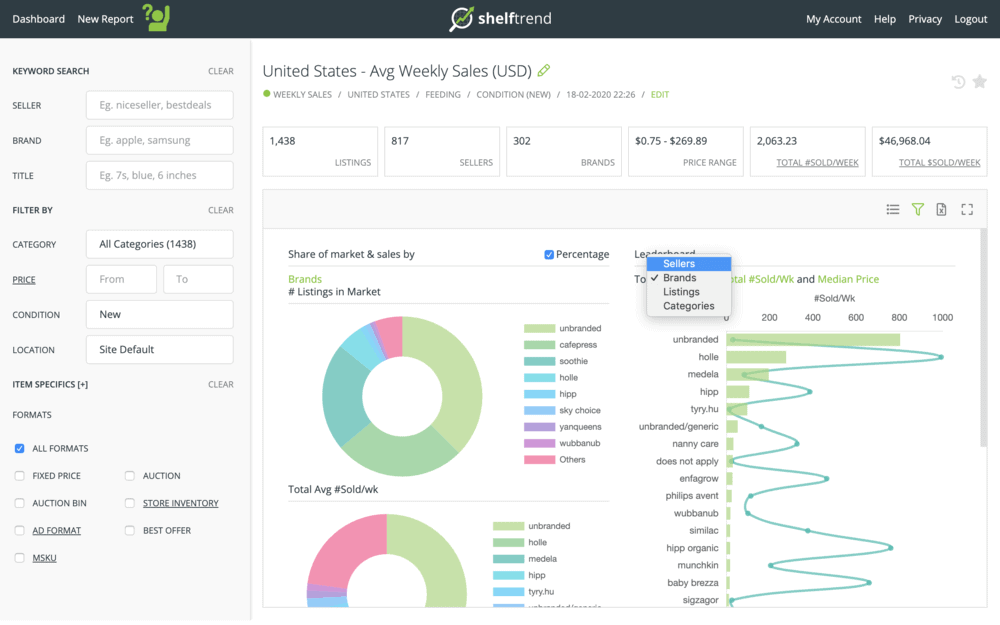 With ShelfTrend, sellers are able to identify what sells, what keywords to use, best-selling categories, and, of course, identify their competitors. Your products will be benchmarked against look-alikes and you will be notified of market trends. ShelfTrends provides a comprehensive analysis of data that is easy to use and responsive.
Features:
Search any eBay marketplace worldwide
Search by keyword, seller and/or category
An overview of live listings, new listings, and supply and demand
You can filter by brand, title, search rank, price, and item details
By seller or brand, you can view inventory levels, sales velocity, and pricing
Export data to Excel and use interactive charts
Pros:
Expand into higher growth categories and attract new buyers.
Reduce sales risk by diversifying your product range. Your sales will continue to grow if your customers stop wanting one of your products.
You can leverage your existing knowledge and customer base if you are selling a complementary product.
Cons:
You might have little or no product knowledge and have to learn from scratch.
You'll need to research competitors, pricing and buyer preferences too.
It is likely that you will need to find new suppliers and develop new relationships.
There is a steep learning curve to overcome.
Pricing: US$19.99/month
KeywordTool.io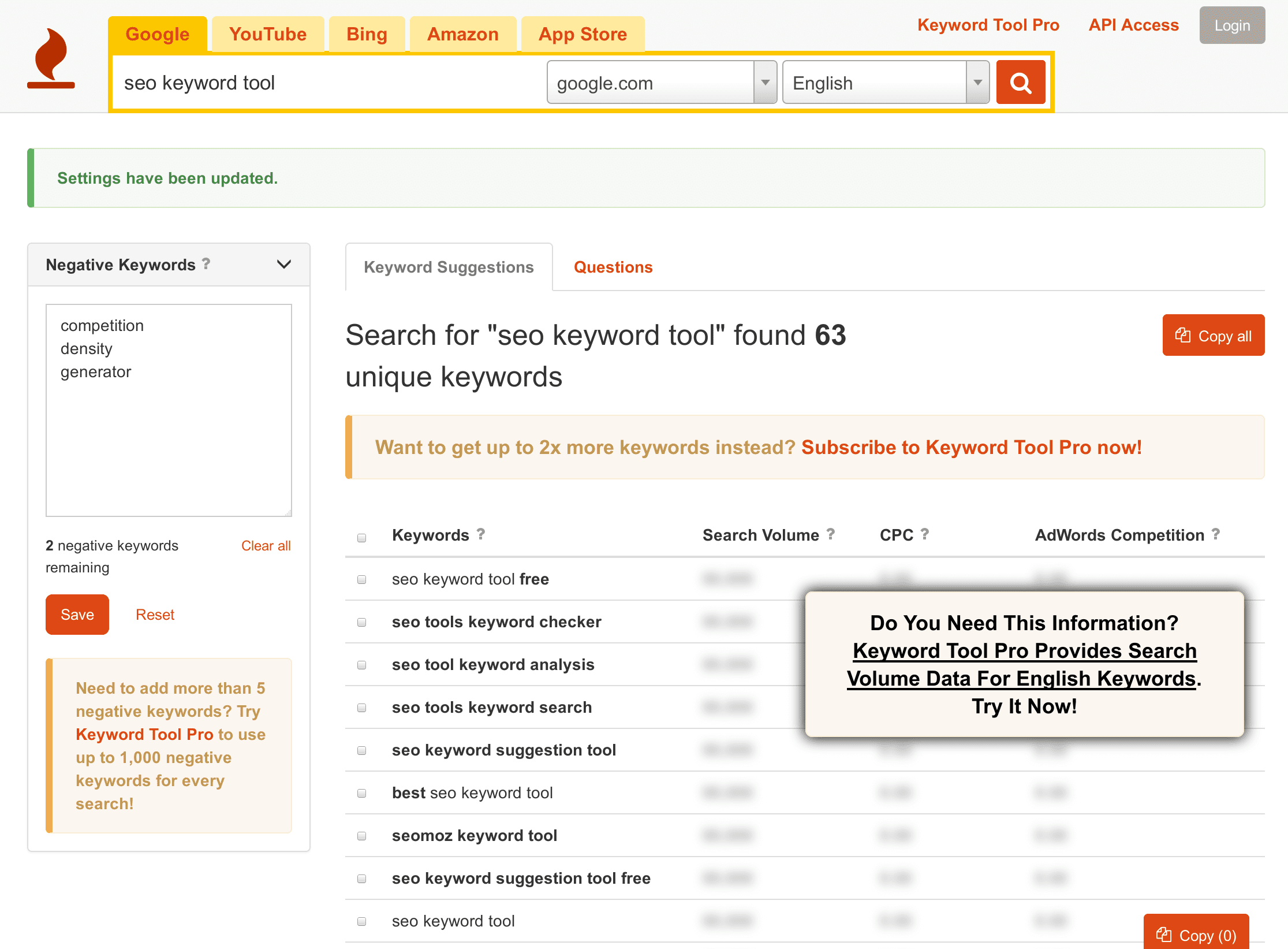 If you're looking for eBay analysis tools, you can't miss Keyword Tool. Using this keyword search tool, you can find out what products people are looking for to buy on eBay by finding the best keywords. You can use those keyword ideas free of charge when searching the eBay app or website since they are derived from real search queries.
Features: Keyword Tool's paid version provides two times more keywords than the free version, as well as search volume data, so you can easily analyze the popularity of any given eBay keyword. You can also narrow down the list of generated keywords by various features like filters and negative keywords.
Pros:
A comprehensive keyword tool.
Feature to search for keyword volumes in bulk for a large number of keywords.
Feature to set the origin of search and language is great in understanding any demographic from an SEO perspective.
Also helps with Youtube tags, Instagram hashtags, etc.
Cons:
More inclined towards keyword research alone.
Very limited set of features compared to other options in the market.
Pricing: Starting at $69 / month
Conclusion
In final words I would like to conclude by saying choose your analytics tool wisely.
Decide the key metrics you wish to track and then pick the analytics tool that provides you those metrics.