This post does not talk about the Stripe company revenue. If you want to check Stripe revenue for 2022 and other statistics, refer here.
Instead, it talks about how Stripe users can monitor and grow their business (subscription and non-subscription).
Whether you run a WooCommerce, Shopify or BigCommerce store and have multiple Stripe accounts, you are at the right place.
So let's see how to forecast and grow your Stripe revenue or sales of your business.

In-depth Stripe analytics and reports
Putler gives you detailed and comprehensive insights to track the revenue of your business keenly.
Connect your Stripe accounts to Putler to identify how your business is performing – whether the revenue is rising or falling, which products are sold the most, which customers made the highest purchases, are there any refunds…100+ metrics to identify growth opportunities.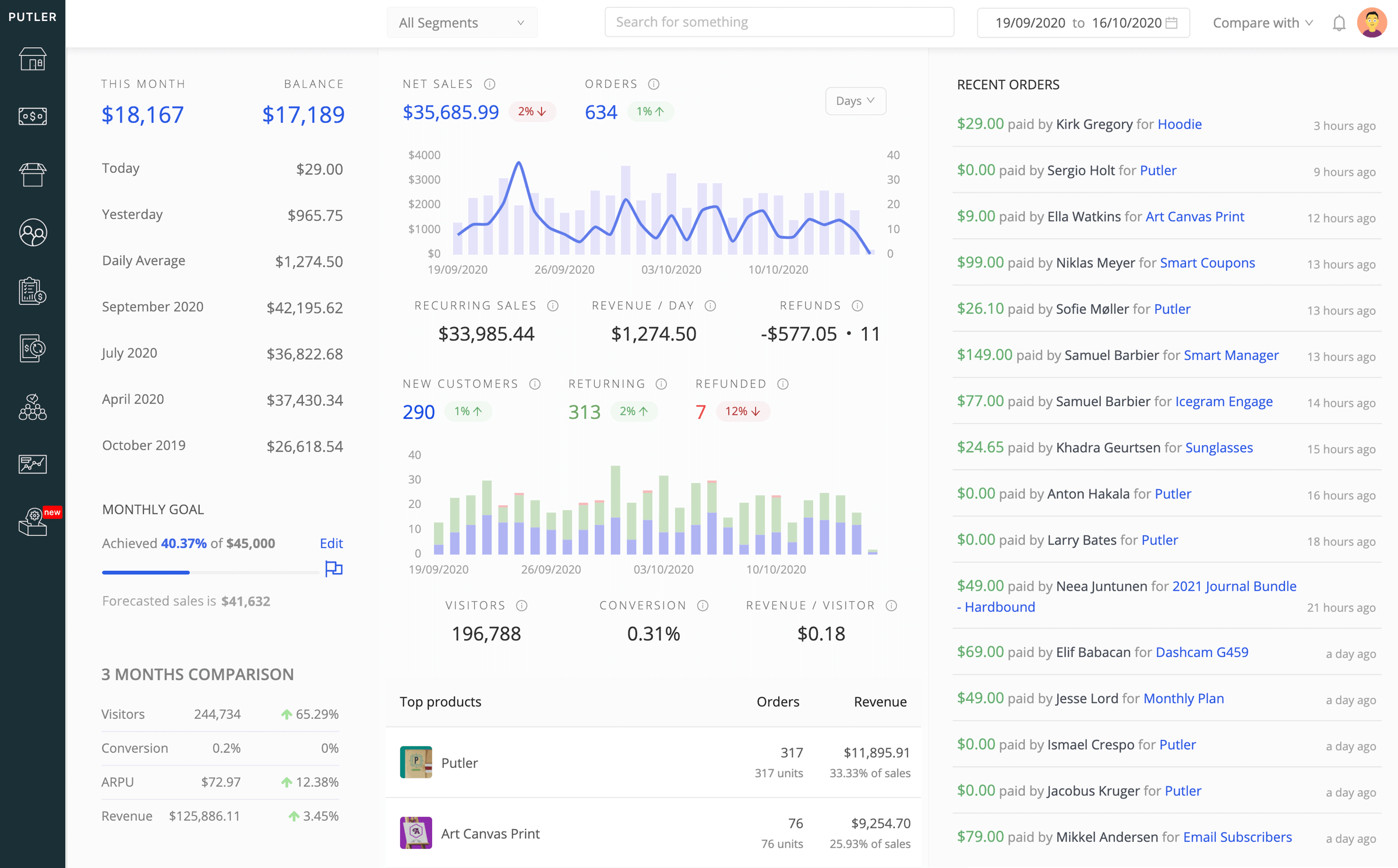 Steps to connect Stripe to Putler:
Once you sign in to Putler, click on the Stripe icon & give a name to this account.
Log in to your Stripe account.
Grant permission page appears – Click on grant permission.
Your Stripe account is added successfully to Putler.
As simple as that.
Let's drill down to some dashboards for better understanding.
Sales dashboard (Stripe revenue dashboard)
This is actually the Putler Sales dashboard. But since we are only monitoring Stripe data for now, we can call it the Stripe revenue dashboard.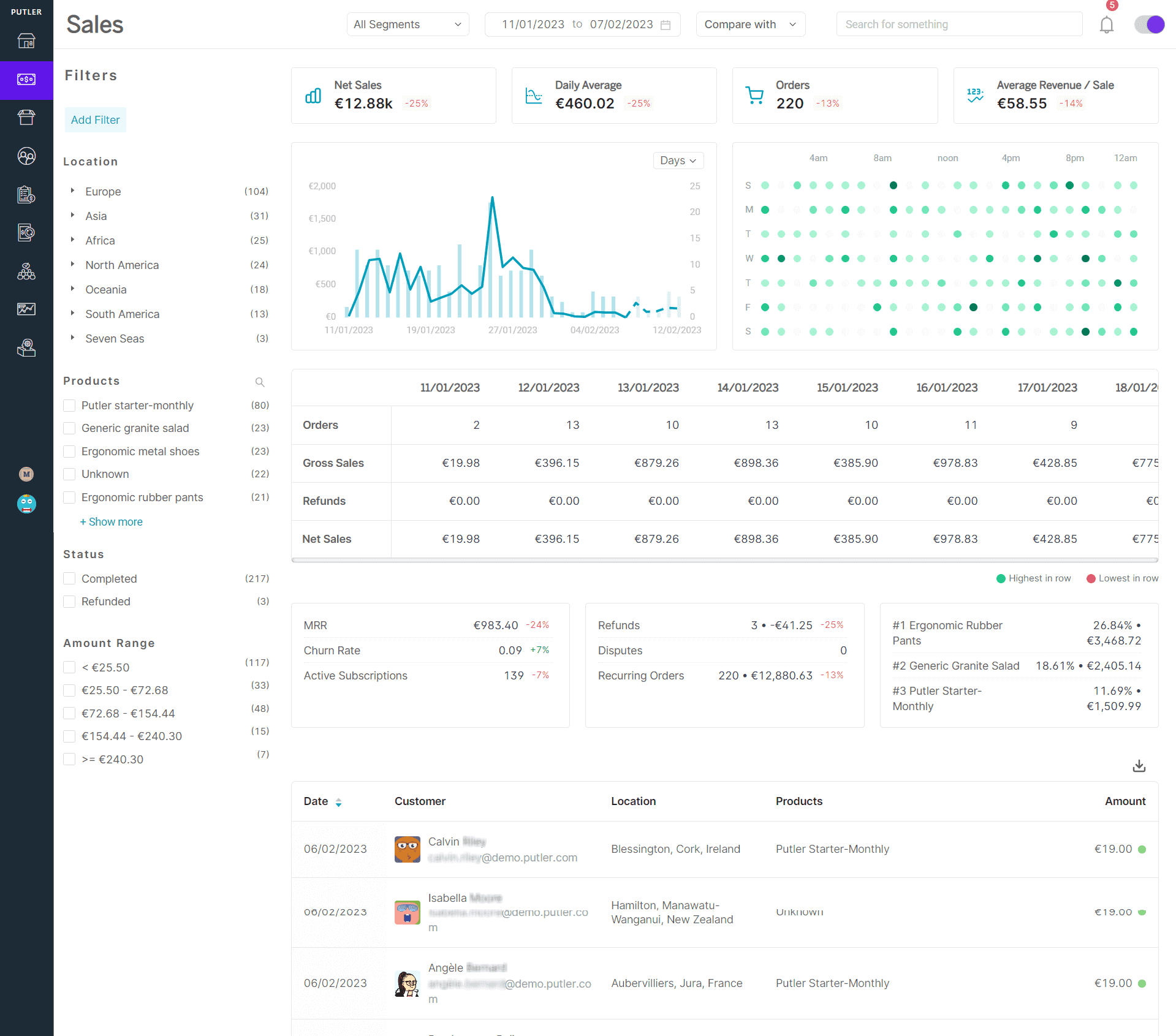 Here are some important revenue metrics you can analyze for business performance:
Percentage change in sales (up or down) for the selected date range compared to the previous date range.
Sales Heatmap – Indicates the best and worst day and the time you make sales. Darker the spots, the more the sales.
Net sales and refunds
Average revenue/sales
Average revenue/day
All your transactions list for the selected date range
Products dashboard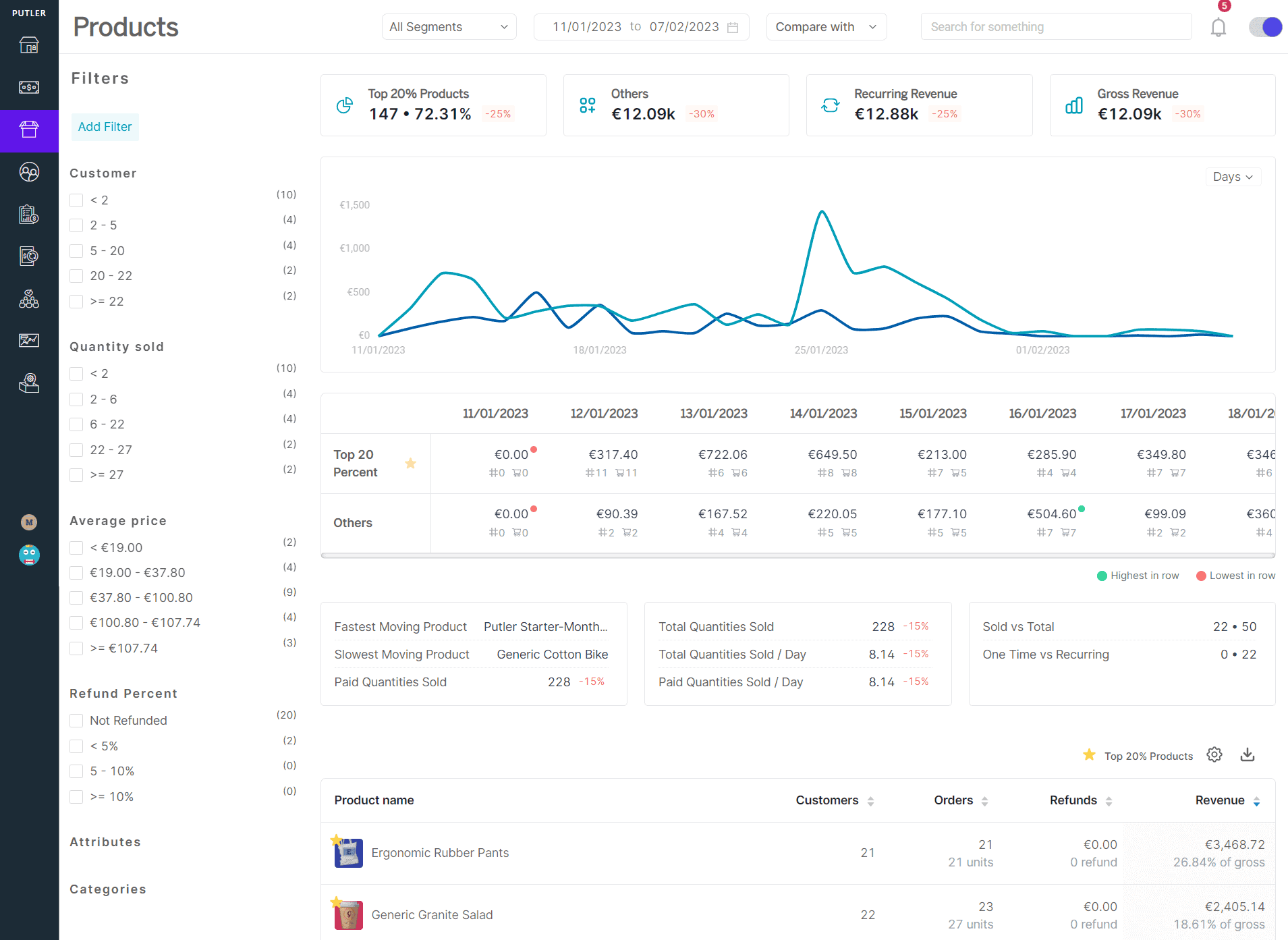 Get insights into your product performances to devise further marketing strategies.
Product leaderboard – revenue from each product, orders placed and customers who purchased those products.
Fastest and slowest moving products
Trending products on your store and products that have taken a hit
Sales from the top 20% of products
Refunded products
Customers dashboard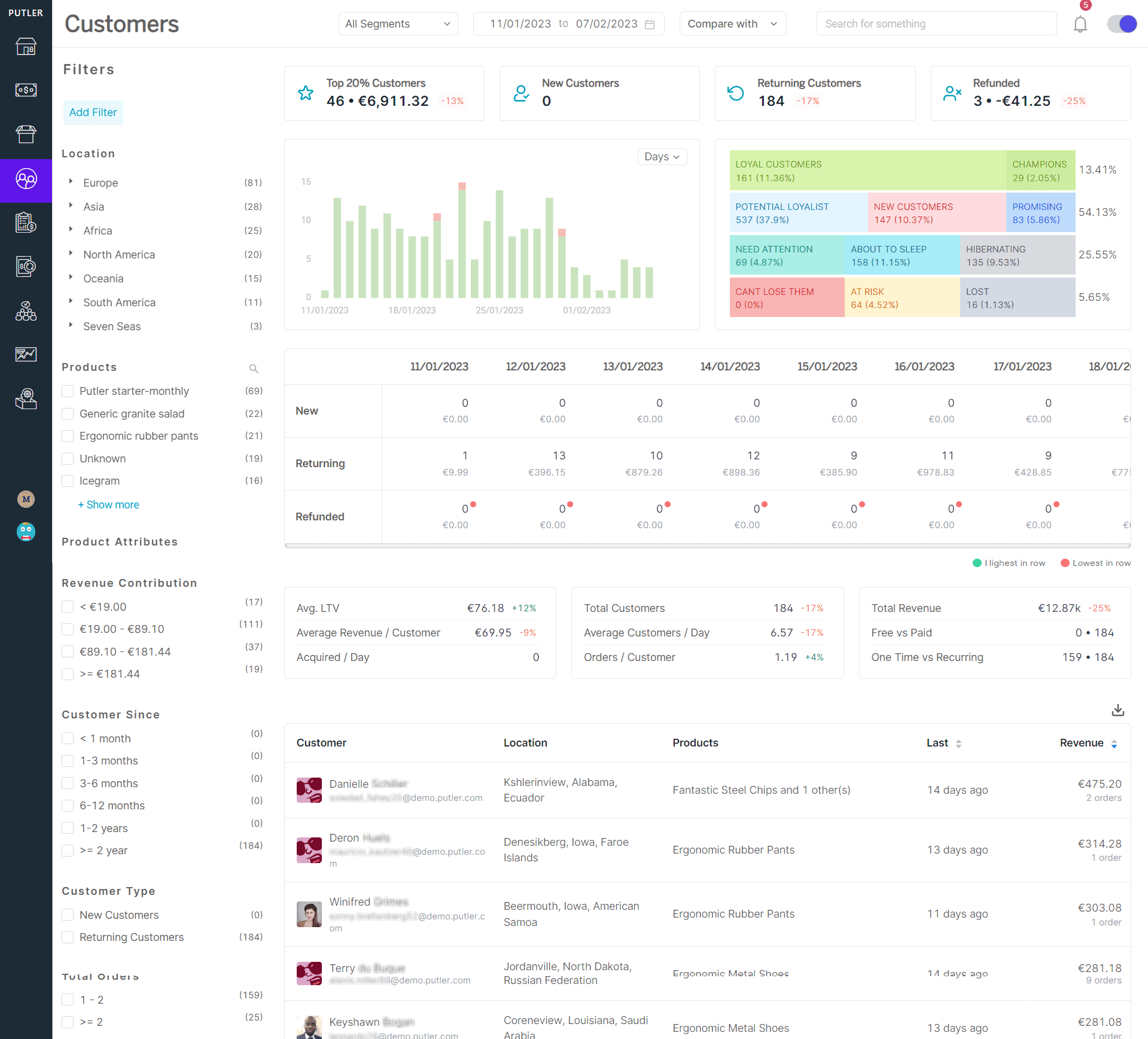 Gain some insights into your customer metrics to identify better targets for more sales.
New vs returning customers
RFM analysis – Customer segments to identify recent customers, their purchase frequency and how much they spent. Best used for targeted email marketing.
Individual customer profile – social media details, contact details, email address, geolocation, customer's website information, list of products purchased.
Average LTV, lost customers, top 20% customers and other metrics.
Stripe subscriptions dashboard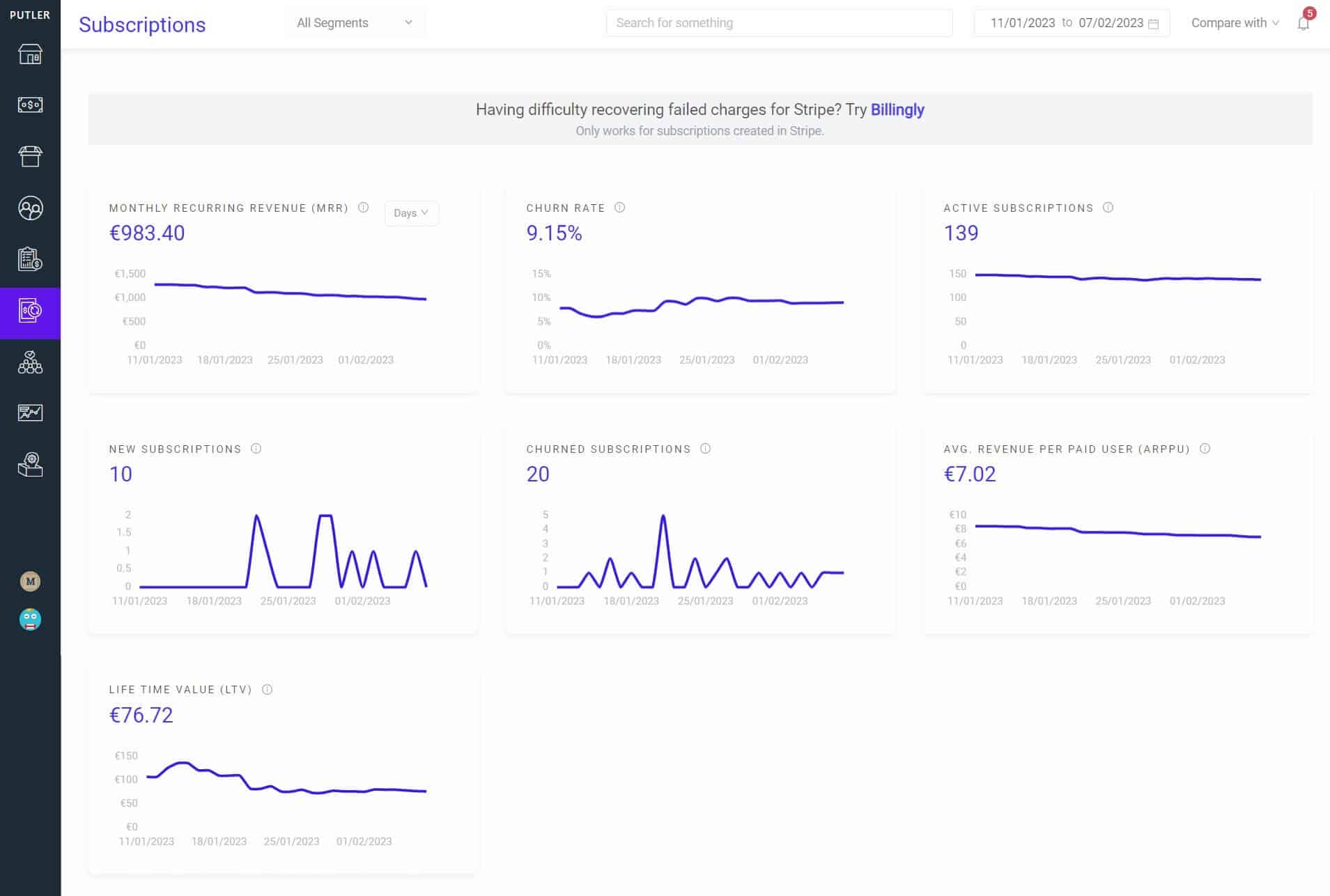 If you are running a subscription business, you can monitor the most important SaaS metrics for Stripe. MRR, churn rate, active, churned and new subscriptions, ARPPU and LTV.
Time machine to forecast your revenue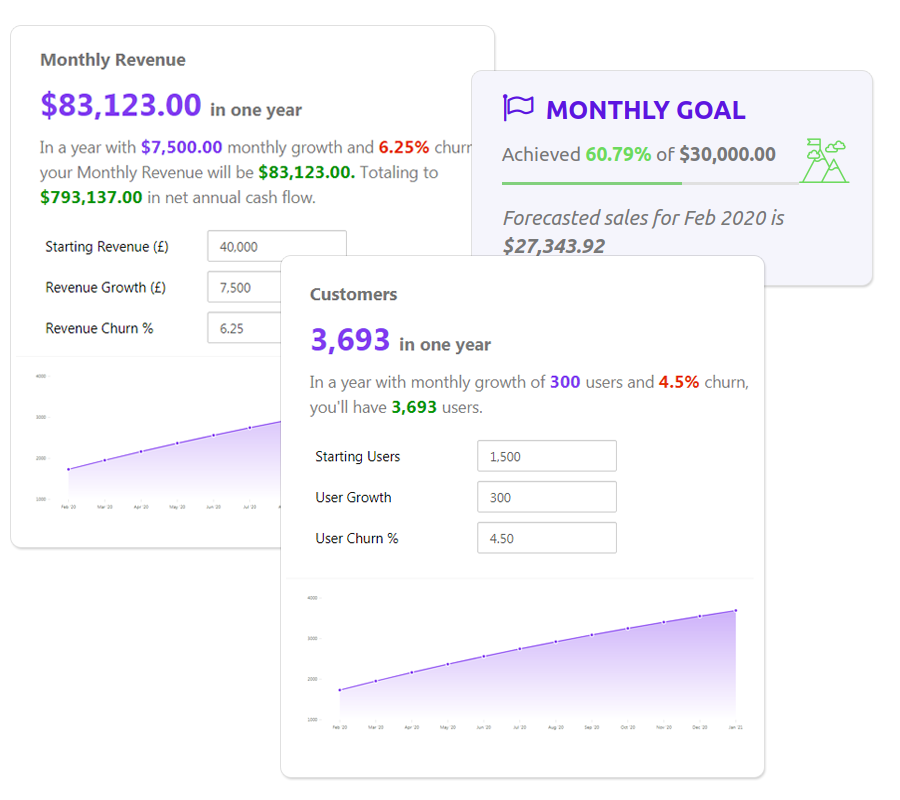 Based on your monthly revenue, Putler's Time Machine model will forecast the monthly revenue you will earn at the end of 12 months.
This forecast is based on your revenue growth per month and the revenue which gets churned every month. On a similar line, the model will also forecast your customer count.
Not only Stripe, but you can also connect PayPal, WooCommerce, Shopify and other platforms to Putler for advanced analytics and reports. View list of all integrations.
Another advantage of using Putler is you get accurate data in real time. You can monitor data for individual data sources as well as combined ones.
Next steps
With so many important metrics mentioned above, you are now well-versed to identify growth opportunities for your business and boost your Stripe revenue with Putler.