This eBay orders article is split into two sections:
For buyers who made a purchase on an eBay store and want to track their order / purchase history.
For sellers / businesses who want to monitor all orders placed on their site. And how to spot growth insights from it.
So let's begin with the buyer's section.

How to track my eBay orders?
If it's your new eBay order, you may want to check the expected delivery date.
For your previous orders, you may want to review the price, order status, and other details.
So to track these orders, eBay provides you with the Purchase History option.
This Purchase History section of your eBay account is where you'll find all your orders for the past three years. It's also the central hub for managing your orders – reviewing order details, contacting sellers, returning items, and more.
Whether you have an account or are a guest, here's how to track your order on eBay.
Tracking your eBay account order
Sign in to your eBay account.
Locate My eBay on the top right and hover over it.
Click on the Purchase History option.

It will show all the orders you placed within the past three years. This section is where you can find the specific order details.
Choose Recent to view your recent eBay orders from the last 60 days.
Choose Archived to see older orders.
Look for the order you want to track. Its status will be beside its image. You'll see text like "This item has been shipped" or "Delivered on March 15, 2023", depending on the order's current status.
Here, you will also see the shipping progress for any item you've purchased the moment the seller ships your item.
By clicking on the tracking number, you can access carrier information and track the current location of your order, provided that the seller utilizes a tracked shipping service.
If your item doesn't have tracking, you'll still be able to see its estimated delivery date.
Tracking your eBay guest order
You can purchase items on eBay as a guest.
To view your order, you'll need the order confirmation sent by eBay to the email addresses you provided at checkout.
Check your inbox with the subject that reads Order Confirmed. If you don't find the email, use this link to tell eBay to send the order details email again.
Within this email, click on View order details. Then on the next page, select Show shipping details. You'll find a delivery status bar with the shipping service, tracking number, and the item's current location.
If you don't find the tracking information, you can select Contact seller on the Order Details page and ask the seller to upload the tracking number.
How to delete eBay orders from your History?
You can't delete the items from your history permanently. However, you can hide your purchases made in the last 60 days.
Sign in to your eBay account. Go to My eBay > Summary.
Click the More actions button next to the specific purchase you want to hide.
Choose Hide item from the drop-down menu.
That's all about how as a buyer, you can track your eBay orders. Let's move to the Sellers section.
How sellers can track eBay orders and spot growth opportunities?
eBay sellers find it difficult to grow their business due to tough competition and the lack of a strong reporting tool.
eBay reports provide some basic details on your sales, traffic and listings data. But here are some shortcomings:
Wait up to 60 minutes for your report to be ready for viewing. You can imagine the further pain points from the number itself.
Lack of sales and transactions insights
Missing product insights like best products sold, fast-moving products…
Missing customer insights like top spenders, complete customer details, customer segments…
Putler compensates for the lack of certain metrics in eBay reports by offering additional and valuable KPIs.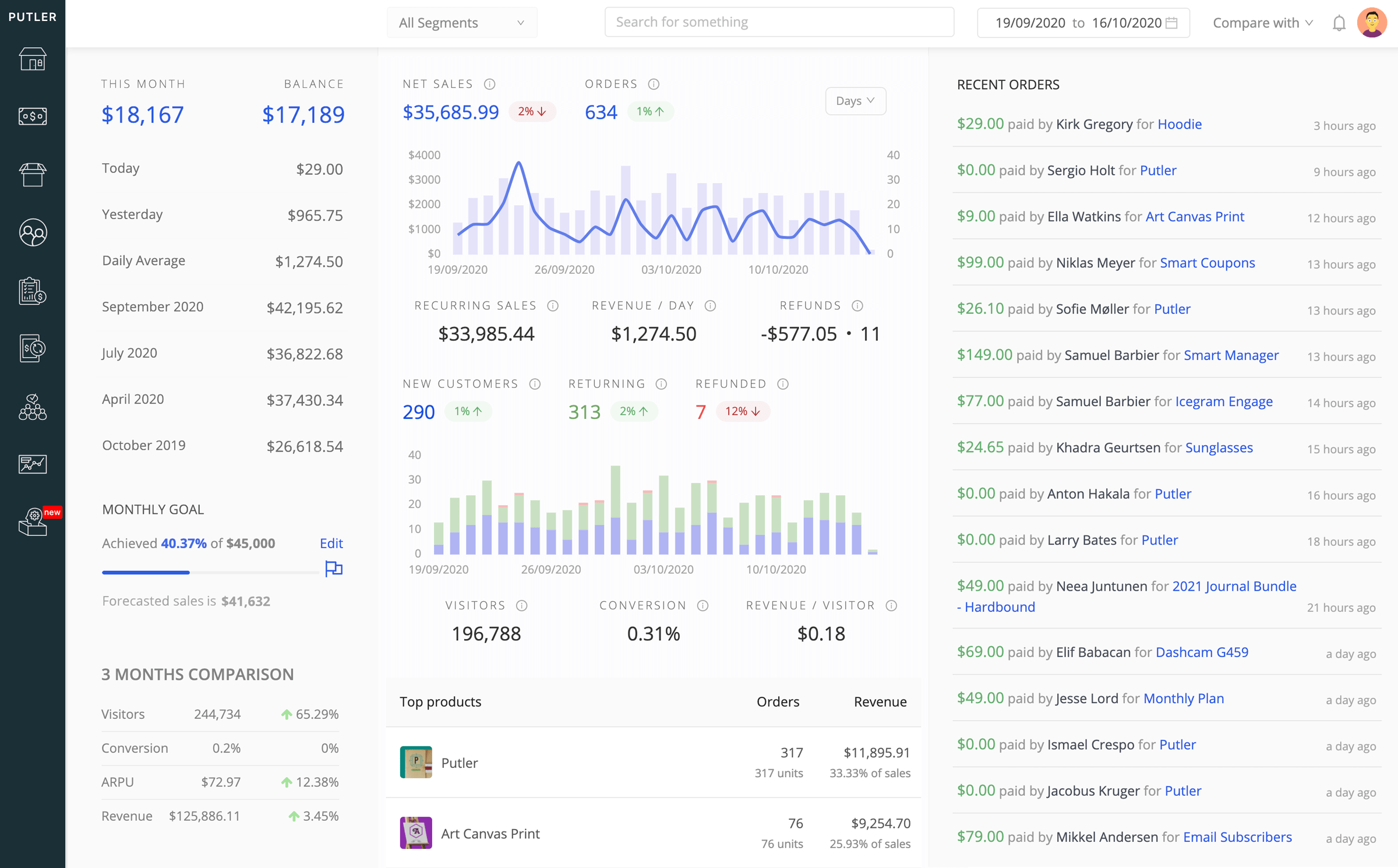 Putler is a complete reporting and analytics solution for your eBay orders.
Import all your eBay transactions into Putler and instantly see insightful statistics about orders, sales, transactions, products and customers. All in real-time.
Know what time orders are placed on your site.
View all your transactions, refunds, net and gross sales, and other order-related KPIs.
Product leaderboard, top 20% products, fastest and slowest moving products, which customers purchased the products…all at your fingertips.
Details on your top spenders, recent customers, customers who haven't placed an order in years, customers placing maximum orders…
Not just eBay, you can also connect WooCommerce, PayPal, Stripe, Shopify, Google Analytics to Putler and view business insights.
There is a 90-day data export restriction in eBay. But with Putler, you can also monitor data of 10 years or more and also export it.
Conclusion
I hope this guide helped both buyers and sellers track their eBay orders / purchases. And how a tool like Putler helps sellers grow their eBay business.