With over 4 million active sellers and 90 million active buyers, Etsy is a vast online marketplace platform for anyone looking to buy and sell unique products.
For sellers, managing Etsy orders is an essential part of their business, and understanding how to process track, and ship orders is crucial for success on the platform.
And if you are an avid shopper on Etsy, you probably have placed several orders, and tracking them can be a daunting task.
This post will provide a comprehensive guide to help you navigate through your Etsy orders. And how a tool like Putler can help uncover insights to grow your Etsy business.
Etsy orders – status, history, refunds…
Let's first see how buyers can view, track and manage their Etsy orders. And then how sellers can get more orders to boost their sales.
Placing an Etsy order
Placing an order on Etsy is a straightforward process. First, you need to find the item you want to purchase.
Search for items using keywords or browse through the different categories. Once you find an item you like, click on it to see the details, including the price, shipping options, and the seller's information.
If you decide to purchase it, click on the "Add to cart" button and proceed to checkout. Enter your shipping address and payment information. You can also add a note to the seller if you have any special requests or questions.
After you complete the checkout, you will receive your order confirmation email. The seller will also receive a notification of your order and will begin processing it.
Recent Etsy orders / Orders history
If you have recently placed an order on Etsy, you can find it on the Purchases and Reviews page.
This page will show you all your recent orders, and all your other orders including the date of purchase, order number, and the name of the seller.
You can also see the status of each order, such as Processing, Shipped or Delivered. If you have any questions about your order, you can click on the Contact button to send a message to the seller.
Order status
Understanding the order status is crucial to know when you can expect your purchase.
Etsy provides several status updates, and here's what they mean:
Processing – The seller has received your order and is preparing to ship it.
Shipped – The seller has shipped your order and provided a tracking number (if applicable).
Delivered – Your order has been delivered, and you should have received it.
Canceled – The seller has canceled your order, and you should receive a refund.
Order tracking
If your order has been shipped, you can track it using the tracking number provided by the seller.
You can find the tracking information on the "Purchases and Reviews" page or in the shipping confirmation email sent by the seller.
If you have any issues with tracking your order, you can contact the seller for assistance.
Order issues
If you have any issues with your order, such as not receiving it or receiving a damaged item, you can contact the seller for assistance.
You can do this by clicking on the "Contact" button on the "Purchases and Reviews" page or through the conversation section of the Etsy app. It's always a good idea to reach out to the seller first to see if they can help resolve the issue.
Refunds
If you are not satisfied with your purchase, you may be eligible for a refund. You can request a refund by contacting the seller through the "Purchases and Reviews" page or through the conversation section of the Etsy app.
The seller will then provide you with instructions on how to return the item and receive a refund.
Cancelling Etsy orders
If you need to cancel an Etsy order, you can request a cancellation by contacting the seller through the "Purchases and Reviews" page or the conversation section of the Etsy app.
If the seller approves the cancellation, you will receive a refund.
However, it's essential to note that not all sellers allow cancellations, especially for custom orders or personalized items. Before placing an order, make sure to read the seller's cancellation policy.
Custom orders on Etsy
Custom orders on Etsy are unique items made specifically for a buyer. The buyer can request a custom order by contacting the seller and providing the details of the item they want. The seller can then create a custom listing for the buyer to purchase.
When placing a custom order, it's essential to communicate clearly with the seller and provide all the necessary details. The seller may also provide a draft or sample of the item before completing the order to ensure that it meets the buyer's specifications.
How long do Etsy orders take?
The time it takes to receive an Etsy order depends on several factors, such as the shipping method, location, and processing time.
The seller's processing time is the time it takes them to prepare your order before shipping it. You can find the estimated delivery time on the listing page, and you should also receive a shipping confirmation email with the tracking information.
Order reports
If you need to export your order history for record-keeping or accounting purposes, you can download an Etsy orders report CSV.
This file contains all the transaction data for your shop, including the order number, date, buyer's information, and total sale amount.
You can download the file by going to the "Shop Manager" and clicking on the "Orders" tab.
Getting more orders on Etsy
This can be a challenge, especially with the increasing competition on the platform. However, there are several strategies that sellers can use to boost their sales and get more orders:
Optimize your shop – To get more orders on Etsy, have a well-optimized shop that is easy to navigate and visually appealing. Use high-quality images, clear descriptions, and accurate pricing to create a professional and inviting storefront.
Offer high-quality products – Pay attention to the details, use high-quality materials, and offer unique designs to stand out from the competition.
Use keywords – Conduct keyword research and use relevant keywords in your titles, tags, and descriptions to increase your chances of being found by shoppers.
Utilize social media – Use platforms like Instagram, Facebook, and Pinterest to showcase your products, engage with your audience, and drive traffic to your Etsy shop.
Offer great customer service – Providing excellent customer service can help build trust and loyalty with your customers and encourage them to leave positive reviews and recommend your shop to others. Respond promptly to messages, be friendly and helpful, and go above and beyond to meet customer needs.
Participate in Etsy promotions – Etsy frequently offers promotions and discounts to shoppers, which can help drive traffic to your shop and increase sales. Keep an eye out for these promotions and participate when possible to get more orders.
Use Putler – Putler gives you in-depth and real-time analytics for your multiple Etsy shops that help you identify what is working and what's not.
Better analytics and insights for your Etsy orders
Etsy reports are basic and do not help sellers to identify growth spots.
But Putler is a powerful analytics and reporting tool that helps Etsy sellers track and analyze their sales data.
It can help sellers better understand their Etsy orders, improve their sales strategy, and make more informed business decisions.
Putler integrates with Etsy and automatically imports all the sales data, including order history, transaction details, customer information, and more. The data is then presented in a visually appealing dashboard that is easy to read and understand.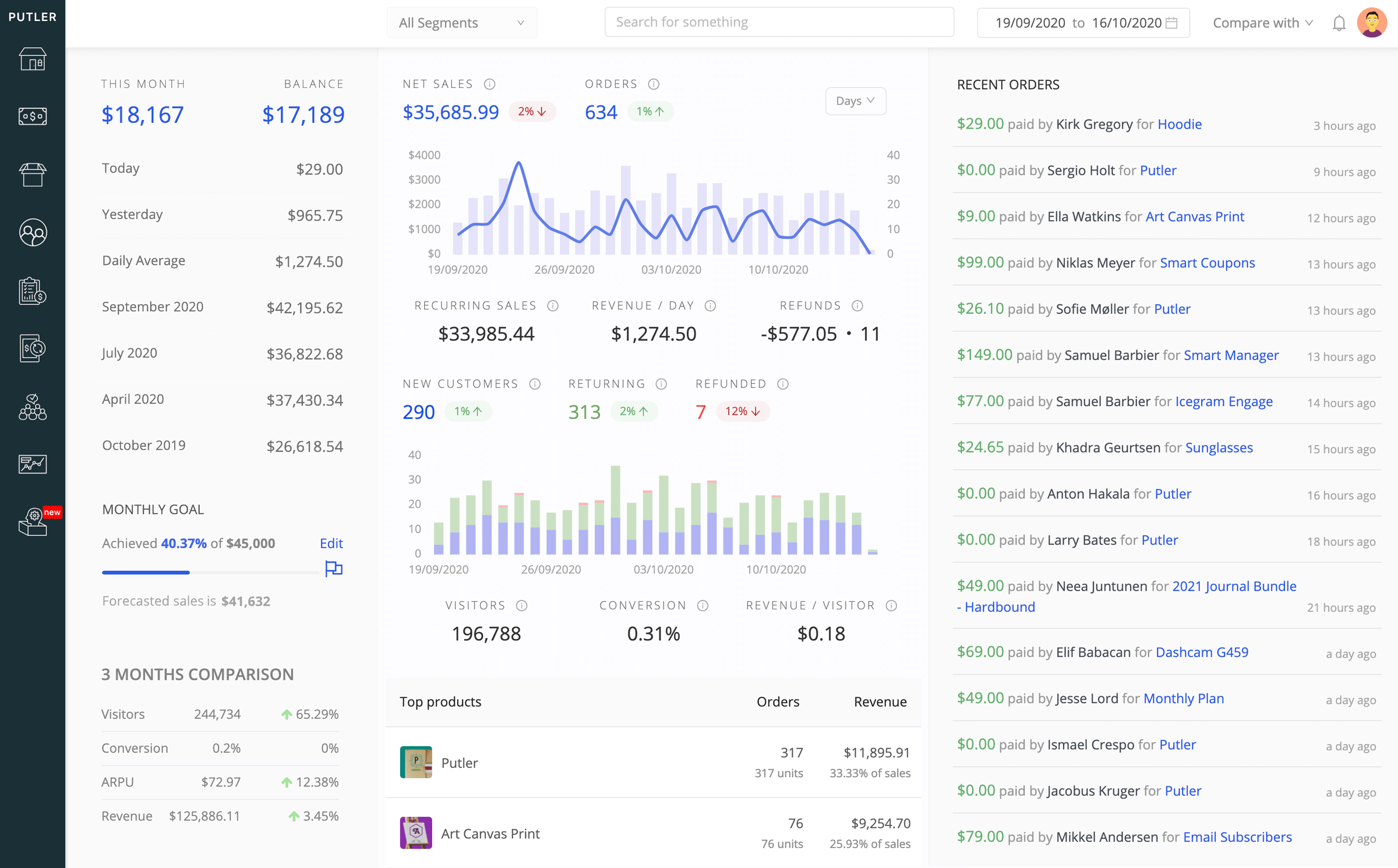 Here are some ways Putler can help with Etsy orders:
Real-Time order tracking: Putler provides real-time order tracking that allows sellers to monitor their sales activity and order status in real-time. It helps sellers identify any issues that need immediate attention, such as canceled orders or delayed shipments.
Order reports: Generates detailed order reports that provide sellers with a comprehensive overview of their Etsy orders. The reports include information on sales trends, order volume, order status, customer behavior, and more.
Product insights: Sellers can easily track which products are sold when and how much and who purchases them.
Customer insights: Putler provides valuable insights into customer behavior, including purchase history, spending habits, and more. This information can help sellers create targeted marketing campaigns and improve customer retention.
Sales forecasting: Putler helps sellers predict future sales by analyzing historical data and identifying trends.
Conclusion
Understanding how Etsy orders work is crucial for both buyers and sellers. When placing an order, buyers should carefully read the item details and communicate clearly with the seller to ensure a smooth transaction.
For sellers, optimizing their shop and listings for search and offering high-quality products are essential for getting more orders. Keeping track of order history and reports can help with record-keeping and accounting.
Overall, Etsy orders are a vital part of the platform, and using Putler is essential for sellers to grow their Etsy business.