Every eCommerce business would agree that increasing conversion rates is one of their priorities – it's a crucial goal (if not the end goal) for all the efforts they've spent. But, of course, conversions don't happen if you simply set up your store and cross your fingers, hoping customers will find it and make a purchase.
You need an advanced strategy to boost your eCommerce online presence and generate more trust from your customers. After all, the eCommerce business is so much more than selling products online. It's also about how you make your store stand out from the crowd.
So, with more than 24 million eCommerce sites across the entire globe – and with new ones being created every single day, how can you attract more customers and increase your conversion rates?
This is what the blog is all about. We'll learn more about how to skyrocket your eCommerce conversion rates with less effort and without burning a hole in your pocket.
But before diving in, let's take a look at some conversion rate basics.
1. Defintion of eCommerce conversion rate
Google defines eCommerce conversion rate as the ratio of transactions to sessions, expressed in percentage.
2. Formula for eCommerce conversion rate
Conversion rate = (conversions / total visitors) * 100%
3. Average eCommerce conversion rate
The latest survey and studies in 2020 show that the average conversion rate of e-commerce websites is 2.86%. But this figure varies from country to country. Also, it varies as the industry.
Provide unbiased information
Consumers sometimes treat eCommerce stores as places to gather information rather than buy a product. To win their hearts in the first place, you should be more focused on providing unbiased and valuable information.
This is also such an excellent way to reinforce customer trust. And remember, customers only purchase from online stores they trust. So, instead of hard-selling and bragging about your brand, try to give your customers what they really want and need.
If they find your information useful for them, they'll tend to come back and stick around your online store. That's how you create top-of-mind awareness of your eCommerce business. Here's the logic: if your brand is properly entrenched in the consumer's mind, your conversion rates will improve as well.
Invest in sharp product images and videos
One of the most original eCommerce strategies to invest in quality product images and videos. It might seem like a no-brainer, but it's a crucial tactic if you want to increase your conversion rates.
Customers want to see what they're getting – sometimes, in action. By providing them splashy product images, you will not only show your customers your product's appearance but also help them to set clear expectations.
You can also create short and straightforward videos, like product demos, explainer videos, or how-to videos to help customers understand more about your product and how to use it in the most effective way.
Here's an example from Love Hair that nailed their product images. They show the product from different angles to make it easier for customers to learn more about it. Also, they include a short video to show it in action.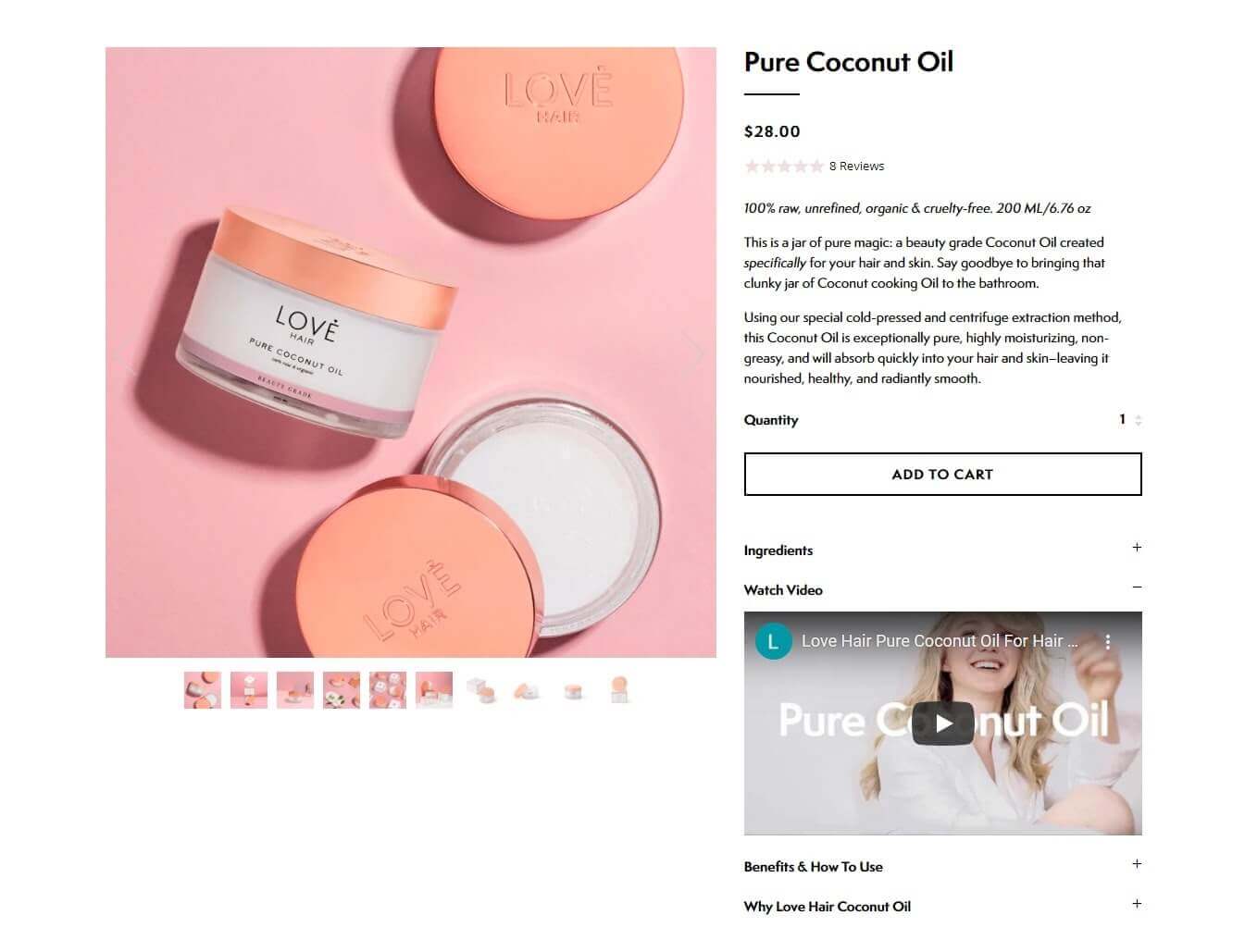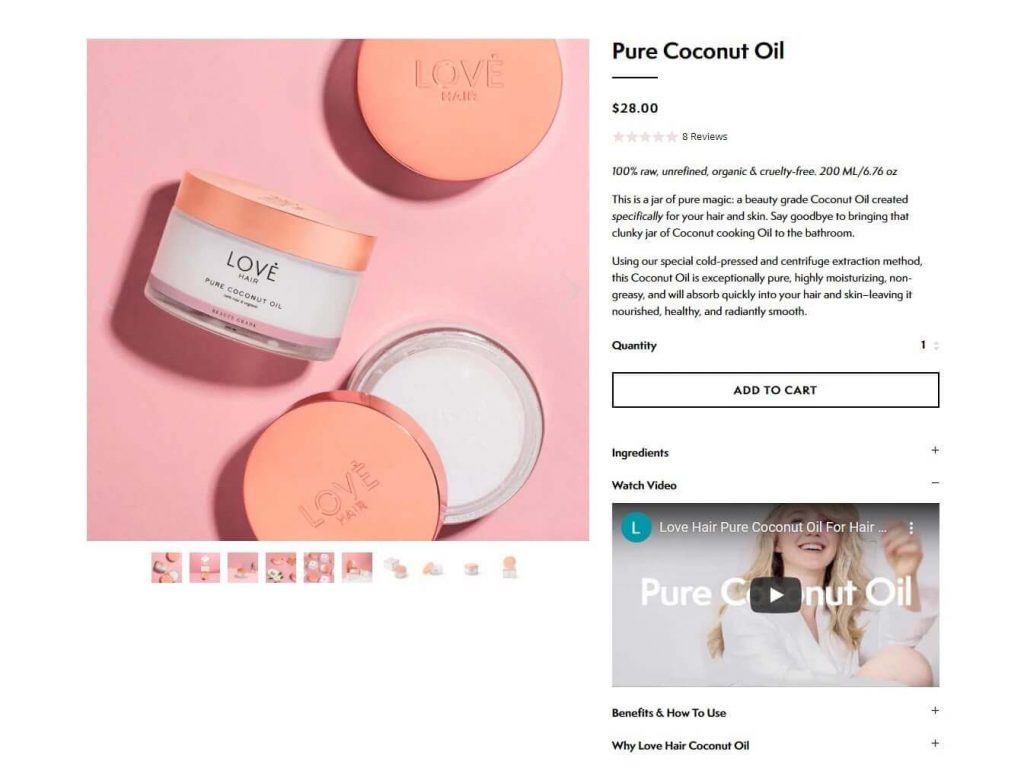 Sharp product images and videos
Write short but catchy product descriptions
Your product description matters, so don't discount them. But, you need to make them as concise as possible. Too much information will confuse your customers and overwhelm them. Not to mention those clucky texts and bulky paragraphs can also strain your customers' eyes.
A good product description should answer any and every potential customer's question. If your customers are still confused about the product even after they read the description, there should be a problem.
One thing that is worth noting here is that you better avoid talking too much about features. Instead, tell your customers how those features can solve their problems and make their life easier. It'll encourage them to move towards the checkout process, helping you increase sales.
To make sure you write such a short but impactful product description, here are some quick checklists:
Who is the product best for
How does it work
Why does the customer need it
Simplify the checkout process
One of the main reasons why your potential customers leave your site and abandon their cart is because of the complicated checkout process. Therefore, it's crucial to assume that each customer is using eCommerce for the first time.
In this case, you need to make the checkout interface as simple as possible to help potential customers complete their purchasing process. You need to move them through the sales funnel before they change their mind. So, the checkout process also needs to be quick.
One source of unnecessary checkout complexity is asking the potential customers repeatedly for the same information, or for redundant information. For instance, you ask state, city, and postal code information all at once which you can actually find using the customer's zip or postal code itself.
Create simple yet beautiful site design
Besides the checkout process, you also need to design your eCommerce site in general as simple but attractive as possible. Of course, it might be tempting to use snazzy web design trends to catch more eyeballs and make yourself stand out from the competition. But, the key here is to make your website easy to navigate and doesn't take too long to fully load.
It's also crucial to represent your brand voice and colors throughout your eCommerce site. Take a look at an example from Bliss that keeps their website eye-catching by channeling their fun energy through the design.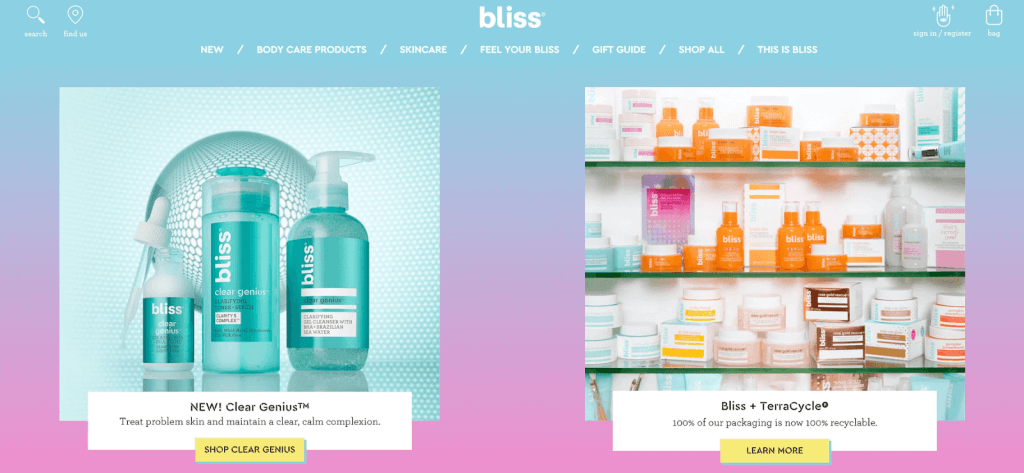 Attractive website design
Lower shipping costs
According to the stats, free shipping entices 79% of US consumers to shop online. The lower the shipping cost, the more customers want to buy from your online store. But, the thing here is that offering free shipping can be quite tricky. You need to be careful, otherwise, it will hurt your profit margin.
To help you reduce the shipping cost, you can work and negotiate with your vendor. They'll tend to give you discounts for larger orders, so it will help you save some money. And you can spend those savings on customers' shipping costs.
You can also higher your product price in order to reduce your shipping costs. It will give your customers an illusion of more affordable shipping costs which in fact you simply move some of the product prices to the shipping cost.
Final thoughts
There is no doubt that the future is bright for online retail. Especially after the pandemic strike, more and more people are embracing the idea of shopping online more than ever. In this situation, the competition out there is only getting fiercer. But, with some eCommerce conversion hacks mentioned above, you can now understand what needs to be optimized so you can skyrocket your conversion rate to the moon.
You can also try Putler to make all those conversion rate efforts less stressful. This tool provides you in-depth analytics about your store, so you know how well your store is performing and what needs to be doubled down or cut off. It also helps you understand your potential customers. This way, you can tailor your eCommerce store and products based on first-hand customer data.
Try Putler for free for 14 days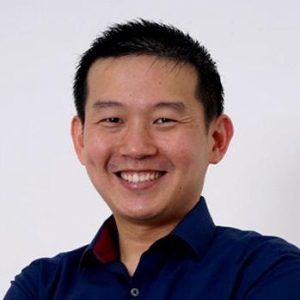 Written by – Andre Oentoro
Founder of
Breadnbeyond
, an award-winning explainer video company. He helps businesses increase conversion rates, close more sales, and get positive ROI from explainer videos (in that order).