Shopify is a user-friendly platform for business owners. And since export is a routine task, Shopify provides a very robust way to export products.
However, there are certain tools which further enhance the export feature within Shopify.
But before introducing other Shopify export tools, I'd touch upon some key topics around Shopify export products.

How do I export products from Shopify?
Go to your Shopify admin and go to Products.
Click Export.
From the dialog box, choose the products you want to export:
Select which type of CSV file you want to export:
CSV file for excel, numbers, or another spreadsheet program. Use this format if you plan to use a spreadsheet program to edit your product CSV file.
Plain CSV file. Use this format if you plan to use a plain-text editor with your product CSV file.
Click Export products.
How to filter products within Shopify?
If you wish to export all your products, you can follow the steps mentioned above. But if you want to filter only a few based on some parameters, Shopify provides some intuitive filters as well.
Here are some product filters that Shopify provides:
Product vendor – Filter products that are from selected product vendors.
Availability – Filter products based on the sales channel.
Status – Filter products based on their status (archived, active, drafts).
Tagged with – Filter products that are tagged with the specified value.
Product type – Filter products based on the product type.
Collection – Filter products that are available in a collection.
Publishing error – Filter products based on publishing error. If you use sales channels other than online store, show the products that have publishing errors on the sales channel that you select.
Gift card – Filter products that have gift cards available in your store.
You can use these filters wisely to export a subset of your products. Once exported you can then use this Shopify CSV export to take marketing decisions, accounting etc.
Advantages of inhouse Shopify product export
Easy to use
Clean interface
Intuitive filters
Limitations of inhouse Shopify product export
No multistore export
Need to work with spreadsheets if inhouse product filters don't satisfy your requirement.
Best Shopify export product apps
Though exporting products from Shopify is simple, these 3 apps make it more useful. Take a look-
Matrixify
Matrixify is a Shopify app that allows you to migrate and manage data to quickly import, export, and update in bulk.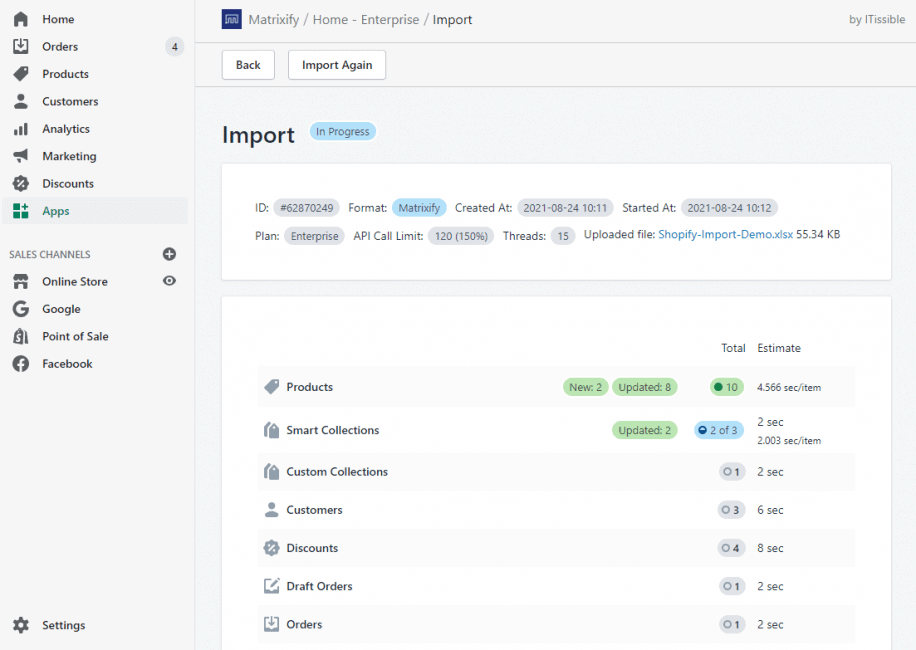 Pros:
Awesome customer service!
Bulk uploading and deleting orders.
Bulk import export
Cons:
Pricing: $20 / month
Putler
Putler is an all-in-one reporting app for Shopify stores that provides one-stop solutions for exporting data. Putler also provides a lot of features you can use for growing your Shopify store, not just advanced product export for Shopify. We will discuss all key features towards the end of this article.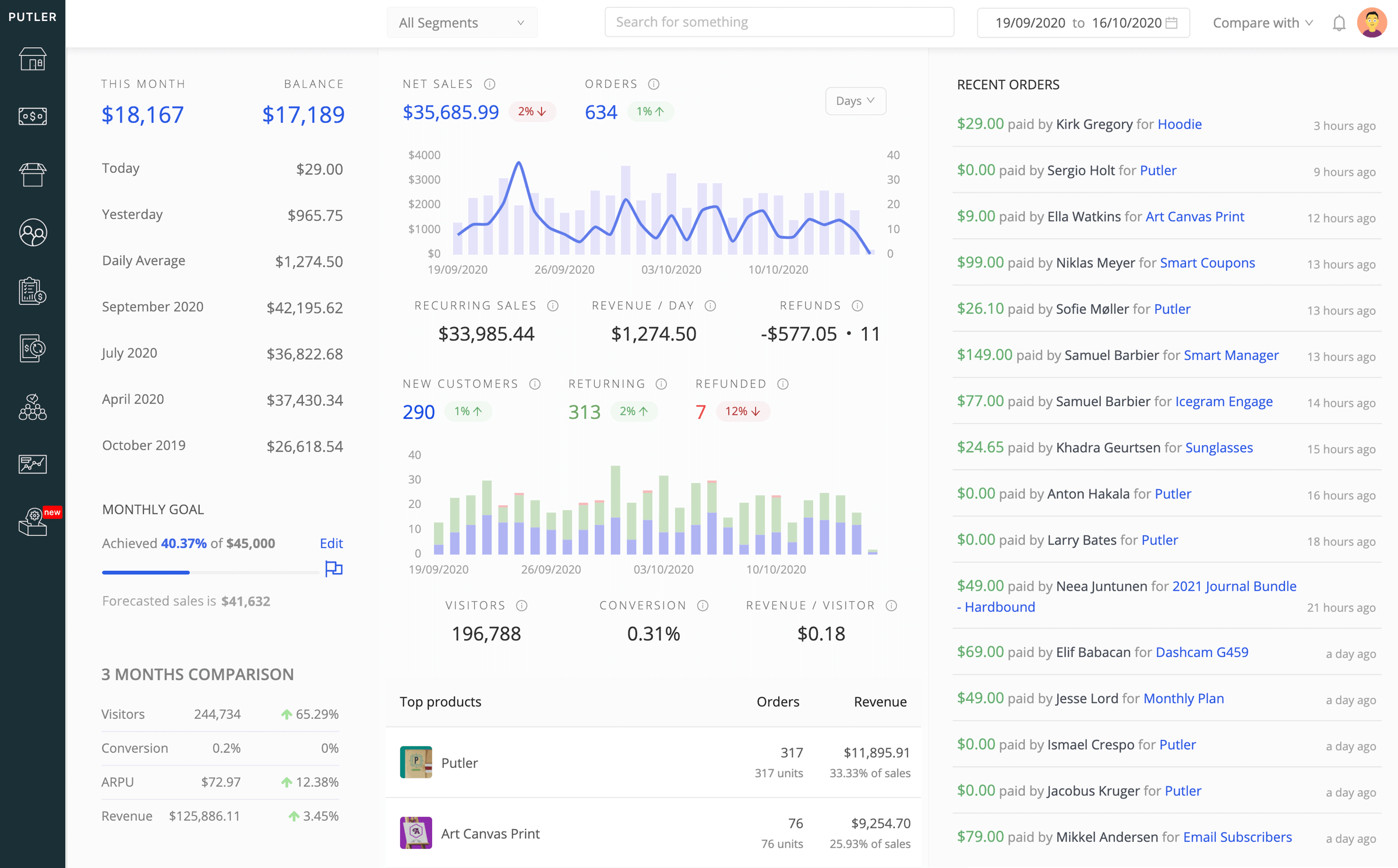 Pros:
It is user-friendly
Ease of use
You can easily export your Shopify store data and analyze it.
Multistore export from one place.
Cons:
Export very large records to CSV.
Pricing:
Starter plan – $20/mo
Growth plan – starts at $50/mo
Data export reports
Data Export Software provides automated, customized, summarized and analyzed reports for Shopify merchants.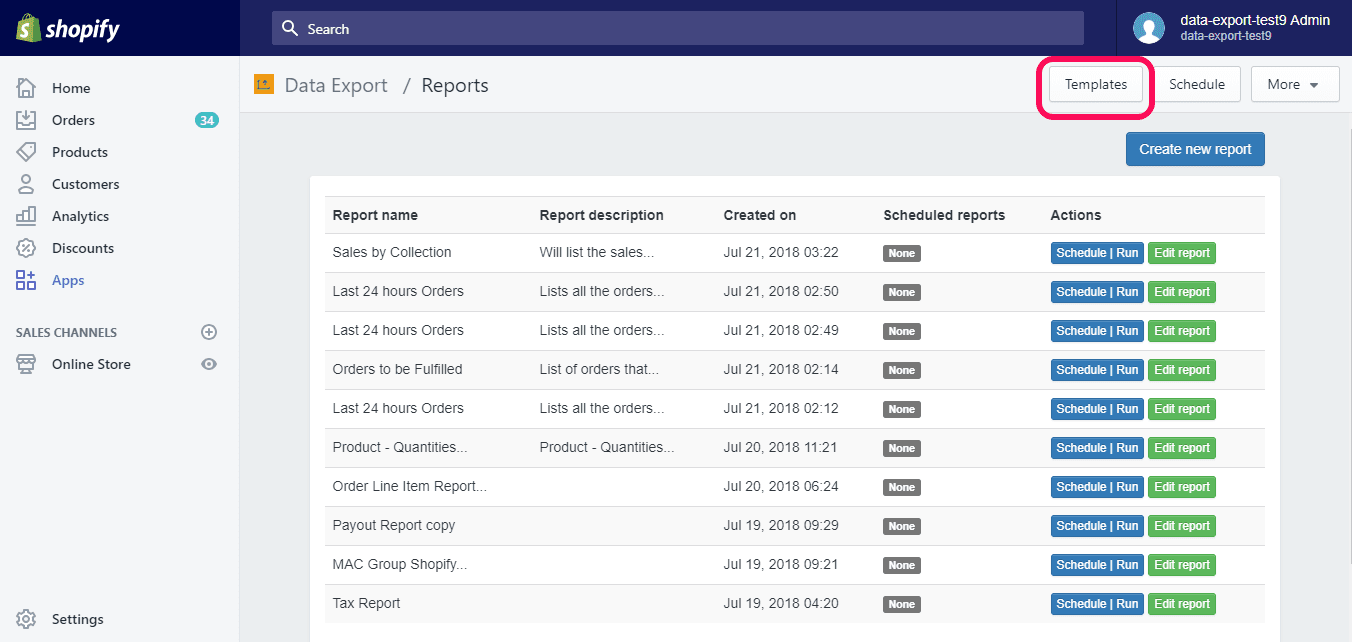 Pros:
Make reports easy to manipulate the data.
Enables exporting a subset of data.
Supports multiple targets.
Cons:
Contains limited data formatting options.
Pricing: $15 / month
What makes Putler the best Shopify product export app?
Easy to use
Similar to Shopify, Putler has a simple user interface. You can easily find the Products dashboard, set the date range for the period you want to export the Products for and simply hit on Export. You will instantly get an email with the Product CSV.
Detailed export
Putler's product export is quite detailed. You can take a look at all the parameters that you can get within the CSV here.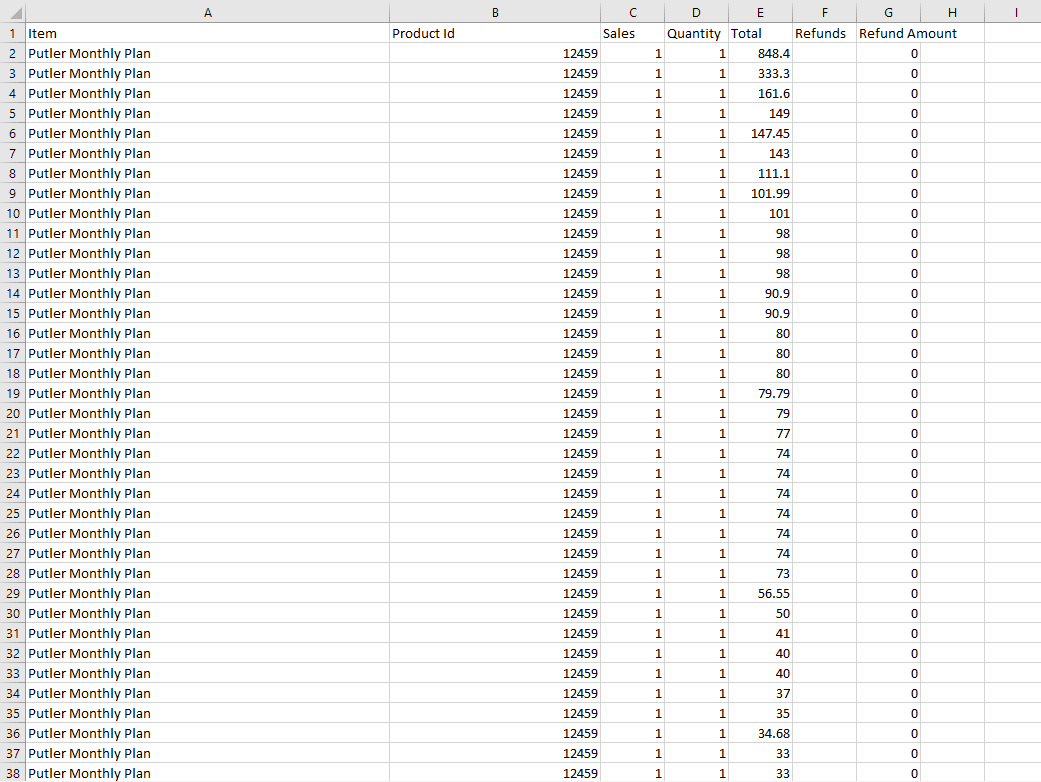 Ready to use filters
One of the biggest advantages of using Putler to export your Shopify products is the well thought filters. They are ready to use and are specifically created keeping Product export in mind. Take a look at each here –
Export products by quantity sold
Business owners can easily filter products based on the quantities sold for a particular period. You can use this filter to export the top sellers and bottom performers and then create marketing strategies like repricing, upsells, product sales page revisions, ads etc.
Export product by customer location
This filter will help business owners gauge the popularity of their products based on the location. Based on this report, they can take decisions like running geo targeted ads, preparing for festive offers, translating the sales pages to native language of the popular locations and a lot more.
Export product by number of customers
Again using this filter, business owners can find the best sellers and then take decisions of running offers, finding the pricing sweet spot, running ads etc.
Export price by average price
This is helpful for Shopify businesses that have multiple products with multiple pricing. This filter gives you an instant way to view all the price buckets and check which products fall under which price point.
Export product by refund percent
As the number of customers increase, there is a chance of increase in the refund rate as well. This product filter helps keep the refund rate in check. It shows which products have the highest refund rates. Business owners can keep an eye on such products and make appropriate changes to lower their refunds.
Beyond Shopify export products
Not just Products, Putler has a separate dashboard for Customers, Orders and Transactions.. You can follow the same steps and export a CSV from all of them.
Team access available
Export is something that is needed by multiple people. An accountant would wish to export orders to tally records. A marketing guy would want to export customers. Store Owners would want to export products and a lot more. Using Putler, you can invite your entire team to Putler. They can access Putler and export whichever CSV they wish too. Of Course as an admin you can decide what your team members can view and what they can't.
Unlimited export
There is no limit to the number of CSV as well as the number of records you can export within Putler.
That's all folks!
So that was it. It was our breakdown on Shopify product export. If you have any questions/doubts related to product export in Shopify, feel free to comment or reach out to us directly. We will help.