Shopify provides sellers with super-basic export functionality. But in order to run a Shopify business, you need something more advanced.
That's why Shopify sellers like yourself search for Shopify extensions that provide advanced export capabilities.
In this article, I will tell you how you can export orders, products, and customer data from your Shopify store with ease.
Benefits of using Shopify export
Complete backup and restoration facility
The first and foremost reason for an e-commerce store to perform Shopify Export Products is, creating a backup for the inventory.
Similarly, having the shopify export orders data will ensure that you do not lose customers' orders in case something happens to your store online.
Shopify customer export data, order data and products data will allow you create your store using the import feature, if needed at any point in time.
For better forecasts and decision-making
Having a quick way to explore your store data is your key to perform well in your industry.
CSV reports make the best format for manual or automated analysis in the case of eCommerce. So, Shopify CSV export can help you perform a complete analysis of orders, stock, customer data, and so on.
This implies, using Shopify export, you can:
Optimize your stock and forecast the demand better;
Improve your product portfolio;
Optimize product cost for your store;
Improve customer service;
Segment customer data and sales data to make better decisions.
Better targeted marketing
The top-notch Shopify export tools let sellers collect customer data, segmented as per their order status, location and other aspects. With such data in hand, you can have a lot of useful prospects while running promotional campaigns, especially in the case of email marketing.
How to export Shopify data using native exporting functionality?
Shopify allows you to export a CSV of all three – products, customers and orders.
How to export shopify products to CSV?
The native Shopify export products feature allows businesses to perform quick and simple export of their products.
To export your products, go to your Shopify dashboard and navigate to the Products page and look for the Export button.
By clicking on this button, you can easily export your product's CSV.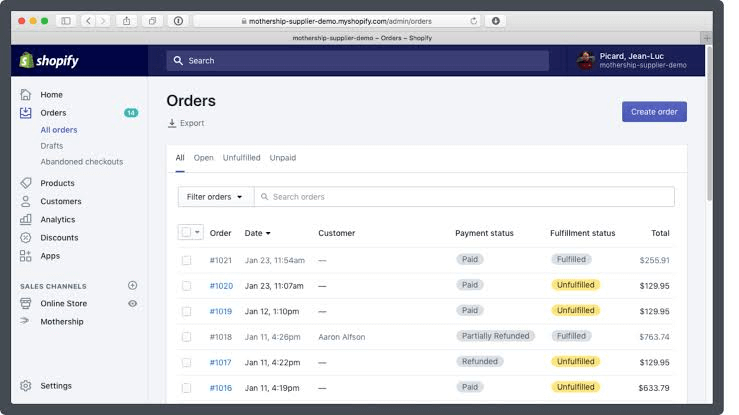 How to export Shopify orders to excel/CSV?
This is similar to exporting products too.
Simply go to the Orders page and click the export button.
You can choose the orders on the current page, all orders or only check the ones you want.
If you want a more specific order export, use filters. In such a way you can include only the orders that are unpaid or the ones made on a certain date, etc.
NOTE: Orders can come along with their transaction histories or you may download only the transaction histories.
How to export Shopify customer data as CSV?
Shopify customer export is the same as exporting orders, products CSV from your Shopify dashboard.
Go to the Customers page
Click the export button
How to export Shopify data to Google sheets?
Well, now that we know how to export Shopify data to CSV. We can easily transfer this data to a Google sheet.
You can simply copy the columns in the Shopify CSV export and paste them into your Google sheet.
For orders, customers, products, Shopify lets you choose whether you want to export only the current page's data, or all data, or data by date ranges.
However, that's it.
The capabilities of in-built Shopify Export functionality end here. And we know it's not enough for proper insight-gathering, segmentation, and other purposes.
For such advanced capabilities and a lot more, you will need a smart Shopify Export tool like Putler.
How to export Shopify products, orders and customers like a pro?
In the previous section, you learned how to do the basic Shopify export. Now, let me tell you how to handle exporting of data in an intelligent way for your Shopify Store using Putler.
Putler could be your one-stop solution for reporting as well as multi-channel eCommerce analytics. With it, you can export Shopify products, customers data, orders, sales and transactions through various useful filters.
Using Putler, you can export Shopify data with filters like:
Date
Country
Product name
Customer email
Payment method
Order status
Customer name
Order attributes like license type, etc.
Amazing right? Let's dig deeper-
Steps to export Shopify data using Putler
Go to your Sales dashboard in Putler;
Apply the date range and other filters as per your export needs;
Export the data as CSV.
Export Shopify data using advance filters
Here are few examples of using various filters for your Shopify store.
Use Case 1: Export in-depth data for a particular product/ group of products
Let's say, you want to see the performance of a particular product in your store in order to forecast its demand, check inventory status and make future purchases. You can just filter the Shopify data by product name and download respective CSV for this purpose easily: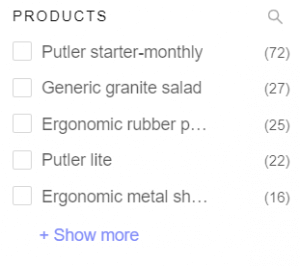 Use case 2: Export customer data for providing better customer service
To respond to the grievance of a particular customer, you can download the CSV by customer's email address and look into the matter easily. Smart and fast, isn't it?

Alternatively, you can also filter data by customer's name.
Use Case 3: Export geotargeted data for focused marketing
If you are going to run a sales campaign in a particular country, it would be a good idea to see the performance of your products in that region. For this, you will have to look at sales data for that region.
Using Putler, you can easily do that. Just export data, filtered by country name.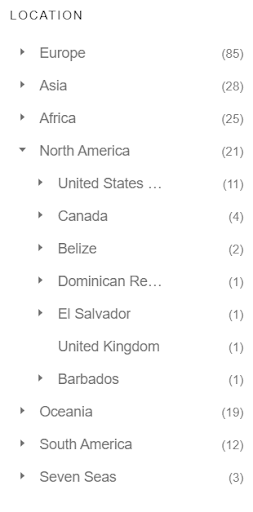 What Else can you do with Putler rather than Shopify Export?
There are so many Shopify Export tools for your store, but we suggested you use Putler. Why?
Advantages of exporting from Putler
Well, it's solely because of the fact that other Shopify export extensions perform data export only. And at the same price as those tools, Putler does a lot more.
You can easily take care of exports as well as analysis of your Shopify store using Putler.
Customer segmentation, customer profiling, goal tracking, subscription management, forecasting and even refunds can be handled through this amazing tool.
Not just that, Putler can let you do multi-store reporting too.
Besides Shopify, it works well for other eCommerce platforms such as WooCommerce, Etsy, and BigCommerce too. So, if you have plans for business expansion or you already have other stores in these platforms, you will be able to keep a track of all your eCommerce data in one dashboard.
It is user-friendly
Isn't it amazing?!
Besides all the advanced features and Shopify export abilities of Putler we have talked about yet, another considerable reason to use Putler is its cost.
While its basic plan is priced at $29 (with a lot more than just export features for Shopify), most of the reliable Shopify export extensions will cost you between $50 and $200.
The Final Word
Shopify Export is an essential feature for backup and analytics of your eCommerce store. So, having the right tool with advanced efficiency for exporting is more than required for any business in this era of super-high competition.
Owing to features, cost, advanced export functionality, and a lot more Putler is a no-brainer for every Shopify store owner.