Shopify is the best eCommerce solution platform for online sellers & online businesses too. And Shopify analytics tools are must-have if you want to make your Shopify site more popular online. These tools help your organizations to evaluate your website's performance and then make more strategic growth decisions.
What are the benefits of using Shopify?
Easy to use:
Shopify understands that not everyone is a technical mastermind. So it provides easy to use, straightforward apps that can be used by anyone and everyone.
Visually Appealing Stores
Shopify provides a variety of templates that help in the creation of unique and visually appealing online stores. It comes with a basic theme but designers and developers can work on it to create a store with rich UI and exceptional UX.
Third Party App Integrations
Shopify allows you the customize your store the way you want. And to make this easier, it provides you multiple easy to use apps that perform various tasks. These apps help you enhance your store with minimal effort.
Secure and Reliable
Security is essential for an online business because it deals with confidential personal and financial information of the customers. Similarly, it must always be available online. Both these features are taken care of with this hosted solution that takes care of upgrades and maintenance. Shopify ensures that your store's data is secure and reliable at all points in time.
Excellent Loading Speed
Being a globally hosted solution, Shopify has a reliable infrastructure along with optimized hardware and software. This gives the platform a super-fast loading speed and the e-commerce made on it load in a matter of seconds.
Mobile Responsiveness
Mobile responsiveness is the key to success of an e-commerce store. The Shopify themes are mobile responsive, which means that it can be used to avail mobile-optimized stores. There are even free iPhone and Android apps that can be used to manage the store.
Simple analytics reports: Shopify also provides some in-house reporting. These reports are simple and user friendly but in order to get more from your store's data, Shopify has an array of third-party Shopify analytics tools which provide more in-depth and advanced reports. In this blog, we have put together some of the best Shopify analytics tools – features, USP, pricing, pros and cons. So continue reading…
Here are the list of 10 best Shopify Analytics tools:
1. Putler:
This is the hassle-free Shopify analytics tools. It's an application made by business people for business people. The best thing about Putler is it helps monitor not just one but multiple Shopify stores in a single place. Take a look at more of its interesting features below: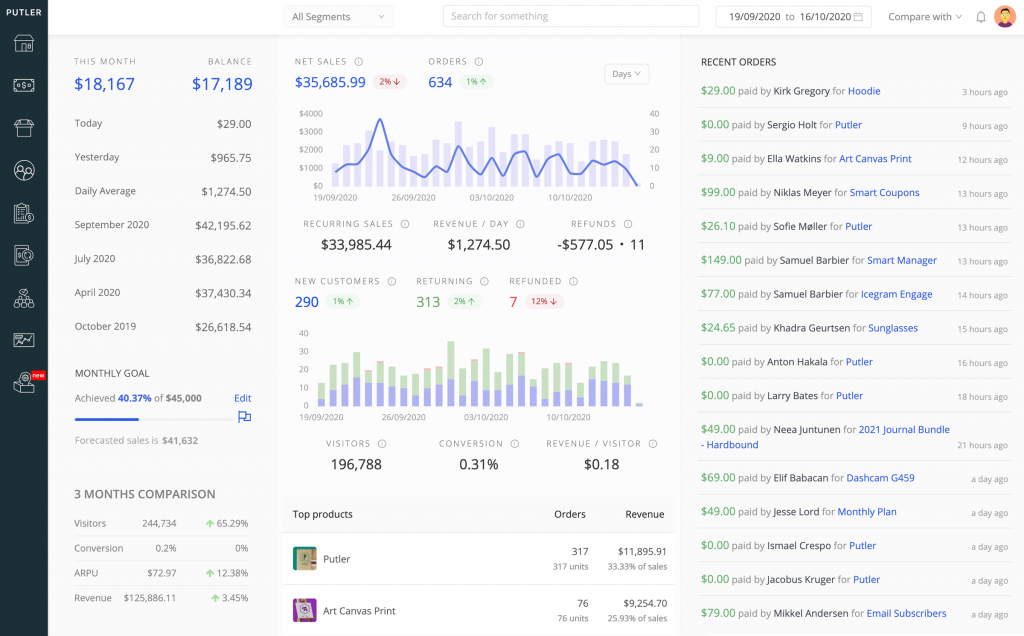 Price : $29/month
Features includes:
Import data from multiple shoipfy stores, payment gateways, other data sources in one place.
Automatic deduplication, enrichment, currency and timezone conversion.
Comprehensive Reports on products, sales, transactions and customers.
153+ key performance indicators and reports.
Issue refunds, manage subscriptions.
RFM customer segmentation.
Personalized growth recommendations.
Inbound & Outbound API.
Pros:
Not just reports, Putler provides growth tools like – customer segmentation, forecasting, goal settings and tracking.
Multi-channel reporting in a single place
Affordable pricing
Works for both SaaS as well as non SaaS businesses
Putler is extraordinary for dealing with many individuals, timetables, and accounts.
Cons:
No inventory management
No cohorts
Want to try out Putler for free? Sign up for a FREE trial here.
2. Audiencefy:
This is the best ecommerce analytics tool to improve your advertising efforts and exponentially increase your ecommerce metrics.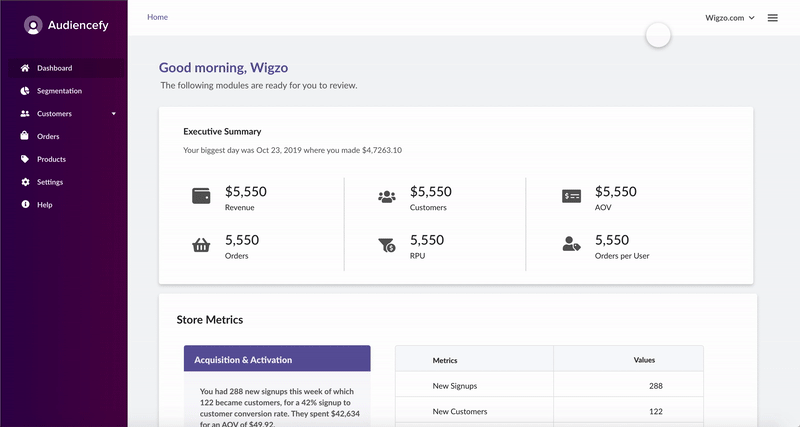 Price: $299/month
Features includes:
Executive summary
Predefined customer segment
Individual Customer data & journey
Order & Products Analytics
Pros:
PDF Reports
Substance and traffic investigation
Progressed AI
Cons:
Simple traffic information
No serious designs
No SEO highlights
3. Sensai Metrics:
Sensai Metrics helps to grow your business in the right way. Sensai Metrics is a SAAS to investigate online business stores with various information science models and AI, we bring together all the information from a web based business.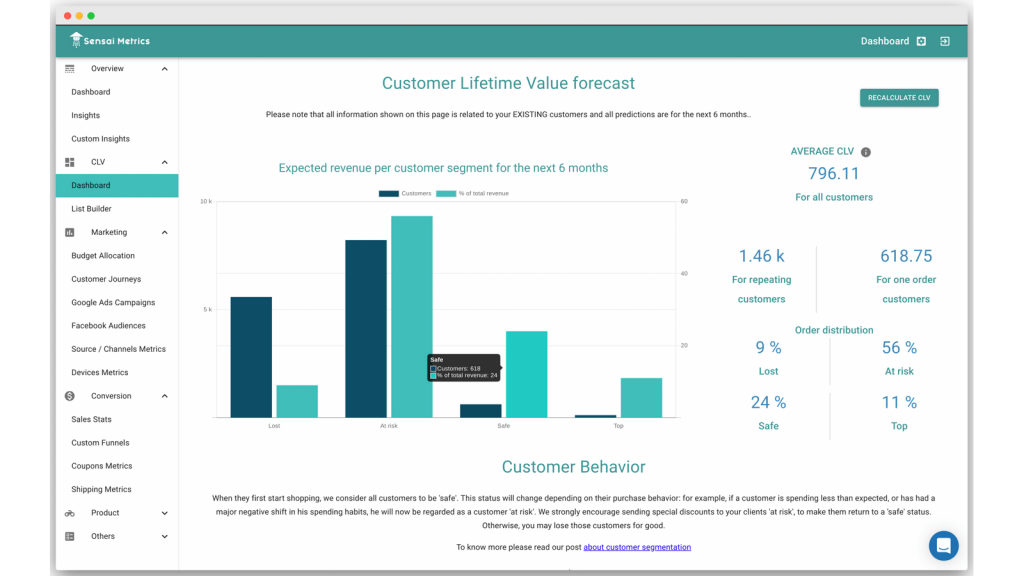 Price: $179/ per month
Features includes:
Budget allocation – with campaign performance and customers conversion
Customer journey – customer's journey towards conversion
Facebook audiences – Helps in understanding how audiences perform across ad sets
Generate custom and general insights
Sales stats
Custom funnels – for checking at which stage most customers are lost.
Coupons dashboard
Product dashboard
Pros:
Continuous traffic
Highlight ritch
The cost
Cons:
The plan
Tech center
No substance highlights
4. Revtap.ai:
eCommerce analytics tool powered by artificial intelligence. It brings data from all your marketing and analytics apps to one dashboard. It then uses eCommerce intelligence, backed by industry experts to suggest high-converting marketing strategies that identify untapped market opportunities to help increase the revenue.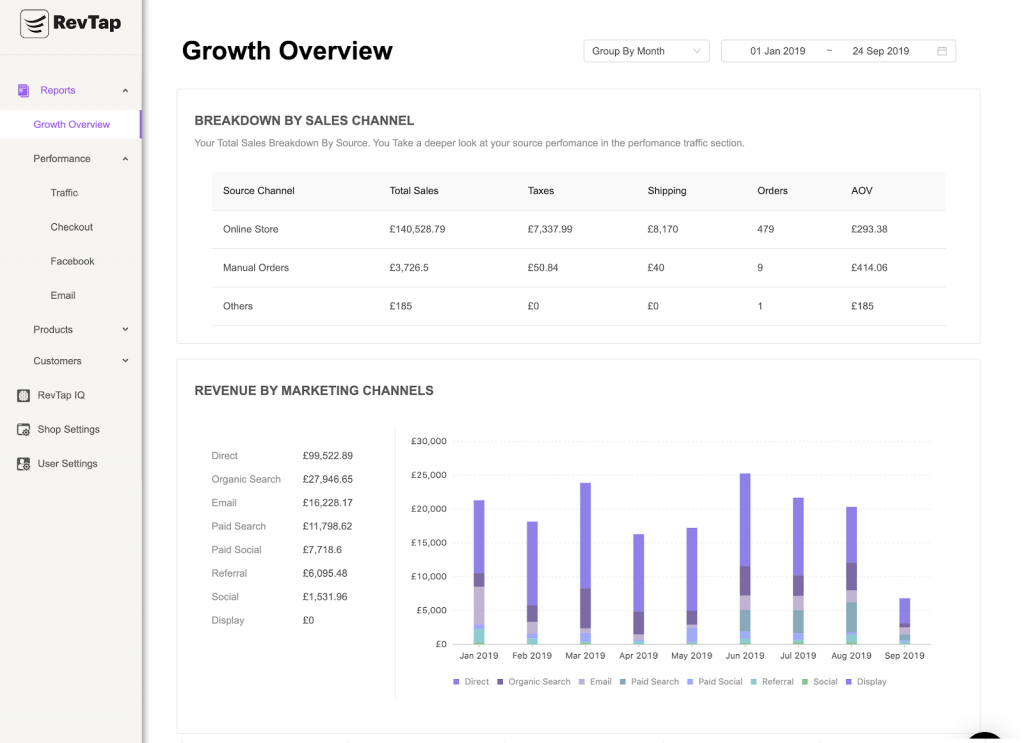 Price : $49.99/month
Features includes:
Customer analytics report
Product analytics report
Performance analytics report
Growth analytics report
Pros:
Online business checkout reports
Various item sections
Top to bottom client sections
Cons:
The cost
Pro device
No traffic information
5. Conversific:
Conversific is another sort of benefit examination ecommerce analytics tool for Shopify that encourages you to streamline your traffic and change, accumulate better information, and develop online deals and benefits.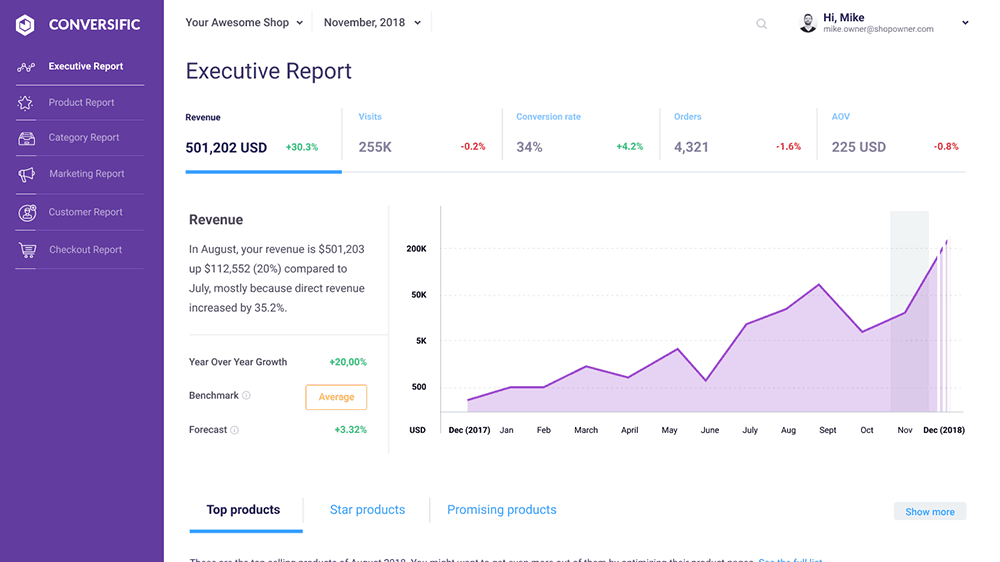 Price: $29.00 per month
Features includes:
Ecommerce report – monitor store performance
Ecommerce benchmarks – for benchmarking performance against competitors
Data insights – actionable insights and personalised list of action items
Products and customer analytics
Pros:
Prescient Analytics
Friend benchmarks
Transformation bits of knowledge
Cons:
No substance
The cost
In view of Google Analytics
6. ShopIQ:
enterprise level, real-time predictive analytics and data science platform for eCommerce stores.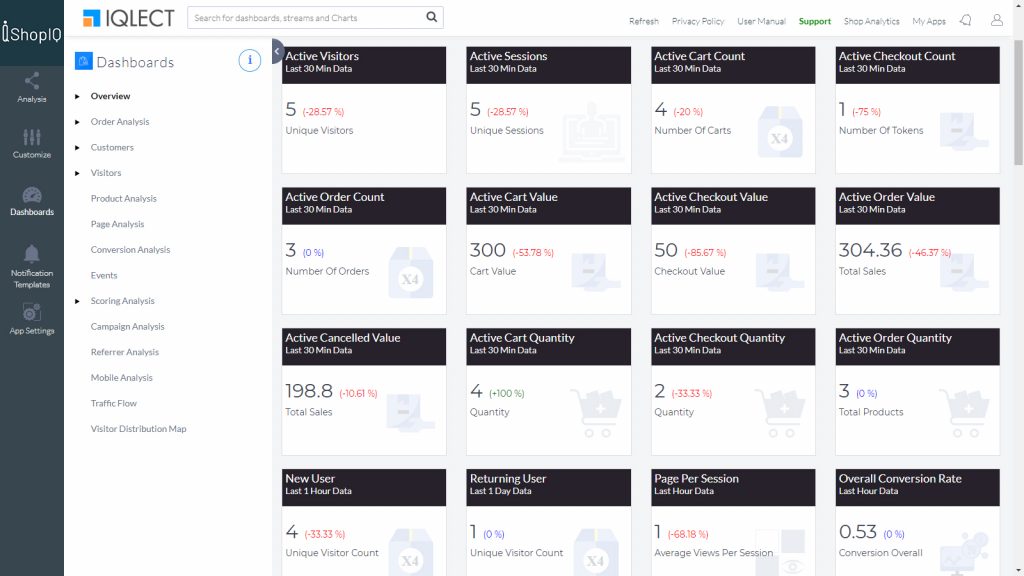 Price: $399/month
Features includes:
Real-Time Predictive Analytics
Life time value and Inventory Forecasting
UI based ML workflows, ability to build, train, test and deploy ML models. Making predictions and identifying patterns.
Pros:
Ease of utilization, valuing, constant idea,
Pleasant arrangement of applications, incredibly simple to begin.
The idea of application store assists with empowering investigation for known areas
Cons:
Need more applications, a few records and how to help manage hardly any highlights.
Recordings and introductions may help.
7. Canecto:
Canecto is a web analytics reporting tool to draw in online entrepreneurs in an excursion that will change them. try not to need to invest energy on web investigation or need to learn muddled instruments.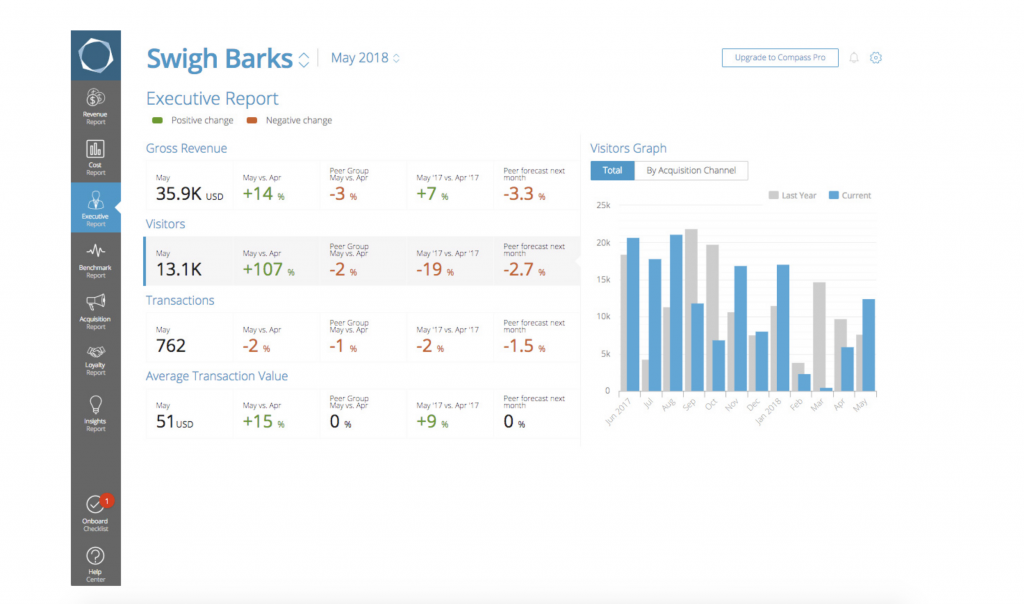 Price: $99/month
Features includes:
Comparison with competitors
On-site improvements
User Journey
Traffic recommendations
Content Improvements
Pros:
A ton to offer however I might want to explicitly feature that the robotized reports are an incredible efficient device!!
The online dashboard is simple to explore.
I like the computerized reports that are shipped off me each Friday.
Cons:
The substance part is truly incredible, and I would cherish for the framework to have more experiences here.
You need to introduce the content before it works.
I would have enjoyed that the day by day report was an application and not an email.
8. Yandex Metrica:
Yandex.Metrica is an amazing web investigation framework consolidating progress announcing instruments with heat guides and meeting replay.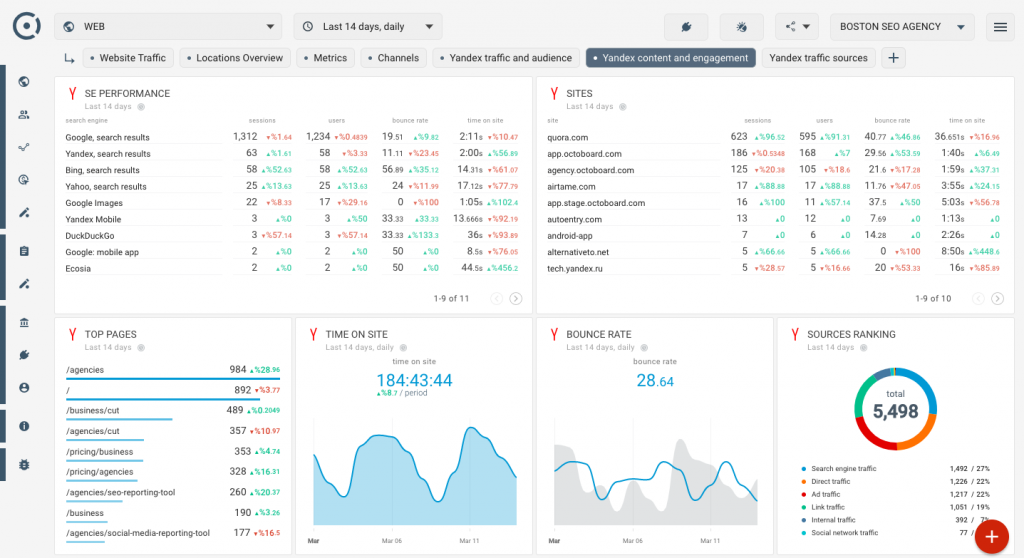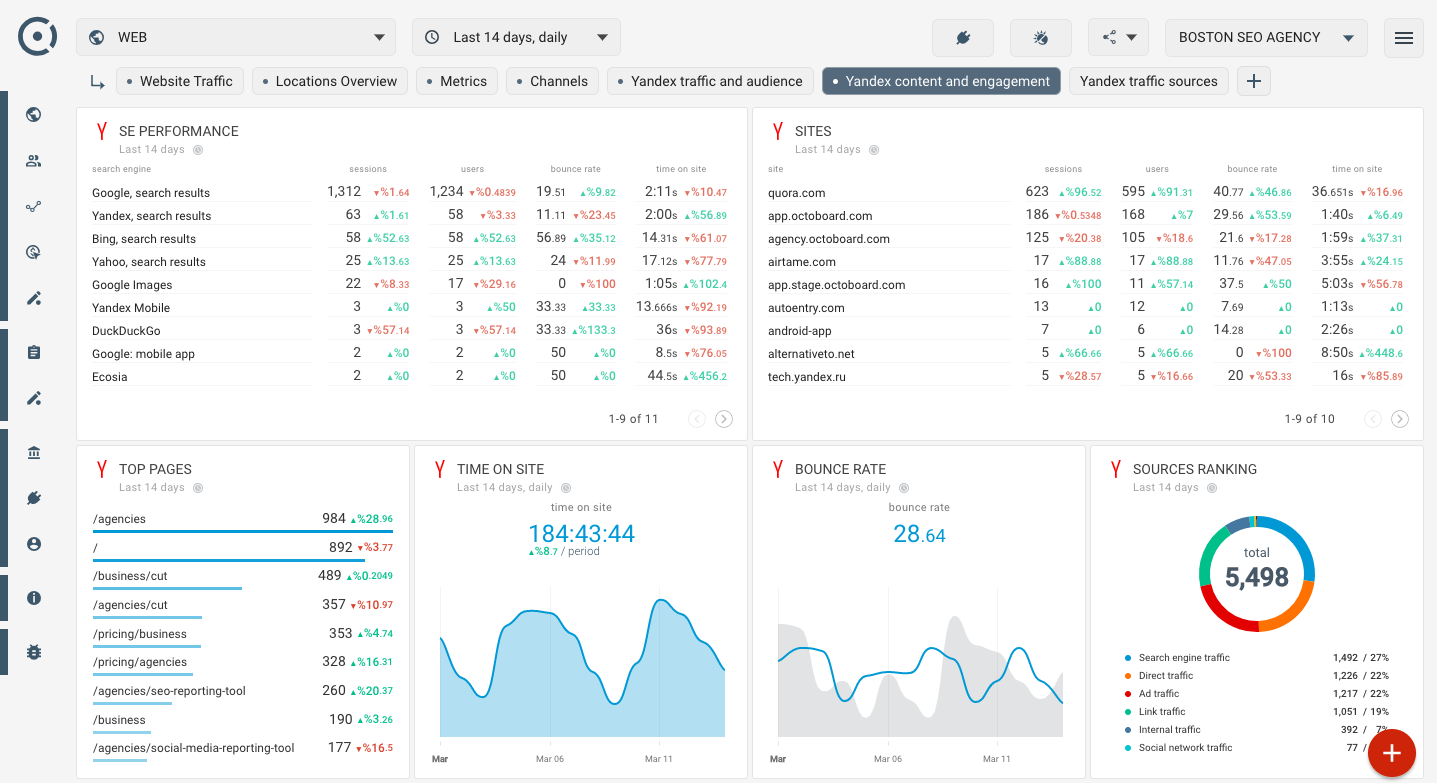 Price: You pay according to your customer data
Features includes:
Detailed traffic data for desktop and mobile updated in real time
Discover audience location, device, browser, and ad blocker usage
Return on investment from online marketing activities
Session replay, clicks and heat maps for customer visits
Custom user segmentation
Pros:
Framework generally approves of inspecting, as in Google Analytics.
Information about site visits not communicated to Google.
Interface is basic.
Cons:
Interface isn't versatile.
Framework lessens the speed of stacking the site.
Interface doesn't uphold various dialects
9. Web-stat:
Track singular guests utilizing your site progressively. Comprehend and develop your traffic with free, live examination.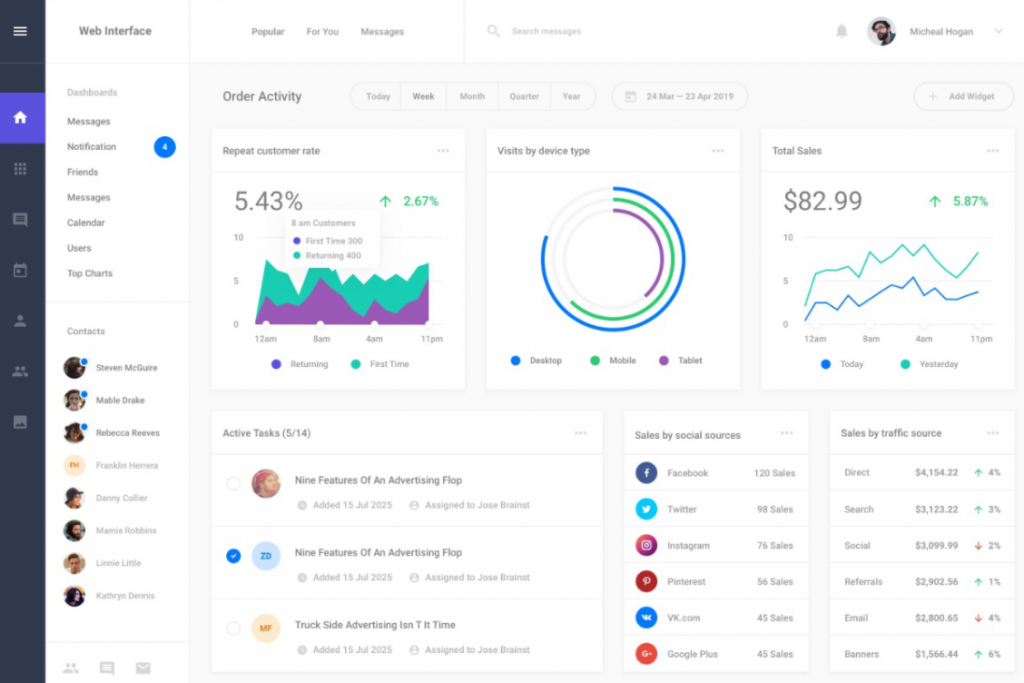 Price: $284.95/month
Features includes:
User-friendly reports
Page tracker
Calculate total number of visitors
Increase site performance and growth
Pros:
Find out about Your Visitors.
Ability Your Website is Being Used
Traffic Counter
Cons:
Mistakes Encountered
Restricted Free Version
Misrepresented and Expensive
10. Segments Analytic:
Segment is the main client information stage that gives progressed eCommerce client insight to transform clients into rehashes. It offers an expository force that encourages you to gather, clean, and control your client information.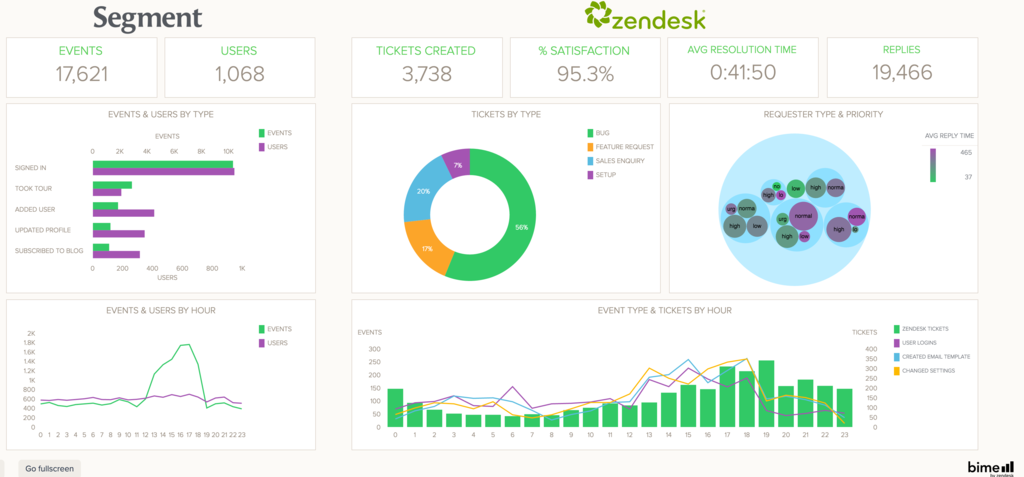 Price: $239/month
Features includes:
Prebuilt Segmentation
Client Cohorts
Email Return on Investment (ROI)
Item Return on Investment (ROI)
Increase customer lifetime value
Pros:
Mixpanel track work
Radio track work
Portion track work
Cons:
You will require a designer to assist you with actualizing Segment.
Troubleshooting issues turns out to be somewhat harder since you currently have two frameworks in play.
Some instrument explicit highlights won't work through Segment.
Conclusion
Shopify Analytics tools help you to develop growth strategies and take critical decisions by providing you clarity and in-depth analysis of your store's sale and customer data. So do take a look at the incredible Shopify analytics tools mentioned above and stick to what fits your business the best.
If you wish to get a hands-on and then decide, signup for a 14 day free trial of Putler. The setup is easy and will take less than 10 minutes. Also, you don't need any coding skills or credit card info to get started with Putler.
Try Putler for free for 14 days
If you have any questions regarding Putler or any other Shopify analytics tools, drop in a comment. I will send you a reply asap.