Shopify stands out as one of the best eCommerce platforms for online businesses. With cloud-based hosting, built-in marketing tools, responsive support, advanced functionality, and even an integrated payment gateway, it offers a comprehensive suite of features.
However, while Shopify checks off most boxes, it falls short in one key area—advanced reporting.
The built-in Shopify analytics dashboard is good, but isn't sufficient for propelling your store's growth. To overcome this limitation, you need to turn to third-party tools for advanced reporting.
In this article, I've curated a list of the top 11 advanced Shopify Analytics tools. Let's dive in:
Audiencefy
Audiencefy is an exceptional ecommerce analytics tool designed to enhance your advertising efforts and significantly improve your ecommerce metrics.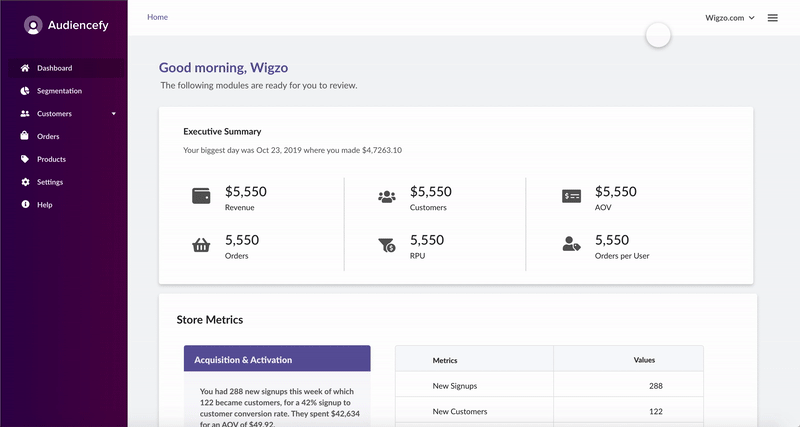 Price: $299/month
Features include:
Executive summary
Predefined customer segments
Individual customer data & journey analysis
Order & products analytics
Pros:
PDF reports
Substantial traffic analysis
Advanced AI capabilities
Cons:
Simple traffic data
Lack of sophisticated designs
No SEO features
Putler
Putler is a user-friendly-Shopify analytics tool that caters to eCommerce business owners and SaaS entrepreneurs.
It excels in monitoring multiple Shopify stores from a single platform.
Beyond reporting, Putler offers advanced reports on every vital metric that can help you make better business decisions. To get started, you just need to connect Putler to the relevant data sources, and it does the rest automatically..
Take a look at what more Putler has to offer: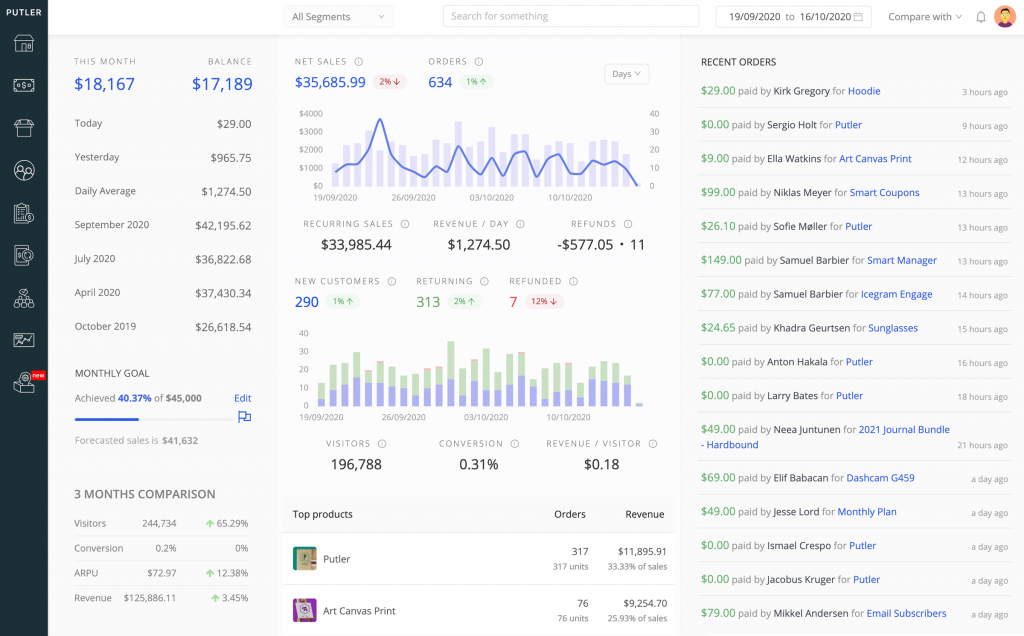 Price:
Starter plan – $20/mo
Growth plan – starts at $50/mo
Features include:
Fetches data from multiple Shopify stores, payment gateways, 17+ other data sources.
Automatically merges the data of several sources, cleans them up and shows you data points that truly matter, all in one place..
Comprehensive reports on products, sales, transactions, and customers.
200+ key performance indicators(KPIs) and reports.
Issue refunds, manage subscriptions.
RFM (recency, frequency, and monetary) customer segmentation.
Personalized growth recommendations.
Inbound & outbound API.
Pros:
Not just reports, Putler provides growth tools like – customer segmentation, forecasting, goal setting, and tracking.
Multiple data source reporting in a single place
Affordable pricing
Works for both SaaS as well as eCommerce businesses
Putler is extraordinary for dealing with many individuals, timetables, and accounts.
Cons:
No inventory management
Lack of cohort analysis
Sensai Metrics
Sensai Metrics facilitates data-driven business growth by employing various data science models and AI. It consolidates eCommerce data for comprehensive business analysis.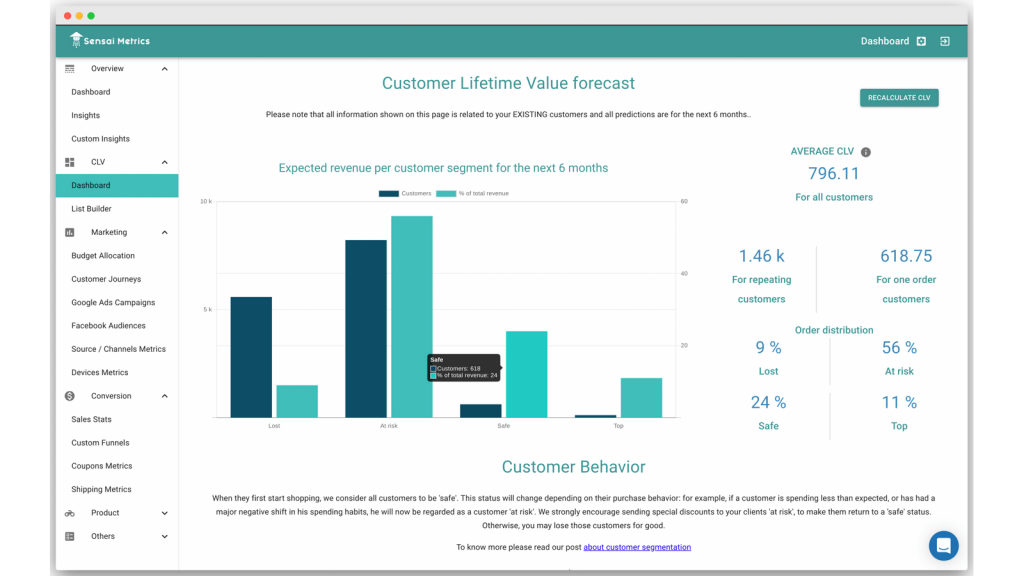 Price:
Startup: $29/month
Pro: $100/month
Features include:
Budget allocation with campaign performance and customers conversion insights
Customer journey tracking Facebook audience analysis
Custom and general insights
Sales statistics
Pros:
Real-time traffic insights
Rich features
Competitive pricing
Cons:
Limited customization options
Technical limitations
No content-related features
Revtap.ai
Revtap.ai is a robust Shopify reporting tool that brings data from various marketing and analytics apps onto a single dashboard. It also uses eCommerce intelligence to provide actionable marketing strategies, to identify untapped market opportunities to boost revenue.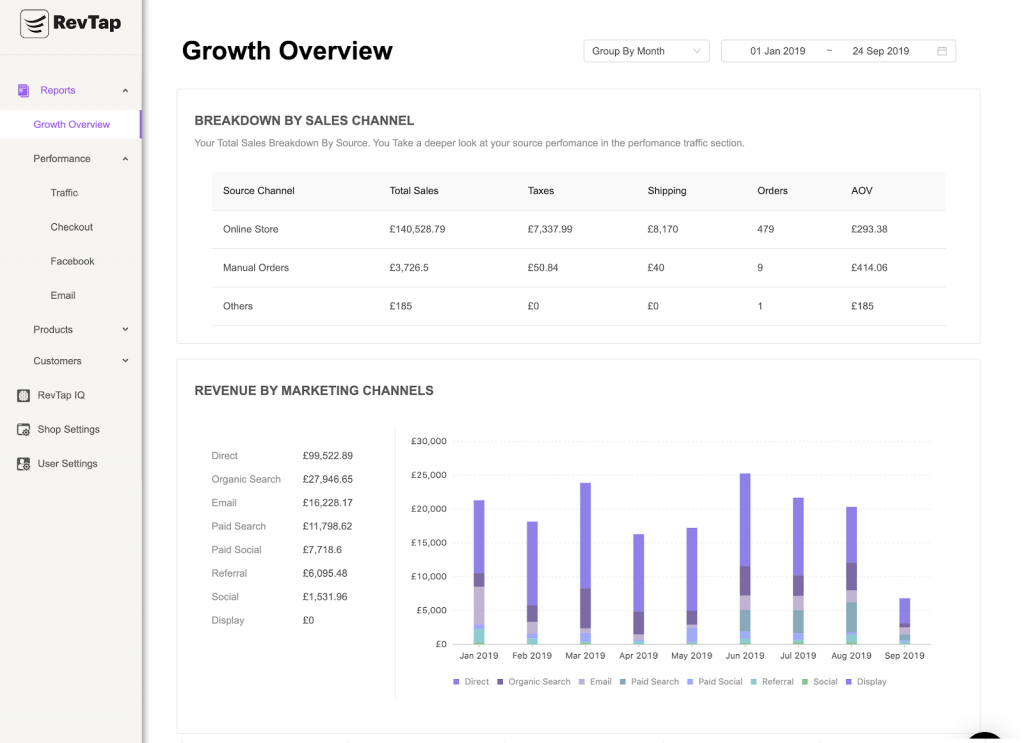 Price: $49/month
Features include:
Customer analytics report
Product analytics report
Performance analytics report
Growth analytics report
Pros:
Checkout reports for eCommerce
Detailed product sections
In-depth customer segmentation
Cons:
Slightly higher pricing
Lacks traffic data
No standalone traffic information
Apteo
Apteo is an automated, predictive marketing tool, with an integrated analytics suite. It helps eCommerce store owners to enhance repeat purchases by identifying marketing opportunities like cross-sells, product recommendations, and win-back campaigns. The analytics module delves into key trends and predictive insights within customer data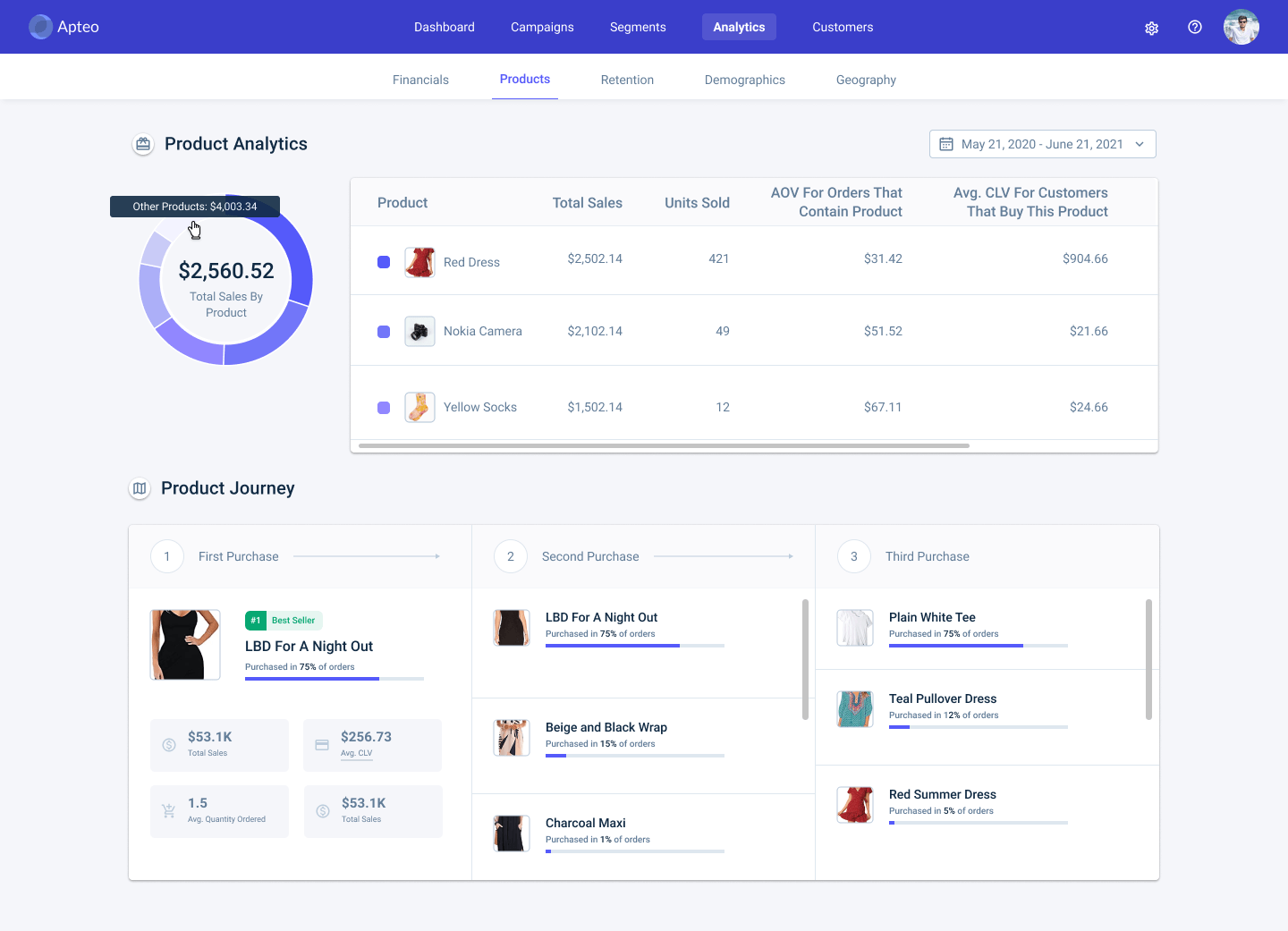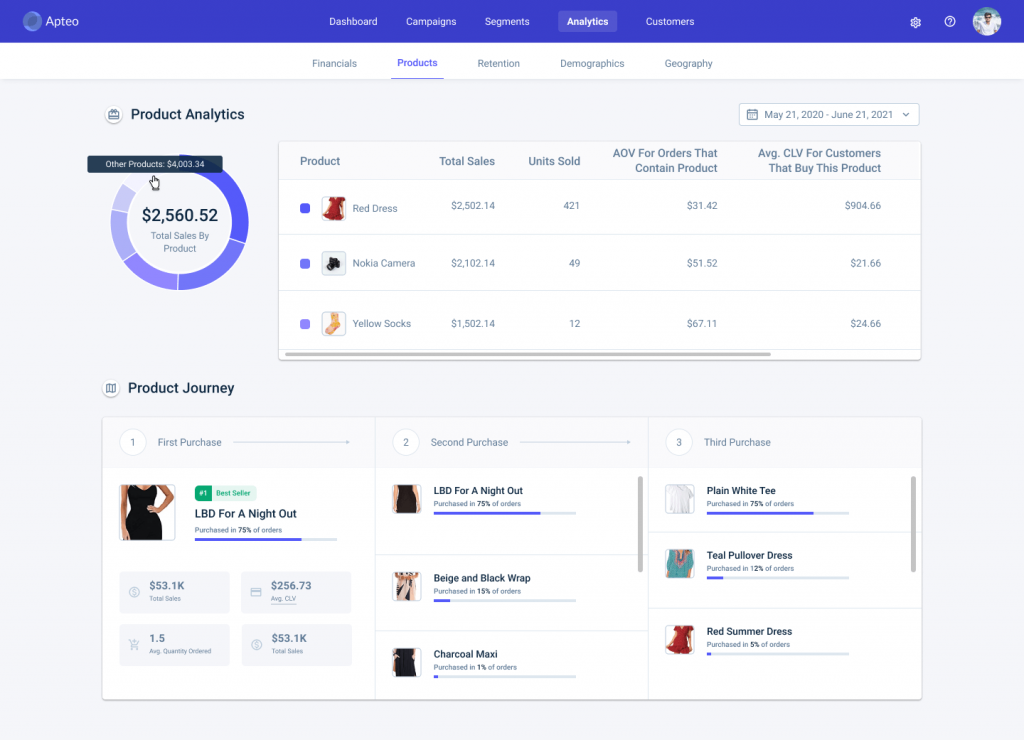 Price: $57/month
Features include:
Automatic customer segmentation based on customer behavior
Custom segments based on rules
Integration with external email and SMS providers
Automated cross-sells and repeat purchase email campaigns
Optimized discount codes
Optimized campaign delivery based on time and day
Predictive analytics suite for customer lifetime value
Pros:
Speedy customer service
Automation marketing campaigns
Segmentation and recommendations
Cons:
Lacks traffic information
Price considerations
Focus on predictive analytics overstandard analytics
Conversific
Conversific is an ecommerce analytics tool designed for Shopify, aiding in traffic optimization, improved data accumulation, enhanced sales, and informed marketing decisions.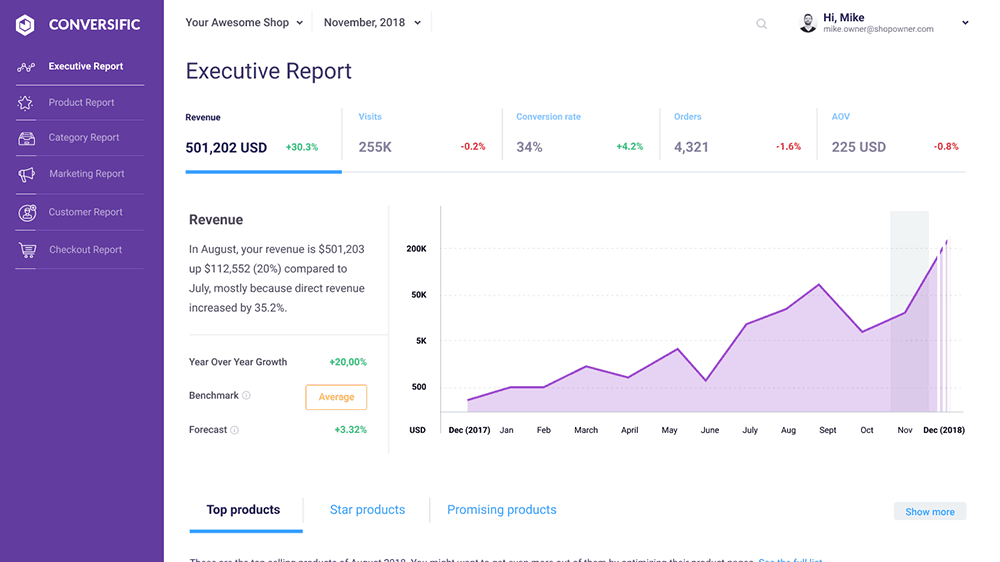 Price: $29/month
Features include:
Ecommerce performance monitoring
Benchmarks against competitors
Actionable insights and personalized action items
Products and customer analytics
Pros:
Predictive analytics capabilities
Benchmarks against industry peers
Transformation insights
Cons:
Lacks content analysis
Considerations about pricing
Reliant on Google analytics data
ShopIQ
ShopIQ offers an enterprise-level predictive analytics and data science platform for eCommerce stores,delivering real-time insights to enhance business strategies.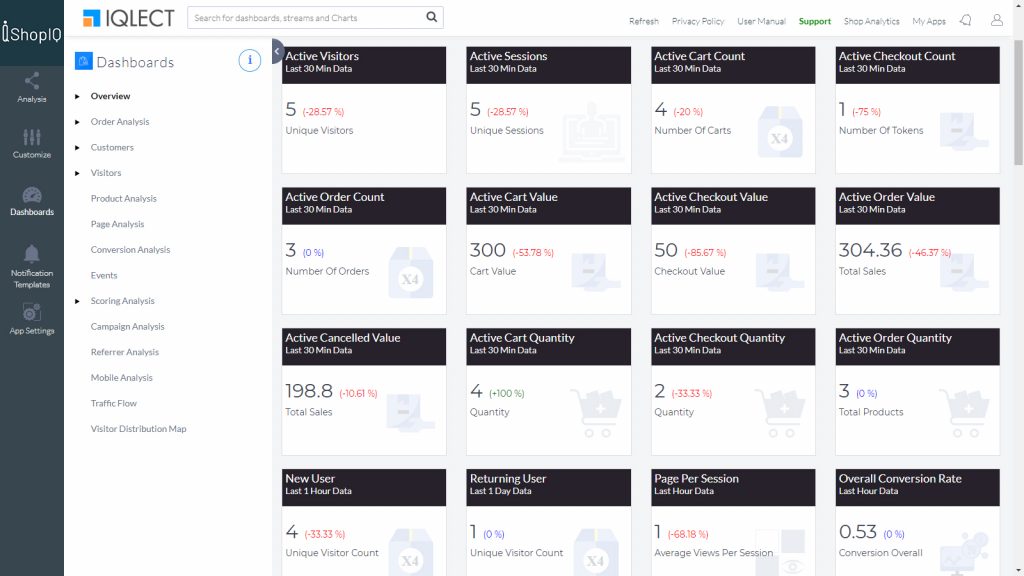 Price: $250 USD/month
Features include:
Real-time predictive analytics
Lifetime value and inventory forecasting
UI-based machine learning workflows
Prospective analysis and pattern recognition
Pros:
User-friendly interface
Application store for tailored analysis
Easy-to-use and real-time insights
Cons:
Limited available applications
Some features need further development
OrderMetrics
Order Metrics provides a comprehensive Shopify analytics solution for tracking orders, revenue and profit across multiple sales channels. It enables informed decision-making by considering variables like shipping costs, transaction fees, and discounts.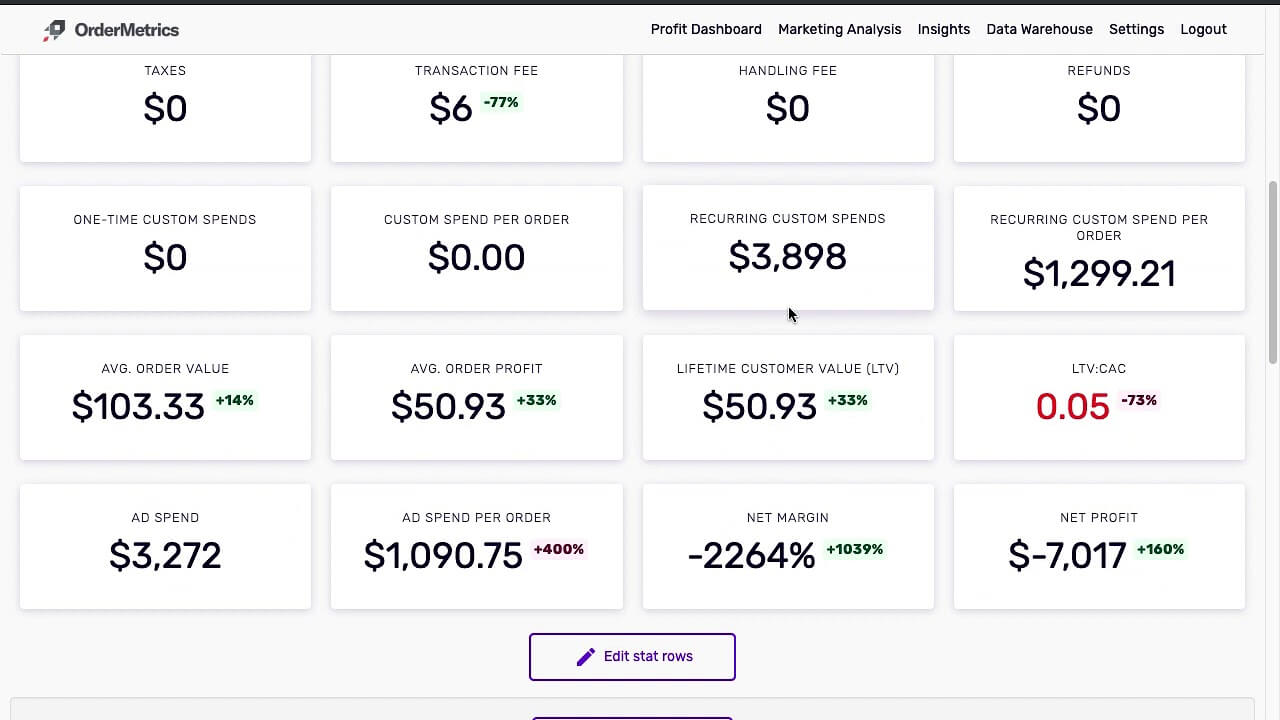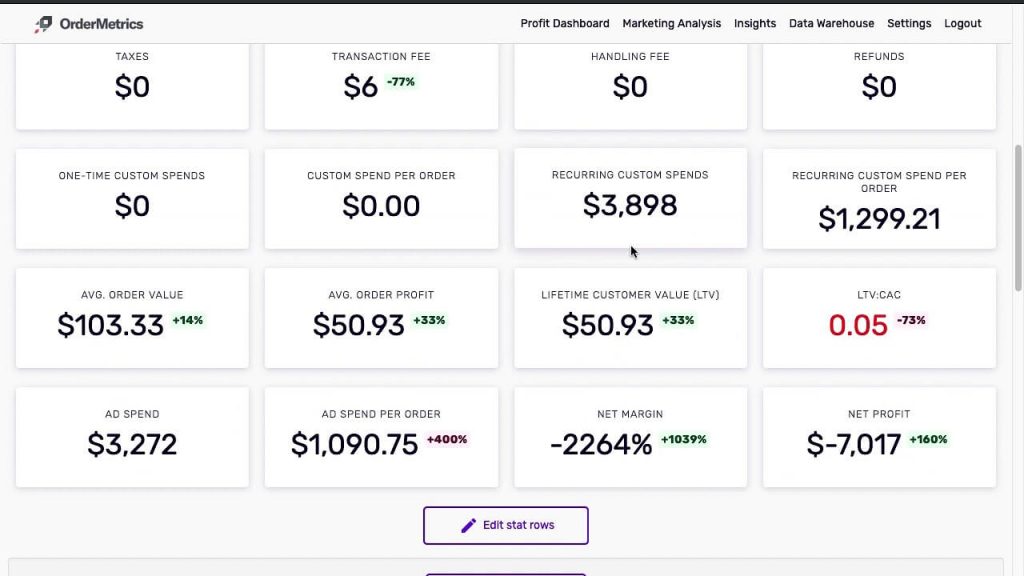 Pricing: $59/month
Features include:
Customer behavior tracking
In-depth data analysis
Daily report
Marketing campaign recommendations
Error alerts
Pros:
Streamlined operations
User-friendly interface
Effective customer service
Cons:
Limited responsiveness
Automated feedback email
Yandex Metrica
Yandex Metrica is a powerful web analytics framework that combines progress tracking with heat maps and session replays.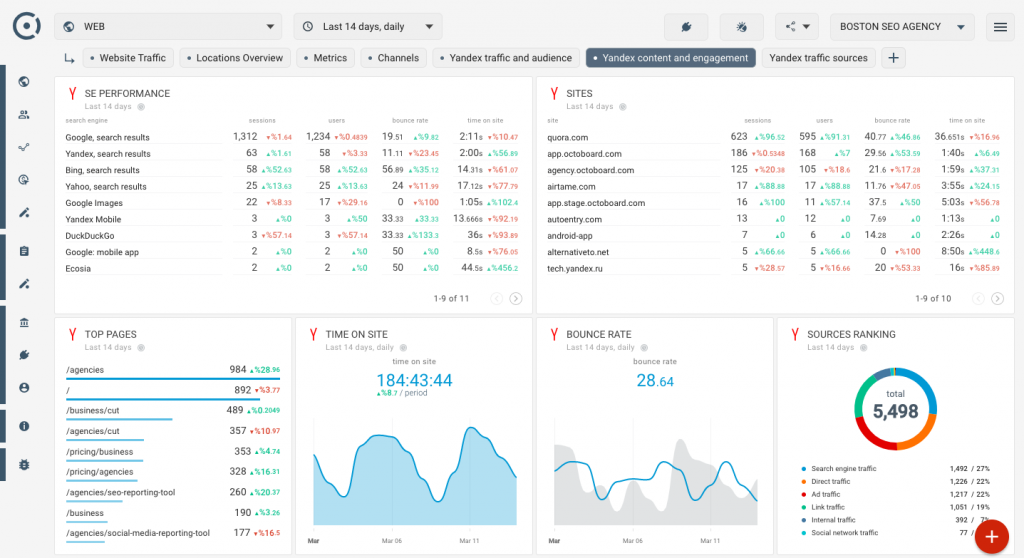 Price: You pay according to your customer data
Features include:
Real-time data for desktop and mobile traffic
Audience insights- location, device, browser, and ad blocker usage
ROI from online marketing activities
Session replay, clicks and heat maps
Custom user segmentation
Pros:
Comparable to Google analytics
Visitor data not shared with Google
Simple interface
Cons:
Non-adaptive interface
Impact on site loading speed
Limited language support
Web-stat
Web-stat allows real-time tracking of individual visitors on your site. It offers insights to understand and enhance your traffic.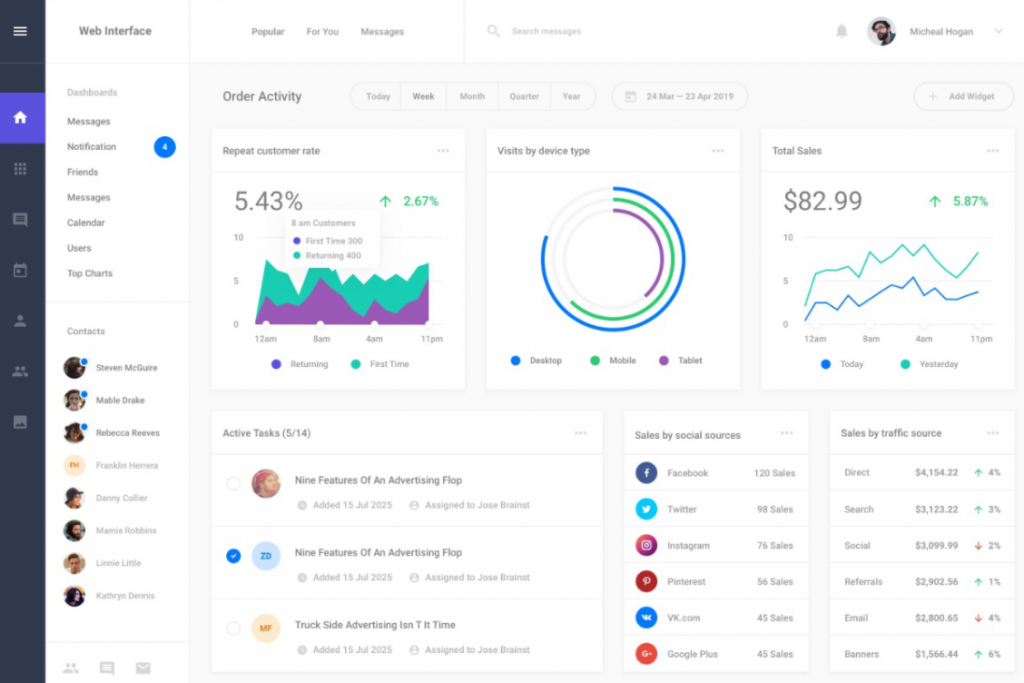 Price: $9.50/month
Features include:
User-friendly reports
Page tracking
Calculate total number of visitors
Increase site performance and growth
Pros:
Visitors insights
Awareness of website usage
Traffic counter
Cons:
Occasional errors encountered
Limited features in free version
Cost and value mismatch
Segment Analytics
Segment Analytics is a comprehensive customer data platform that collects and organizes events from web and mobile apps. It empowers different teams within your company with a complete data toolkit.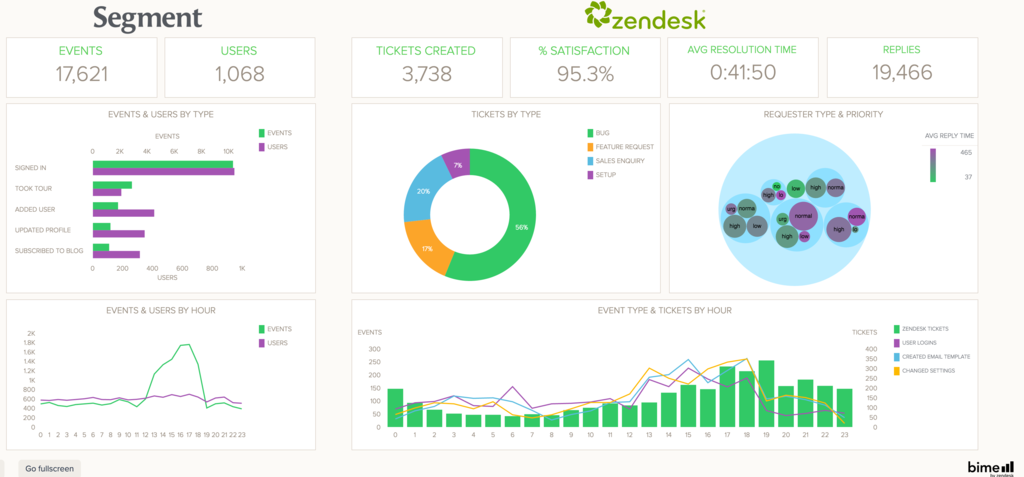 Price: $120/month
Features include:
Prebuilt segmentation
Customer cohorts
Email ROI and Product ROI
Enhanced customer lifetime value
Integration with third-party tools
Pros:
Easy setup
Reliable service and support
Integration capabilities
Cons:
Requires developer involvement
Potential troubleshooting complexities
Conclusion
Shopify analytics tools play a pivotal role in crafting growth strategies and informed decisions by offering deep insights into sales and customer data. Take the time to explore the diverse array of Shopify analytics tools mentioned above and select the one that aligns best with your business needs.
If you wish to get a hands-on and then decide, signup for a 14 day free trial of Putler. The setup is easy and will take less than 10 minutes. Also, you don't need any coding skills or credit card information.
Try Putler for free
Feel free to drop a comment if you have any inquiries regarding Putler or any other Shopify analytics tools. I'll make sure to provide a prompt response.