If you go for Shopify, you'll have your own highly-professional, e-commerce store, better than Etsy. The apps and tools of Shopify are also good, especially for the dropshipping ones.
Etsy has an upper hand over Shopify in giving you visibility to a very large online audience as it is a marketplace. And if you are selling vintage times, art and craft goods or rings, you'll have an easy time selling.
There's a twist too. Some users take the best-of-both-worlds approach and sell on both Shopify and Etsy platforms.
So should you opt for either one or both? And how can you get better reports and analytics for these platforms? Let's find out.
Shopify vs Etsy – the differences
Both Etsy and Shopify are strong contenders for shop owners to sell goods and services. Around 4.5 million stores are powered by Shopify, whereas Etsy's audience base is around 95 million customers.
These are some earth-shattering stats. And opting for both seems a good option as of now. But both platforms fare differently in many core aspects.
Have a look at them that will help you decide what's better for you.
Target audience
Etsy is primarily focused on selling handmade, vintage, and unique items, while Shopify is a more general e-commerce platform that can be used to sell any type of product.
Design and Customization
Etsy offers a standardized layout for online stores, while Shopify provides more customization options.
Nevertheless, Etsy has a distinct offering called 'Pattern,' which allows you to create an independent online store. You can also import your product catalog to Etsy, synchronizing inventory data with both platforms.
Compared to Shopify's 'Basic' plan, which is the cheapest option for building a standalone website, Pattern costs $15 per month, saving you approx $15.
However, it's worth noting that Pattern lacks some of the advanced e-commerce features available on Shopify, such as abandoned cart recovery, built-in email marketing, advanced search engine optimization, and dropshipping.
Despite this, Pattern is an affordable and convenient option that integrates seamlessly with the primary version of Etsy, making it suitable for some users.
Branding
When using Shopify, you have full authority to customize your online store and establish a distinct brand identity.
On the other hand, selling on Etsy means your store is part of the larger Etsy marketplace, making it more challenging to differentiate your brand and create a unique identity. If you want to create your logo, you can use a tool like Canva or Free Logo Creator.
Ease-of-use
Both Etsy and Shopify are designed to facilitate easy e-commerce for beginners.
Once you create an account on either platform, you'll be taken through an onboarding process that guides you through the essential steps of starting to sell. Moreover, both platforms provide a variety of online resources and video tutorials to help you along the way.
However, there are differences in the learning curve for each platform.
On Etsy, you'll essentially be adding listings to an existing online marketplace. Although this might seem simple, it requires careful consideration of product copy, imagery, and pricing. Nevertheless, the process is relatively straightforward.
In contrast, with Shopify, you'll be creating an entirely new website from scratch.
Cost
When you talk about Etsy pricing, it applies a $0.20 listing fee per item, along with a 6.5% of the price you display for each listing and a 3% + $0.25 payment processing fee.
Meanwhile, Shopify pricing provides you with three plans, starting from $29/month. There are also some transaction fees depending on the payment gateway used.
Shopify, definitely is on the higher side in terms of pricing but one cannot ignore the features and long-term scalability associated with it.
Marketing
Marketing-wise, Shopify offers a range of marketing tools, such as email marketing and social media integration, to boost your store's visibility.
While Etsy also offers marketing tools, they're primarily geared towards promoting items within the Etsy marketplace.
SEO
Regardless of whether you choose Shopify or Etsy, the key to success ultimately depends on your search engine optimization (SEO) efforts.
If you have a Shopify store, your primary focus for SEO would be Google. As your store is on your domain, it's the main search engine that potential customers will use to find your products.
On the other hand, when you sell on Etsy, you need to primarily focus on Etsy's own search engine. It works differently from Google as it aims to present search results to ready-to-buy customers.
To make the most out of your Shopify or Etsy store, it's crucial to conduct quality research into the best SEO techniques for both platforms.
It's worth noting that, unlike Shopify stores, Etsy shops offer two SEO opportunities. You can optimize your product catalog for Etsy's search engine and get them indexed by Google.
Techincally speaking, having an Etsy shop offers greater potential to expand your reach to a search audience compared to having a Shopify store.
Inventory management
Regarding inventory management, Shopify provides more robust tools compared to Etsy, making it better suited for sellers with larger product lines.
On the other hand, Etsy is more fitting for smaller sellers with limited inventory.
Shipping
Shipping-wise, Shopify has built-in shipping tools and integrations with major carriers, whereas Etsy partners with USPS to offer discounted shipping rates.
Multi-platform
Many Etsy shop owners also host a storefront on platforms like Shopify and Squarespace to expand their reach beyond Etsy's marketplace, as they can't achieve the same visibility on Shopify without an existing marketing list.
Help and Support
Shopify has dedicated 24/7 support – phone, email, live chat, social media, docs and videos.
Etsy also has a help center – community discussions, docs and email. But compared to Shopify, it lacks behind in resolving customer queries at a faster rate.
Etsy vs Shopify – overall wins and losses
Comparing the main differences, here's what we observed:
Shopify wins over Etsy in:
Branding
Marketing
Inventory management
Shipping
Support
Etsy wins over Shopify in:
Cost
SEO
Multi-platform / Visibility
It's 5 for Shopify and 3 for Etsy. In terms of design and ease of use, it's a tie. So before we jump to a conclusion, please read a very important section below.
Using Shopify and Etsy together for better business analytics
Your sales and marketing depend on your current performance. You get some basic reporting with Shopify and Etsy.
But for detailed analytics, you need a solution like Putler that allows you to combine all your Shopify and Etsy stores and view reports in one place.- individual as well as combined.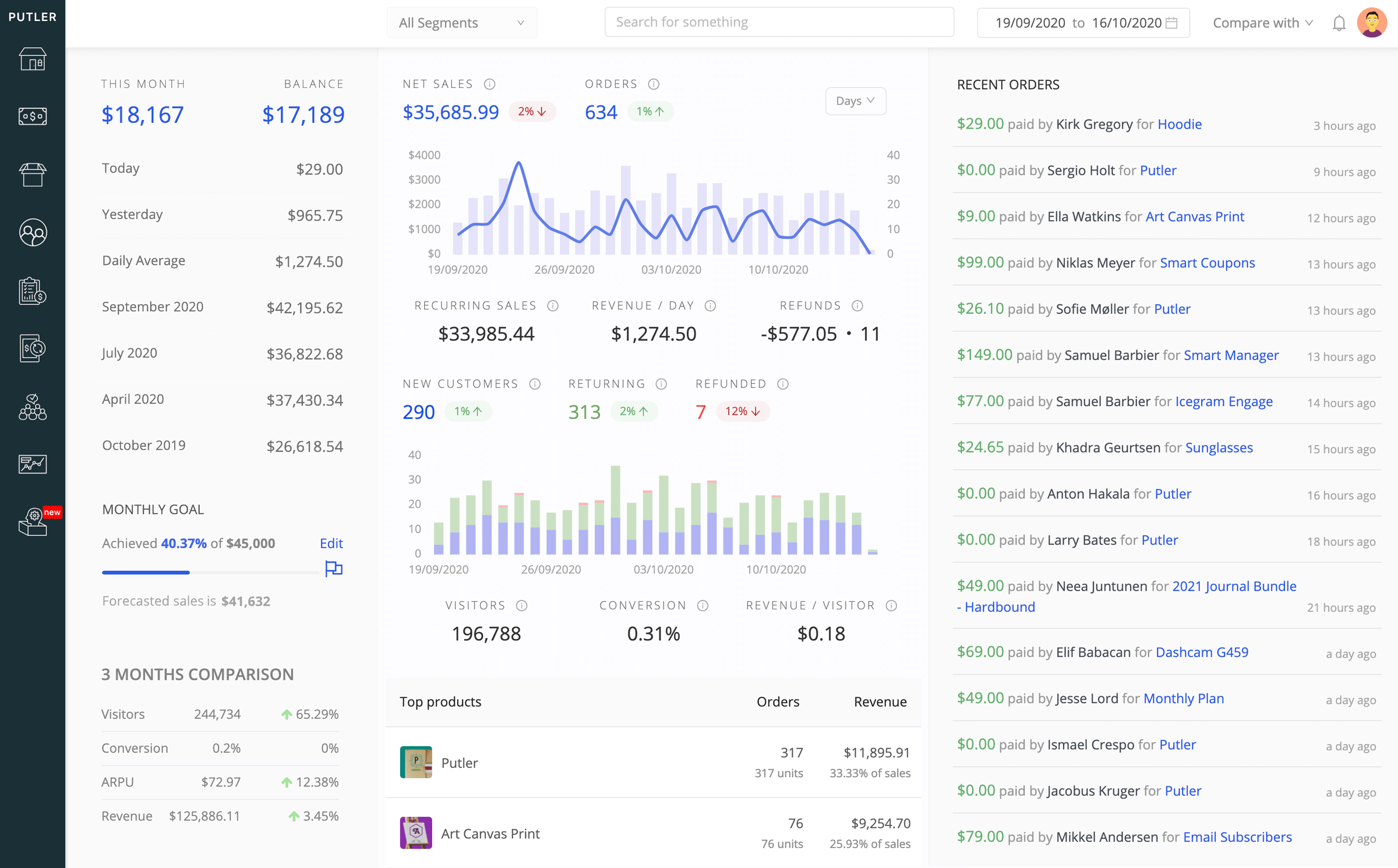 Real-time order tracking – Putler provides real-time tracking of orders, enabling sellers to monitor their sales activity and order status in real time. This allows sellers to identify any issues that require immediate attention, such as canceled orders or delayed shipments.
Order reports – Sellers can generate detailed order reports that provide a comprehensive overview of their orders. These reports include information on sales trends, order volume, order status, customer behavior, and more.
Product insights – Sellers can easily track which products are sold, when they are sold, and the quantity sold, helping them make informed decisions on what products to offer.
Customer insights – Putler provides valuable insights into customer behavior, including purchase history and spending habits. Utilizing this information can assist sellers in crafting targeted marketing campaigns and enhancing customer retention.
Sales forecasting – Putler uses historical data analysis to help sellers predict future sales and identify trends. This can help sellers plan and prepare for peak selling periods and make informed decisions about inventory and marketing strategies.
Shopify vs Etsy conclusion – which platform to choose?
Both Shopify and Etsy have their own unique strengths and weaknesses when it comes to building an online store.
Shopify is a more robust and customizable platform, with advanced features and scalability, making it an ideal choice for larger businesses.
Etsy, on the other hand, is a niche marketplace for handmade and vintage goods, with a built-in customer base and a sense of community that can be beneficial for small businesses and individual sellers.
If your budget allows you, try to take the benefits of both platforms. And without fail, use Putler to get accurate analytics for these platforms. It will help your business reach new heights.