Seeing the way marketing data is siloed across the different platforms, it's not easy for marketers to collect relevant data, remove what's not needed, and ensure that every bit of data is used as it should be. Of course, marketers have the aid of many data analysis and extraction tools for this job.
Supermetrics is one of them. Ideal for startup marketing agencies and experienced marketers, the tool is best known for collecting vital information spread all across the deployed operational tools. Is it enough? Can it use data at full capacity?
Let's find it out.

Supermetrics – Ideal data connector for spreadsheets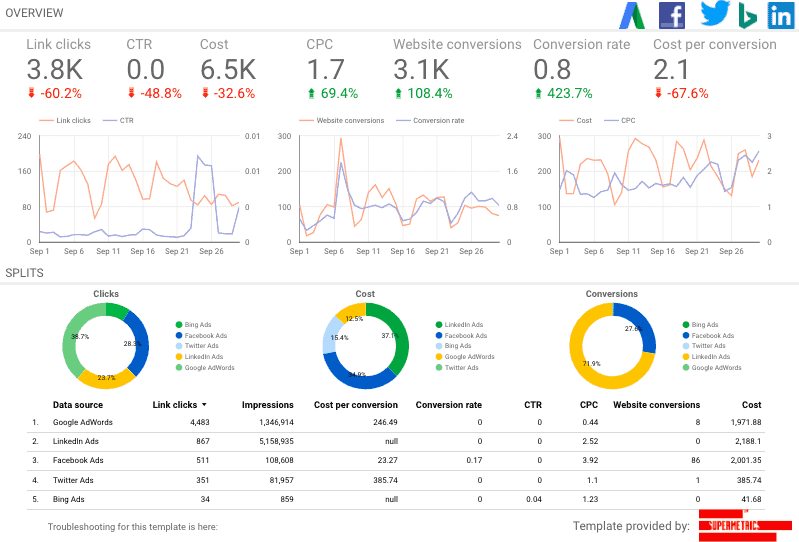 For a quick introduction, let us inform you that Supermetrics is an established data connector tool that helps marketers and data analysts to collect data from different platforms/tools and sort it in the spreadsheet to increase data accessibility. It covers a wide range of platforms like Google Ads, Google Analytics, Facebook, Bing, Twitter, and many more.
It can pull data from all these platforms and put it under a centralized platform so that its analysis becomes easy. It lets you store the data in the storage of your choices like Excel, Data Studio, Google Spreadsheets, Uploader, BigQuery, and Snowflake.
Who should use Supermetrics
Seeing the facilities and their reach, Supermetrics seems perfect for early-stage marketing agencies and businesses that have only limited platforms to cover for collecting marketing data.
Gains and losses of Supermetrics
As a Supermetrics user, you're entitled to enjoy certain obvious benefits like
Easy granular data extraction from platforms like Facebook, Adwords, Google Analytics, and so on
In-built integration with Google Sheets for seamless extraction
Automated data extraction capabilities that can seize data from multiple resources
Not much manual reporting hard work
User-friendly interface
While one reaps these benefits, particular drawbacks are:
Lack of direct integration with the majority of BI tools
No advanced database warehousing capability
Absence of highly advanced data models like LTV, Lead Grading, and custom attribution
This is what Supermetrics is all about. But it's not about detailed analytics and reporting. The cons made it obvious that If you're seeking perfected and data-driven analytics, you would something advanced and feature-rich.
Putler: Multichannel e-commerce analytics tool that every marketer needs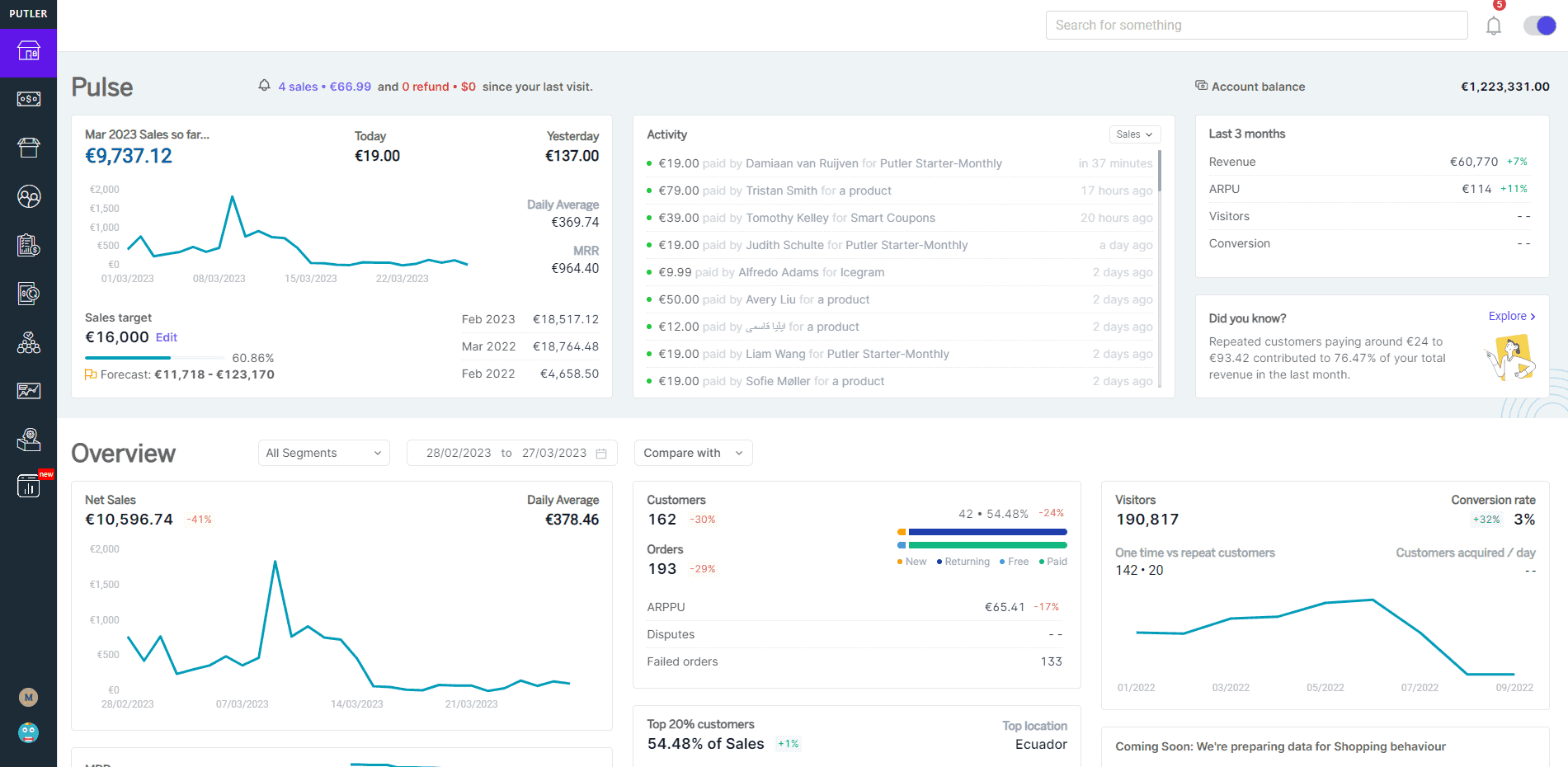 Pulter is an ideal Supermetrics alternative that nerd marketers can use to expand data analytics capabilities. It's a great option where you need a dashboard with capabilities to empower your sales and marketing funnel.
Who should use Putler?
Putler is a great tool to own by everyone who is seeking:
Consolidated marketing, sales, and CRM data
Integration with all the leading tools
Detailed reporting and far-reaching data analysis
Supermetrics vs Putler – A quick comparison
Declaring Putler as the most dependable Supermetrics alternative is baseless if we don't have enough proof. Let's have a quick Supermetrics vs Putler features comparison for better understanding.
Reporting and analytics
This is one aspect where Putler exceeds Supermetrics by many points. What Supermetrics offers in the name of reporting & analytics is good for nothing. There is no RFM Segmentation and Analysis, real-time reporting, detailed reporting dashboard, and ability to process huge data amounts without any glitches and errors.
Putler outshines Supermetrics with its high-advanced and well-integrated Reporting & Analysis features. It has a centralized reporting dashboard that brings everything related to reports in one place.
As it captures data from multiple platforms in realtime, its reporting is highly insightful.
It can process a large amount of data at a time. Reporting & data analysis with Putler is far advanced and result-driven.
But, if you're looking for inventory management, Putler is not the right tool to use. Supermetrics offer detailed inventory reporting that is good for retail and e-commerce businesses.
As far as metrics tracked are concerned, you can use Putler to track metrics like customer segmentation, customer profiles, frequently bought items, and product leaderboard. With Supermetrics, the best you get is the product leaderboard metric only.
Sales management
Both of these tools are capable of pulling, sorting, and analyzing sales data and allow businesses to make critical sales-related decisions. But, Pulter is better than Supermertics when it comes to collecting far-reaching information.
Putler has a better-integrated network that can pull data from all the linked e-commerce stores. Supermetrics can process only the sales data that you provide.
Even though Putler fails to provide a customizable dashboard, it effectively provides real-time tracking of metrics like LTV, ARR, MRR, and many more.
Data visualization
Supermetrics fails big time when it comes to data visualization. There is none. Also, it compels end-users to go for manual data mapping that is erroneous and dull.
Putler has impressive data visualization capabilities and lets you present sales and other data in the form of interactive maps, charts, bars, and many more. None of the Supermetrics competitors has such great data visualization capabilities.
Data source integrations
As mentioned above, Putler features assorted data source integration suite that includes:
Payment gateway – PayPal, Stripe, Sage, RazorPay, Authorize.net, Braintree
Shopping cart & e-commerce system – eBay, Shopify, BigCommerce, Etsy, Amazon, WooCommerce, Gumroad
Analytics & marketing – MailChimp and Google Analytics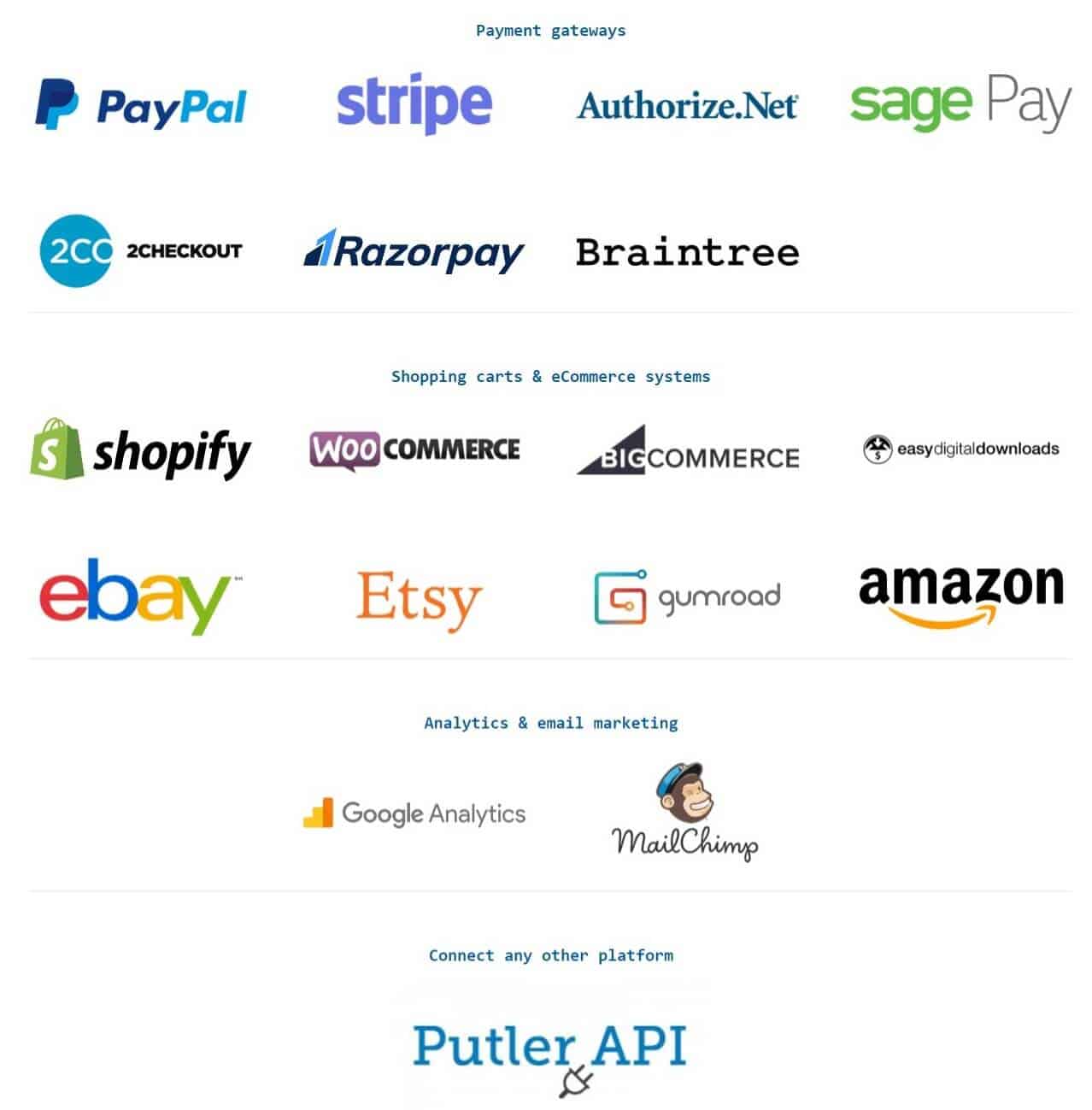 Need something more integrated? Try Putler API, which will make integration with every platform possible.
Customization with dashboard
Customization matters a lot to make sure that the tool is able to do the things that an organization wants. Supermetrics offers customizable dashboard capabilities, while Putler lacks this ability.
Pricing structure
Putler has a very flexible pricing structure that suits everyone. It offers three different subscriptions.
Starter – Suitable for beginner marketers & businesses with limited requirements

At $20 per month expense, a Starter subscription provides single-user tool accessibility, can handle 3 data sources, process up to 2 years old data, can manage subscriptions, and all the basic features.

Growth – Best for high-volume business

If you have surpassed the start-up stage of a business lifecycle and are now looking for advanced data reporting & analytics, go for a Growth subscription.

It will cost you $50 per month but can be used by unlimited users & teams, supports 15 data sources, fetches data from the past 5 years, and offers an inbound API. You also got a dedicated account manager to keep things in place.

Custom – For need-based business

Putler lets you have a tool that will work on your terms. For this to work, you need to have a consultation and put forward your requirements.

Supermetrics cost isn't so clearly specified. On the website, no price details are disclosed. You need to contact the sales team to get clarity on the price part.

Reasons to choose Putler

Putler is perhaps the best Supermetrics alternative that data-driven businesses can have. It's a must-have tool because of

Its amazing integration capabilities. It can bring sales, marketing, CRM, and any other kind of data with its pre-built integration of over 17 platforms.
Multiple payment gateways. As a business, you should allow your customers to make payments by any means. Putler brings the best payment integration to your disposal.
Hassle-free operation. You don't have to be engaged for long in tedious set-up and installation. It's a plug-and-click tool with the least possible configuration requirements.
It's the ability to combine everything you have. Whether you own one or 10 businesses, a Putler can bring all of them together and help you keep track of every data you have.
Top-notch security features. You can share mission-crucial data on this platform as it's backed with the best encryption and uses 2FA.
14-day long free trial with a money-back guarantee. With these two offerings, you have the assurance that your money is in a safe hand.

Conclusion

Supermetrics is great. But it's not as great as Putler. It lags on multiple fronts like reporting, integration, and analysis.

Putler is a wonderful Supermetrics alternative that every growth-seeking business must try. The caveats of Supermetrics are fixed effortlessly, and more capabilities are added with ease.