In today's wild world of data analytics, it seems like there are more platforms than emojis in a teenager's text message.
Seriously, a quick search for "data analytics tool" slaps you with a mind-boggling 183 million results. It's like trying to choose a flavor at an ice cream parlor with a hundred options—overwhelming, right?
But fear not, my data-driven friend! Selecting the right data analytics tool can be a game-changer for your business. And that's exactly why we've whipped up this comprehensive guide, your trusty compass in this data jungle.
In this brain-tickling article, we'll explore various tools, dissect key features to consider, and sprinkle expert tips for a decision that even Sherlock Holmes would applaud.
After absorbing these insights, you'll be equipped to cut through chaos and discover a tool that makes your business dance with joy.
Ready to dive in? Let's go!
What are data analytics tools?
Data analytics tools are like treasure maps for your quantitative data. They go beyond basic analysis, allowing you to unlock valuable insights and unveil hidden patterns.
If you're a business analyst, you know that wielding the right data analytics tool is like having a superpower. It's all about utilizing data warehouse tools, unearthing actionable insights, and presenting captivating data analyses to your clients.
Evaluate each tool's strengths to make an informed decision that perfectly aligns with your specific goals and aspirations.
How to choose the right data analytics tools?
Choosing the perfect data analytics tool for your organization is like finding the ultimate puzzle piece. Here are key factors to consider:
Identify your business needs and users: Determine who will be using the analytics tool and what their technical expertise is. Will it be used by data analysts and scientists or nontechnical users who require an intuitive interface?
Evaluate data analysis options: Some platforms offer an interactive experience for code development using SQL, while others focus more on point-and-click analysis for less technical users. Consider the data modeling capabilities and whether the tool can support relevant visualizations for your enterprise.
Price and licensing: Consider the cost of the tool and whether it fits your budget. Some options are free, while others charge licensing or subscription fees. Keep in mind that the most expensive tool is not always the most feature-complete, and there are many robust free solutions available.
Data modeling capabilities: Consider whether the tool has a semantic layer or can perform data modeling itself. If not, you may need to use SQL or a tool like DBT to model your data before analysis.
By considering these factors, you'll uncover the perfect data analytics tool that seamlessly fits your organization's needs and unleashes the power of your data.
Importance of having a data analysis tool for your business
Unlocking the power of data analysis software can supercharge your business decisions, optimize operations, and fuel exponential growth.
With a plethora of data analytics tools available, choosing the right one is paramount. By harnessing these tools, businesses gain invaluable insights into customer behavior, enabling them to craft laser-focused marketing campaigns, enhance product offerings, and elevate customer satisfaction to new heights.
Empower your business with the right data analysis tool and unleash its transformative potential.
Most popular data analytics tools to know in 2023
Navigating the sea of data analytics tools can be daunting.
To simplify your search, we've compiled a list of the most popular data analytics tools in 2023. Discover the top contenders and find your business's perfect match.
Let's explore the elite players in the world of data analytics in 2023!
Looker
Looker is a data discovery platform that offers both on-premise and cloud deployment. It is known for its ease of use and fast implementation, achieved through its proprietary data modeling language.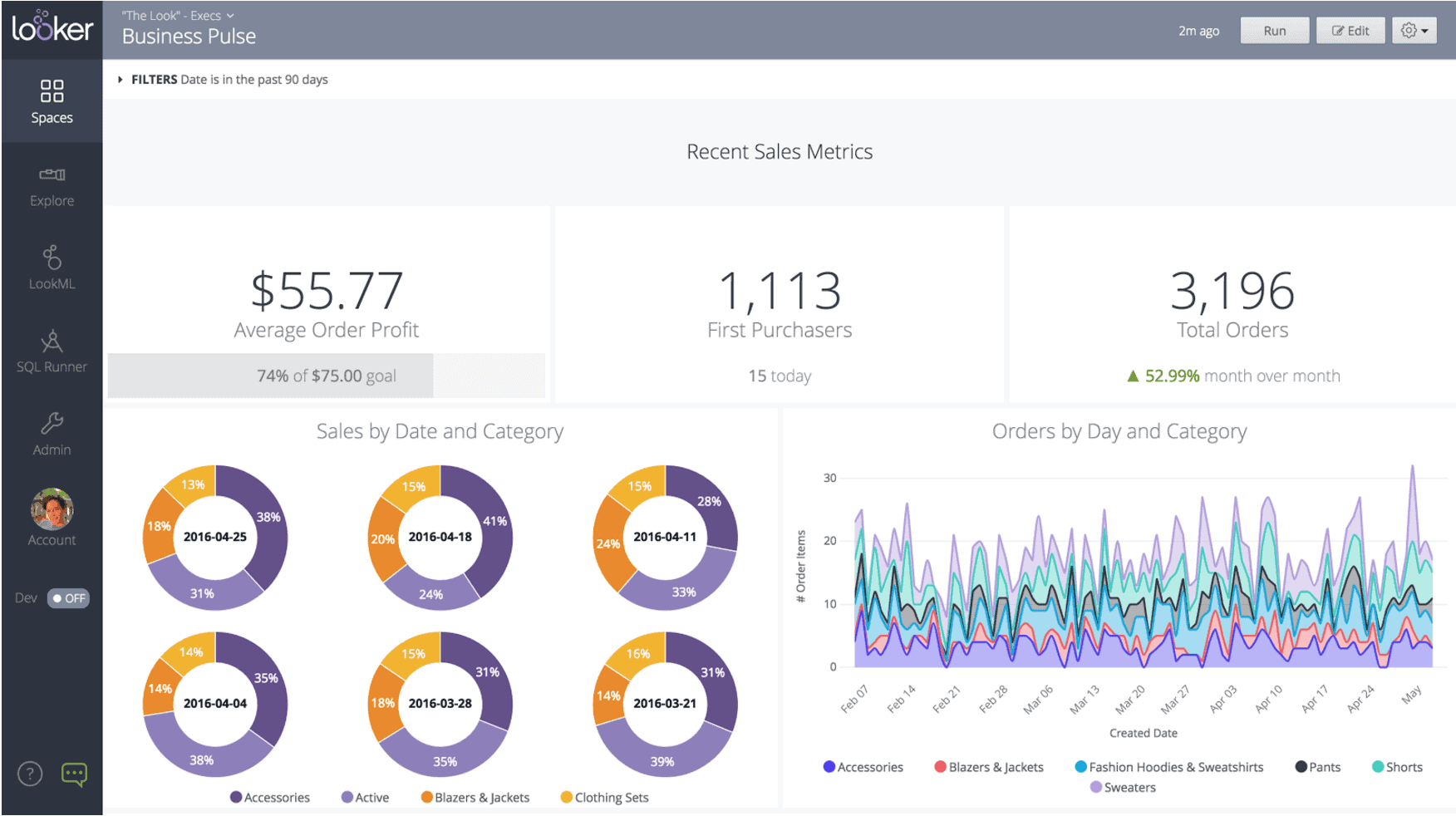 Features:
In-database and browser-based platform with integration to any SQL database or data warehouse.
Self-service features such as pivoting, filtering, dashboard creation, and data visualization.
User collaboration with access through browsers and mobile devices, sharing data through email or URL generation and integration with standard applications such as Microsoft Office and Google Docs.
Tool plan:
Viewer user: $30/user/month
Standard user: $60/user/month
Developer user: $125/user/month
Putler
Putler provides you with detailed reports on your website's performance and analytics. Your data is processed in real time, and you get accurate reports and key metrics. Other analytics tools lack the ability to handle eCommerce data, something Putler excels at.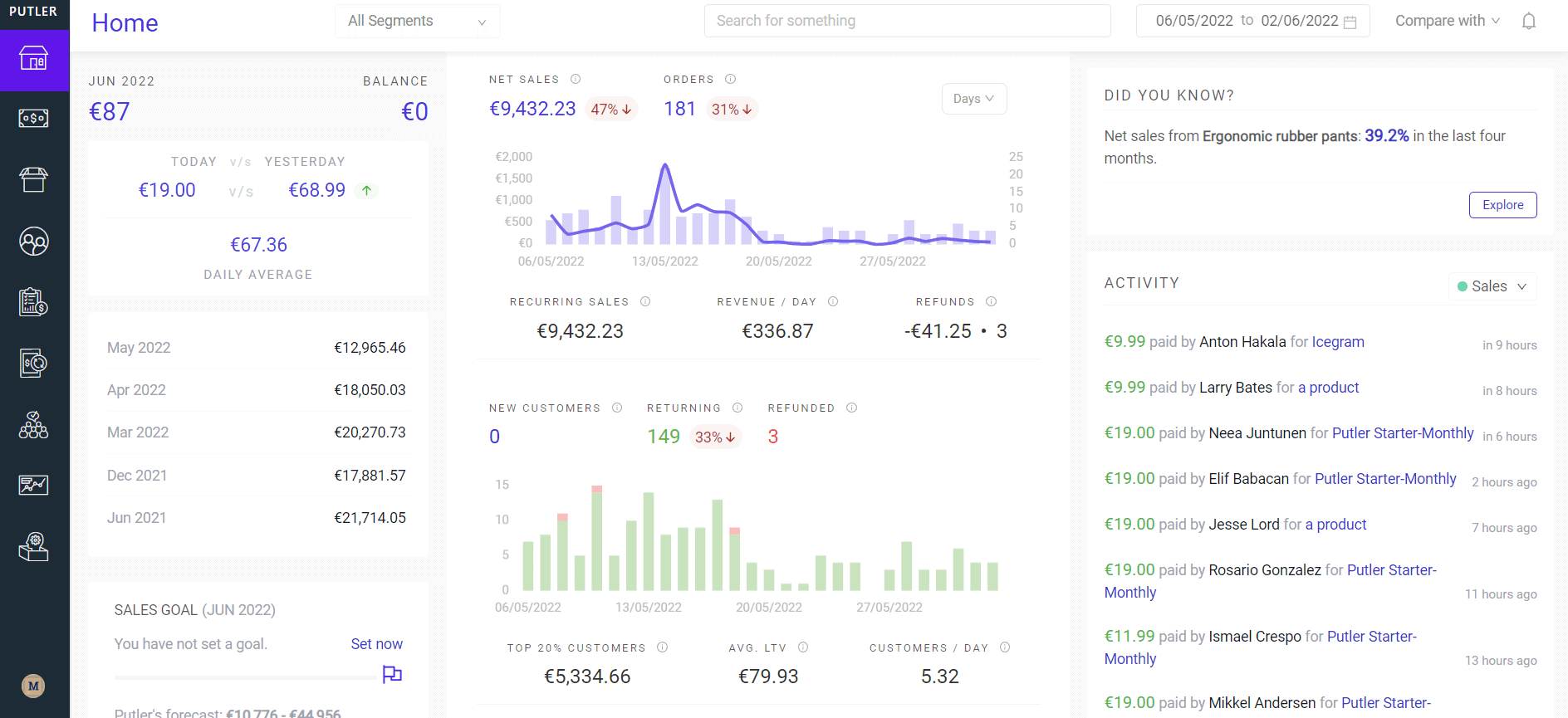 Features:
Multi-store reporting with custom segments
Intuitive filters and management of refunds and subscriptions
153+ key performance indicators and reports for both SaaS and non-SaaS businesses.
RFM customer segmentation and instant transaction lookup for effective business analysis.
Tool plan:
Starter plan: $20 /per month
Growth Plan: $50/per month.
It also offers a custom plan which you can tailor according to your needs.
You can create a free account and will get an outstanding reporting solution irrespective of the plan you select.
Zoho Analytics
Zoho Analytics is a business intelligence platform that allows users to connect, prepare, and analyze data from any source with a drag-and-drop interface. It can be accessed from the cloud, public cloud, or on-premise, and offered as a white-label or embedded in another app.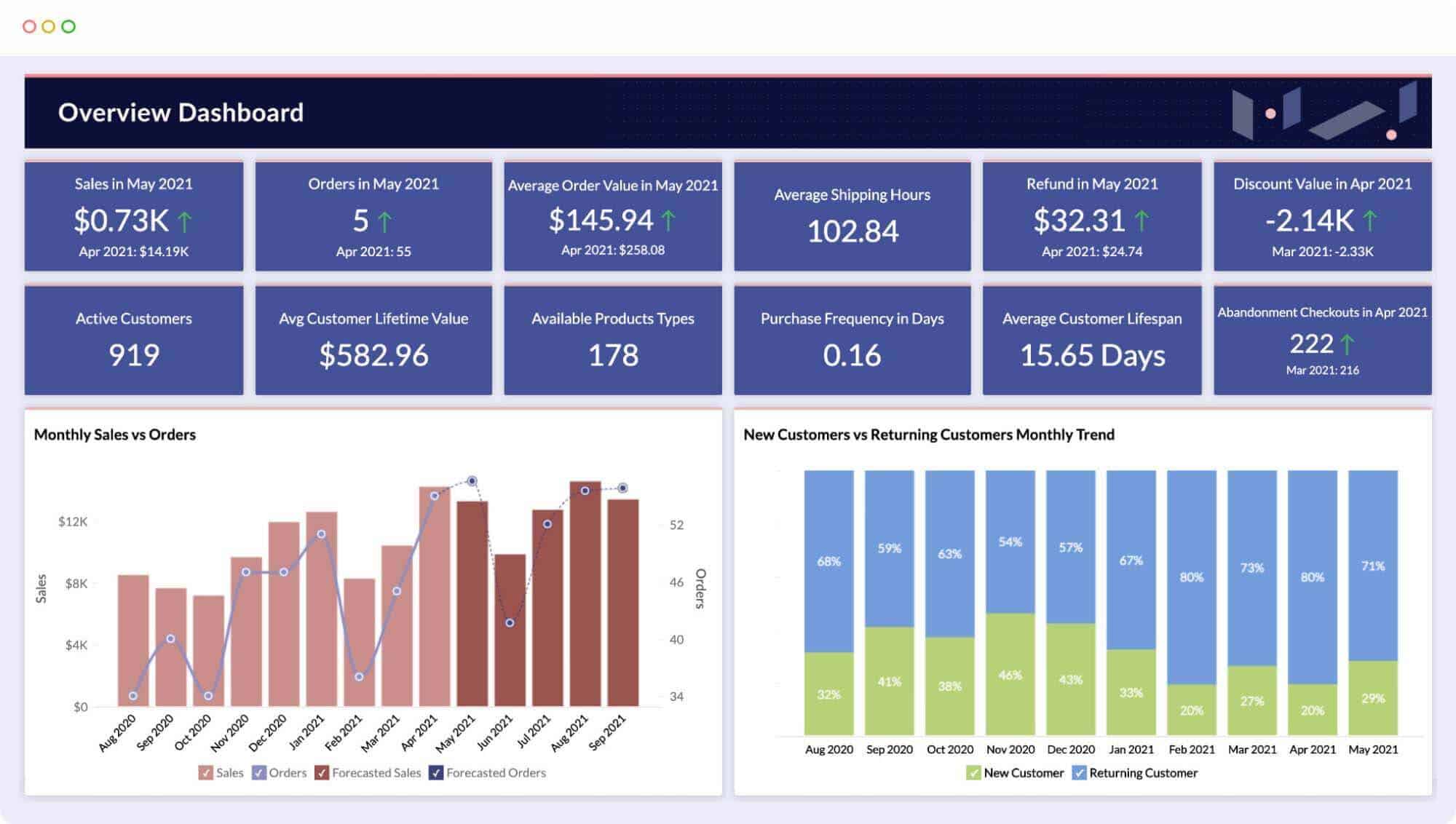 Features:
Connects to over 250 data sources and includes Zoho DataPrep for data preparation
Advanced analytics features like NLP, predictive analytics, what-if analysis and alerts
Data storytelling with slideshows or web portals
Mobile accessibility through the Zoho Analytics Mobile BI app
Offers embedded analytics via white-label solution for clients.
Tool plan:
Basic: $59/month,
Standard: $119/month
Klipfolio
Klipfolio is a cloud-based data analytics and BI platform that allows businesses to connect to various data sources, create real-time data visualizations and share them in a secure and customizable manner.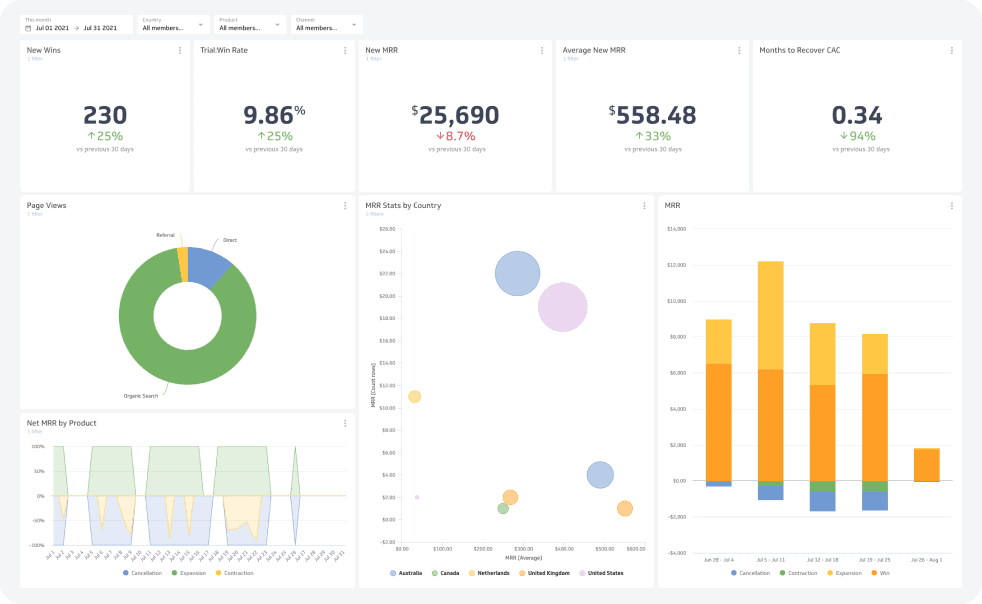 Features:
Connect data using 300+ integrations or REST/URL option
Control presentation with iFrames, HTML, JavaScript, and CSS
Transform data with Excel-like functions & formulas
Automate client reporting with white label & client management options.
Tool plan:
Go: $90/month
Pro: $225/month
Business: $800/month
Whatagraph
Whatagraph is a marketing reporting tool that automatically pulls data from 40+ sources, allowing users to create cross-channel reports and build visually appealing reports. With premade templates, it allows users to customize and style reports to suit their brand.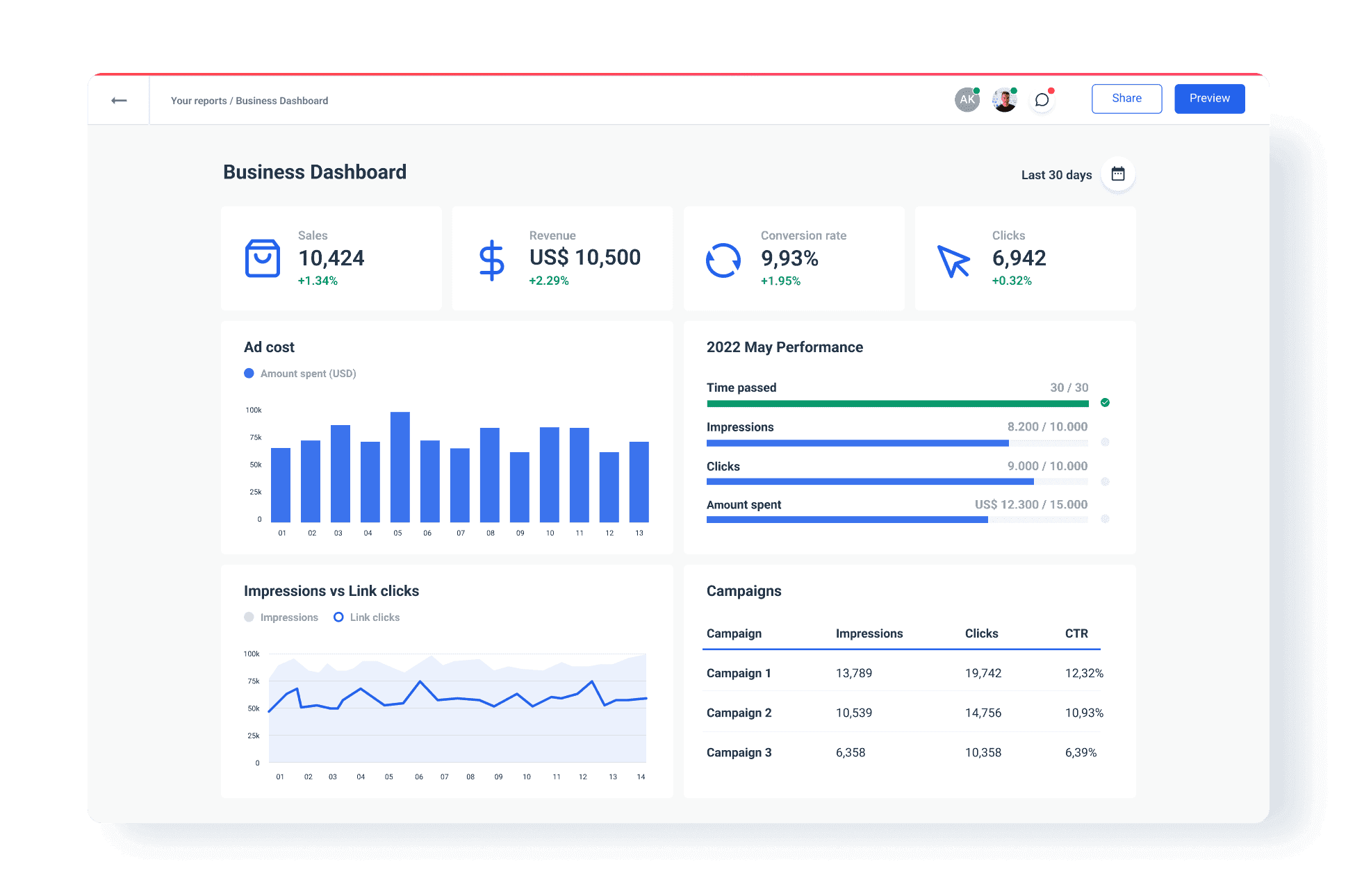 Features:
Reports interface with graphs and charts
Automated data collection from 40+ sources, including Facebook Ads and Google Analytics
Multi-user access and collaboration with team members
ROI tracking and spend management
Custom branding with white label options
Tool plan:
Professional: $223/month
Premium: $335/month
Custom: billed annually or quarterly
Google Data Studio
Google Data Studio is a simple data visualization tool built on top of Google's data stack, with limited capabilities. It works best with organizations that use BigQuery and have established data cleaning and transformation processes.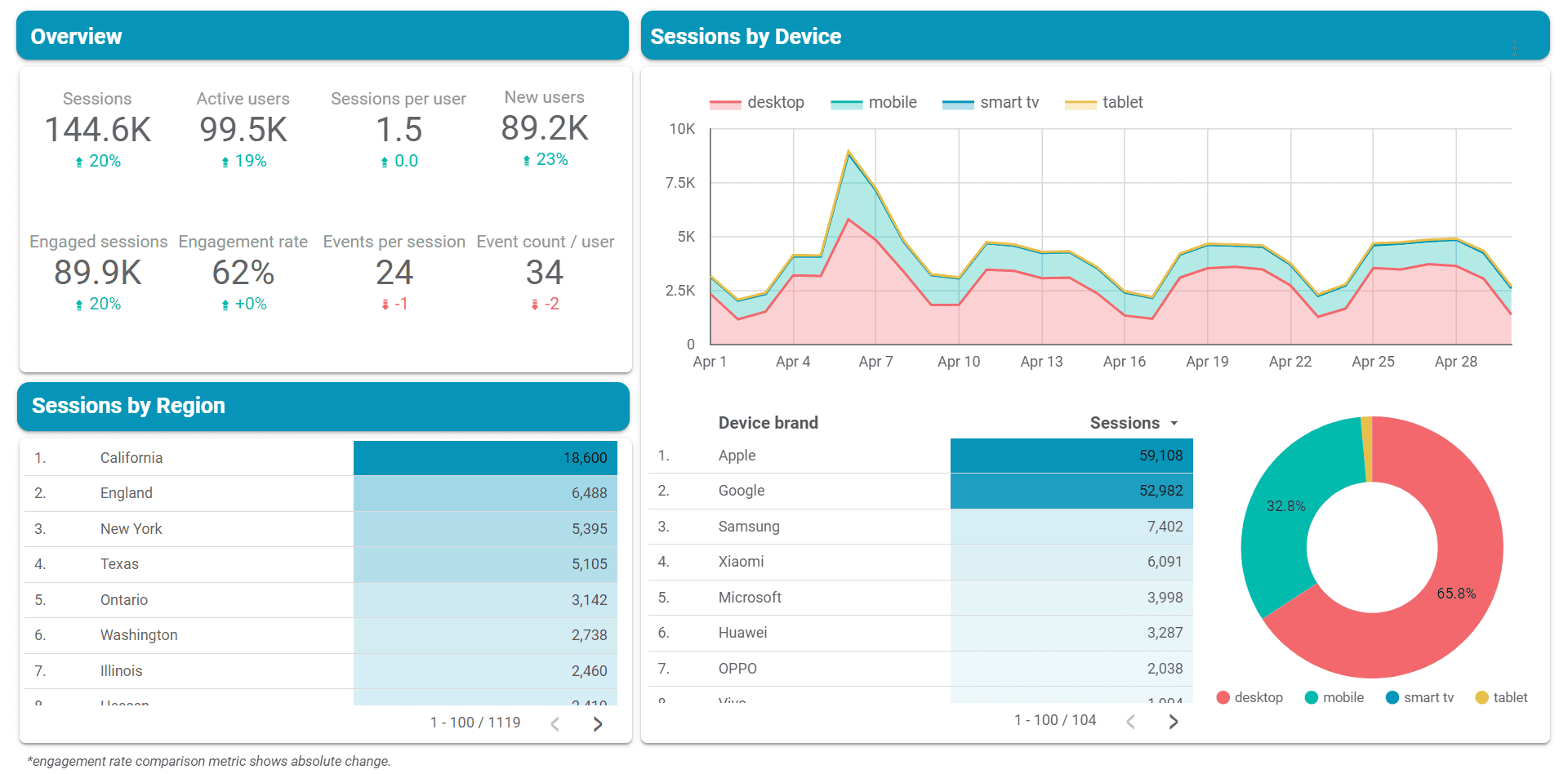 Features:
Create visually appealing charts and tables with customizable options
Effortlessly connect to various data sources such as Google Ads and social media
Share insights and Collaborate seamlessly on reports with your team or globally
Speed up report creation using pre-made templates like Google Data Studio Facebook Ads template and others.
Tool plan:
Currently, Google Data Studio is available for free as part of the Google Cloud Platform, however, it is expected that Google will introduce paid options in the future, similar to the business model of Google Analytics and Google Analytics 360.
Tableau
Tableau offers intuitive business intelligence tools to help users analyze, visualize and share data. Tableau has three main products for data discovery: A desktop for analyzing data and creating reports, a Server for secure collaboration, and Cloud for cloud-hosted data discovery. Other Tableau products include Tableau Mobile, Tableau Public, and Tableau Prep Builder.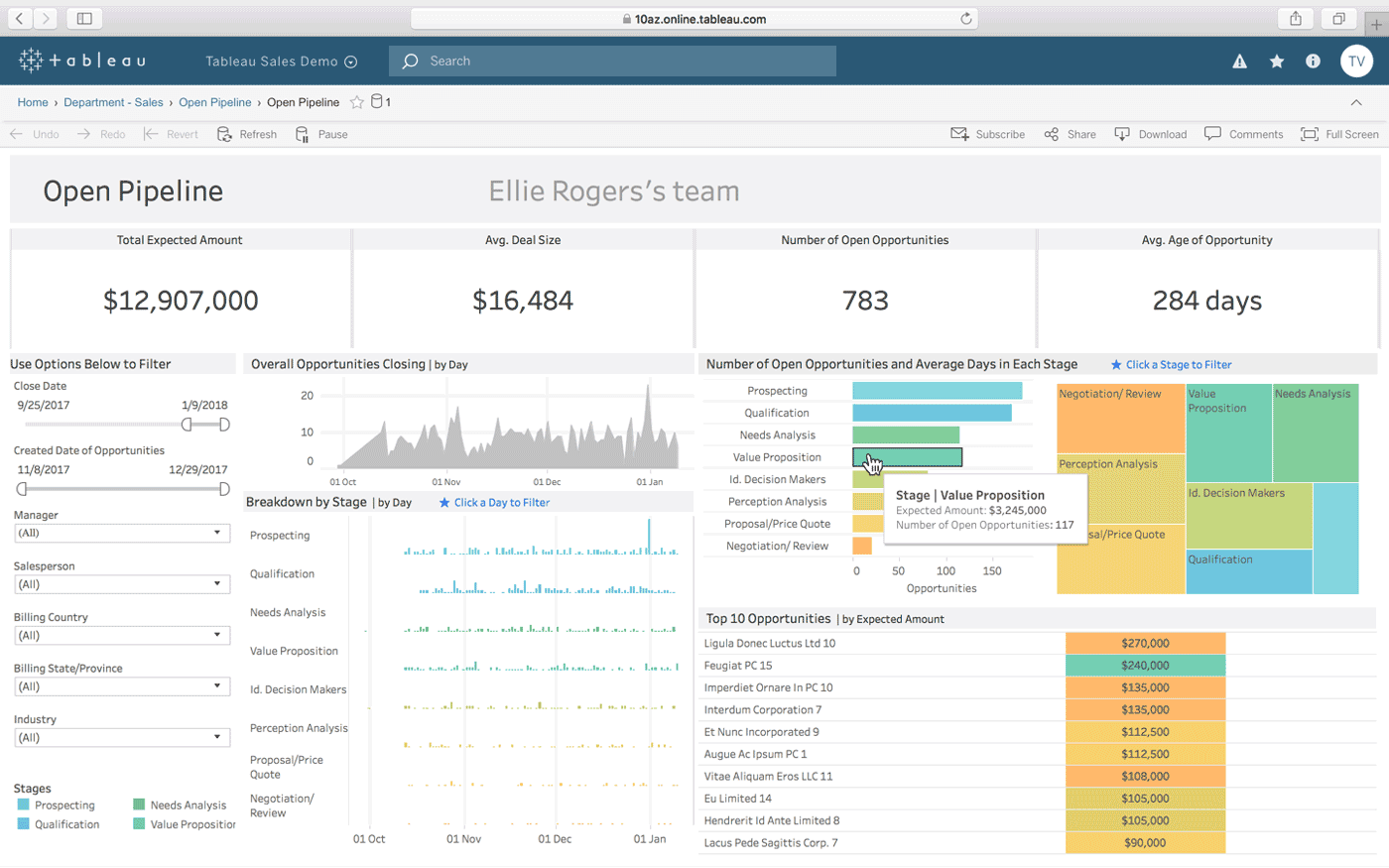 Features:
Multiple data connections, live and in-memory data, secure collaboration, mobile-optimized designs, drag-and-drop integration, unlimited data connectors, metrics, set control and more.
Tableau's Q4 2020 release includes enhancements such as Tableau Prep Builder, offline map support in Tableau Server and Redshift spatial support.
Tool plan:
Creator: $70/user/month
Explorer: $35/user/month
Viewer: $12/user/month
Talend
Talend is an Open-source data integration and management platform providing big data ingestion, transformation and mapping, cross-network connectivity, data quality and master data management, based on Eclipse, Java and SQL with reusable pipelines and no proprietary lock-in.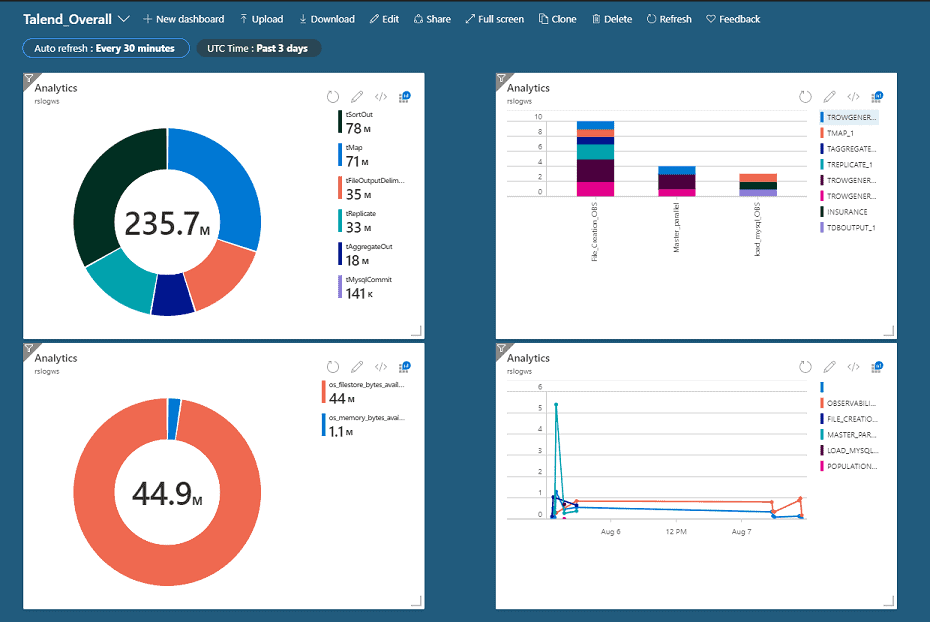 Features:
Web Services and Data Extraction can extract information such as pricing, phone numbers, email addresses, and images from multiple sources.
Metadata and Master Data Management ensures proper management and organization.
Provides a centralized platform to monitor and visualize extracted information and supports the ETL process.
Tool plan:
Talend, which offers a versatile data integration solution, requires a quote to obtain pricing information.
Monthly: $1,170/user
Annual: $12,000/user
Dataiku
Dataiku is an AI-powered data analysis software with advanced reporting and analytics capabilities. Suitable for organizations across industries, offering data preparation, ML analysis, and metrics reporting. Available for local installation or hosting on cloud platforms AWS and GCP.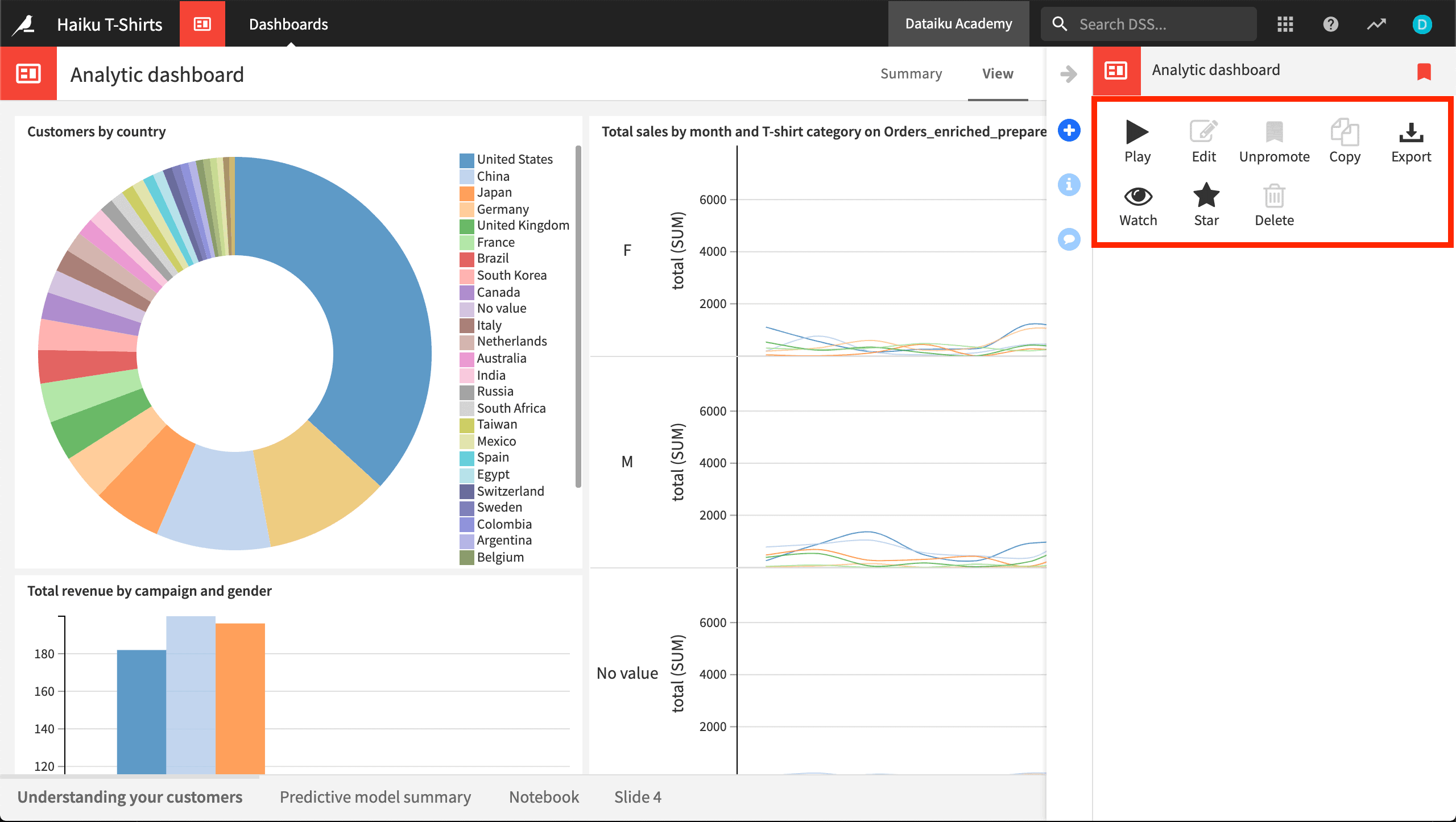 Features:
It includes access controls, collaboration tools, and a range of data management capabilities.
It facilitates data discovery, extraction, and visualization for deeper insights.
Supports deep learning, machine learning, predictive analytics, and statistical modeling.
It includes model training, NLP, automation, self-service analytics, sentiment analysis, and customizable templates
Tool plan:
To get a quote for Dataiku, reach out to their team and collaborate with a pricing specialist who will assist you in determining your requirements and budget.
Which is the best tool for data analytics?
When it comes to selecting the best tool for data analytics, Putler emerges as the top choice.
Here are the key reasons why Putler stands out:
Unified data integration: Putler excels at consolidating and unifying data from various sources, providing a comprehensive view of your business performance.
Extensive analytics capabilities: Putler offers a wide range of analytics features, including sales analysis, customer segmentation, product performance insights, and revenue forecasting.
User-friendly interface: With its intuitive design and easy navigation, Putler caters to both technical and non-technical users, enabling efficient data analysis without steep learning curves.
Tailored for eCommerce and SaaS businesses: Putler is specifically designed to meet the needs of eCommerce and SaaS businesses, providing industry-specific metrics and insights.
Cost-effective solution: Putler offers powerful analytics capabilities at a competitive price, delivering exceptional value for businesses of all sizes.
Customer support: Putler provides reliable customer support to assist users in getting the most out of the tool and addressing any queries or concerns.
By considering these factors, it's evident that Putler emerges as the ultimate tool for data analytics.
With Putler, businesses gain the power to make informed decisions, unleash their full potential, and achieve remarkable growth.
Get Started with Data Analytics Tools
Congratulations, my data-savvy friend!
By investing time in the selection process, you're on your way to unleashing the power of your data. With the ideal data analytics tool in hand, you'll transform raw data into actionable insights that'll make your competition green with envy.
Keep in mind, this decision is as unique as your business itself. Tailor it to your specific needs and goals. So why the delay? Dive into the vast sea of options, compare features like a seasoned detective, and make that oh-so-informed decision.
Remember, the perfect tool for your business is out there, waiting to be discovered. So grab your metaphorical treasure map, embark on this epic quest, and let your data reign supreme!