eBay is one of the world's most popular online marketplaces. So though there is tons of competition, there's a lot you can do to beat your rivals, you just need the right eBay tools. Here's a guide to the essential eBay tools for sellers in 2021 to increase efficiency, visibility, and most importantly, sales.
Quick look
If you sell on eBay, you have plenty of tools that can help you grow your business. But the real struggle is to find which tool to opt for.
Here's a quick video that will highlight some of the best eBay tools you can consider-

Best all-in-one eBay tool suite – 3Dsellers
Relied on by thousands of enterprise and growing eBay Stores, 3Dsellers delivers eBay software to manage unlimited eBay items advanced eBay listing tool features, such as bulk-action and CSV uploads to minimize long tasks down to mere seconds. Custom design an eBay listing template and apply an unlimited number of designs based on eBay category and items details. Then, automate and simplify eCommerce customer support, eBay marketing, feedback reminder messages, and even automatically manage eBay Offers.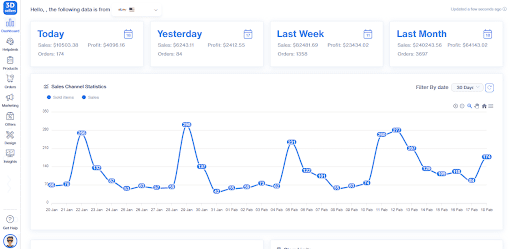 Features:
Bulk eBay Listing and Editing
eBay SEO & eBay Promotions
Automated eBay Marketing
eBay Order Management
Filtered Bulk Messaging by Order
eBay Helpdesk with Autoresponders
Hide and Link Inventories by eBay SKU
Automatically send and counter eBay Offers
eBay Webstore, Facebook Store, & PDF Catalogs
eBay Orders, Listings, and CRM Reports
Backup listings and photos permanently
Price: Starting Price: $16.80/mo
Best ebay tool for marketing- Jazva
Jazva is an all-in-one ecommerce cloud-based system designed to help sellers optimize multi-channel selling operations, increase sales and attract new customers. You can automate listings from Jazva, gain full visibility of stock and stay on top of sales to keep customers happy. Jazva's eBay Repricer feature allows you to automatically adjust pricing based on eBay competition. Contact Jazva for more information on its pricing plans.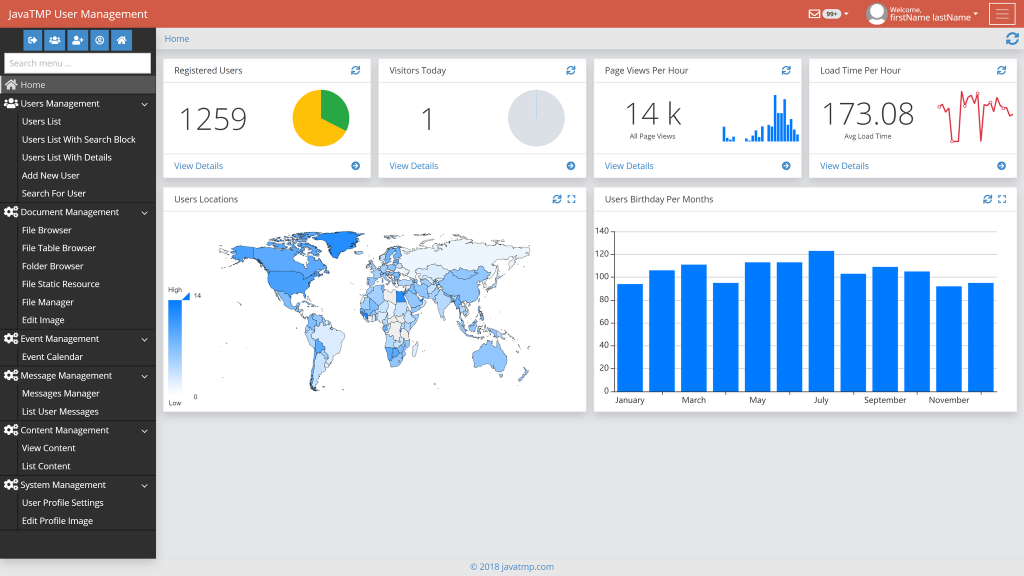 Features:
Products & Listings
Order Fulfillment
Inventory Management
Marketing & CRM
In-Store Pick-up Options
Order & CRM Conversations
eBay Repricing Tool
Business Intelligence & Reporting
Amazon Vendor Central Integration
Price: Starting Price: $299/mo
Best eBay listing tool – SellerCloud
SellerCloud is a single-source solution that can be integrated with a wide variety of marketplaces and partners. Besides providing a great eBay listing tool, their solution includes the whole gamut of features related to order management, shipping, reporting, purchasing, inventory and more.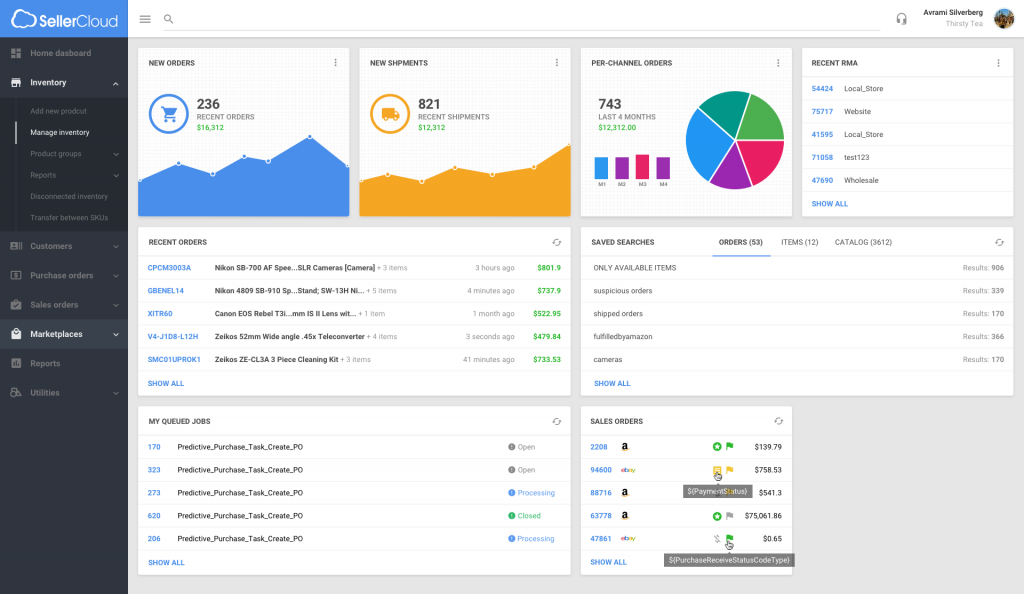 Features:
Manage everything from one place. No more switching between multiple platforms.
Know what you have and what you need to order.
Understand your business.
Price: Starts at $1000.00 per month
Best eBay tool for reporting- Putler
eBay sellers find it difficult to grow their business due to tough competition and a lack of a strong reporting tool. But, with Putler, an in-depth eBay reporting and analytics solution, growing your business has become easy.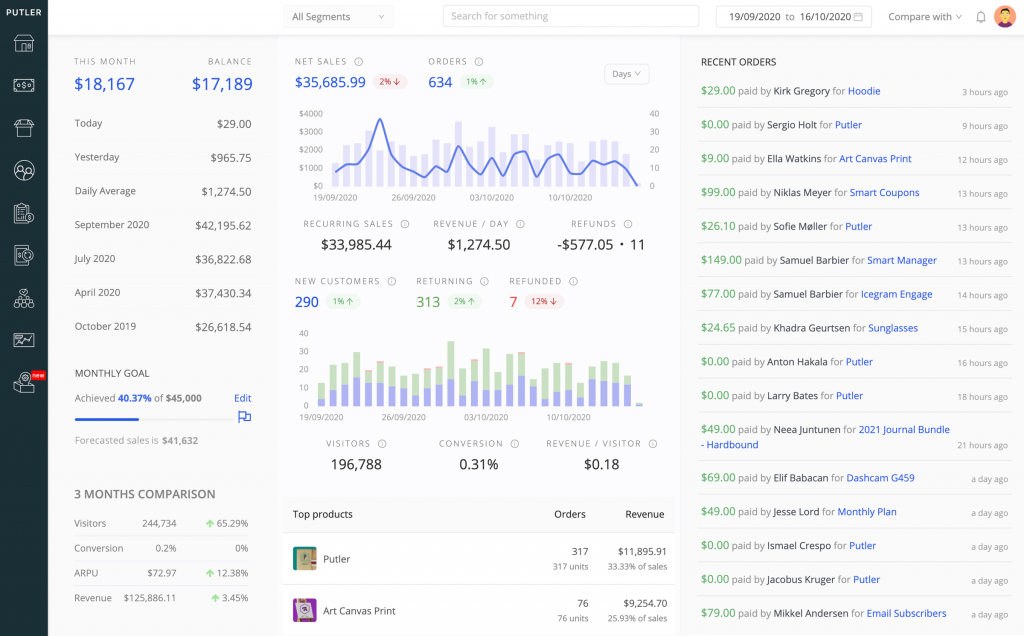 Features:
Instant & real-time reports
Multiple eBay store consolidation
Sales and transactions KPI's
Solid product insights
Customer segmentation and customer profiling
Traffic analysis
Purchase history info
Price:
Starter plan – $20/mo
Growth plan – starts at $50/mo
Best ebay inventory management tool – Kyozou
Kyozou is an inventory management software and multi-channel listing tool. It's an eBay Certified Solutions Provider that helps eCommerce merchants sell smarter on eBay by keeping them up to date with all of eBay changes.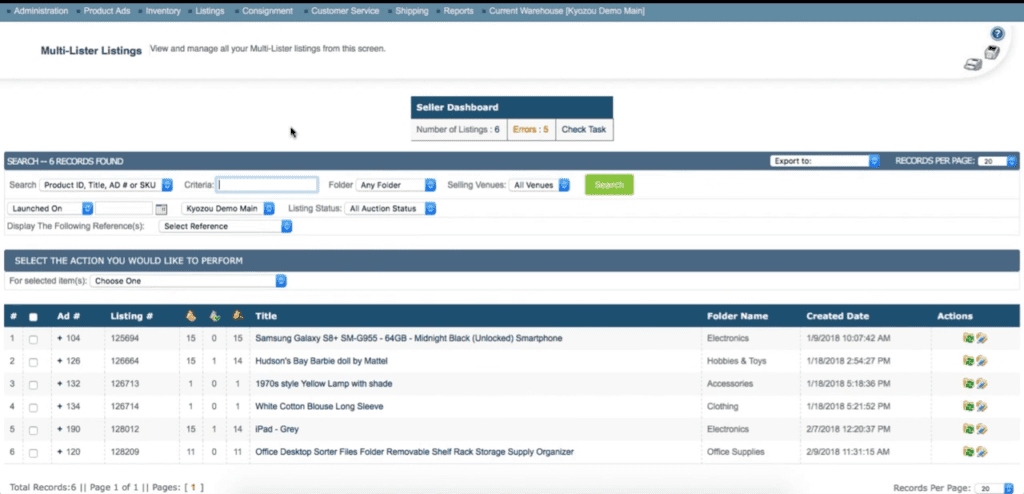 Features:
Multi-channel fulfillment by Amazon FBA
Reporting Module
Customer Success Manager
Order Management and Shipping Management
Listing & Inventory Management
Pricing: No pricing is listed on their website. Sellers need to reach out to them directly to get a quote.
Best eBay tool for growing sales – Vendio
Vendio eCommerce provides all the tools necessary to effectively sell on eBay in addition to other sales channels. It helps eBay merchants schedule listings, track inventory, communicate with customers, and fulfill orders – all from one place. Vendio makes selling on eBay easier, more efficient, and more profitable.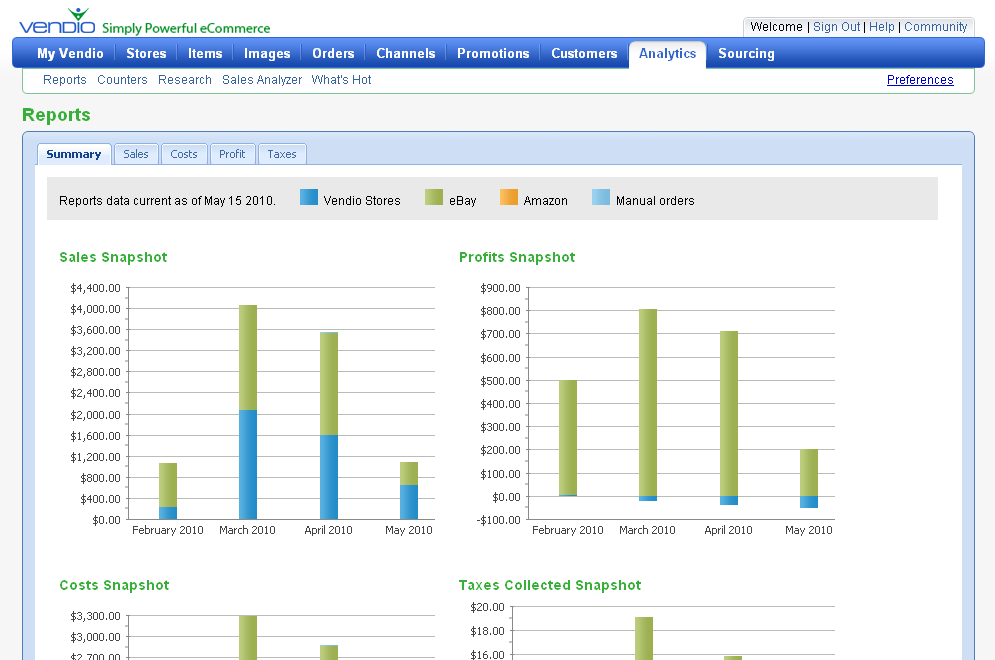 Features:
eBay templates.
Amazon FBA.
Bulk operations.
Post-sale automation.
eBay Marketing tools.
Cross-channel inventory management.
Price: Starts at $29.95 per month
Best ebay tool for store management – Sellbrite
Sellbrite lets you list inventory in one central catalog then transfer it to various marketplaces so it meets the specs and guidelines of each. You can also manage and fulfill orders from your Sellbrite account, too, allowing you to save time and energy by not having to jump around from page to page to page.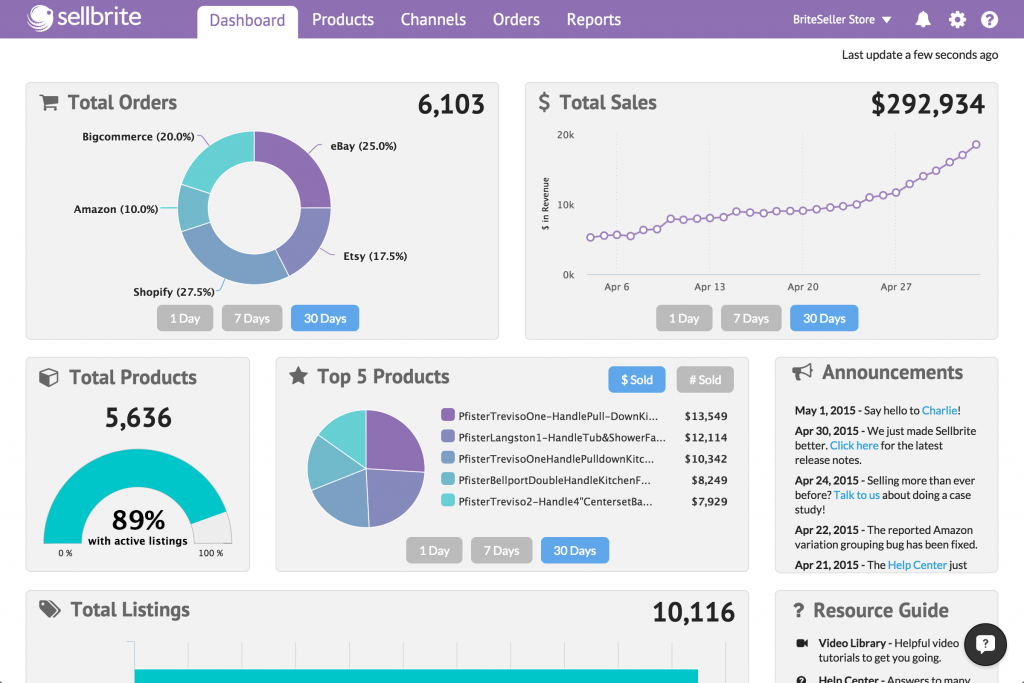 Features:
Reporting & Retail Intelligence.
Hands-On Support & Product Training.
Super-Fast Inventory Sync.
CSV Data Import/Export.
Multichannel Listing & Order Management.
Price: Starts at $49.00 per month
Best ebay business tool – ChannelAdvisor
ChannelAdvisor is a comprehensive solution for online retailers that manage their entire business process, from marketing and sales to product listing and shipping. It functions with most of the global online marketplaces (such as eBay and Amazon), social media, and digital marketing platforms.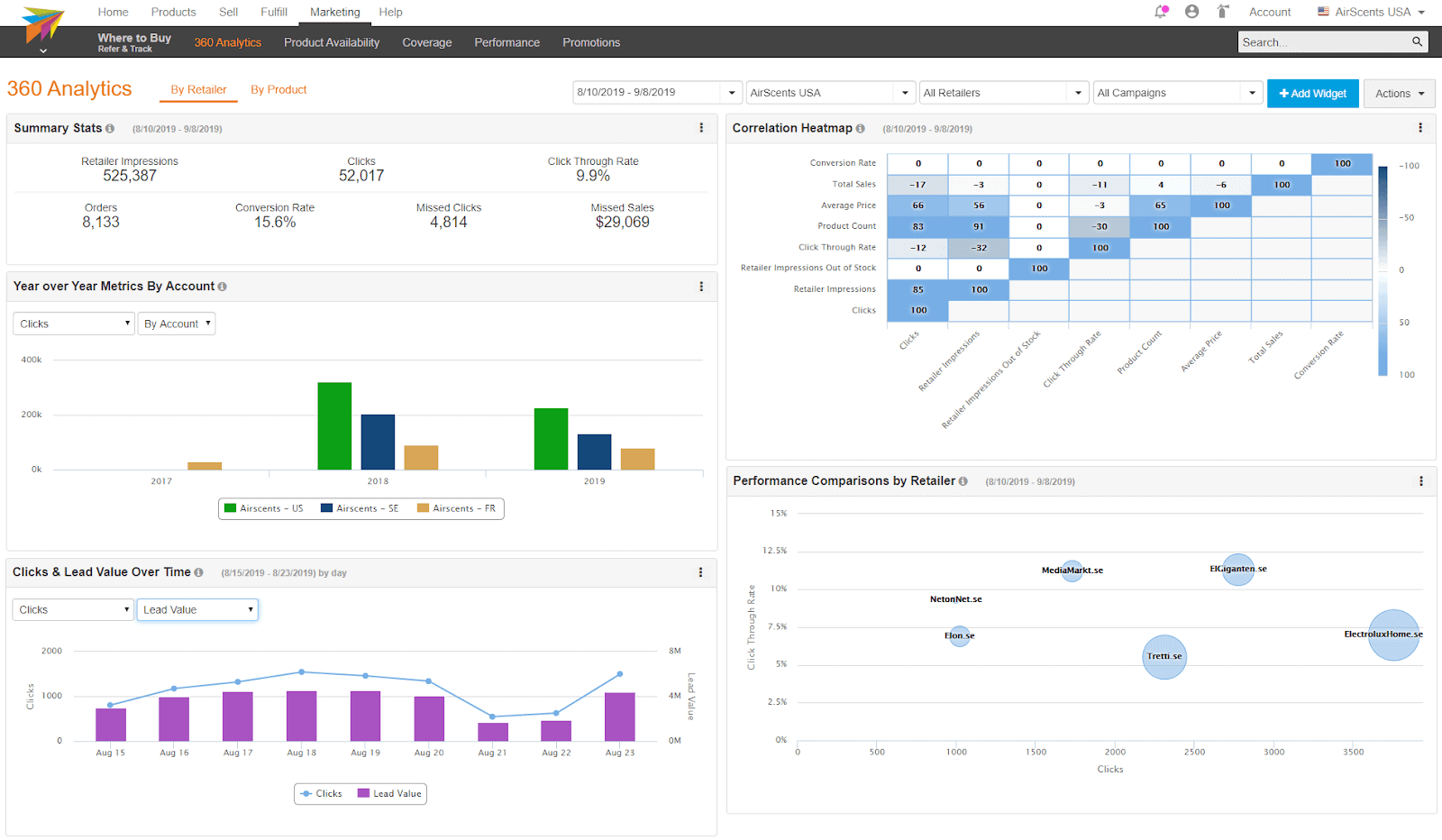 Features:
Shipping Management Suite.
Fulfillment Services.
Amazon Pricing Console.
Velocity Repricing.
Demand Forecaster Premium.
Price: Starting at $9.99 per month
Final Thoughts
These were some of the best eBay tools in the market. Do check them out and decide what fits your needs the best.
But if you want to grow your eBay store based on data, get in-depth understanding of your products and customers – Putler is a must have eBay tool for you. Don't hesitate and take Putler's 14 day free trial to test Putler first hand. It will help you grow your business and make more calculated profitable decisions. The setup is easy and will take less than 10 minutes. Also, you don't need any coding skills or credit card info to get started with Putler.
Try Putler for free for 14 days
If you have any questions regarding Putler or any other eBay tools, drop in a comment. I will send you a reply asap.
Additional resources