Hey there eCommerce folks, are you ready to level up your business and make data-driven decisions that will skyrocket your sales?
Of course, you are!
In today's competitive market, eCommerce analytics tools have become essential for staying ahead of the game. They help you monitor and analyze customer behavior, identify patterns, and gain insights that can help you optimize your sales and grow your business.
In this blog post, we're going to introduce you to the top 10 eCommerce analytics tools of 2023. But, before we dive into the tools, let's first talk about how these tools can help your business.
How eCommerce analytics tools can help your business?
As we mentioned earlier, eCommerce analytics tools play a crucial part in helping businesses make informed decisions. These tools help monitor and analyze customer behavior, identify patterns, and gain insights that can optimize sales and grow businesses.
Here are five ways eCommerce analytics tools can help your business:
Understand and Track Customer Behavior:
eCommerce analytics tools help you monitor and track customer behavior on your website. You can see how long they stay on a page, what products they view, and how often they return. By understanding your customer's behavior, you can tailor your marketing strategy to their needs and preferences, which can help boost your sales.
Identify Growth Opportunities:
eCommerce analytics tools help you identify areas where your business can grow. By analyzing sales data, you can identify top-performing products, identify new products or services that are in demand, and discover new markets or niches to expand into.
Improve Website Performance:
eCommerce analytics tools can help you optimize your website's performance. By analyzing website traffic, you can see which pages are most popular and where customers are dropping off. This information can help you make changes to your website that improve the user experience and increase conversions.
Better Understand Product Performance:
eCommerce analytics tools allow you to track product performance and identify trends. You can see which products are selling well and which ones are not. By analyzing this data, you can make informed decisions about which products to stock and how to price them.
Spot Potential Issues:
eCommerce analytics tools can help you spot potential issues before they become bigger problems. By tracking customer behavior and sales data, you can identify issues such as slow website load times or low conversion rates. This information allows you to take action quickly to address the issue before it affects your bottom line.
Overall, eCommerce analytics tools provide businesses valuable insights into customer behavior, sales trends, and website performance. Utilizing these tools can help businesses optimize their sales, expand into new markets, and stay ahead of potential issues.
So, let's check out the best eCommerce analytics tools that can help you attain your business goals in 2023.
Best eCommerce analytics tools for every budget
Now that we've discussed how eCommerce analytics tools can help your business, let's explore some of the best eCommerce analytics software available for businesses of every size and budget.
In this section, we have handpicked 10 eCommerce analytics tools that offer robust features and analytics capabilities at different price points.
Whether you're a small business owner just starting or a large corporation looking for enterprise-level analytics, you'll find an eCommerce analytics tool on this list that meets your needs and budget.
Let's dive in and explore the best eCommerce analytics tools for every budget.
KISSmetrics
KISSmetrics is one of the best analytics tools that helps eCommerce tracking. It monitors all information on visitor behavior. Most business owners prefer this eCommerce analytics tool because of the variety of integrations available from Magento and Shopify to Chargify and MailChimp.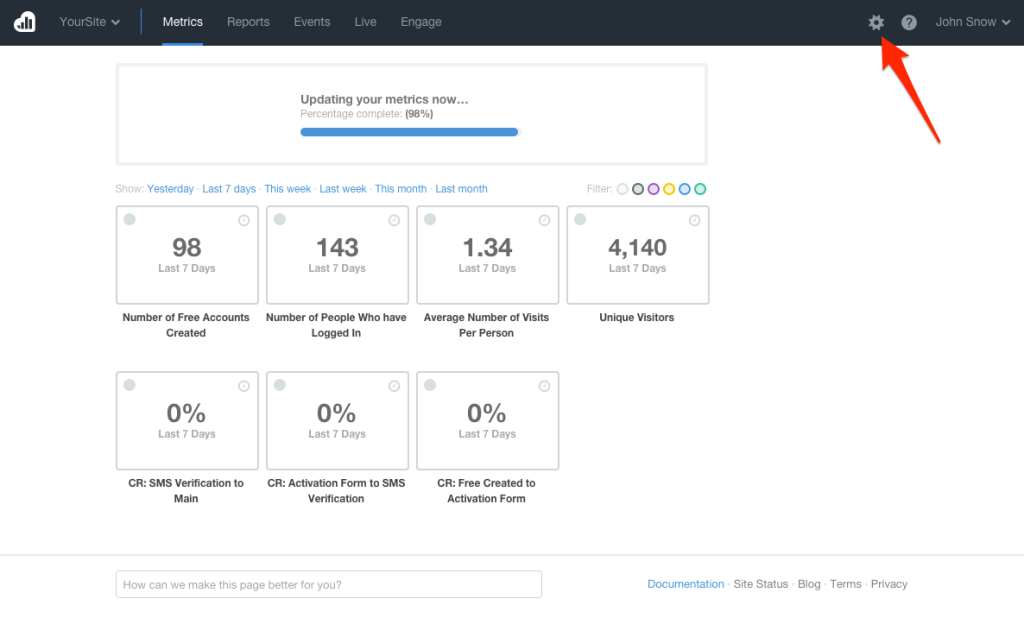 Pricing:
SILVER: $299/mo*
GOLD: $499/mo*
PLATINUM: CUSTOM*
Features:
Unlimited A/B Test Reports
No-Limit Conversion Periods
Email Support
Unlimited Testing/Staging Sandboxes
Segment Data By Any Point in Time
Multi and Cross Platform/Device Support
Data Export
Pros
Easy to see the exact flow that your users follow and can give insight on where you can improve.
Extensive report data, and you can really dig down to find just about any information.
Cons
The cost is really not affordable for a small business or startup, but if you can budget it, the data is invaluable.
No graphical outputs– it would be nice to have graphs for those clients that are more visual.
Bit of a learning curve.
Google Analytics
Google Analytics is one of the most commonly used eCommerce analytical tools. It is utilized by site proprietors from all sides of the globe. Whatever you need either basic metrics or detailed reports, you can get them within this eCommerce dashboard.
The best part of utilizing Google Analytics is that there are a lot of assets and instructional exercises that can assist you in figuring out how to utilize it.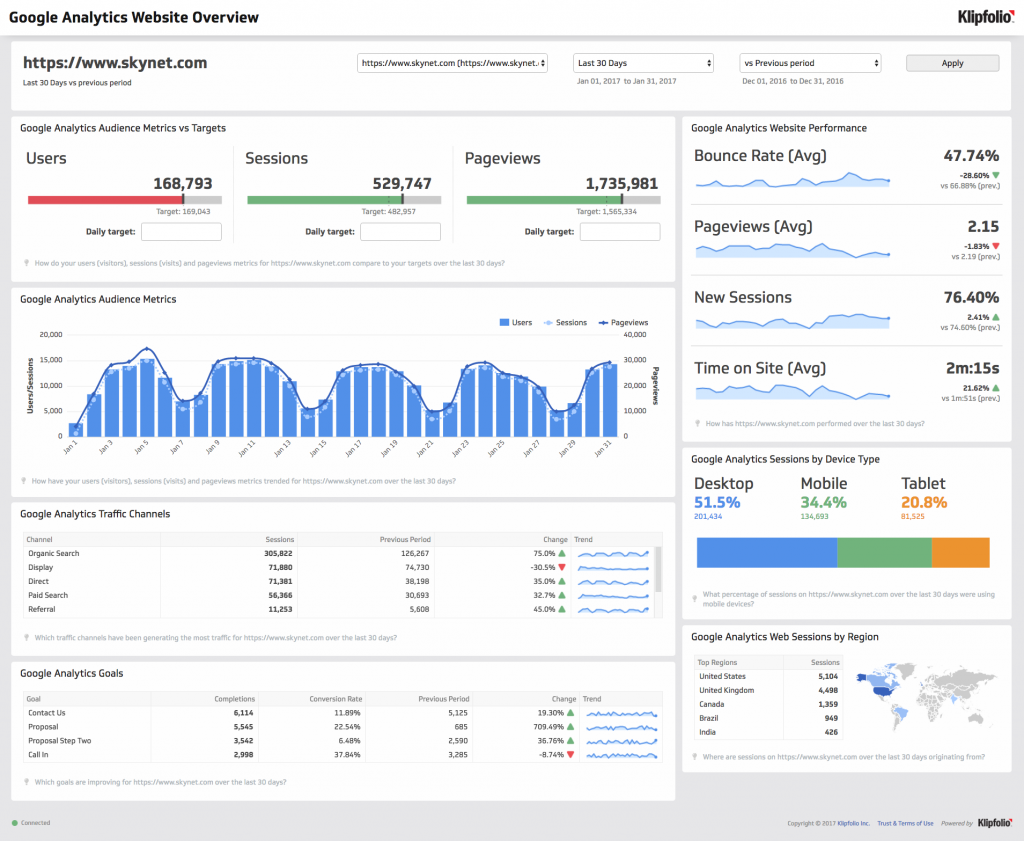 Pricing: Free
Features:
Audience reports: Know your users.
Custom reports: Analytics data, made to order.
Campaign Measurement: Traffic.
Flow visualization: Follow every step.
Track your Goals: Website conversions & user activity.
Pros
The most powerful website analytics with a lot of useful data
Easy integration with third-party platforms e.g. Facebook and Google Ads
Helpful AI system to spot data-reporting problems, and trends.
Cons
Very difficult to catch up with new features and updates
Lack of end-user support
It's a bit hard to identify the middle part of the visitors' journey.
Putler
Putler is the best all-in-one eCommerce tracking tool for businesses having multiple data points. By data points I mean, multiple websites, multiple stores, multiple currencies, multiple payment gateways etc. Putler helps combine, clean, and enrich all your data and shows you consolidated reports in a single place. This means, you no longer need to open multiple apps to monitor what's happening in your business. Putler gives you a one-glance view and helps you stay in charge of your data.
With the help of Putler, you get accurate customer, sales, and product analytics on your eCommerce dashboard.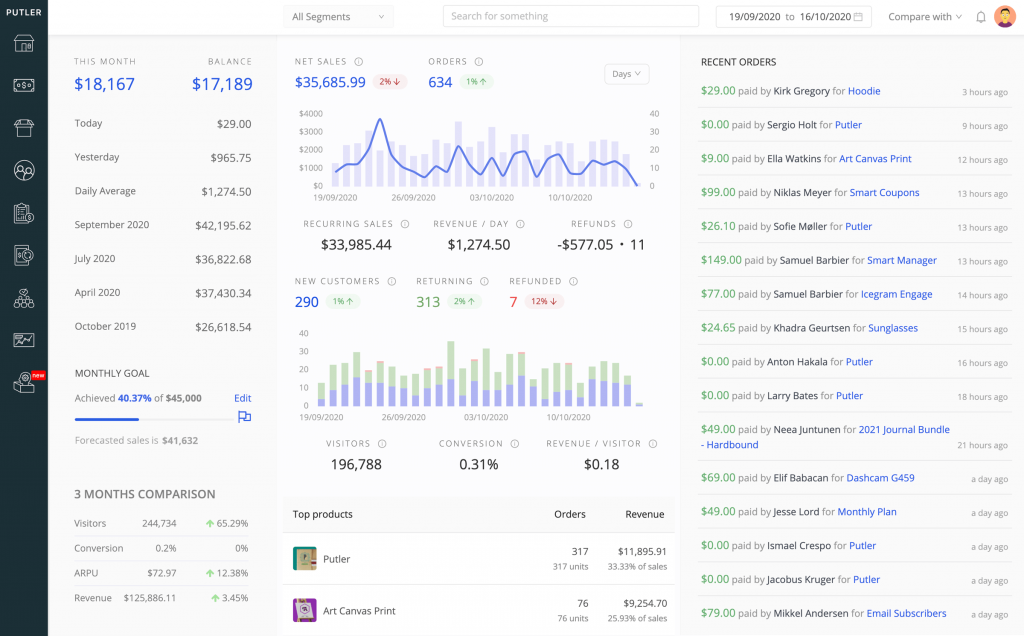 Pricing:
Starter plan – $20/mo
Growth plan – starts at $50/mo
Key Features:
Comprehensive Reports.
Personalized growth recommendations.
Import multiple sources of e-commerce data.
Automatic deduplication, enrichment, currency and timezone conversion.
153+ key performance indicators and reports.
Issue refunds, manage subscriptions.
Inbound & Outbound API.
Pros:
Intuitive layout
Ease of use
Easy statistics for products and total orders – easy to track and follow customers – UI is really great and comfortable to work with
It is great for managing a lot of people, schedules, and finances
Cons:
No reports on inventory management
Metrilo
Metrilo is the best eCommerce analytical tool for eCommerce businesses as it provides actionable analytics and helps track customer data to boost your sales. It also helps to find the retention analysis report that helps to understand the customer lifecycle value to turn one time buyers into loyal customers.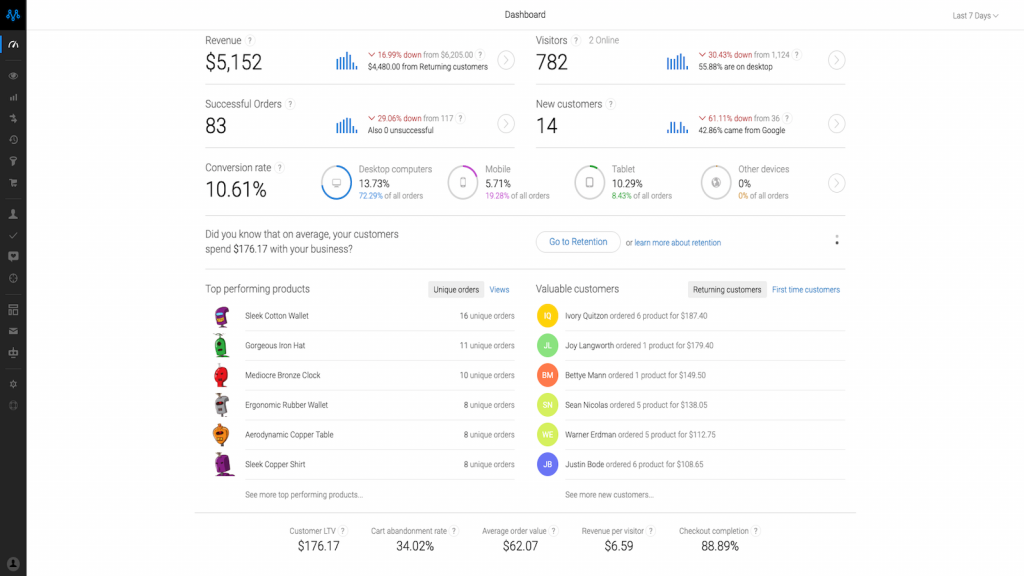 Pricing:
Essential: $119/Mo*
Pro: $199/Mo*
Premium: Starts at $299/Mo*
Features:
Catalog Management
Channel Management
Customer Accounts
Email Marketing
Loyalty Program
Order Management
Promotions Management
Pros
Easy to install, easy to use and great support
Very user-friendly interface.
Nice trigger-based email automation.
Cons
The lead generation by mail has to be improved.
Lacks order, inventory, and shipping management features.
Clicky
Clicky is a "Web 2.0" analytics tool that makes it easy and fun to discover how people are using your website. Clicky has paid options but the free plan allows you to track one website up to 3,000 daily page views total.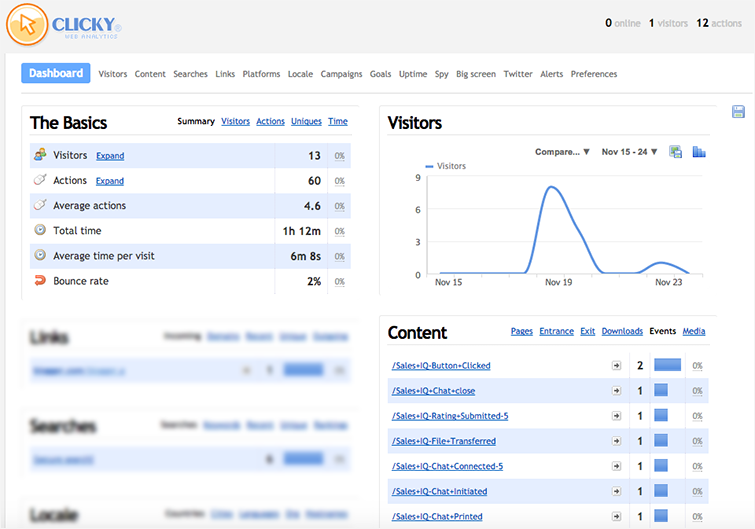 Pricing:
Free: $0 FREE
Pro: $9.99/mo*
Pro Plus: $14.99/mo*
Pro Platinum: $19.99/mo*
Features:
Sessions – Digital Analytics
Standard Event Tracking
Real-Time Reporting
Site Search Reporting
Custom Reports and Dashboards
Pros
Simplicity and user-friendliness.
Clicky has a great interface and it's real-time analytics are excellent.
Cons
It's hard to justify the expense for a paid version of Clicky when you can get so many of the same features with Google.
Adobe Marketing Cloud
Adobe Marketing Cloud is again a Web 2.0 analytics tool that makes it easy to discover how people are using your website. The best part of Adobe is that it commits to providing accurate customer insights to the right person at the right time, helping businesses make informed decisions that optimize sales and grow their eCommerce business.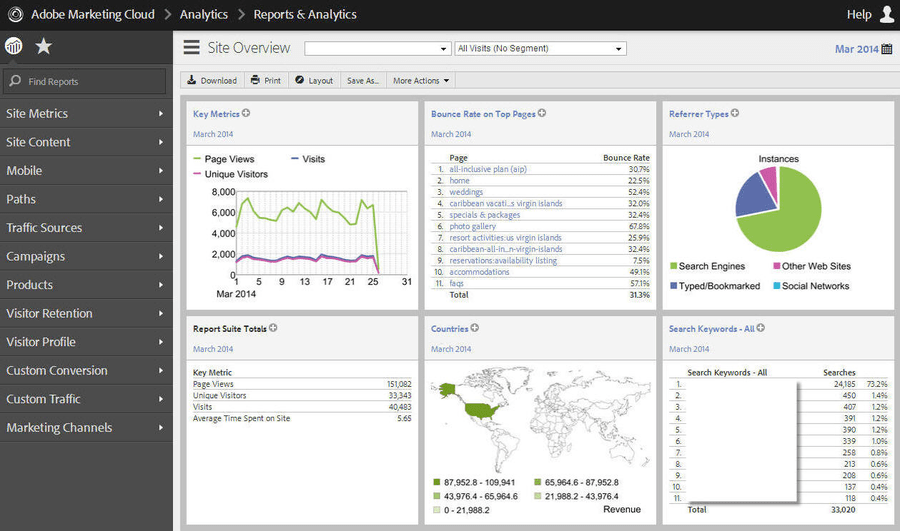 Pricing: Contact Adobe directly for pricing information.
Features:
A/B Testing
Email Marketing Management
Engagement Analytics
Multi-Channel Marketing
Reporting & Statistics
Pros
Adobe Marketing Cloud allows companies to store various types of content in one secure location.
Large-scale performance, huge ecosystems of implementation partners and integration technology allow for very complex needs to be met.
Cons
Adobe Marketing Cloud can get expensive.
It also happens that Adobe servers crash when organizing mailing via email, which is why not all of our partners receive letters.
Crazy Egg
It is the best eCommerce reporting tool for online stores that helps to understand programming and represents considerable authority in heatmaps. Crazy Egg provides you with eye-tracking tools to find out what parts of your website are getting more traffic and which parts are being ignored.
Crazy Egg keeps your eCommerce dashboards simple and easy to read, so you can collect your website information without getting confused.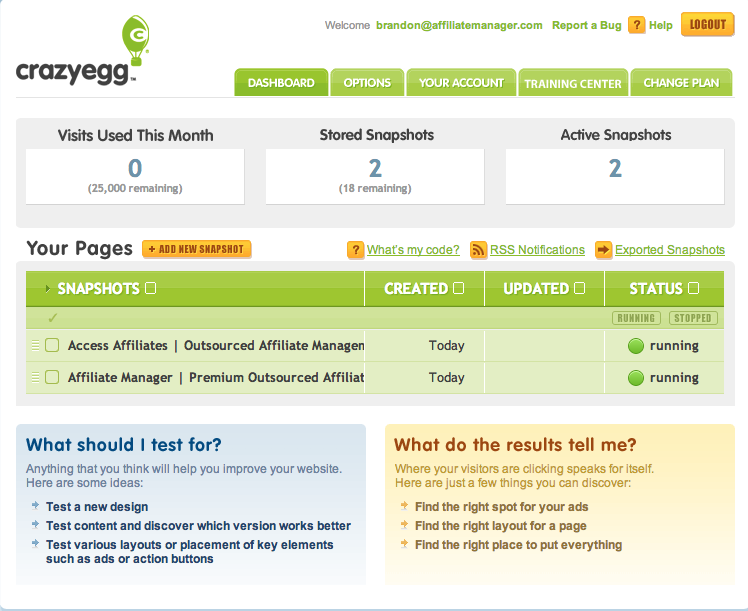 Pricing:
BASIC: $24/mo*
STANDARD: $49/mo*
PLUS: $99/mo*
PRO: $249/mo*
CUSTOM: Need more?
Features:
Website visitor tracking
Website visitor activity recording
Tracking iframe and Flash objects
Multiple domain tracking
A/B testing
URL-based goal setting & tracking
Pros
Insights are easy to read and understand.
Easy to integrate with WordPress themes Heatmaps feature is the best in its class
Cons
Time consuming, hours and hours of recordings to watch and annotate.
Sometimes when downloading several reports at the same time is difficult. Not all of them get downloaded
HumCommerce
HumCommerce is a trending eCommerce analytics software that helps you to understand how website visitors interact with your online store. It is the best behavioral analytics tool that helps eCommerce store owners to know how people are interacting on your website.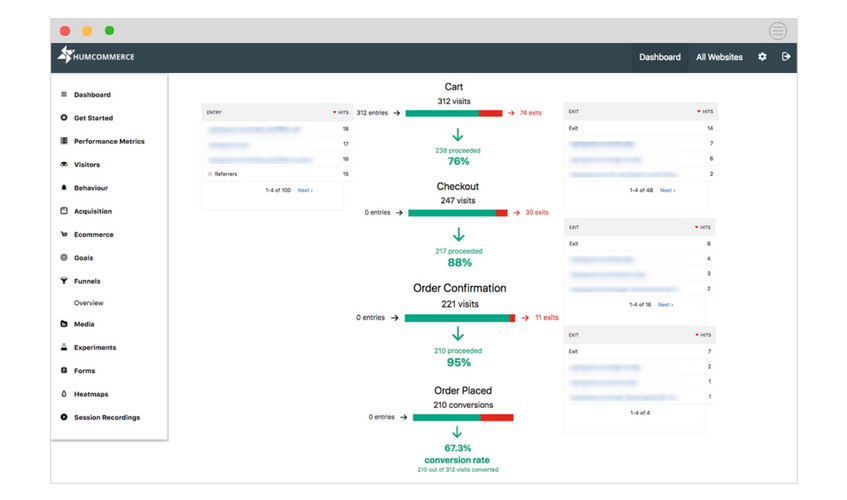 Pricing:
Starting: $9.00/month/user
Features:
Screen Activity Recording
Unlimited Funnels
Visual Funnel representation
Real Time data collection
Heat Maps
Pros
Simple to execute/introduce.
Tracks internet business information inside and out.
Decides client association over all internet business stages.
Has a wide scope of highlights, for example, profound internet business joining, guest meeting chronicles, heatmaps, and A/B testing,
Cons
Hotjar
Hotjar is an eCommerce analytics software that combines the quality and quantity of the user data in a Single eCommerce dashboard to view the user experience of the website. It provides eCommerce store owners deep website analysis reports with the feedback tools to collect the tracking report of visitors' activities on your website via heatmaps, and sessions recorded in video format, conversion funnel, and customer behavior.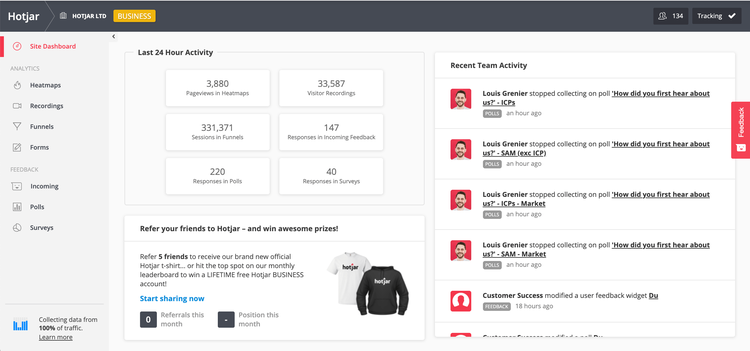 Pricing:
BASIC: FREE
PLUS: $39/mo
BUSINESS: $99/mo
Features:
Multi-device support
Sites and organization settings.
Behavior logic & Feedback polls.
Visitor targeting & recordings.
Pros
Easy to see the click, move, and scroll heatmaps.
Very easy to learn with the free version before deciding to upgrade.
Cons
There is no easy way to track dynamic content
Not as robust in integration to website analytics for additional slicing of the data.
Custora
Custora is an advanced customer analytics tool for the eCommerce business. Their cloud-based customer intelligence platform helps marketing leaders drive valuable revenue and customer lifetime value. This software helps to analyze how the customer will behave in the future.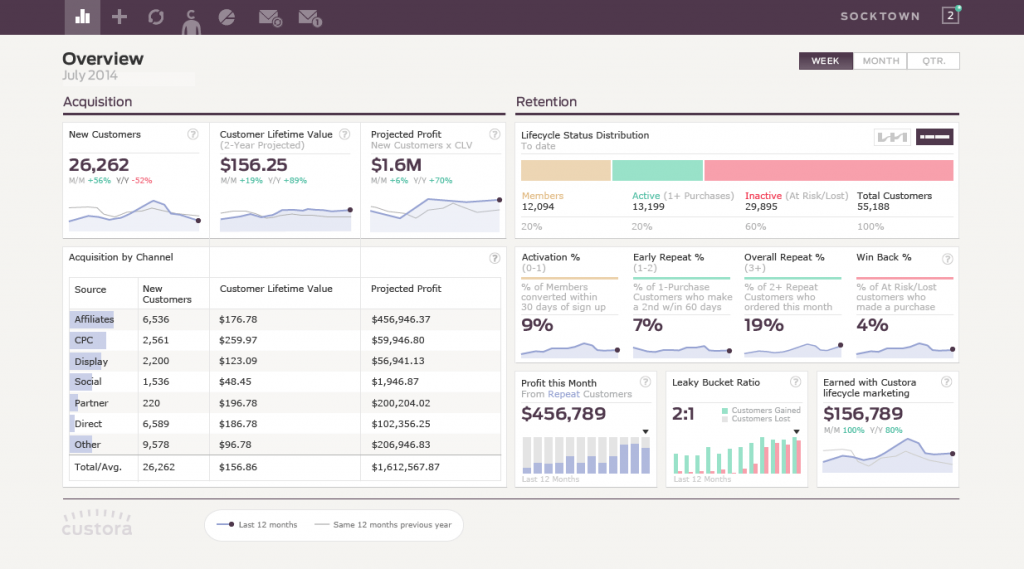 Pricing: Contact Custora for pricing details
Features
A/B testing
Practical tools for one-time experiments
Segmentations, Trend analysis and integration tools
Cohort and Persona analytics reports;
Automated marketing features
Customer lifetime value model
Pros:
Email marketing integration
Lifecycle segmentation
Great reporting and analytics dashboards
Cons:
Mostly use for large businesses
Very expensive
Final Thoughts
Don't let a lack of data hold back the growth of your eCommerce business.
Take advantage of the power of eCommerce analytics tools to gain valuable insights into your customers, sales, and products. By understanding your data, you'll be able to identify areas for improvement, optimize your eCommerce site, and ultimately increase your sales and revenue.
With so many eCommerce analytics tools on the market, it can be challenging to choose the best one for your business. That's why we've provided you with a comprehensive list of the top eCommerce analytics tools available, along with their features, pros, and cons. Take the time to consider your needs and budget, and select the eCommerce analytics tool that aligns with your business objectives.
If you're still unsure about which tool to choose, Putler can be an excellent starting point.
Unlike other eCommerce analytics tools, Putler provides you with a comprehensive suite of features, including web analytics, product analytics, sales analytics, and customer analytics.
With Putler, you'll have access to all the data you need to make informed decisions about your eCommerce business.
If you still have any doubts, feel free to get in touch with us.
eCommerce analytics tools FAQs
How do I track my eCommerce analytics?
To track your eCommerce analytics, you can use specialized eCommerce analytics tools like Putler. These tools offer a range of features to monitor your sales, customers, and products, and provide insights into how your business is performing.
To get started, you'll need to connect your eCommerce platform to the analytics tool of your choice. Putler, for example, integrates with a range of popular eCommerce platforms, including WooCommerce, Shopify, and PayPal.
Once your eCommerce platform is connected, you can start tracking key metrics like sales, revenue, conversion rates, and customer behavior. With the right eCommerce analytics tool, you'll be able to make data-driven decisions to grow your business and optimize your online store for maximum impact.
Which eCommerce analytics tool is the best?
There are many eCommerce analytics tools available in the market, and the best one for you depends on your specific needs and budget. However, Putler is a comprehensive eCommerce analytics tool that offers a range of features to help you track your sales, customers, and products.
With Putler, you can easily monitor key metrics like revenue, conversion rates, and customer behavior, and get detailed insights into how your business is performing. Plus, Putler integrates with a wide range of popular eCommerce platforms, including WooCommerce, Shopify, and PayPal, making it easy to get started.
Ultimately, the best eCommerce analytics tool is the one that aligns with your business objectives and provides the insights you need to make data-driven decisions. Consider your needs and budget, and compare different tools to find the one that's right for you.