Coffee is a high-commodity product and is widely available. On an average, 2.25 billion cups of coffee are consumed daily which itself speaks of the herculean market you are tapping into.
But does this mean selling coffee online is tough? No, you just need to do some smart marketing and use the right tools and analytics.
Remember when everyone went crazy for Dalgona coffee during the COVID-19 pandemic?
People love coffee, and once they find a brand or flavor they like, they can't get enough. This means you need to retain your existing ones and also find new coffee lovers.
But don't worry, whether you sell coffee beans, ready-to-drink coffee packs, or freshly prepared coffee (cafes, homes, or cloud kitchens) online, you're at the right place.
In this article, we'll look at simple marketing strategies. If performed right, you will definitely find the answer to your question "How to sell coffee online to boost sales".
Best strategies to increase coffee sales online
Whether you're just starting or looking to boost your existing coffee business, these proven tactics will help you stand out and attract more customers.
Let's get brewing:
Arouse those senses using product pages
At offline stores or cafes, the aroma of coffee is what makes people want to buy it. Obviously, you can't create that online for now, until AI comes with a solution for it. Haha!
But you can strongly awaken those user senses with your product pages.
Use words that describe how yummy the coffee smells and tastes. Show high-quality pictures of the coffee and where you get it from.
You can even add a video that shows how the coffee beans are collected or how the coffee is made.
For example, refer to this commercial by Nescafé. How smartly they have marketed their coffee!
This emotional touch makes people try your coffee. And if the quantity and pricing are right, you have a sale there.
Identify your potential customer segments by taste and brand
This, in my opinion, is the breakthrough strategy to increase your coffee shop sales.
All you need is a reliable tool that tells you exactly which customer purchased which coffee, at what price, and how frequently. And that too without the hassle of going through countless dashboards.
Say hello to Putler, the tool you have been looking out for. Connect your e-commerce platforms – WooCommerce, Shopify, BigCommerce, Amazon or others platforms and unlock a world of business-growing insights.
You get clean, accurate and real-time data on your sales, customers, products, orders, web analytics and more. No more guesswork – just smart strategies and increased sales!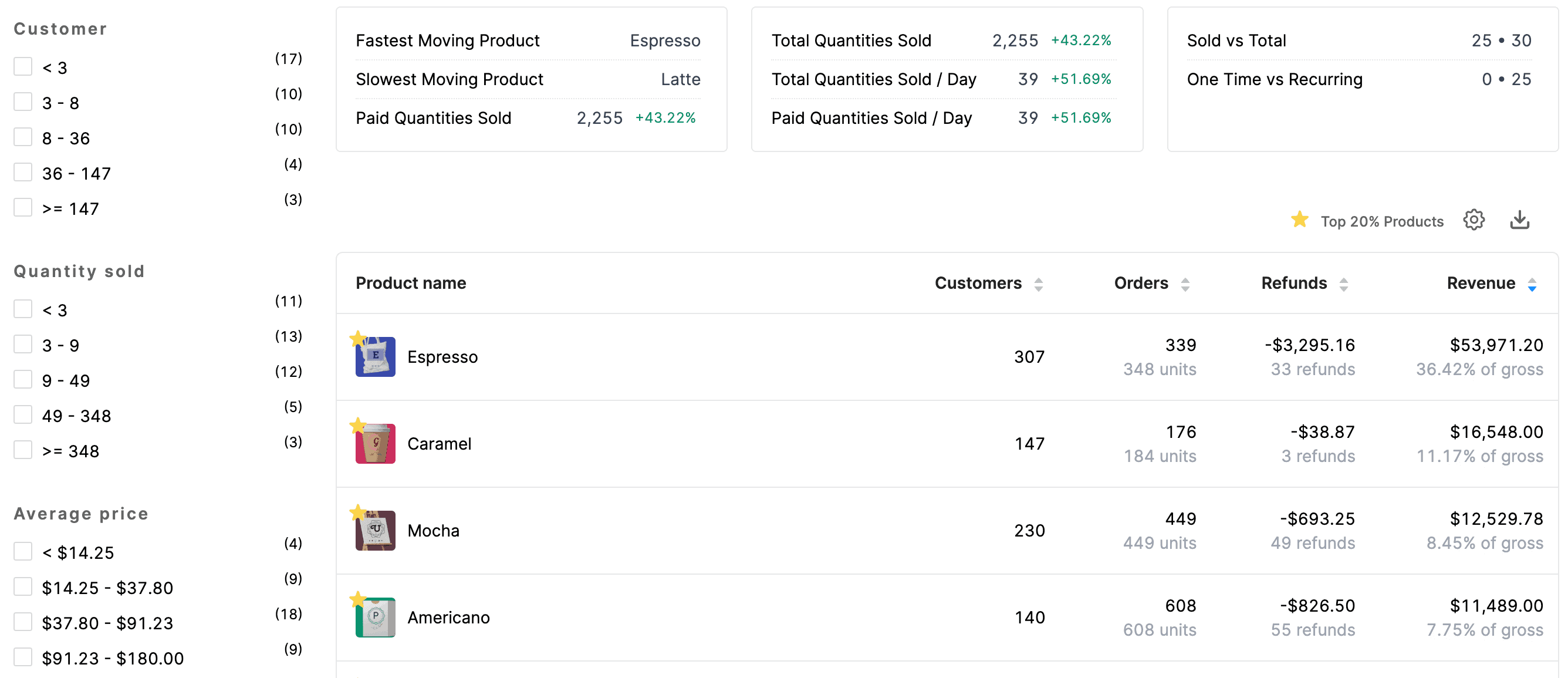 The Products dashboard, with its filters, help you identify your customer preferences and purchase behavior:
Price ranges your customers prefer for coffee purchases; $5 to $10, less than $5, more than $10…
How often each customer buys your coffee
Which coffee beans are most and least purchased – the flavored beans, the premium or expensive beans, the darkest varieties…
Which coffee products are most and least purchased – raw beans, ready-to-drink packs…
Different flavors ordered the most and least – espresso, caramel, mocha, cold coffee, americano, brewed, etc. along with the sizes.
Other products that customers often order with their coffee such as cakes, chocolates, cups, etc.
Which coffee product brings in the most sales
The most refunded / least purchased item can be a sign that customers didn't like the taste
and many more…
All these insights will help you understand which product requires the extra marketing push and which customers to target at what price to boost your coffee sales.
And, that's just the Products dashboard.
Monitor heatmaps to identify the best order times
As I mentioned earlier, most people are obsessed with specific coffee brands and flavors. They have made it an essential part of their daily routine.
The best example would be business professionals who will order a coffee during the afternoon.
Putler's sales heatmaps help especially the online cafes .
The darker the dots, the more orders are placed during that time interval. If you see some changing patterns, you need to alter your strategies.

Get more sales by offering bundles
Product bundles directly increase the average order value. Putler tells you what each customer buys along with their coffee.
This information lets you create amazing value-driven bundles that offer great value. You can sell these bundles easily through your online store. It can be a bundle of three different flavored coffee or a pack of a coffee maker with beans, a mug, and a stirrer.
If you are using WooCommerce, you can use Chained Products to create these bundles for your online coffee shop.
Win back lost customers
You may have customers that haven't made a purchase in a while or have stopped buying altogether.
Putler's RFM segmentation analyzes your customer data and gives you a list of those who haven't made recent purchases, allowing you to understand their buying behavior.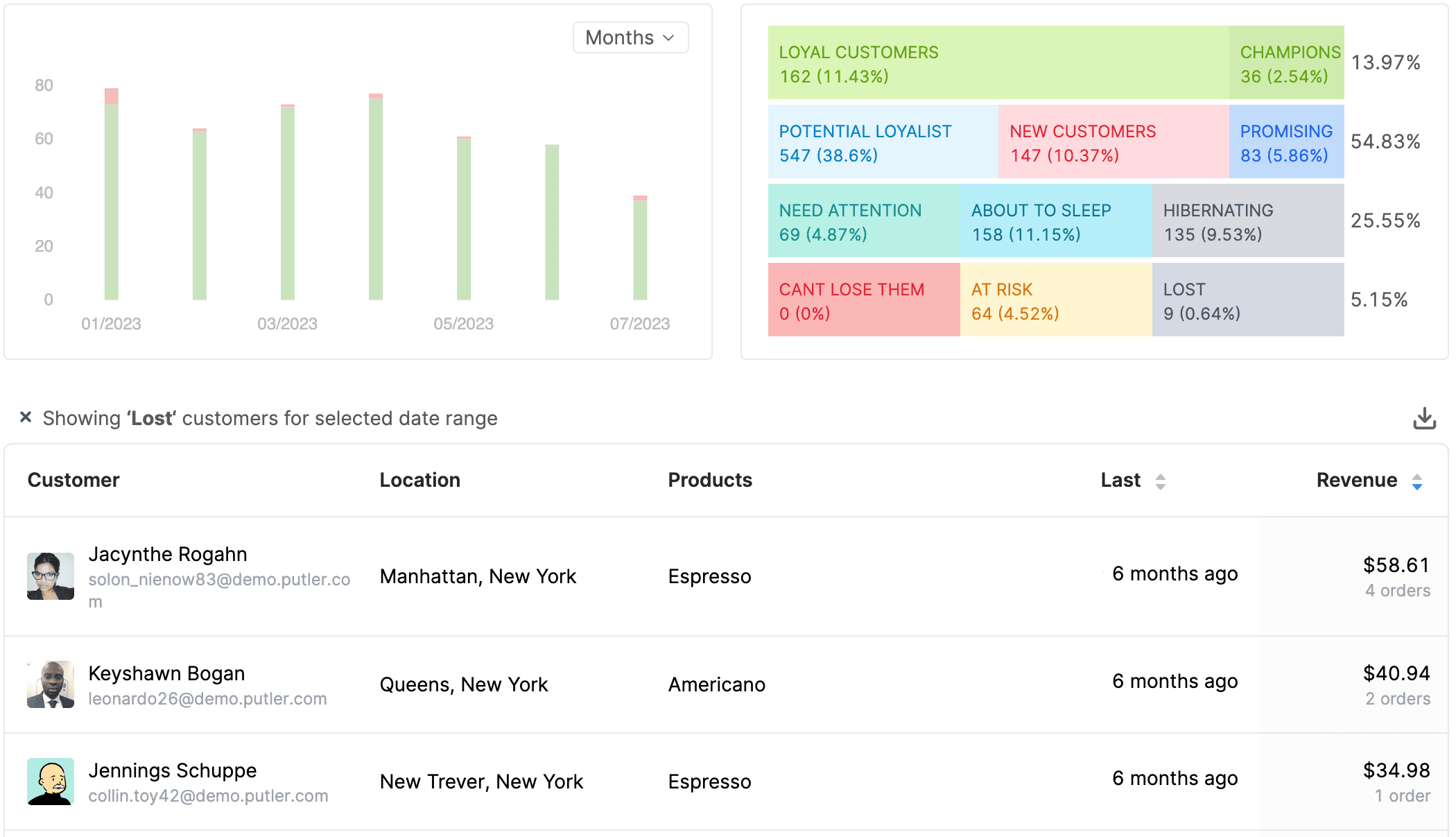 In simple words, this feature empowers users like you to re-engage with lost customers, potentially becoming the key to your coffee shop's success.
You can send them a personalized email inviting them to try your products for free. People will surely try it out and if they love it, you have won them back.
Keep loyal customers engaged with reminder emails
The RFM segmentation also gives you a list of your loyal customers who order frequently and pay you a good amount.
It's good practice to send them emails before they run out of coffee. By doing so, you make it super convenient for them to order fresh stock without any hassle.
These simple yet targeted emails work wonders in nurturing your customer relationships and ensuring they keep choosing your coffee over others.
Identify top keywords and traffic sources
It's also important to know what search term people used to land on your site and on what pages they land. For example – 'best black coffee sellers in Finland' or 'top cafes for espresso in Canada'.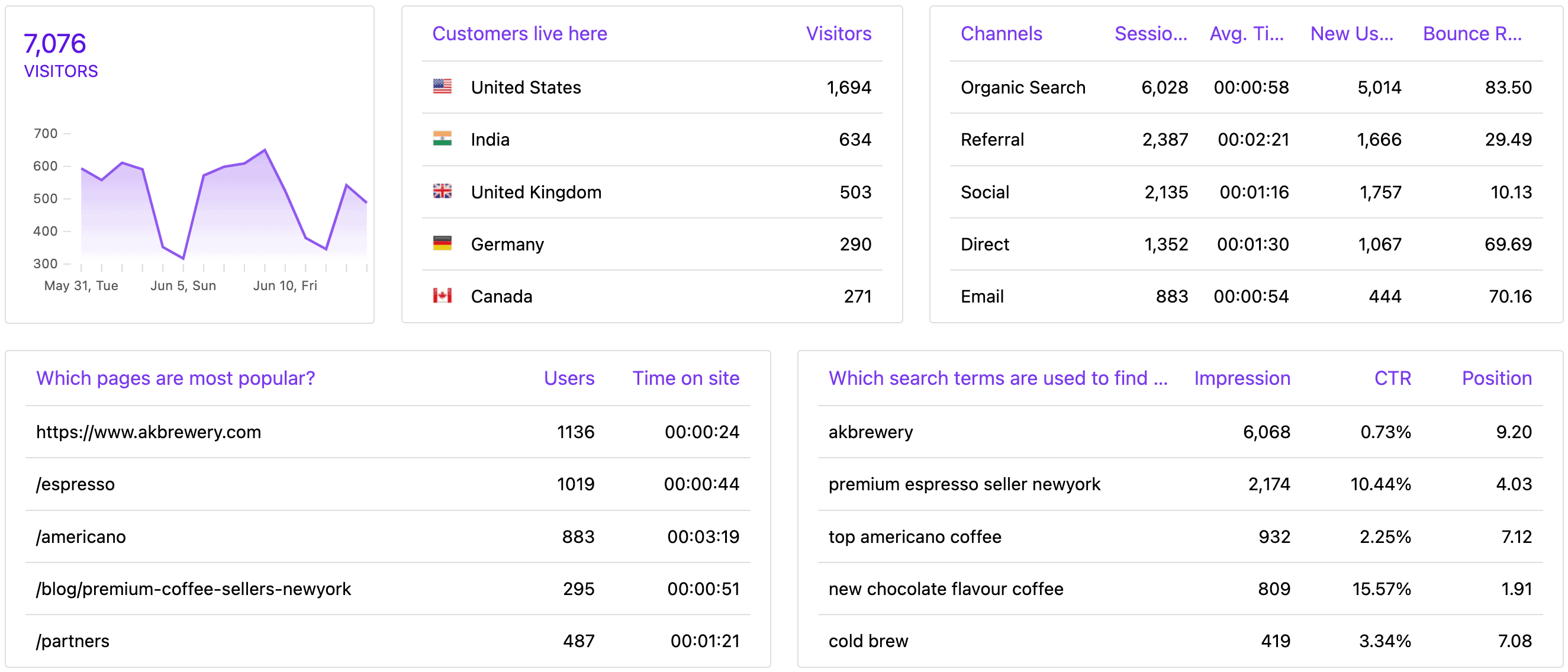 The more hits on a page, the more prone the customer is to purchase from that page. Beyond keywords, it's also essential to track other traffic sources – whether visitors come through your emails or referrals.
By identifying these referrals, you can strike a partnership to bring in even more customers, with everyone benefiting from the collaboration.
Use price anchoring based on sizes
Daily consumers who love stocking up on coffee would appreciate bigger bags offered at special discounts.
For those seeking the finest and freshest coffee, premium products can be served in smaller bags with no discounts. This will ensure that they get the best quality without compromise.
By using price anchoring based on sizes, you'll cater to different customer needs. This strategy will result in driving more sales, making your coffee shop a favorite destination for all coffee enthusiasts.
Got the sales aroma?
Selling coffee online is like making new friends. People trust brands they like, and when they trust you, they keep coming back for more coffee, becoming loyal repeat customers!
So embracing these strategies and harnessing the power of Putler, coffee sellers can establish their foothold in the digital landscape.
It is your time to seize the countless opportunities the ever-growing demand for coffee products presents.
Cheers to a delicious adventure in the world of coffee!