Content planning, creation and distribution is an elaborate process that is no longer limited to just writing and editing. Today, the content creation process involves people from various areas of a business. To create and publish a piece of content that truly delivers an impact, you need inputs from marketing, product, sales, customer success, and other teams. That is why having a solid content process, and a good content creation and collaboration platform to back it, is necessary, now more than ever.
The market offers you tons of project management software, but there is hardly any single platform designed exclusively for content teams. The needs of content marketers, creators, and agencies, in terms of project management, content creation, optimization and collaboration, are unique and not always met by the generic project management tools at your disposal.
We, however, recently discovered a content marketing tool that was tailor-made for this purpose. Narrato is a content creation, planning and collaboration software that not only replaces generic project management tools (that don't work!), but also docs, drives, email and more. The cherry on top – it also offers an AI content assistant that helps you generate powerful content briefs (including SEO recommendations), optimize content for grammar and readability, plus an AI writer to help you with your writer's block when the need arises.
Here's a deep dive into the platform's features, use cases, and benefits from our experience.

What is Narrato?
Narrato is an all-in-one content planning, creation, collaboration, and workflow management software. The platform is built keeping in mind the needs of content teams at SMBs, content agencies, web design agencies as well as those of individual content creators.
Narrato replaces multiple disjointed apps and tools in the content process, including docs, sheets, Dropbox, email, messenger apps, grammar checker tools, plagiarism checkers, content calendar tools, and more. All of these capabilities are brought together on the same content marketing platform, to ensure better productivity, faster turnaround times, and cost reduction in the content process.
Narrato is a great alternative for GatherContent and similar pricier content operations platforms – providing you all the key features of these platforms (and more) at a very affordable price.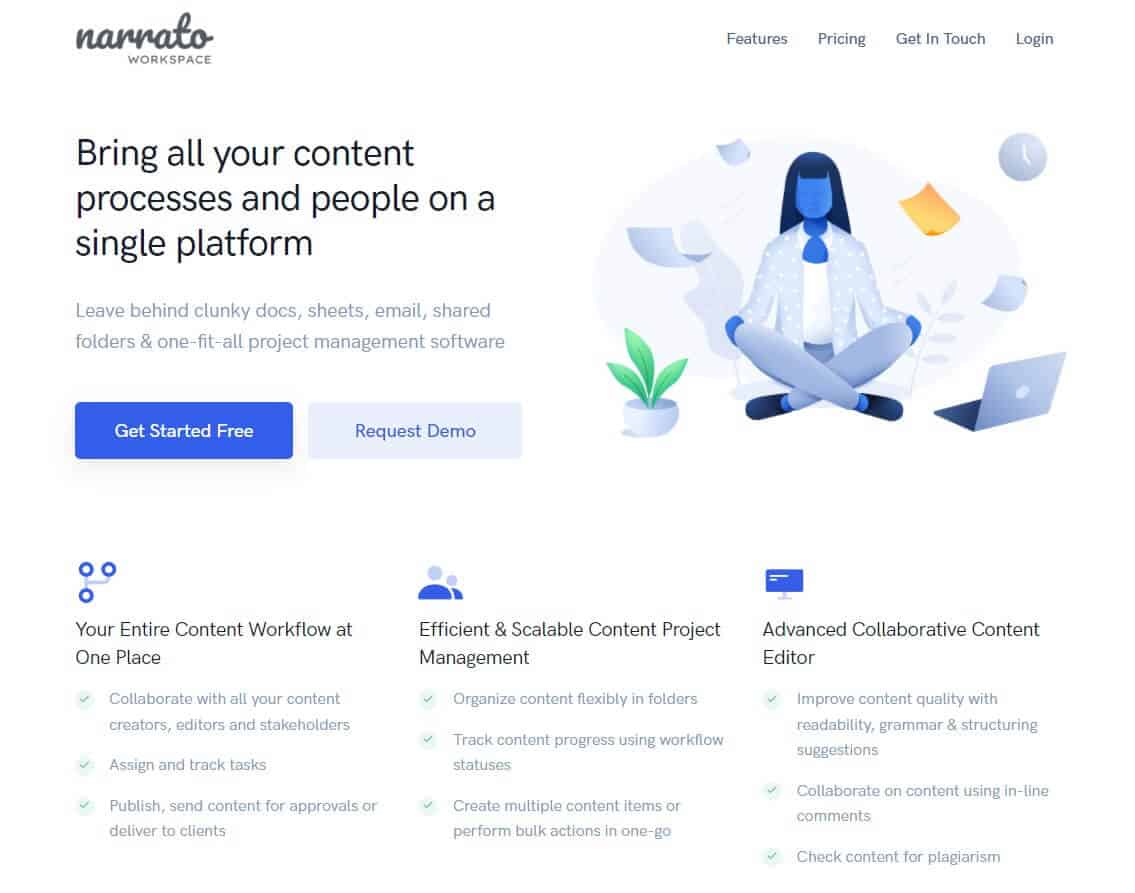 There are a host of features on the platform, that include content ideation tools, SEO planning tools, content optimization tools, AI writing tools, workflow automations, team collaboration tools, and more. We'll take a closer look at all of this below.
The key features on Narrato can be categorized as –
Content creation and optimization
Content planning
Content and workflow management
Content collaboration and communication
Team management
Content marketplace
Content creation and optimization on Narrato
Narrato boasts of a very powerful content editor that not only allows you to create content but also optimize it on the platform itself
AI Content Assistant
The AI content assistant on the platform offers real-time grammar and readability suggestions. It highlights grammatical errors, excessively long sentences or paragraphs, excessive use of passive voice, redundant words and more. We were impressed by the suggestions that are almost always contextually correct and accurate.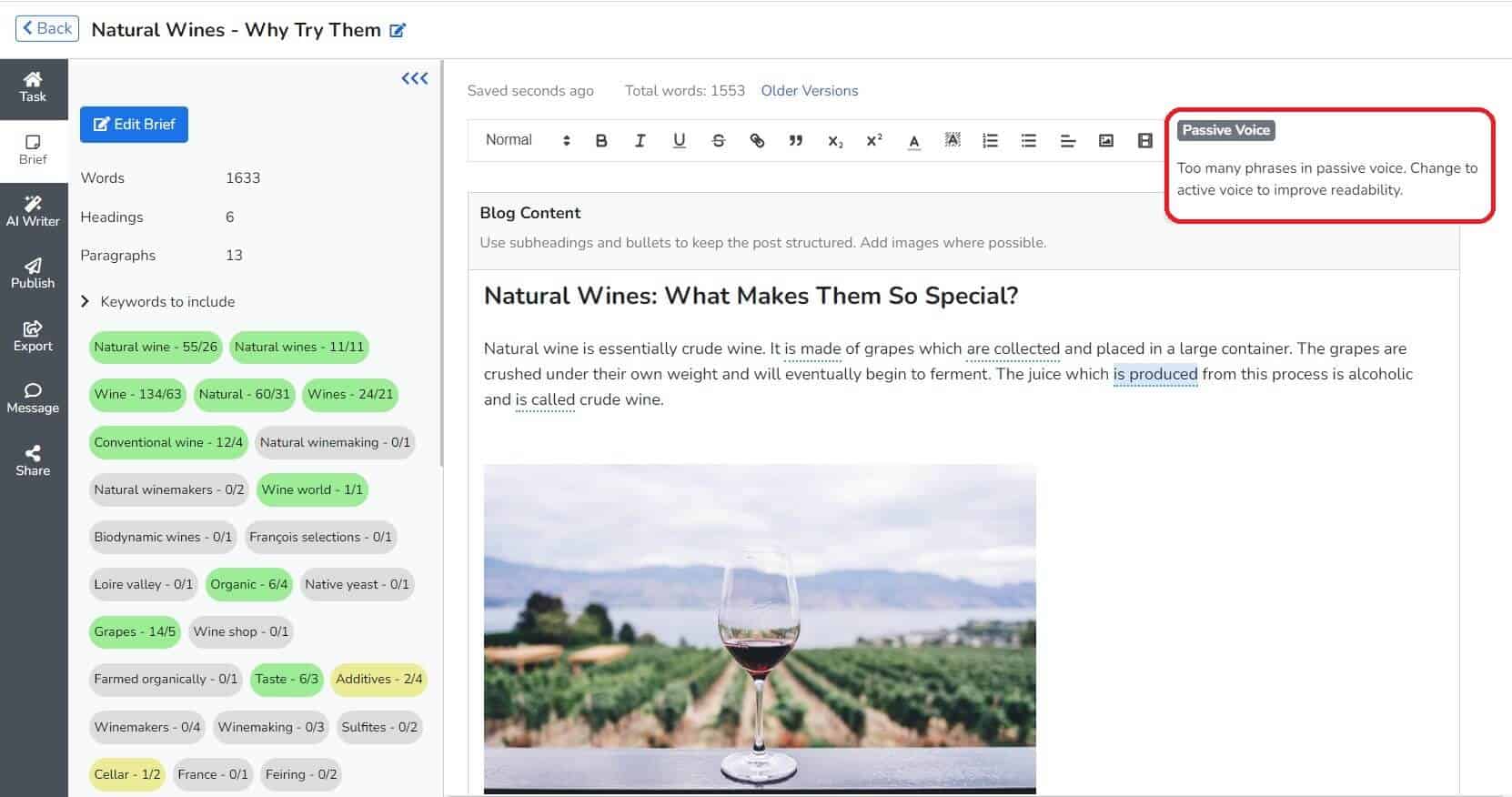 The editor also gives you dynamic updates on keyword use, word count, etc. to help you optimize content for SEO simultaneously.
Narrato's editor has almost all the capabilities that you would find in other content creation tools like Google Docs, but the best part is it is not just limited to content creation. For instance, you can also run plagiarism checks on Narrato which, if you were working on Google Docs, you would need another tool for.
AI Writer
A very interesting feature on the platform is the AI writer that can generate content for multiple use cases. All you need to do is choose your use case (Blog post intro, outline, conclusion, etc.), type in your topic or search term, and generate the AI content. It hardly takes a few seconds and the quality of the content is quite impressive. More often than not the AI-generated content on Narrato is aligned with your context, tone, and audience, which is rare to find in most other AI writers. You can also generate multiple variations of content until you're satisfied with what you see.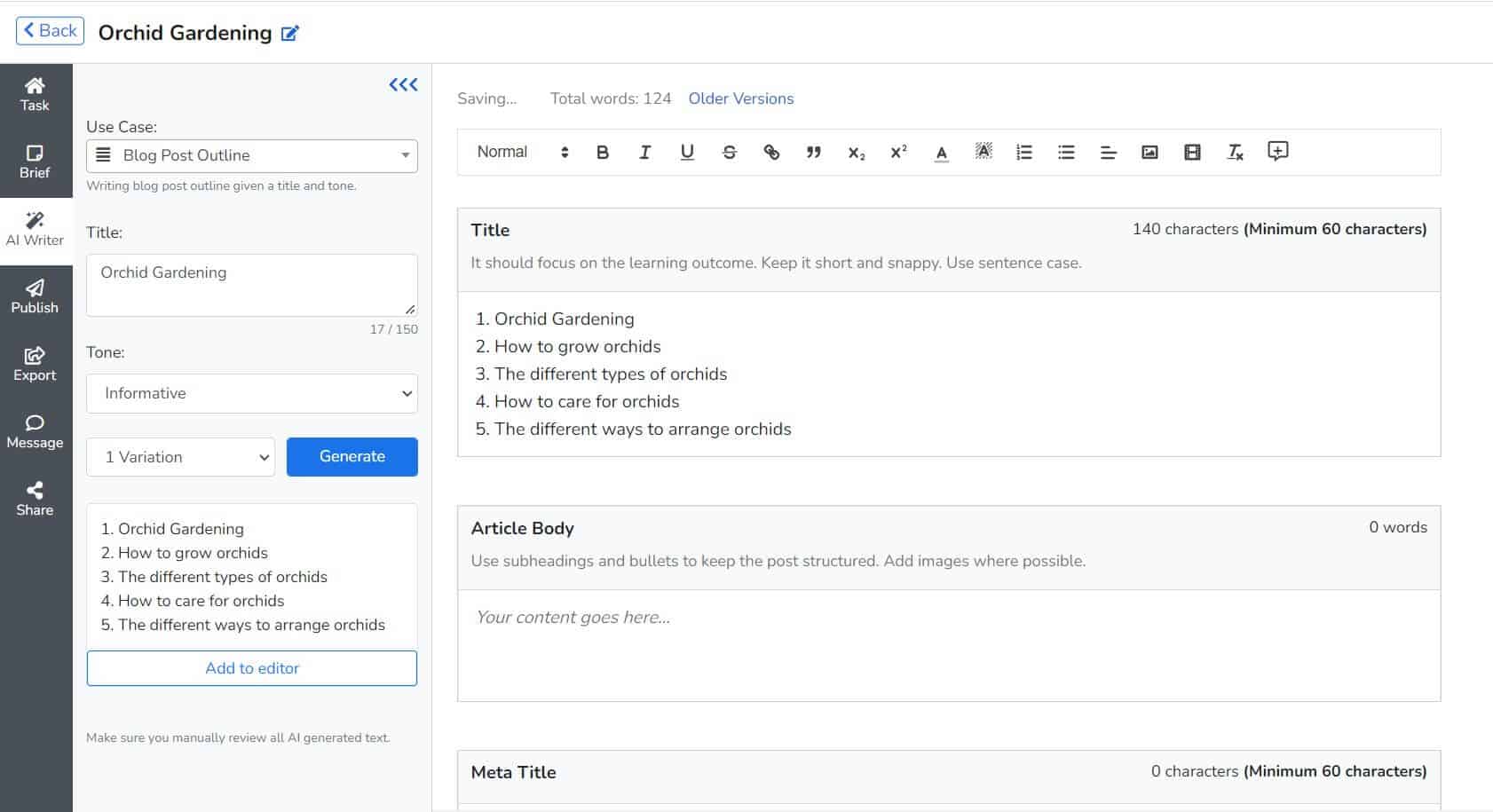 Free image search and graphics tool
Narrato has a free image search tool using which you can find stock images for your content. There is a Canva integration as well that lets you create your own graphics without having to leave the platform.
The platform also supports WordPress publishing and is planning to roll out more publishing support soon.
Content planning
The content planning tools on Narrato are another USP of the platform.
SEO Content Briefs
One of the best features here is probably the SEO content briefs on Narrato. The SEO content briefs can be easily generated within seconds, by simply typing in your topic or primary search term.
The SEO brief will offer you suggestions on keywords (along with count), topics/ questions to include, references and competitor content links, ideal length of content, and similar SEO parameters to strengthen your content strategy. As you start creating content, the keyword counts on the brief are automatically updated, which is something we found really useful. You can also modify the SEO brief by adding/ deleting keywords, questions, etc. if you need to.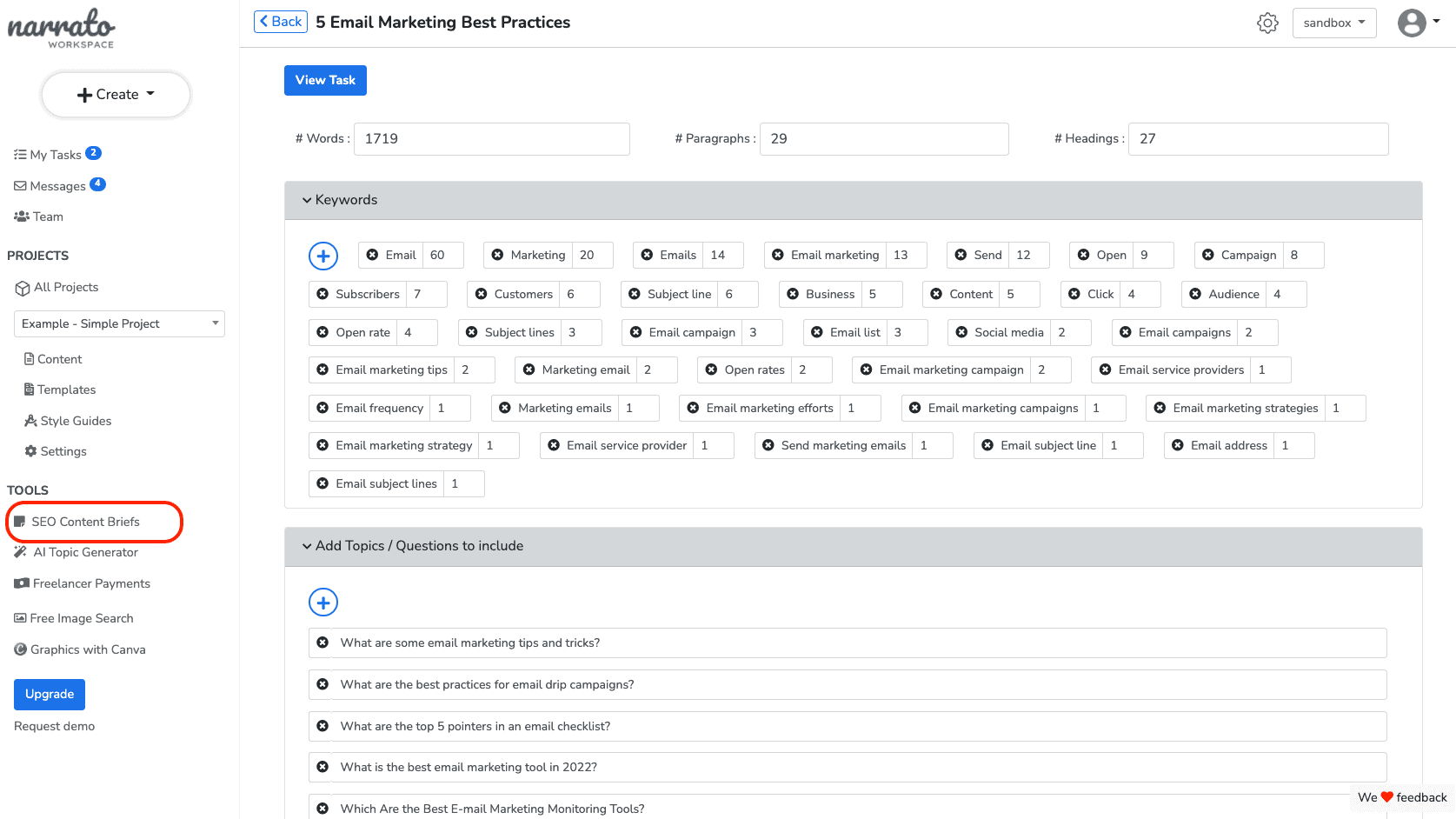 AI Topic Generator
Apart from this, there is an AI topic generator on Narrato as well, where you can generate new content ideas for your blog posts and articles.
Content Calendars and Boards
Content calendars and Kanban boards associated with every project on the platform let you easily create and assign content tasks. You can have a monthly or a weekly view, move deadlines by simply dragging and dropping items on the editorial calendar/ board, and track progress with color-marked workflow statuses on the tasks. This eliminates the need for tracking projects on Google Sheets or other similar tools.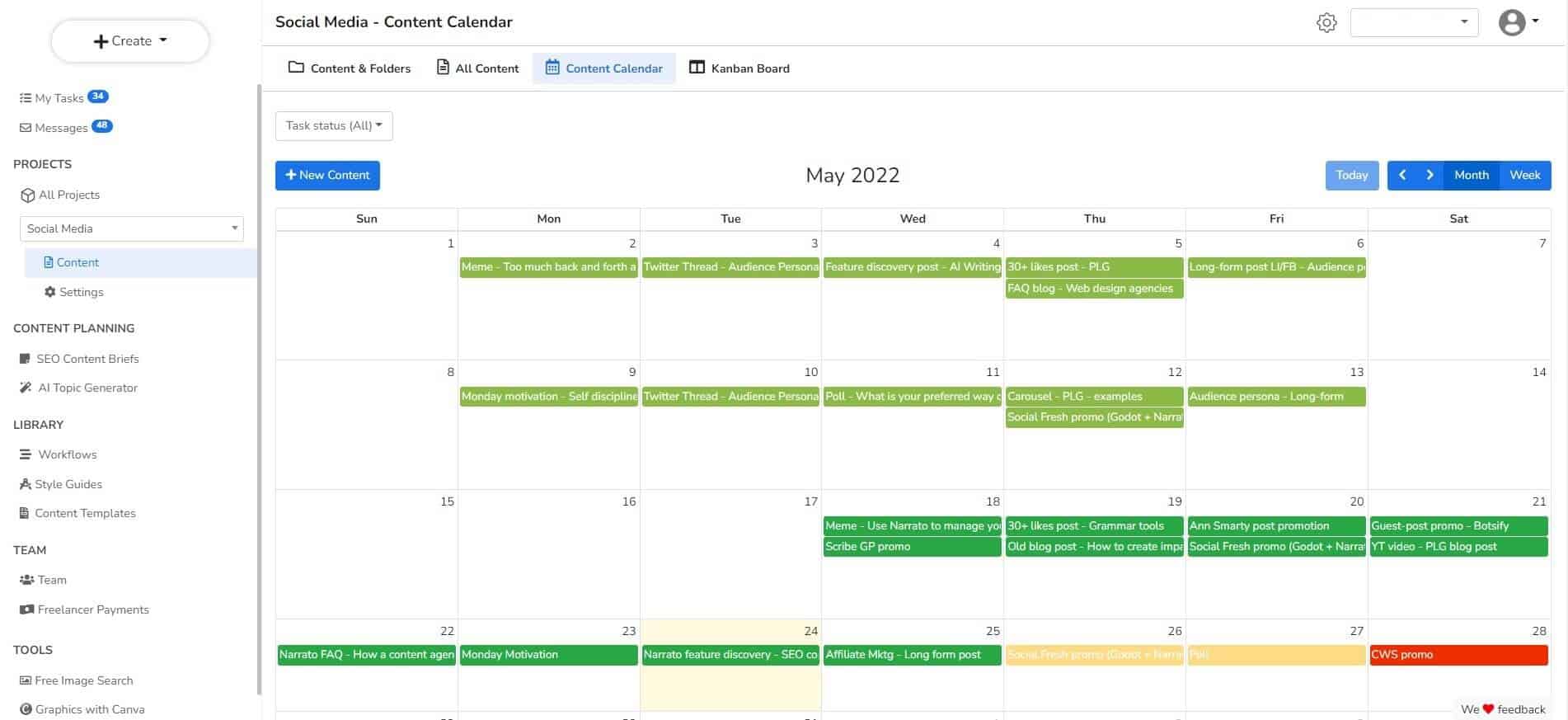 Custom Style Guides & Templates
There is a library for content style guides and templates on Narrato, where you can create and save your own custom templates and guidelines. Templates help structure your content for different content types such as blogs, newsletters, landing pages, product descriptions, social media content, etc. You can apply these templates to content tasks so your writers know what different sections the content should have.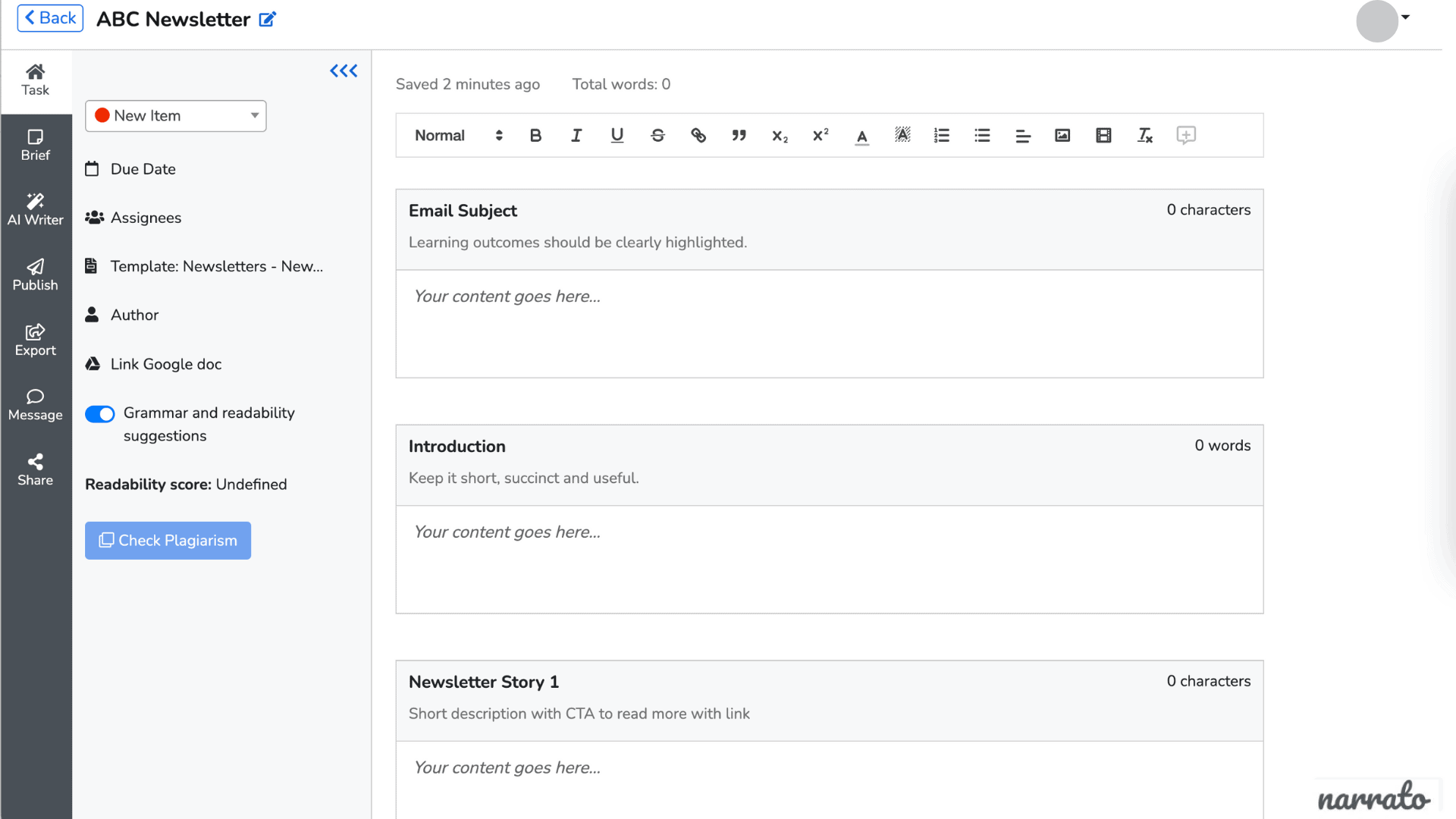 Content style guides let you define project-specific or brand-specific guidelines that can also be applied to tasks to give more clarity to content creators.
Content and workflow management
The biggest benefit of working on Narrato for content production is that you can build your own custom workflows, automate them, and manage all the content created on the platform itself.
Custom Workflows
Building custom content workflows on Narrato is a breeze. There is a default workflow too that you can apply to projects, but if you have your own process and would like to stick to it, it's best to build your own workflow. You can add your own steps and milestones to the workflow, color code them, arrange/modify the sequence of steps and apply your workflow to projects.
Here's a quick video from Narrato's YouTube channel that shows you how to create custom workflows.
Narrato also allows workflow automation, to trigger certain actions when a content task goes from one workflow status to another. This significantly reduces the time you spend on rule-based activities, like assigning tasks to writers/ editors, notifying team members, etc. which is great for productivity.
Projects & Folders
You can neatly organize all the content on the platform under dedicated projects and folders, making it easy to access. It also acts as a repository for all your content, so you don't have to go file hunting on Google Drive or Dropbox every time to find a piece of content.
Content collaboration and communication
Narrato is a powerful content collaboration platform where all your team members can work together in real-time. The platform has a number of content collaboration tools like on-content comments and messages. Team members can easily communicate and share feedback with in-line comments. You can also add @mentions to direct their comments to specific users.
Conversational messages on content tasks let you keep track of inputs from team members and clients, minimizing back and forth over email or other messenger apps.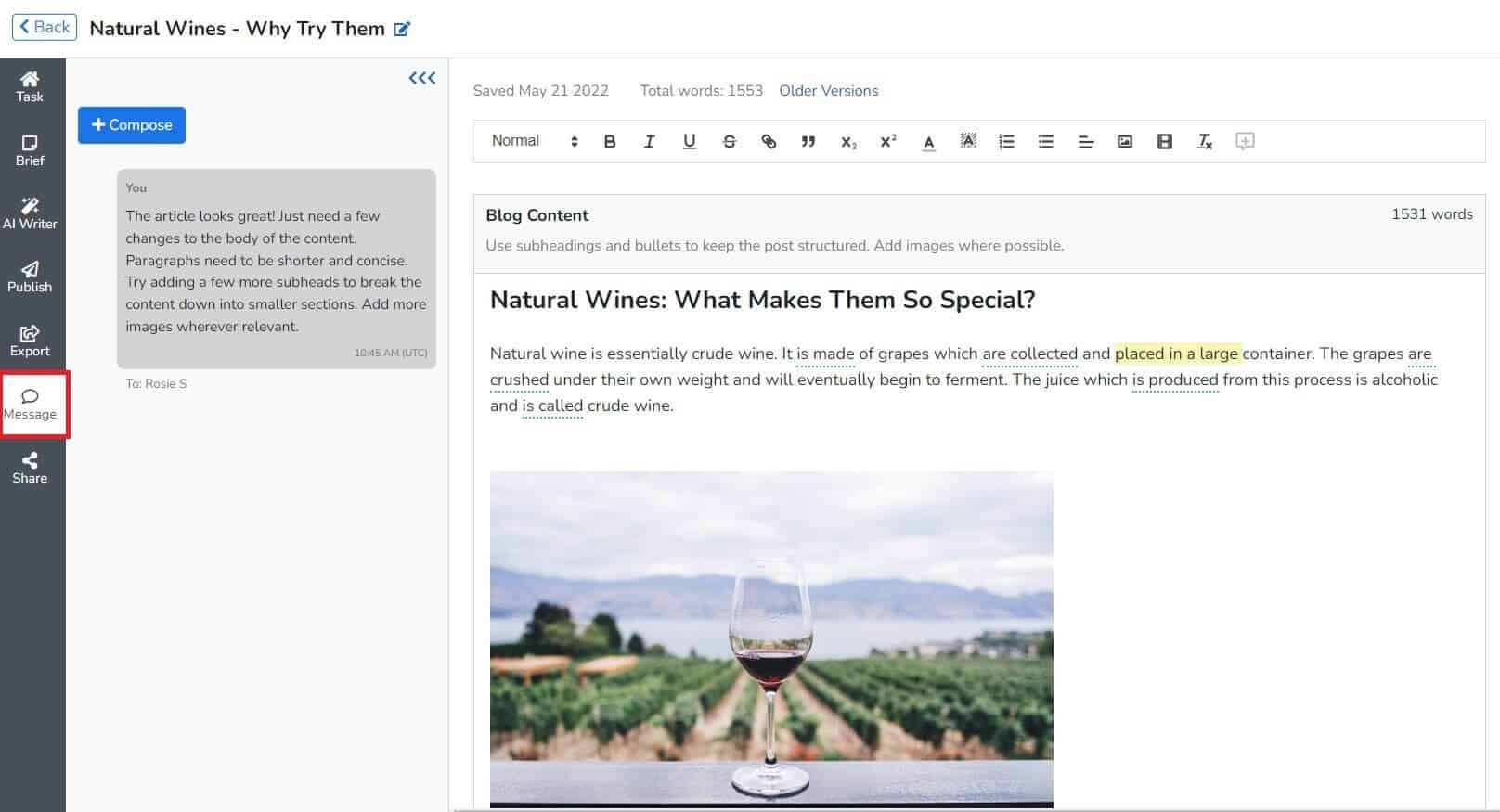 Team management
We found managing your team, clients, and freelancers on Narrato to be a very smooth experience. There are custom user roles on the platform, such as Admin, Project Manager, Editor, Content Creator, and Client (Guest). Each role has a different level of access to the projects and tasks.
You can choose the user roles for a member at the time of adding them to the platform. Content Creators and Editors will only have access to the content tasks that are assigned to them. Project Managers have access to all the content items under projects they are added to. While the Admin role has access to all projects and tasks.
You can add clients under the Guest role, which gives them access to their own projects – but only limited to the tasks that are marked for their visibility. So you don't have to worry about clients getting access to unfinished tasks.
You can also add freelancers to your team on Narrato, manage freelancer payments and generate payment reports as well.
Content marketplace
Narrato Marketplace is Narrato's freelance content marketplace where you can order content for your blog, website, and other needs. The platform has hundreds of quality-vetted and experienced freelance writers specializing in various areas of digital marketing.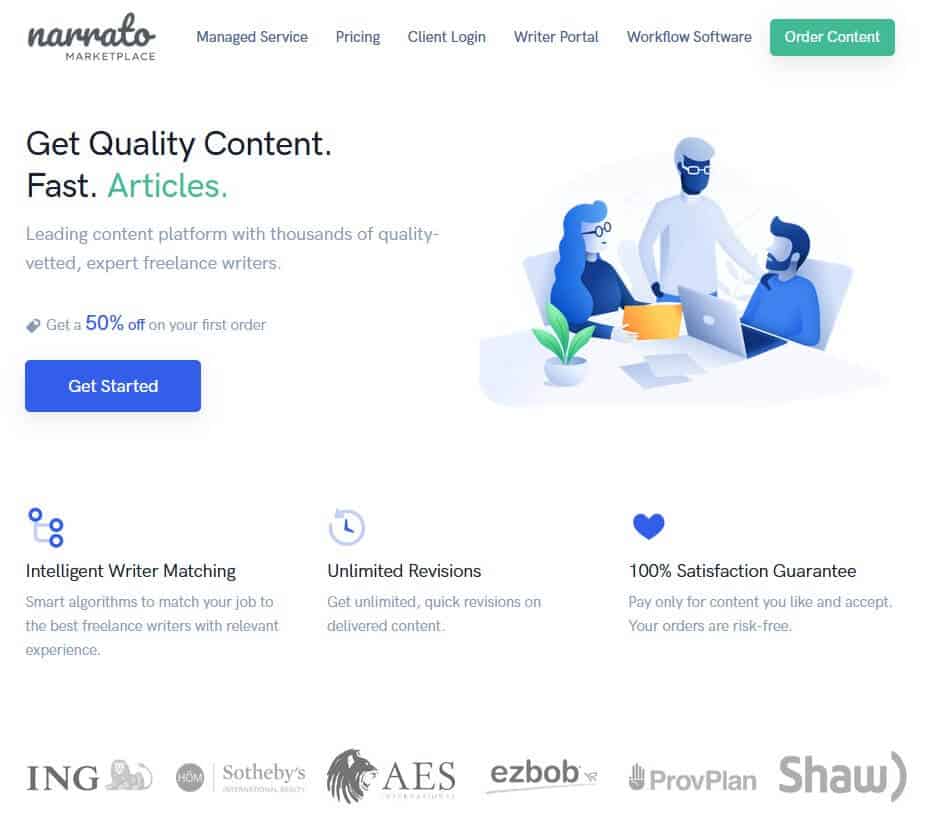 When you place an order, it is automatically matched with the best-suited writer on the platform by the algorithm. Turnaround times are also quite fast as your content is usually delivered within 48 hours, depending on your order volume.
Time to give it a try
Narrato already has several users who vouch for the platform and bear testimony to how it has improved their team's productivity and reduced content production costs by huge margins.
If you haven't tried Narrato yet, you could be potentially losing hours of work switching between multiple platforms. So why not get started for free? You can also request a demo , if that's a better starting point for you.
For growing content marketing teams and agencies, Narrato has some very affordable paid plans starting at just $8 per user per month. They also have a forever free plan, though it limits you on a full-feature access.
Try Narrato out and tell us what you think!