Want to turbocharge your website's performance with analytics?
Hold your horses! Google Analytics may be the go-to option, but guess what? There's a whole bunch of alternatives out there.
Buckle up as we dive into the world of WordPress analytics solutions that will blow your mind! Get ready to unleash the power of data and take your website to the next level.
Best WP Analytics Plugins
hide
The Best WordPress Analytics Plugins
Before we dive into the world of plugins, let's keep one thing in mind. The number of visitors to your website can be influenced by various factors. But fear not, we've got just the tools you need to tackle those challenges head-on.
Get ready for a visual feast of statistics that'll supercharge your performance. From enhancing your content quality to optimizing your website's structure and boosting page load time, these plugins have got you covered.
It's time to unlock your website's true potential!
MonsterInsights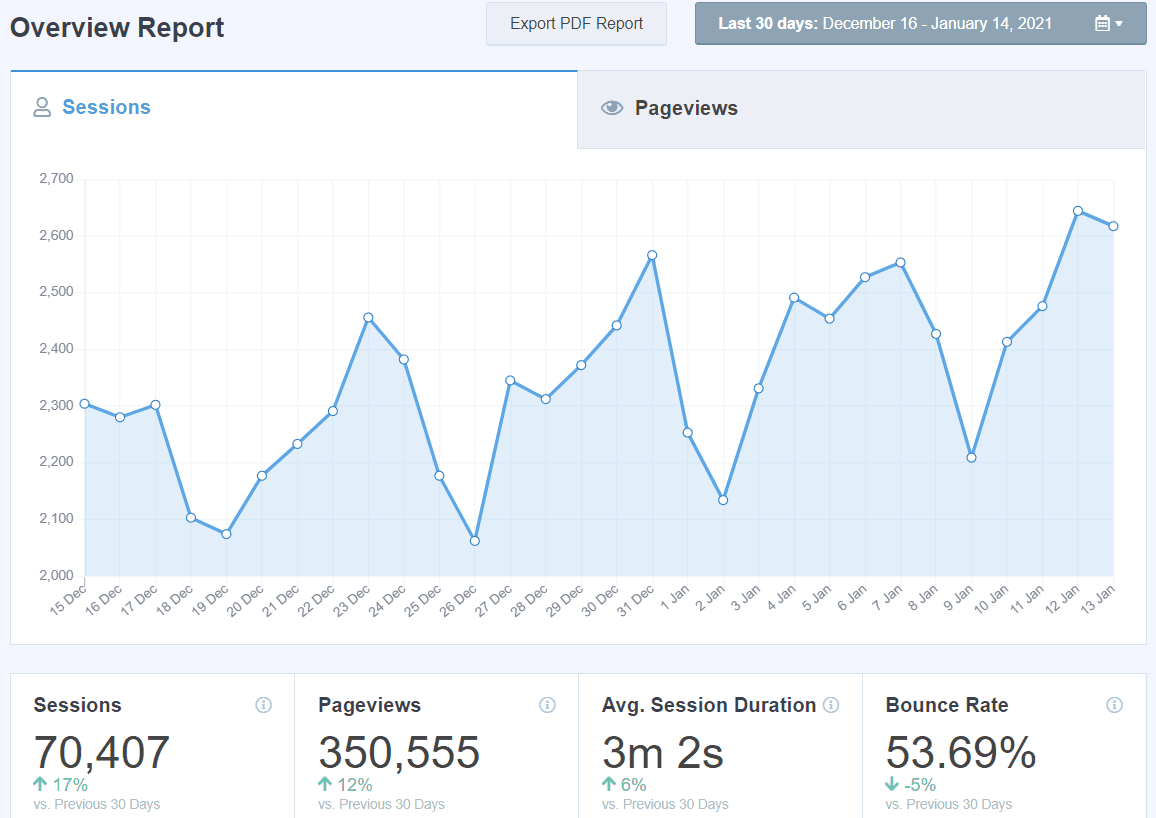 MonsterInsights is hands-down the best WordPress analytics plugin, with over two million active installations.
MonsterInsights adds your Google Analytics tracking code to your site with no coding required on your part. It pulls your data into a user-friendly interface that runs inside your WordPress dashboard and offers flexibility for growing sites with free and premium versions.
Features:
Performance & optimize
Custom dimensions
EU compliance (GDPR friendly)
Enhanced e-commerce tracking
Page level analytics
Affiliate link & ads tracking
Real-time stats
Google analytics dashboard
Pros:
Easy installation and setup
Customization options
Simple UI
Ability to import and export reports
Cons:
Limited free version
Verdict
Cost: $239.70/ year
Analytify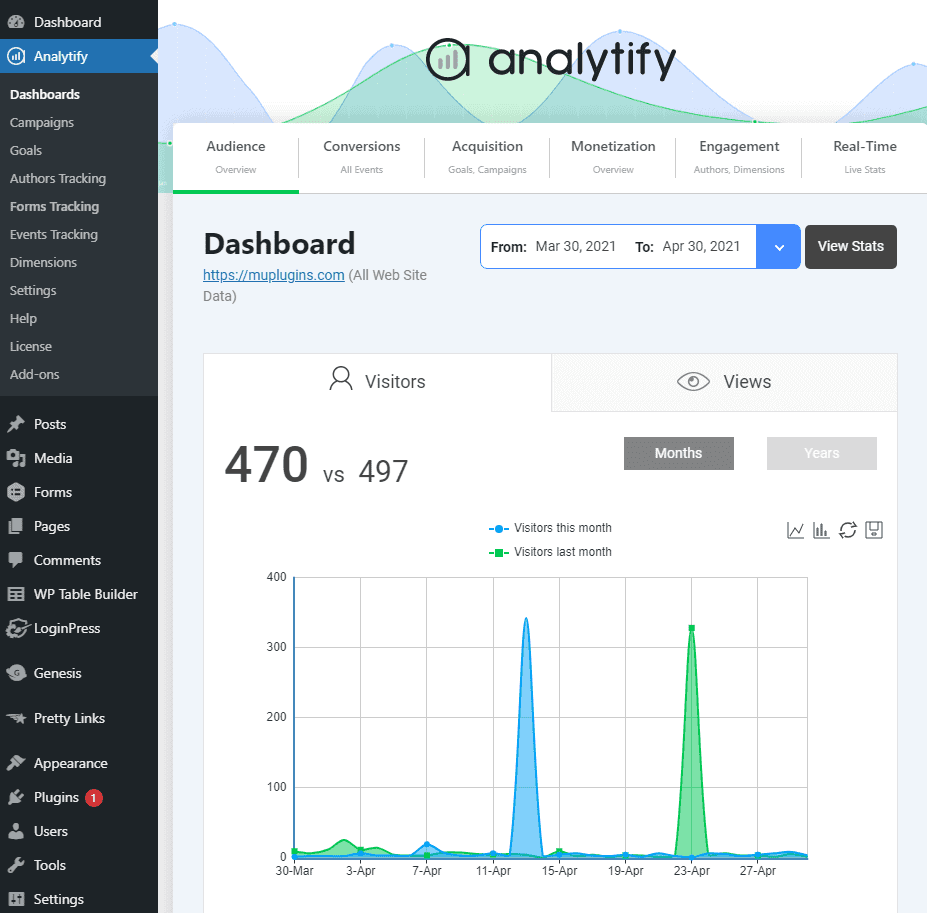 Analytify is a freemium WordPress analytics plugin that offers a simple installation process to add the tracking code to your site. The interface allows you to access your data right from your WordPress dashboard.
Features:
Geographic data.
Frontend and backend view.
Multilingual plugin available in 8 languages.
Enhanced eCommerce tracking.
Social media statistics.
Track product clicks, impressions & detail pages.
Coupons & refund tracking.
Country-wise tracking.
Track Checkouts & purchases.
Shopping behavior funnel.
Product performance.
Pros:
It works effectively without slowing down your site.
Comes with a free version
Exquisite customer support including documentation, FAQs, and chat support.
Configure social share buttons, using the simple backend interface.
Cons:
For getting add-ons, you have to pay. But not everything comes free, right?
The features to set up primary Google Analytics tracking might be a little confusing.
Cost: $39/year
Putler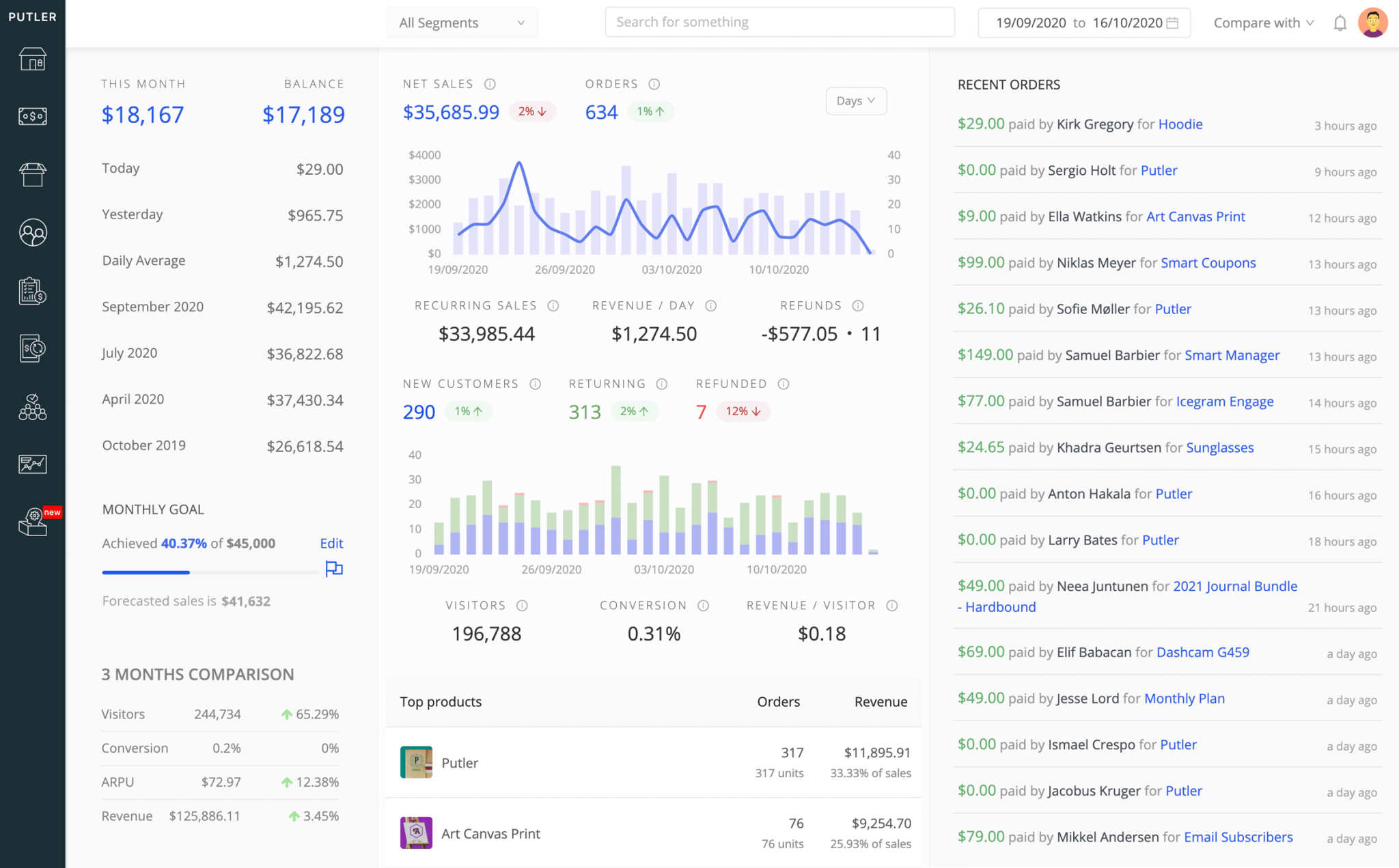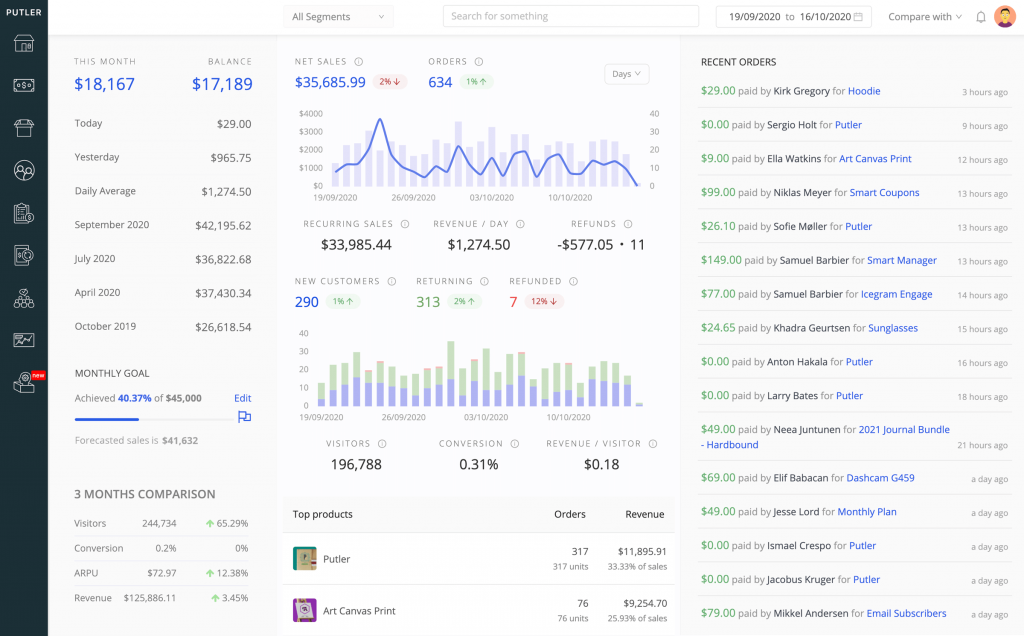 Putler is the best analytics plugin for WordPress that gives you in-depth reports and advanced analytics on all aspects of your website. It processes your data in real time and provides you with accurate reports and important metrics helping you make profitable decisions. Along with website analytics, Putler's WordPress analytics dashboard is also great for handling eCommerce data which is something that other analytics tools lack.
Features:
Search, refund, and manage orders in seconds
Enriched customer profiles, target segmentation, email, export
Business intelligence & growth
DIY filters, segmentation & drill downs
Executive business overview
Better customer insights in real-time
Product management and catalog
Sales trends, details, breakups and drilldowns
SaaS subscription metrics reporting
Google Analytics, email reports
Better marketing and CRM
Quicker support and daily operations
Pros:
In-depth customer, product, sales, website analytics
Affordable pricing compared to competitors
Most competitors only cater to businesses with monthly recurring revenue
Easy statistics for products and total orders – easy to track and follow customers
Cons:
No inventory reports
No mobile app
Cost:
Starter plan – $20/mo
Growth plan – starts at $50/mo
Crazy Egg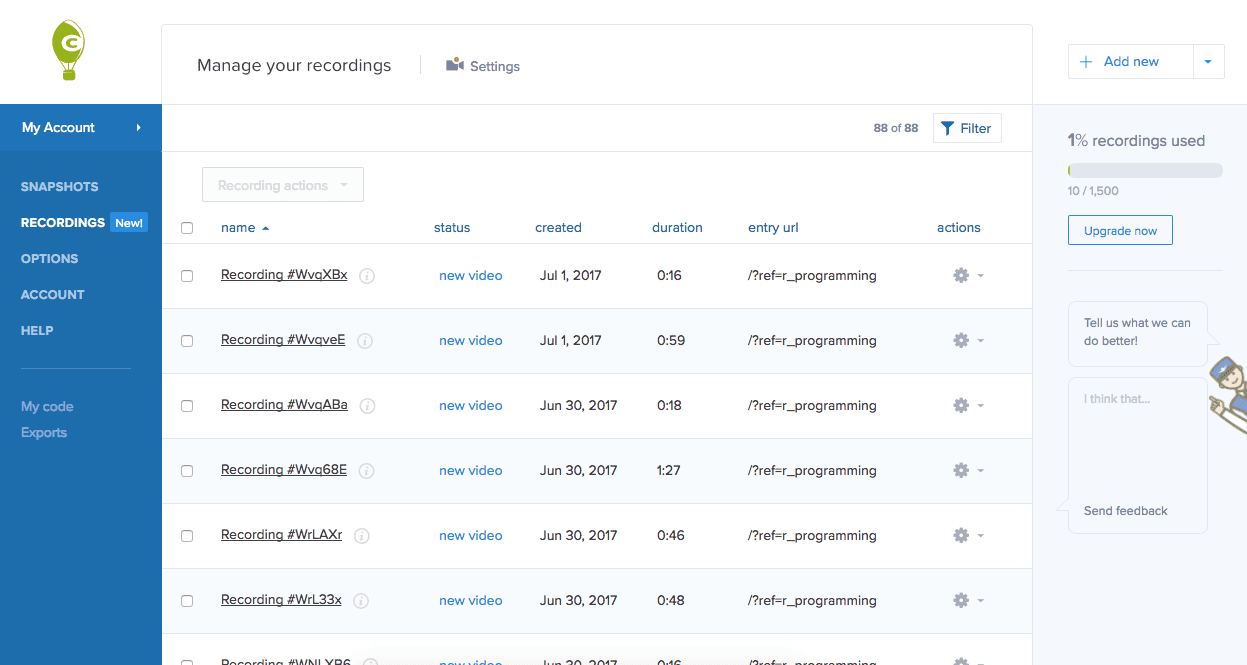 Crazy Egg is a WordPress analytics solution that allows you to see what's working on your website and what's not in order to make your website better. This WP analytics plugin helps you understand how visitors are interacting with your site using a technology called heat mapping.
Features:
Marketing integrations with popular tools
A/B testing tool
Click-through reports
Visual heat maps and scroll maps
User session recordings
Pros:
Click tracking with visual heat mapping of results, identifying the most clicked-on aspects of a site
Data segmentation
Confetti tool
A/B testing
Record visitor interactions with the website
High level, visual reports
Low cost
Cons:
Month to month plan.
Special trial or discounted rate only for entrepreneurs or new website owners.
The free version only allows you to track a limited number of pages.
Visualisations are limited.
Cost: $249/month
Jetpack by WordPress.com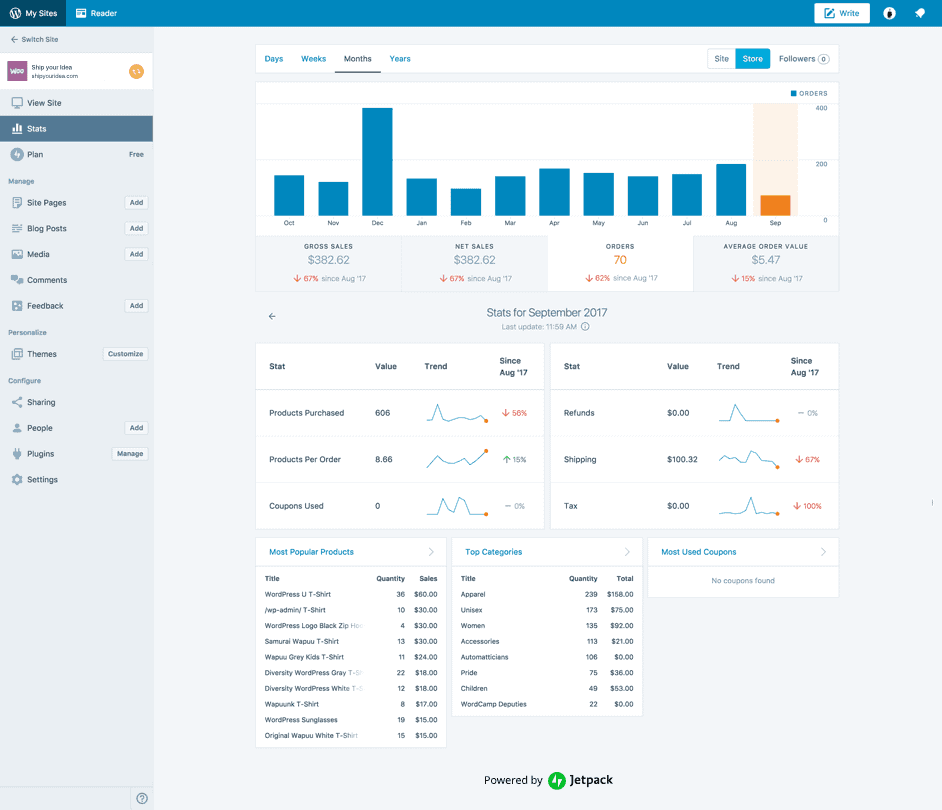 Jetpack is a multi-functional WP analytics plugin for design, marketing, and security platform that includes analytics as one of its many capabilities. It provides a quick overview of your site's performance by displaying your stats in a simple interface. You won't be able to drill down into the data on particular sites or posts, though.
Features:
Traffic growth and statistics
Enhanced website functionality
Search engine optimization
Fortified security
Centralized website management
Pros:
Add essential features conveniently.
The core Jetpack plugin is free. Premium features like daily backups, premium themes, and SEO tools are tied into 1 of 3 paid plans.
Constantly adding more and more features to the plugin.
Cons:
Interface looks bloated
Slows down your site
Risk profile
Cost: $299/per year
ExactMetrics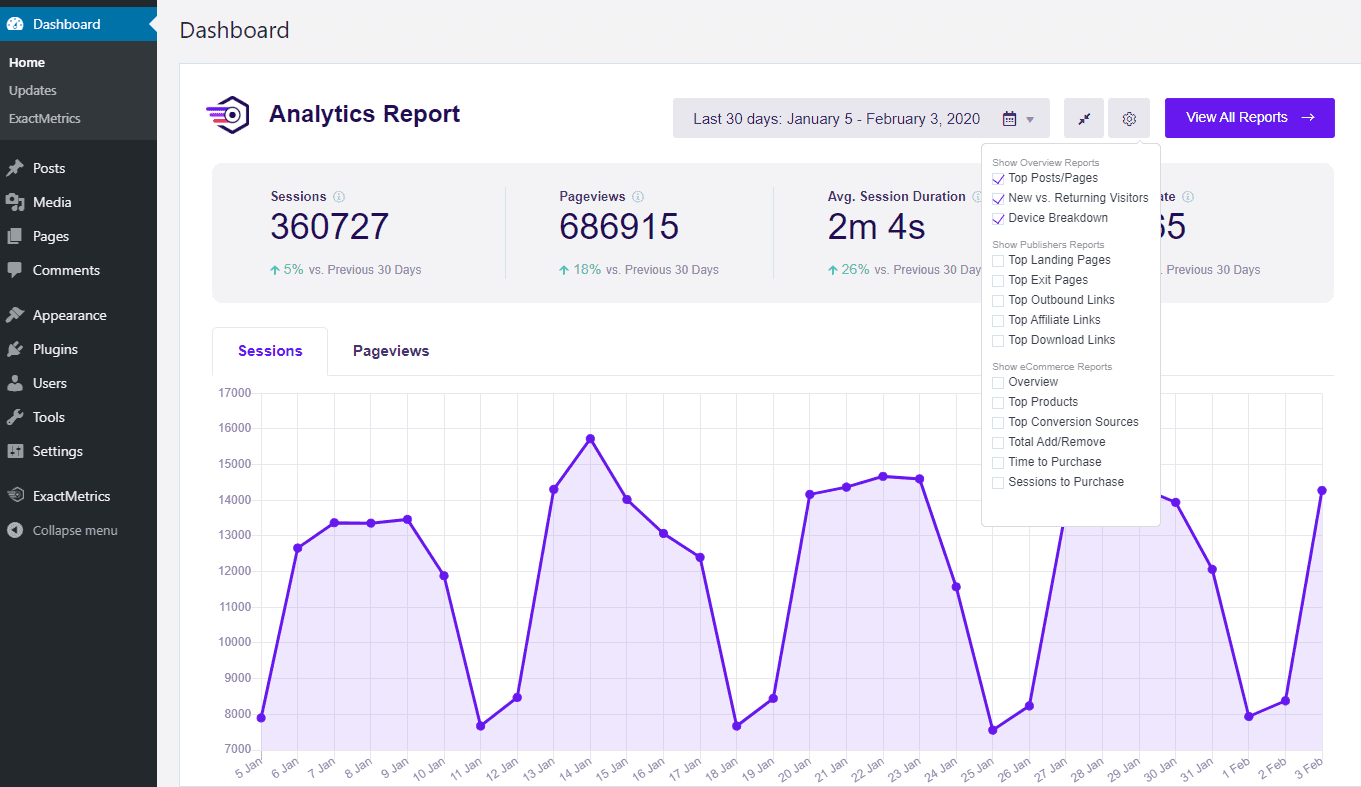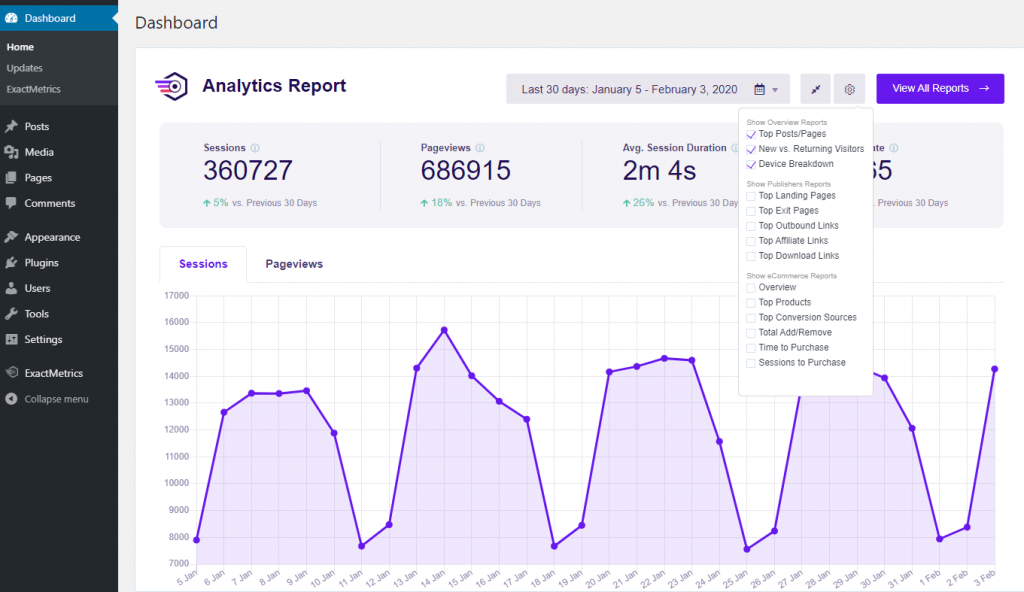 ExactMetrics is a popular WordPress analytics plugin that allows you to easily link your WordPress site with Google Analytics. It's jam-packed with features that make it easy to connect to Google Analytics and track your website's visitors.
All of your Google Analytics reports and analytical data are simply accessible from your WordPress dashboard. As a result, viewing analytics will never require you to leave your site or open additional apps.
Features:
Easy Analytics dashboard
Real-time stats
eCommerce tracking
Accurate tracking
Page level insights
Affiliate ad tracking
GDPR/CCPA compliant
Custom dimensions
Pros:
Time on site tracking
Referral source tracking
Conversion tracking
Affiliate link tracking
Multiple site management
Page view tracking
User interaction tracking
Integrates with most plugins
Cons:
Possible plugin conflicts
No free version
Cost: $199.50/ year
Google Analytics by 10Web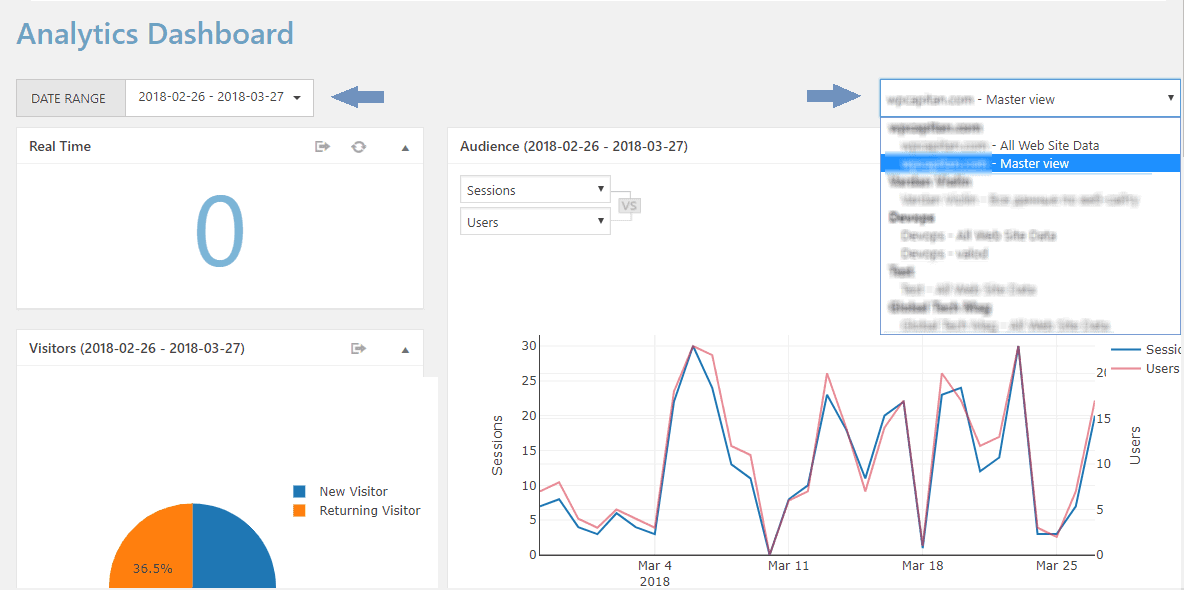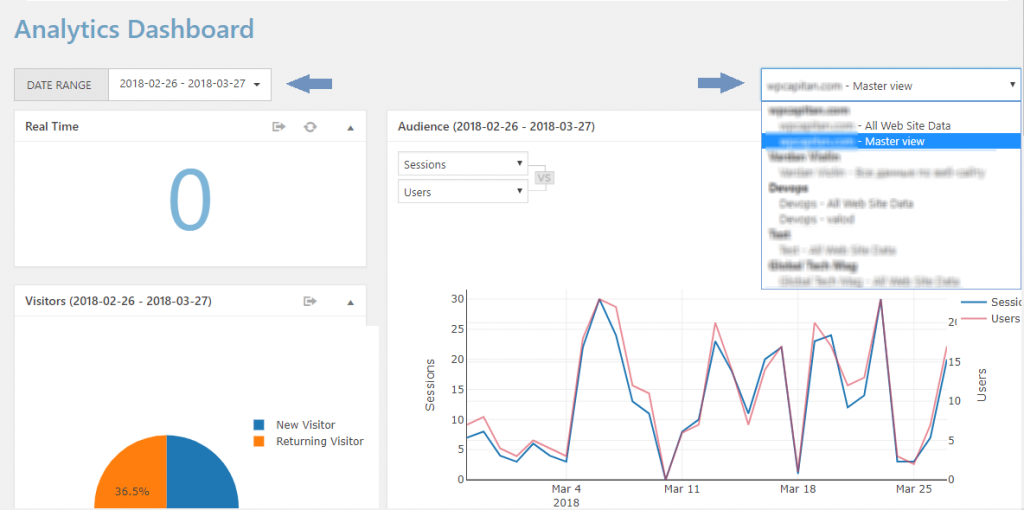 Google Analytics by 10Web is another simple-to-install WP analytics plugin that allows you to set and manage objectives, build and use custom dimensions, and view Google Analytics results all from the WordPress admin area.
This WordPress analytics plugin also works with Google Ads and Google AdSense to provide you with crucial information about your ad campaigns in one place.
Features:
Offers eCommerce tracking, custom notifications on specific triggers, and custom event tracking codes
Set and manage goals within your WordPress admin area
Lets you send automated email reports
Integrated with Google Adsense and Google ads to get important data from paid ad campaigns
Get all your analytics reports in your dashboard, just like MonsterInsights
Lets you export reports in CSV to use elsewhere
Pros:
Easy to use
Easy to manage everything from one dashboard
Cons:
Email hosting feature missing
Cost: Free & premium version starts at $30
Heap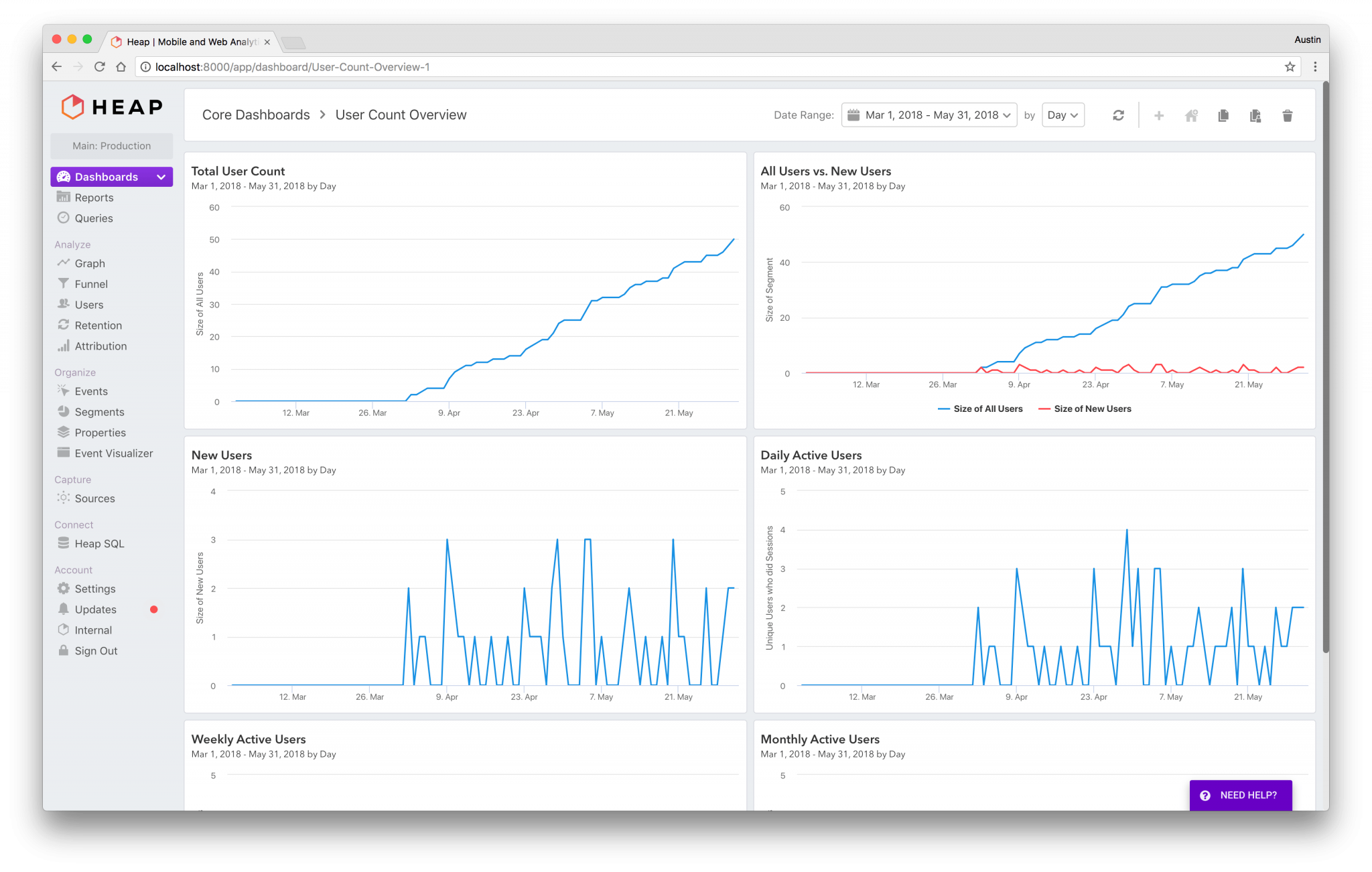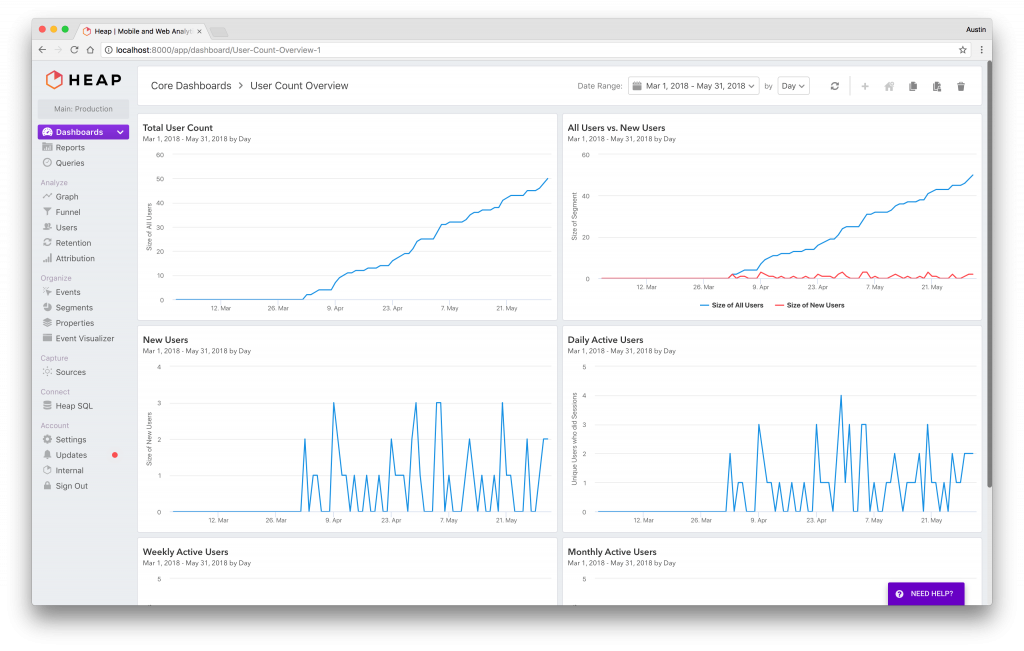 With Heap Analytics, you can automatically track every event on your website or mobile app.
When used on a mobile device, Heap keeps track of every touch, swipe, tap, or other gesture-driven events without requiring any configuration.
When it comes to website performance tracking, Heap is fantastic. Heap, on the other hand, is not the same as Google Analytics.
Heap focuses on recording automatic events, whereas Google Analytics merely tracks page views. Individual user tracking is also made easy with Heap across many devices and cookies.
Furthermore, Heap Funnels allow you to see every single step that occurs prior to conversion: This may aid in the detection of drop-offs, the reduction of friction, and the reduction of costs.
Features:
Sessions – digital analytics
Custom event tracking
Real-time reporting
Custom reports and dashboards
Performance and reliability
User, role, and access management
User data
Segmentation
Pros:
Data visualization
Preserving web analytics history
Visualization, especially for A/B testing
Real-time data and fast results
Conversion and drop off analysis
Generate a funnel view with defined steps
Cons:
High-cost support
Path report only shows 5 steps maximum
Graph report – when comparing multiple events, the UI does not allow filtering for each event
Data does not always match what our internal data is saying
Cost: Contact Heap
Matomo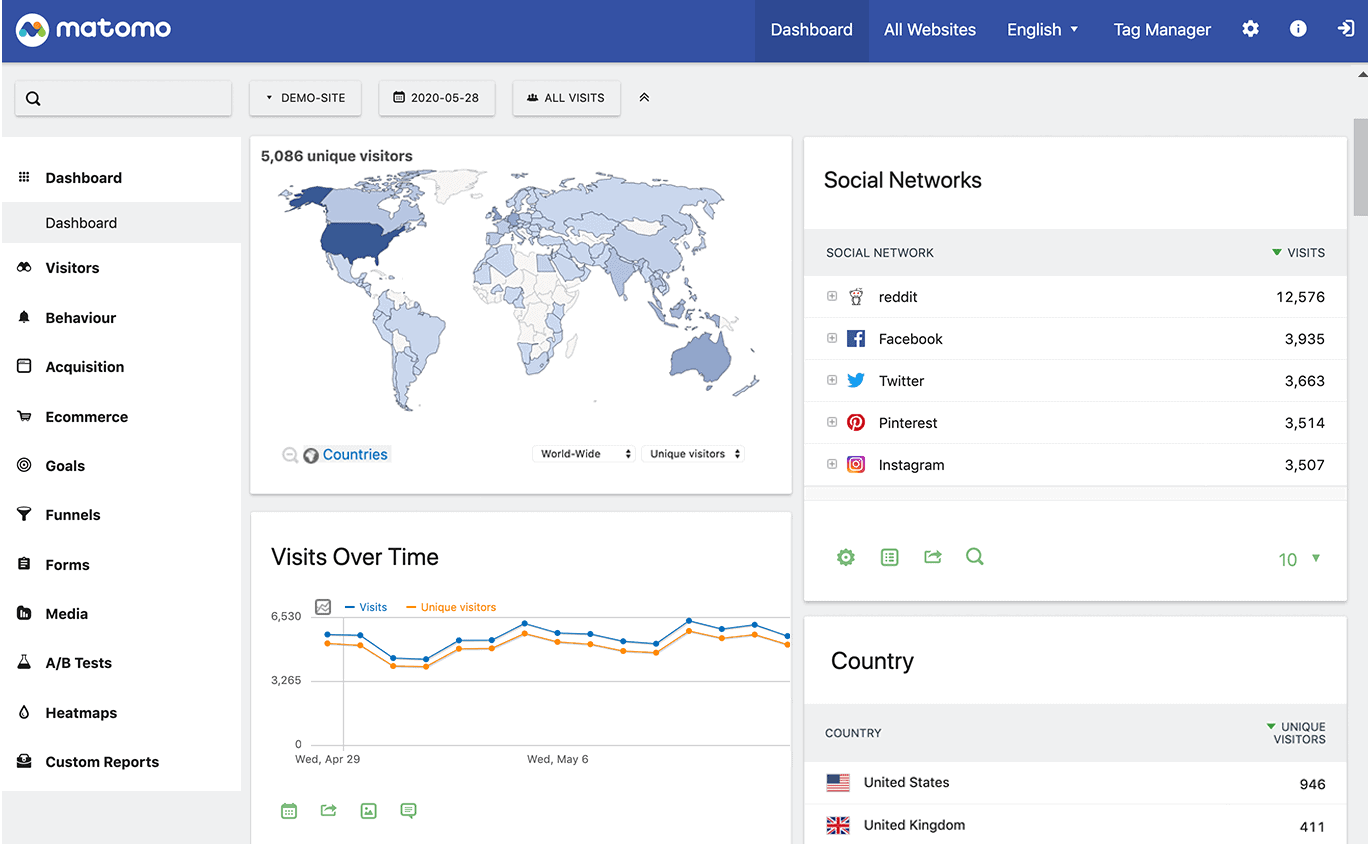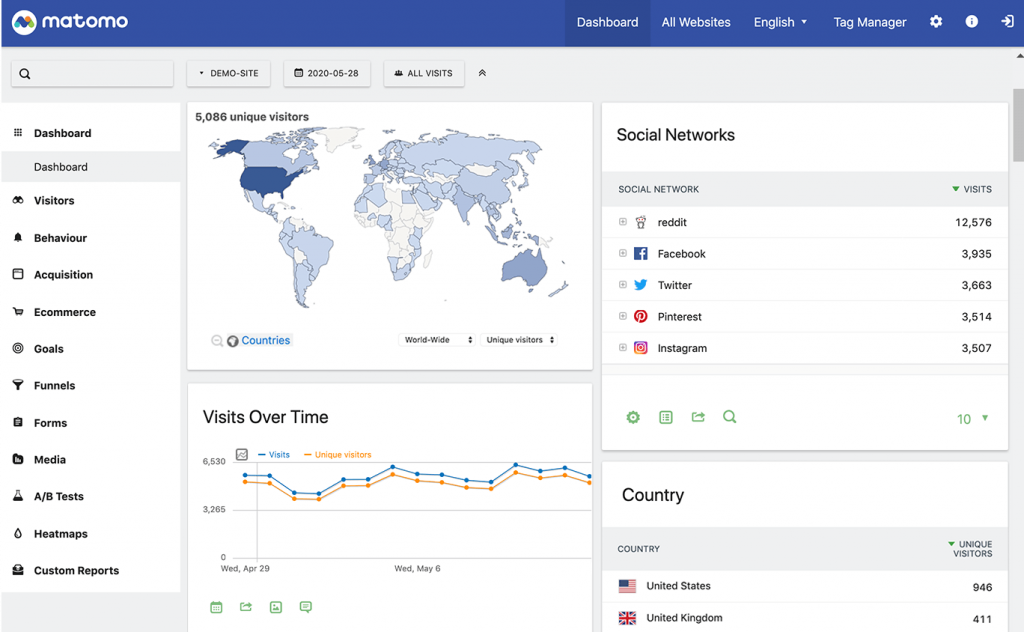 Matomo Analytics is the #1 used WP analytics plugin that offers a powerful range of features, security and protects the privacy of your users. This enables you to learn how to improve your website, make the right decisions for your business and stand out in the crowd in a safe and trustworthy way.
Features:
Campaign tracking
Segmentation
Real-time reports
Extensive geolocation reports / maps
Report comparisons
Export features
Transitions
Cohorts
Custom reporting
Pros:
Easily restructured dashboard
Ease of use
GDPR compliant
Good quality data
Heatmap
Easy to track daily traffic
Easy to monitor visitor traffic
Cons:
User interface
Collects too much information
Missing A/B testing
Define customized views for clients
Cost: 39USD/year
Mixpanel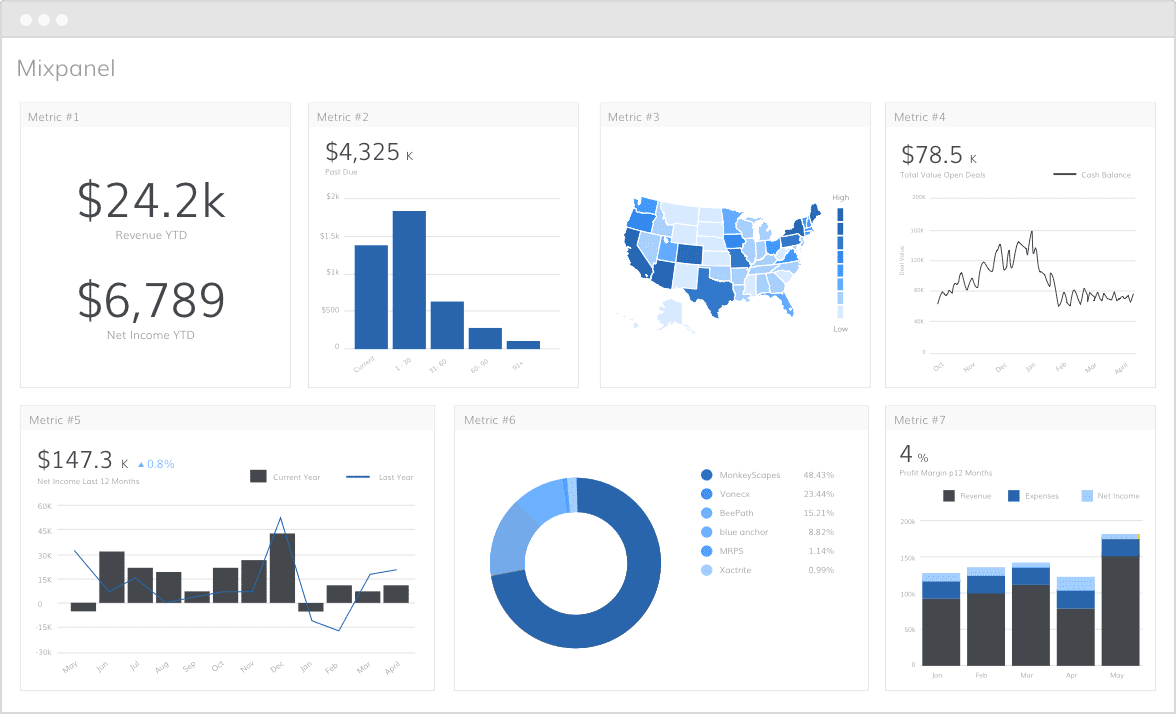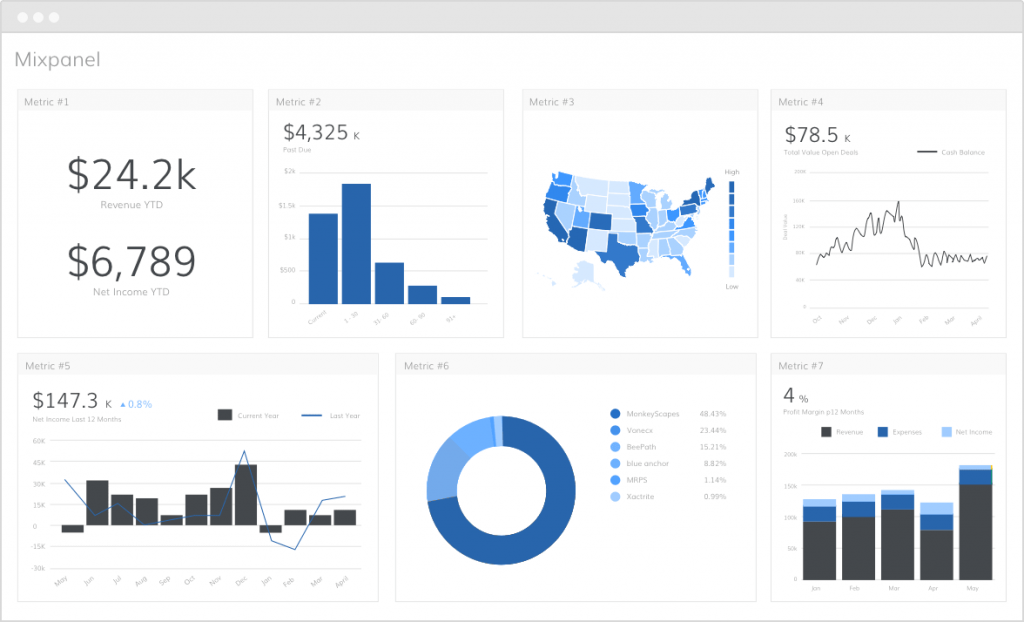 Mixpanel is a WordPress analytics plugin to help you learn more about your users, increase engagement, and boost conversions. See how Mixpanel and other WP Analytics plugins stack up against each other by comparing features, pricing, ratings, integrations, security & more.
Features:
Engagement
Entry and exit pages
Standard event tracking
Custom event tracking
Retention
Return
Conversions
Funnels
Real-time reporting
Trending segmentation
Custom reports and dashboards
User data
API / integrations
Performance and reliability
Pros:
User segmentation
Simple and easy to set up and well documented
Event data and the ability to send messages being integrated works really well
Reports are easy to peruse
Mobile app is handy
Funnels tracking
User behavior
Visualising data
User-friendly
Cons:
Their API is not very scalable.
Reports could be more visual and have more graphics.
The UI doesn't scale well.
Difficult to identify triggers easily.
No instant customer support.
Cost: $25/month
Conclusion: Best Analytics Plugins for WordPress
To sum it all up, we've explored the best of the best WordPress analytics plugins. These powerhouses not only gather crucial data but also give you insights into visitor behavior, propelling your website traffic to new heights.
Now, it's your turn! If you've had the pleasure of using any of these top-notch WordPress analytics plugins, we'd love to hear about your experience. Share your thoughts in the comment section below and let's keep the conversation going.