Success of any business is directly related to its customer base. So an increasing customer base means the business is profitable. While this is the aim, it's crucial to understand customers' requirements and their thought process so that service delivery can be well-aligned with what a customer needs.
In this blog, we'll figure out the significance of customer analysis in a business's success and expanding market reach.

What is customer analysis?
Customer analysis is the process of understanding your customer profiles and knowing about their likes, dislikes, preferences, and exact requirements. Commonly considered as a part of marketing strategy, customer analysis is done by combining quantitative and qualitative research methods to know the customers.
When a business knows what ticks a customer the most, service delivery can be made more need-specific and focused. For this, a venture must conduct customer analysis strategically and carefully.
Knowing this one fact will help a business to make their marketing campaigns more specific, make the sales pitches accurate, and can make the product development process revolve around the customers' needs.
Steps to conduct customer analysis for optimizing marketing efforts
While customer analysis is a crucial aspect, one can't deny the fact that the process is tedious and involves multiple steps. Those steps are explained in detail below: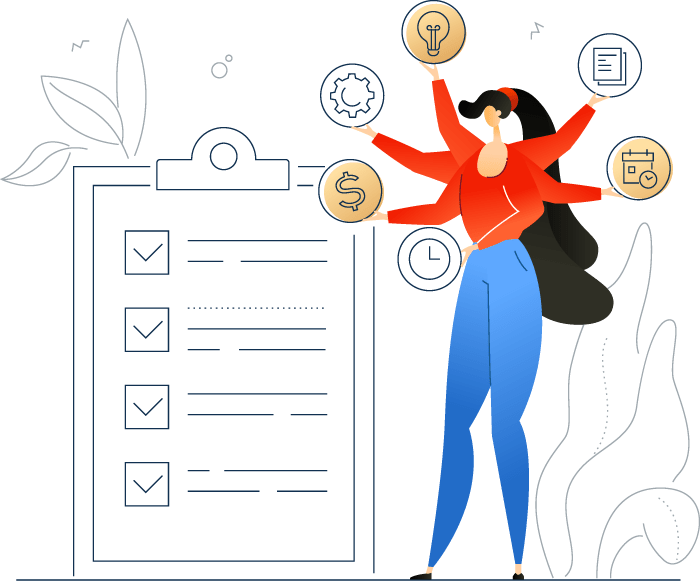 Structure your existing customer database

The first stage of strategic customer analysis is to sort your existing customer database and structure it in the way it makes sense. It should begin with sorting the data into groups of related traits. This process is known as segmentation and is useful to understand different customer groups. In general, the factors for data segmentation are demographic, geographic, psychographic, technographic, need-based, behavioral, value-based, industry, and business size.

Identify your most valuable customers

Once the data is sorted and you have different customer groups, the next step is to identify the valuable customers. This goal can be accomplished by simply paying attention to key metrics like Customer Lifetime Value, Customer Retention Rate, Repeat Purchase Rate, Purchase Ration, Upselling Ratio, customer Loyalty Index, and Redemption Ratio. While you analyze these metrics, try to figure out is there any particular customer base that excels at a particular front. For instance, which group upsells most or which product is the most repeated one.

Talk to your customers

Now that you know a lot about your customer and buying behavior, it's time to get into getting with an impactful conversation. You can conduct a one-to-one interview, offer utility guides, or form customer forums for this task.

A customer analysis example for this suggestion could be: one-to-one interviewing of potential customers or questionnaire-based analysis.

Collect customer voices from the field

This direct conversation is useful but not adequate as interviews can be biased and participation can be limited. So, it's wise to collect details from the field or platforms like social media and review sites. Customer conversations at all these places will help you gather more details about customers' choices.

Run surveys

Whichever hypothesis and conclusion one will draw from customer communication can only be validated via surveys. You can create in-app, post-service, and long email surveys to prove the hypothesis drawn. Creating a survey is not a tedious task as platforms like Zoho, Survey Monkey, and Google Form offer pre-built survey templates.

Create buyer personas

Once all the collected customer information is verified, it's time to create buyer personas based on information like goals, motivation, buying behavior, and demographics. Such detailed customer profiles will offer you instant access to customer details.

Create a customer journey map

Customers tend to behave differently at each stage and having an informative customer journey map will help a business to identify the risk points and take appropriate actions.
Role of customer profiles in customer analysis
As mentioned above, a customer profile includes crucial details related to the behavior, demographic, and psychological aspects of customers while providing detailed insights on buying patterns. Having such extensive information allows businesses to reap maximum benefits from customer analysis, as it would be apt and appropriate.
What are the benefits of customer analysis?
Customer data analysis is a strategic move that a business can make to empower sales, marketing, and CRM operational fronts. After investing all the demanded efforts, you're all set to enjoy all the below-mentioned benefits.
Marketing Efficiency

When you know what your customers want and what their needs are, marketing campaigns can be more target-specific and well-aligned. With apt marketing campaigns, it's easier to enjoy better ROI. So, customer needs analysis is essential before any campaign creation.

Customer retention

Customer segmentation analysis gives the business a chance to delve deep into details and serve the customers as per their needs. This leads to better customer satisfaction, loyalty, and retention.

Increased sales

Customer data analysis provides details like which product is winning customers' hearts and which product is repeatedly purchased. With this data, it's easier to focus on the demanding product.

Improved profit margins

When your marketing is targeted, delivering better results, and you're focusing only on demanding products, you're profit margins will surely go up. You will have an idea of exact investment areas and will not squander away your investments.
Tools to analyze your customers
Now that the air regarding the importance of customer analysis is clear, it's time to figure out what can make the job easier. Some of the most notable tools for consumer analysis are as follows:
Google Analytics
Mixpanel
Woopra
Putler
They are all modern, technology-driven, and worth a try. But in this article, we cover Putler in-depth.
What makes Putler the best tool for conducting customer analysis?
Putler is a wise choice to make when one is willing to perform automated and accurate customer analysis in the least possible time.
Here are the traits that make Putler stand out from its competitors:
Ready made and infinite segmentation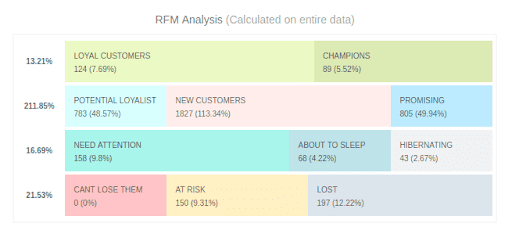 RFM analysis
Putler has ready to use customer segmentation features like RFM analysis or segmentation based on shopping behavior, location based segmentation, product based segmentation, price based and a lot more. The best part, these features are ready to use and one can segment customers based on various criteria within a few clicks.
Easy way to create personas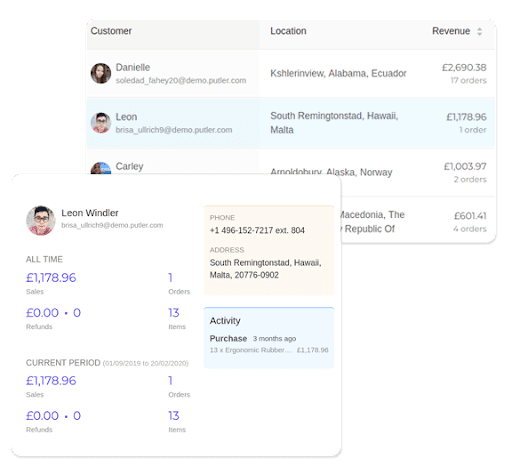 Identify customer
Putler takes in all your customer data, processes, enriches it and provides you in-depth customer information. It shows you all the details related to your customer within Customer Cards. Using these detailed customer cards, you can understand your customer better, know their purchase history, have a look at their profile and also view their official website. You can use all this information to create various customer personas and then use them in your marketing material.
Slice and dice data based on various factors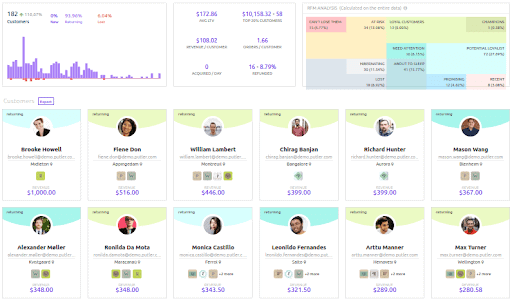 Data segregate
Using Putler's intuitive filters, you can easily segregate the customers based on location, the quantity bought, spending, and many more. You can then use this information to plan marketing activities and yield more profits.
Simple and easy to understand customer graphs

Customer analysis graph
Putler is one of the few customer analysis tools that offers customer analysis graphs. Putler's customer graphs show you new, returning and lost customers for various date ranges.
Not just customer analysis, you get all-round reports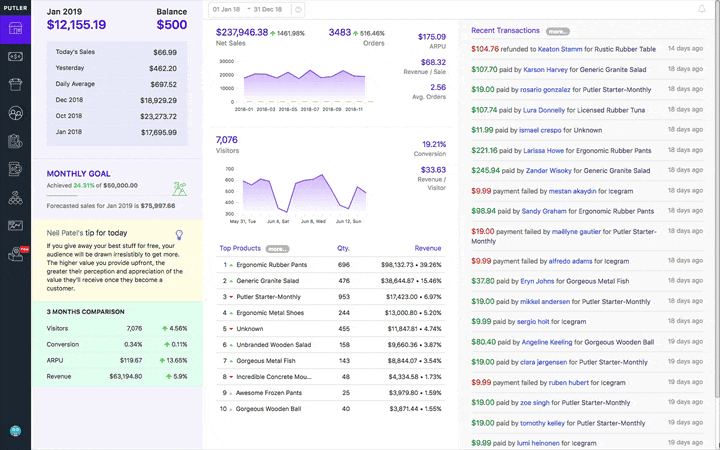 Putler demo
Apart from Customer Analysis, Putler also provides in-depth reports on Products, Sales, Subscriptions and Website Audience. Putler also provides useful growth features like forecasting, segmentation, goal setting, refunds, product analytics and a lot more.
Over to you
Now that you know that Customer Analysis is super important for any business and how Putler makes it super simple to carry out customer analysis, I suggest you try Putler, gather relevant and accurate customer data analysis, and weave anticipated success without any setbacks.
Putler's superb automation and high-end AI will eliminate every possible customer data analysis and make the job easier than ever. Its accuracy is unmatched while its features are here to empower customer analysis at each stage. As it comes with 14 days free trial, you don't have anything to worry about.