In today's dynamic eCommerce landscape, seamless integration is the key to elevate your Etsy store's potential and drive growth.
If you're an Etsy store owner seeking to broaden your horizons and maximize your sales potential, the idea of integrating your Etsy shop with WooCommerce can open up new opportunities.
So to help you further, the benefits it brings, and how to achieve this integration effortlessly.
Stay tuned!
Why integrate Etsy with WooCommerce?
Staying ahead of the curve is essential, and eCommerce is no exception.
Integrating Etsy with WooCommerce offers a host of benefits that can propel your business to new heights.
Here's why you should consider this dynamic partnership:
Supply customers with flexibility

In a competitive marketplace, giving your customers flexibility is paramount. Etsy's niche market is brimming with handmade, vintage, and unique products.

When you integrate it with WooCommerce, you expand your product offerings and cater to a broader audience, giving shoppers more choices than ever before.

Be able to sell vintage, handmade, and unique products

Etsy is a treasure trove of one-of-a-kind items, and integrating it with your WooCommerce store grants you access to this exclusive marketplace.

You can diversify your inventory with handcrafted goods, vintage finds, and unique creations, setting your business apart from the competition.

Provide low overhead cost

Efficiency is the name of the game.

Etsy WooCommerce integration streamlines your operations, reducing overhead costs associated with managing multiple platforms.

This means more profit in your pocket while delivering exceptional value to your customers.
Now, let's guide you through the process of seamlessly merging these two platforms.
How to integrate your WooCommerce store with Etsy?
Making the most of Etsy WooCommerce integration is easier than you might think.
Etsy Integration for WooCommerce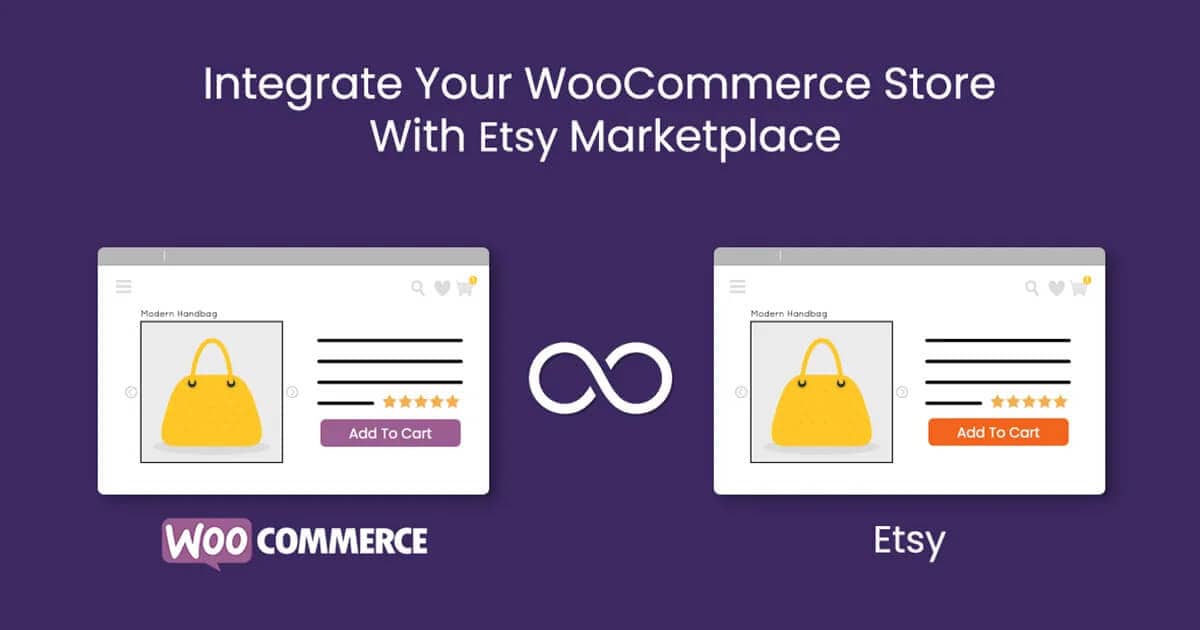 This powerful integration simplifies the process and offers a range of valuable features:
One-click authorization: Quick and hassle-free setup.
Bulk product upload/update: Easily manage your product catalog.
Import Etsy listings: Bring your Etsy products to WooCommerce effortlessly.
Profile-based product upload: Organize products by categories and attributes for better visibility.
Centralized order management: Keep all your orders in one place for efficient processing.
Real-time and regular data synchronization: Ensure that your product details, inventory, and pricing are always up-to-date.
Plus, you also benefit from a dedicated account manager and 24/7 free support, making the integration process smooth and efficient.
Now, to integrate the "Etsy Integration for WooCommerce plugin" with your WooCommerce store, follow these steps:
Configuration:

Activate the Etsy Integration for WooCommerce plugin.
In your WordPress admin panel, navigate to Marketplaces under the left menu.
Choose the Etsy section.

Adding Your Etsy Account:

Click on Connect account.

Source: WooCommerce.com

A pop-up will prompt you to enter your Etsy shop name and click Authorize.

Source: WooCommerce.com

Sign in to your Etsy shop on the redirected page.
Click Grant Access to add your Etsy shop.
You'll now see your Shop Name, Shop User ID, and Shop Username.

Source: WooCommerce.com

Click Configure to proceed.
Important Notes:
If you change your Etsy shop password, remember to reconnect it with the plugin.
Reconnecting won't affect your saved data or settings.
Following these steps ensures smooth integration of the "Etsy Integration for WooCommerce" plugin, streamlining your management of both platforms.
WooCommerce Etsy Integration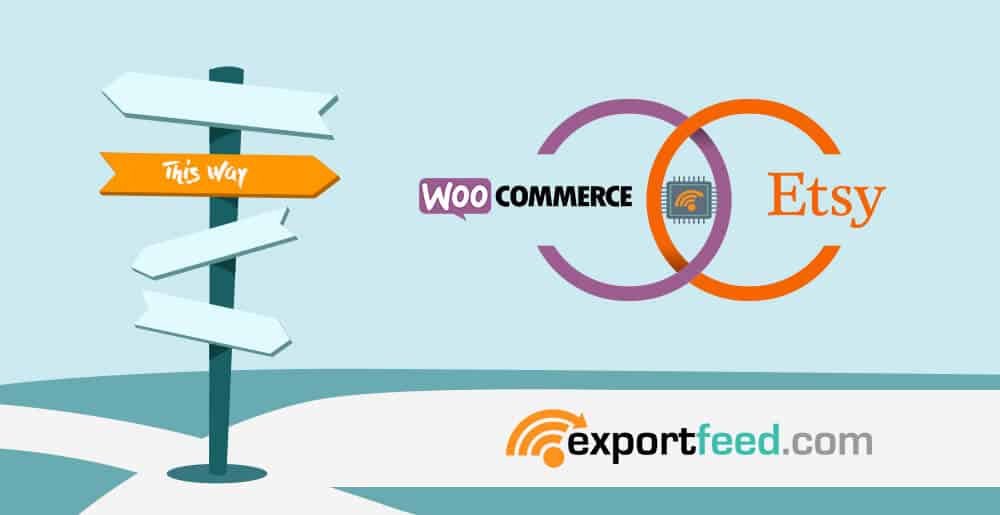 Another option that you have is the WooCommerce Etsy Integration Plugin. This can also be your go-to solution.
Here are some of its features:
Easy installation & setup: Quick and hassle-free setup, suitable for all levels of users.
Bulk upload to Etsy: Manage your product catalog efficiently, expanding your Etsy reach.
Variation management before upload: Fine-tune product variations for a better shopping experience.
Lightning-fast order syncing & updates: Stay on top of orders with real-time synchronization, no manual effort required.
Etsy sales tax tracking: Ensure compliance with Etsy's tax regulations.
Custom attribute support: Tailor product listings to your brand's style.
Default shipping profile for products: Simplify shipping logistics.
Multiple image support: Showcase products with multiple images.
Live chat & email support through Exportfeed.com: Get assistance when you need it.
With this plugin, connecting your WooCommerce store to Etsy is a breeze.
To integrate this plugin, follow these steps:
Installation: Start by installing the plugin in your WooCommerce store.
Onboarding:

After installation, you'll encounter a welcoming onboarding screen. Here, select Enable inventory sync and set your preferred order fetch interval.

Source: WordPress.org

Click Proceed to the next step.

Connecting Your Etsy Shop:

Now, click on Connect your Etsy shop.

Source: WordPress.org

You'll be redirected to the Etsy authentication page. Click Allow access.

Fetching Shipping Profiles: The plugin will automatically retrieve shipping profiles from Etsy.

Source: WordPress.org

Creating a New Etsy Feed:

In the Create new Etsy feed screen, follow these steps:

Select your WooCommerce product category.
Choose the matching Etsy product category.
Provide unique file names.
Click Create feed.

Source: WordPress.org

Choose the time period for automatically refreshing your product feed.

Managing Feeds:

Conveniently manage your feeds by hovering over any feed to access view, edit, delete, and upload options.
Once you've completed these steps, click Update now to confirm the integration.

Source: WordPress.org

These steps ensure a seamless integration of the WooCommerce Etsy Integration plugin.
But, there's another tool that can help you take your WooCommerce Etsy integration plans to the next level.
Yes, we are talking about Putler. Let's understand…
How does Putler enhance WooCommerce-Etsy integration?
While individual reporting for your WooCommerce and Etsy stores can be informative, it often comes with drawbacks. These limitations can hinder your ability to make informed decisions and optimize your business effectively.
Putler steps in to address these challenges by providing comprehensive reporting that bridges the gap between your WooCommerce and Etsy stores.
But, before delving into Putler's efficiency, let's understand the challenges of individual reporting:
Data silos: Individual reporting keeps your WooCommerce and Etsy data in separate silos, making it challenging to get a holistic view of your business.
Time-consuming: Gathering data from different sources and platforms is time-consuming and prone to errors.
Limited insights: Individual reports may lack key performance indicators (KPIs) that are crucial for making informed decisions.
Transaction management and currency conversion: Handling transactions and currency conversions separately for each platform can be complex and error-prone.
Lack of customer understanding: Without a unified view of customer behavior across platforms, you may miss opportunities to enhance the customer experience and drive loyalty.
Export limitations: Exporting data from multiple sources and platforms is time-consuming and may result in data inaccuracies.
Multiple dashboards: Juggling multiple dashboards for different platforms is inefficient and can lead to oversight of critical insights and trends.
But, things are different with Putler. Let's see how.
How Putler helps:
Top-performing products


Putler empowers Etsy sellers and artisans by revealing the top-performing products, helping you identify your best sellers. Track the individual net sales of your top 4 products against the rest for the same date range. Even if you have 100 unique products but only 50 sold, Putler pinpoints the top 20% contributors to your sales, showcasing their net sales and percentage of total sales. This valuable data enhances your decision-making process and fuels your Etsy success.

Unified dashboard: Not only Putler provides you with in-depth analytics, insights, and individual reports for Etsy and WooCommerce, but it also consolidates data from both WooCommerce and Etsy into a smooth, easy-to-navigate dashboard, eliminating data silos. This ensures you have a complete view of your product sales.
Multiple data source reporting: Putler's ability to handle data from multiple sources in one place simplifies data management and reporting. This includes managing multiple Etsy stores, multiple WooCommerce stores, multiple payment gateways, 36 different currencies, and more.
Comprehensive reporting


Putler helps Etsy artisans with specialized metrics and dashboards designed for their unique products. The Home dashboard gives a complete view of your Etsy business, while the Sales dashboard focuses on vital KPI data. Etsy sellers and artisans can also dive deep into product analysis with the Product dashboard and monitor their customers, transactions, and more via other dedicated dashboards.

Actionable customer insights


Putler equips Etsy sellers with invaluable customer insights. Artisans can explore data on purchase history, variation reports, and customer segments to effectively refine their unique product offerings.

Real-time updates: Putler's real-time synchronization ensures that Etsy artisans are always in the know about their vintage product sales, with up-to-the-minute information.
Marketing and operational features


Putler offers RFM customer segmentation, sales forecasting, goal tracking, and personalized recommendations to fuel Etsy business growth. Artisans can also perform vital operational tasks like tracking customer purchase history and instant refunds with ease.
And, it doesn't stop there. Putler comes with a ton of additional features that can help strategically skyrocket your business revenue.
To put it simply
Integrating your WooCommerce store with Etsy brings numerous advantages to your online business. The tools we discussed – Etsy Integration for WooCommerce and WooCommerce Etsy Integration – facilitate seamless connectivity between the platforms.
However, to truly optimize and get the most out of your WooCommerce Etsy integration, all roads lead to Putler. Its unified dashboard, comprehensive reporting, and deep insights are meant to empower you to make data-driven decisions and leverage your eCommerce venture's full potential.
Let Putler be your guiding star, illuminating the path to success and growth for your Etsy store.