Extracting analytics can be a strenuous process for small businesses with limited resources. There's a lot to consider: multiple stores, multiple payment gateways, multiple currencies, and multiple platforms.
Payment gateways provide much information regarding orders, sales, transactions, and revenue earned. Some even offer a certain level of insights that can help you with basic-level reporting. One of these quickly gaining popularity is the Razorpay payment gateway.

What is Razorpay?
Razorpay is an integrated online payments solution that lets your business accept, process, and disburse payments. It includes access to credit and debit cards, UPI, and mobile wallets for these payments.
Their product suite today comprises Payment Gateway, Payment Links, Payment Pages, Subscriptions, Smart Collect, Route, Razorpay Capital, RazorpayX, Payroll, and Thirdwatch, serving different business needs.
It handles several business-led transactions and provides various analytics for businesses to gather insights and improve their processes.
Razorpay analytics has various reports
While Razorpay provides several individual reports, we've focused on three categories.
Financial reports
Razorpay reporting provides these financial indicators –
Orders created when a customer clicks on the pay button
Payments made by customers for purchases
Settlements of money received from customers in your bank account
Refunds by customers for products or services purchased
Combined report includes payments, refunds, adjustments, and transfers
Subscriptions made by customers for the given period
QuickBooks reports
You can integrate your QuickBooks and Razorpay account for payment transactions. Via QuickBooks, you get several reports like –
Lists give data on customers, employees, and suppliers without analysis
Detail reports share transaction details with additional analysis
Summary reports provide consolidated information of transactions
Customized reports use several variables such as invoice line items, invoice number, amount, payment status, and more.
Custom reports
Razorpay reports provide a few customized dashboard graphs such as –
Traffic split between desktop, mobile, and others by payment volume and number of payments
Payment modes split between debit cards, credit cards, banks used, UPI, and other platforms
Customized date-range reports for all financial transactions
But these Razorpay reports aren't enough
Even though Razorpay analytics provides much information regarding your payments, it's not helpful when planning marketing-sales activities and scaling your business.
Limitations of in-house Razorpay reporting
payment gateway reports are factual without sharing any actionable insights.
There is no customer segmentation or product analytics that help with marketing strategies.
There's no way to filter individual types of payments (captured or failed) from different payment pages or customers. Users have to switch between 'payment links' and 'payment pages' to view this information.
Razorpay reporting doesn't provide helpful filters to drill down insights and extract customized details.
Using the information extracted from reports for promotions is a tedious process. There's no integration to send SMSes or Emails to customers from within the dashboard.
If you have multiple payment accounts, Razorpay payment gateway doesn't let you review and analyze consolidated data for all of them, either.
There are alternatives!
Growing your ecommerce business is always one of the forefront goals. And while Razorpay reports provide limited help, some applications are built solely to empower you.
Putler is one such platform. It provides consolidated and powerful analytics for all your stores, payment gateways, and Google Analytics in one single application. From product insights to customer segmentation, the platform has everything you could ask for:
One-stop dashboard for all your stores combined as well as individually
Multiple payment gateways, including advanced Razorpay analytics
Multi-currency, multi-team support
In-depth customer insights in real-time
Product management and cataloging
Sales trends, transaction breakups, and drill-downs
Subscription metrics and reporting
Google analytics
Advanced filters on products, orders, locations, customers, and more
Custom time-period extracts
Availability of historical data
Get the best out of Razorpay reporting with Putler
Listed below are all the additional insights you get with Putler and how they're beneficial for business.
Data consolidation
Our dashboard provides aggregated data from multiple stores and payment gateways, including multiple Razorpay payment gateway accounts, in one place. You can check overall sales as well as individual store and payment information.

Using these reports, you can understand which store is performing well. You could offer discounts in those stores on your Razorpay payment gateway and encourage more users to use the platform.
Multi currency setup
Businesses today operate beyond national boundaries and, therefore, need a system with multiple time zones and currencies. Putler is one of the top tools when it comes to multi-currency accounting.
Currently, our platform provides you with 36 currencies (and rising) from which you can choose.
In-depth insights
Razorpay reports are limited to transaction amounts, but you can view a lot more in Putler's ecosystem. Our platform generates data such as how much your top 20% of customers contributed to your monthly sale. Alongside, there are essential SaaS metrics like Lifetime Value (LTV), Average Revenue per Customer, One Time vs. Repeat, and more.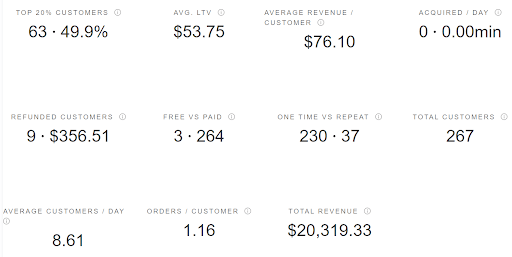 But it's not just customers. You can also view detailed particulars on products. Again, you can check which products made it to the top 20% and how much they contributed to sales. Additionally, you'll see your gross revenue, the fastest or slowest moving product, and your top 5 products overall. You could use this information to modify your product strategy – for instance, bundling products with these popular ones to move inventory.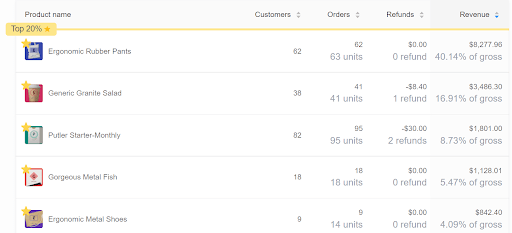 There's more. Ever wondered what more insights could you get on overall orders? Putler's done that for you. It calculates your Average Revenue per Sale and Day, along with 'recurring order count' and 'recurring order amount.' Also, you can view separate insights for completed and refunded orders. Using this information, you'll get an idea of the least amount of sales you make and plan to move up from there.

Unique analyses
One of Putler's unique features is the daily Did You Know (DYK) updates. Each day, we provide you with a different insight based on your recent activity. You'll get in-depth analysis that helps you make product or marketing decisions on exploring further.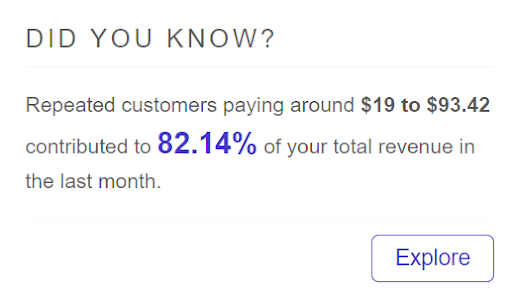 As you go deeper into Product sales particulars, you can view data specific to certain products, such as the number of orders, refunds, and customers who bought them. There's one more key insight for you. You'll also get to see which other products customers purchased along with the current one. This is helpful when planning bundles (as we mentioned in the previous section) because you know which products you can pair together for higher order amounts.
You can also view the average price your stores sold a given product for in the same section. It helps you set a suitable price range that maximizes revenue.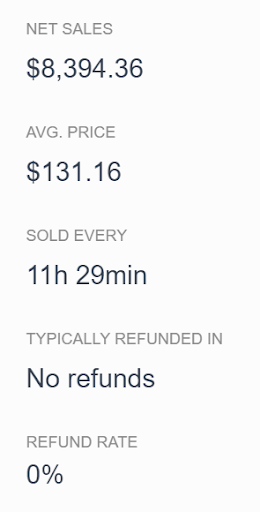 Customized observations
Razorpay analytics doesn't allow you to customize and extract data for comparative data. On the other hand, Putler lets you create customized segments pulling out specific details and comparing the information.
For instance, if you want to determine which location gives you the highest sales for a particular product, you can create a custom segment and save it for future use. Another example could be finding out which location has sales in a given range, and you can create another custom segment for this. There's no upper limit on the number of customized segments you use.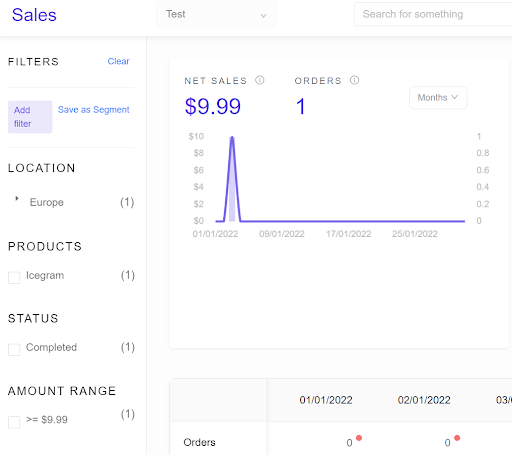 Customer segmentation
Another unique feature only available within Putler is the Recency, Frequency, and Monetary (RFM) analysis. It segments customers into categories from loyal to lost, depending on their engagement with your brand.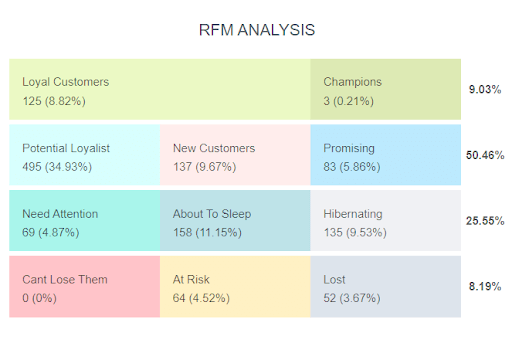 On clicking on each section, you'll find overall and individual customer and order information. Using the RFM analysis, you can develop strategies for each category. For example, 'loyal' customers can be invited to your loyalty program. Or you can send 'at risk' ones special discounts to encourage purchase.
Now that you've seen the powerful insights Putler shares with you, check out all its features and get in touch with our team to learn more!
The bottom line
Razorpay payment gateway is a comprehensive payment gateway for your business. But that's where the insights stop, and you need to use different tools to extract custom analyses for your needs.
Putler saves up your time and efforts, providing you with unique insights and data on multiple stores all in one place. If growth is your goal, we will make it achievable for you!