Payment processing platform is the spine of any online business. Having a robust and simple payment system brings more business, making cash flow a cakewalk!
With Stripe, online business transactions are easy, but at the same time, analytics becomes tricky to deal with. As a global business having multiple payment gateways, dealing in various currencies, it becomes essential to strengthen the analytics for gearing up the overall growth.
If you are looking ahead to making the best use of Stripe and accelerate the business growth, finding the right Stripe reporting tool could be a great way to leverage the best of the Stripe analytics.
In this article we will shed light on how you can use Stripe reports and analytics to help grow your business:
Types of analytic reports you get in Stripe
Similar to other payment gateways, Stripe also provides some inhouse reports.
Here are all the reports that you can find within your Stripe dashboard.
Financial reports
Financial reports are a great way to keep a tab on the financial data of your Stripe account. This Stripe report helps track the flow of cash. The Financial Reports can be accessed through the dashboard using the Balance and the Payment Reconciliation tabs.
You can set the required date range and customize the time zone as per your local time to get the desired financial reports downloaded in CSV format.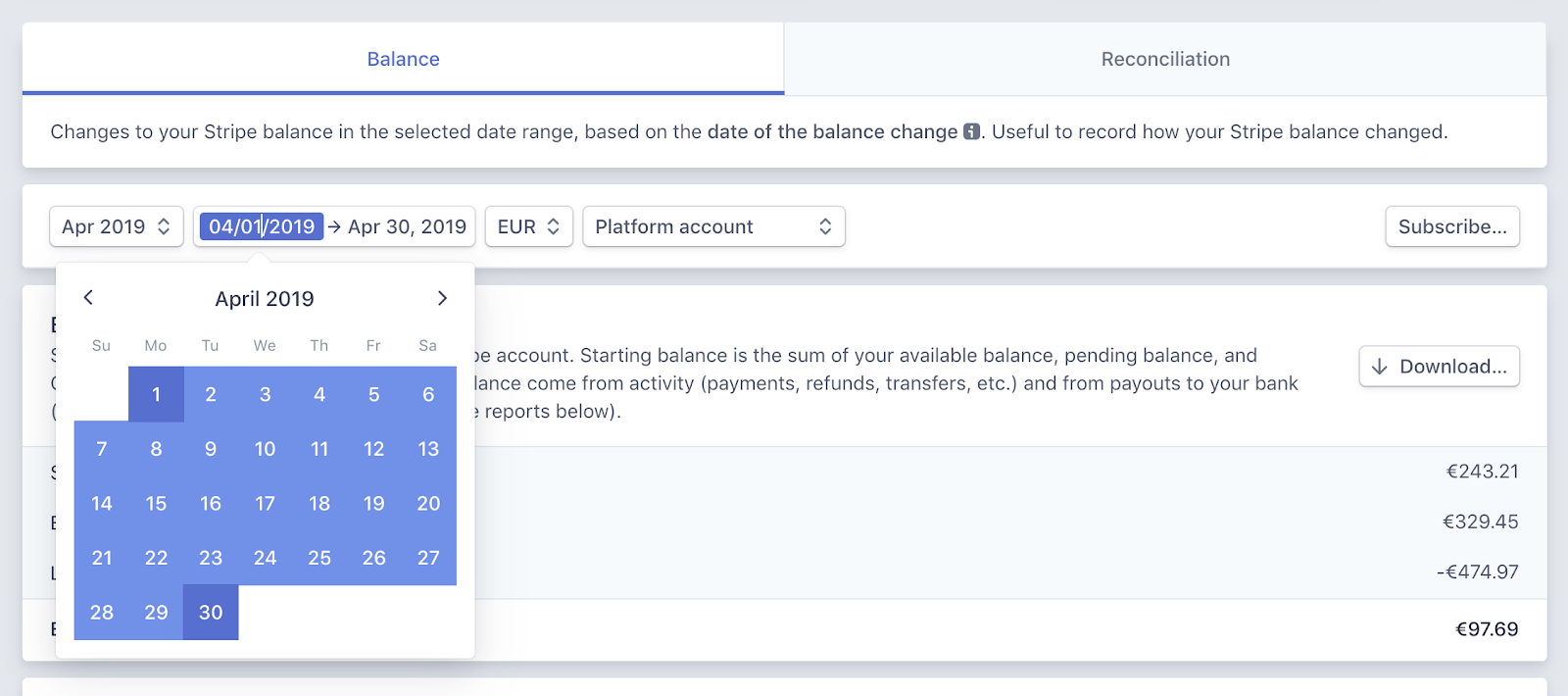 Balance tab

Stripe lets you download and view the classified balance transaction data and its summary, that is essential for the bookkeeping purposes. The data can be fetched on a daily, weekly or monthly basis for tracking the insights.

The balance reports help you track how the balance of your Stripe account varies over a time period. This can give you a fair idea about the cash in and out flows against the timelines that can be used to formulate business strategies.

Payment reconciliation tab

This report looks similar to the Balance report but gives an insight on the automatic payouts that are reconciled to get an understanding of which transactions have already been paid and those that are yet to be paid out of the total scheduled payments. This information is real-time so that you can check the status of lined payments at any given point of time.

Payment reconciliation involves comparing the internal payment data with the external data such as bank records so as to ensure that the scheduled payments take place in a streamlined manner without errors.
Quickbook reports
While the Dashboard Reports tab lets you download the CSV files of the Financial transactions, you can also export your Stripe Account transaction reports to QuickBooks in the IIF file format. This file creates the following 9 accounts in Quickbooks which contains the Stripe data records:
Stripe account, Stripe checking account, Stripe payment processing fees, Stripe returns, Stripe sales, Stripe third-party account, stripe other fees, Stripe processing fees adj, and Stripe other income.
Custom reports
Apart from the Financial Reports and the Quickbook Reports that you can download from the Stripe Dashboard, you also have the option to opt for Stripe Sigma (interactive SQL Environment, where data can be fetched via queries), or third party integrations.
Limitations of Stripe reporting
Multiple payment gateways: For businesses that are using multiple payment gateways, getting data records only from Stripe might not serve the purpose at its fullest. It is important to get consolidated financial analytics and insights to support the right decision making for a business.
Multiple currencies: Businesses operating globally in different currencies face issues with Stripe and thus, the whole idea of Reporting and Analytics remains limited to cash flow reporting via Stripe only.
Products not defined in Stripe:Another problem involves the products that are not getting payments via Stripe.
The three issues mentioned above could be a hurdle in the way to growth for your business, as they fail to give a clear idea about the financial insights that are essential for the strategy making process.
Let's see the limitation with an example
Suppose a businessman runs an online business: selling a wide range of products across different countries, accepting payment in their native currencies, he might not get the best analytics out of Stripe reporting.
Because he would need to get metrics for all the products including those not getting payments via Stripe, he would require consolidated data for the different payment gateways and multiple Stripe Accounts he uses to see the overall financial picture, for clearer insights.
If he only limits himself to reporting provided by Stripe he would miss out on some very important things. So what's the solution? Or Alternative?
Alternative Stripe reporting tools
Considering the limitations of the Stripe reporting it makes sense to have an alternative Stripe reporting tool, which is inclusive of different factors and gives a broader perspective of the overall finances for your business.
Some of the Stripe reporting tools include Putler, Baremetrics, ChartMogul, MRR.io.
Putler
Putler offers a wide range of metrics and reports for Stripe. Known for its accuracy and robustness, Putler is an alternative stripe reporting tool that is comprehensive with its one stop services.
Baremetrics
Baremetrics provides insights and analytics for the businesses using payment platforms like Stripe, Recurly, etc. It offers simple integration that requires a little development work to get the desired financial analytics and reports.
ChartMogul
ChartMogul offers an in-depth MRR overview for your business analysts to enable diligent decision making. With the integrations to different payment gateways, ChartMogul offers detailed analytics solutions.
Best solution to tackle limitations of Stripe reporting
With the ease and flexibility that the Stripe offers to online businesses, making payment transactions seamless, a few limitations of the stripe reporting inhibit the full scale growth potential that the analytics actually hold
Putler is a great choice for alternative Stripe Reporting that lets you get detailed and comprehensive insights to track the revenue of the business keenly. Given the accuracy and the wide range of metrics it offers, Putler is popularly recommended for growth oriented business analytics and reporting.
As compared to the ChartMogul and Baremetrics, it offers a larger number of integrations along with features like RFM analysis, customer profiles management, subscription management, a larger number of metrics, multiple currency support, send money, etc. making Putler a widely recommended Stripe reporting tool.
Diving deeper – Here are some of the key benefits that Putler offers, which makes it an ideal Stripe Reporting tool for your growing business:
Integration with Google Analytics
With Putler, you can not only keep an eye on the financial metrics but also get useful insights about the visitors via Google Analytics that are crucial for the growth and relevance of your business. Combining the Stripe metrics with Google Analytics you can churn out some breaking insights to crack the growth code!
One stop results
You need not switch over to multiple accounts for tracking individual data, and manually put them together for total value as you do in Stripe. Putler, instead provides you the entire data combined at one place for better analysis.
Aggregation
It also consolidates multiple Stripe accounts, other payment gateways that are used by the business, different shopping carts, various currencies used in transactions, and the data from Google Analytics to offer insights and reports in a single dashboard.
Flexible
The best thing – Putler is flexible. You can choose to either see a consolidated view of all your data sources or view each of the reports individually.
This keeps all the analytics data at a single place, making it easy to compare them, and analyze them in different perspectives seamlessly.
Multi-dimensional Analysis
Putler offers in-depth reporting that can assist in a multi-dimensional analysis with over 153 metrics, trends, and reports covering product, customer, and sales analytics. This helps the business in building integral strategies that are inter-disciplinary and results in a cumulative growth.
Practical use cases you can leverage Putler Stripe Analytics to grow your business instantly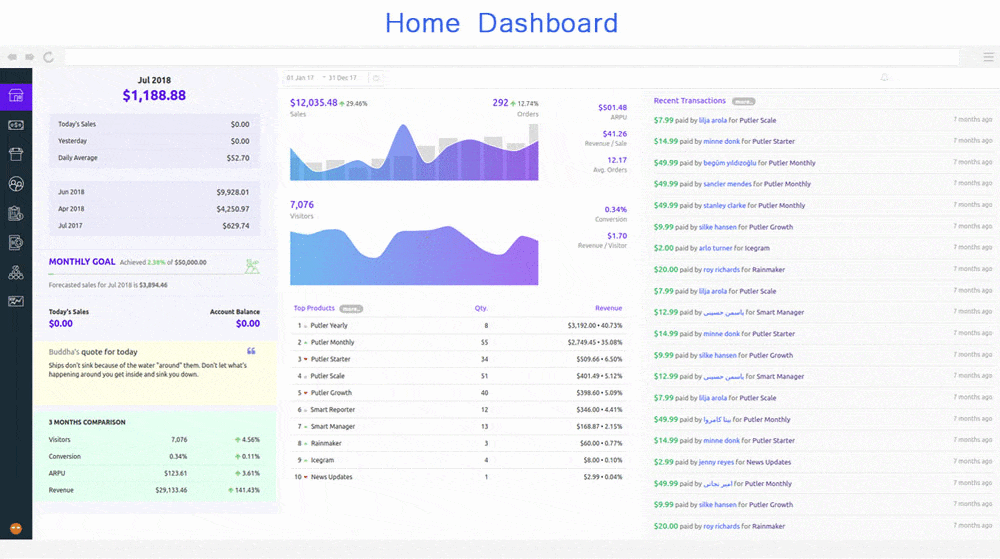 You can make the best of the Putler Stripe Analytics to ensure the growth of your online business, by using the following reports that would give you well rounded insights.
Customer segmentation using RFM analysis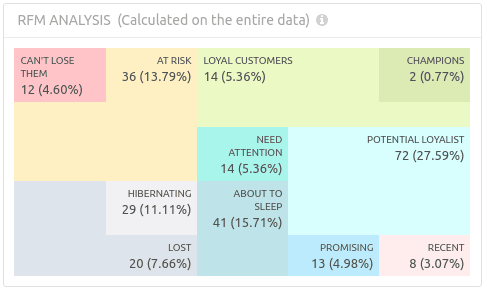 Putler segments your customers based on their buying behavior. This gives you a fair understanding about the popularity of your products among the target audience and the customer demographics. It can be helpful in cracking growth for your business via targeted marketing campaigns and product promotions.
Report forecasts using time machine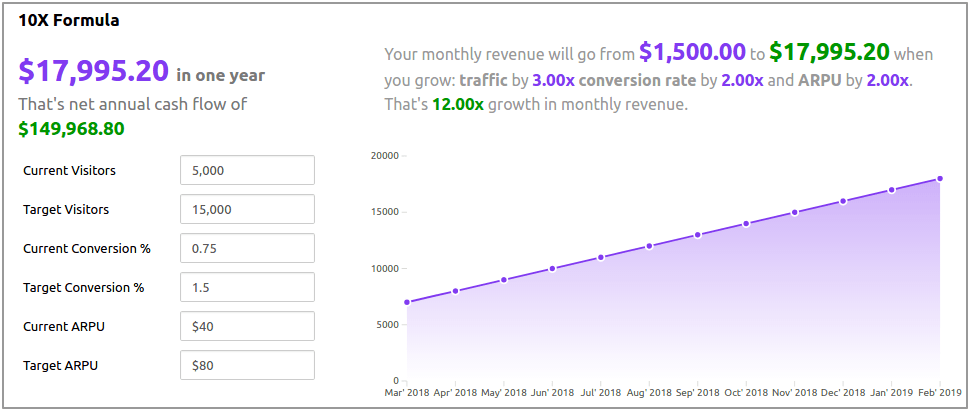 With Putler you can not only get detailed insights and metrics based on the data history, but at the same time you also get future prediction reports and forecasts using the Time Machine feature. These projections on revenue and customers make planning operations a lot easier, leading your way towards growth.
Having said that, you can leverage the power of analytics and multi-dimensional metrics with Putler to have comprehensive and detailed insights that could be useful in formulating strategies to decode growth at its best.
Try Putler – It's FREE